Ask the experts
Here is a selection of Q&As from An Essex Wedding magazine. If you would like your question answered by our experts, please email it to editor@anessex.wedding.
To view more Q&A's on a different topic, please select one from the list below.
Hot topic: Your planning worries solved
Our experts answer your wedding woes
---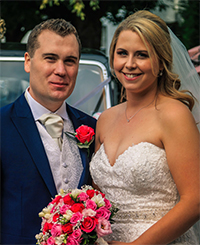 Snap happy
Q. My wife-to-be and I aren't the best posers and would hate having a forced-style of photography on our big day. What are our options as we'd still love a gorgeous wedding album to look back on?
A. Adam Presscott says: I've never been one for formal photography, instead I prefer to capture the emotion of the couple on their big day in a natural style. I hope to achieve this by getting to know them beforehand and ensure that they're able to relax in front of me and the camera. I'll help nearlyweds to achieve some great poses by giving them things to think about or say to each other to create a reaction, one that never fails to work is asking you to look into each others eyes for 30 seconds after the ceremony. My aim to be the silent witness to your big day.
---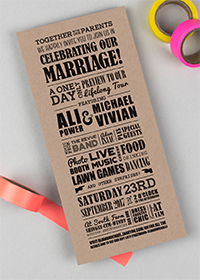 RSVP
Q. What style of stationery would you suggest to set the tone for our festival-themed wedding?
A. Sarah Barrett says: Planning festival-themed nuptials should be jampacked with fun and personality, and the stationery is an area you can get really creative with. From the save-the-date cards to invitations plus all of the on-the-day stationery – let yourself have some fun! Bold and typographic poster-style invites are a great way to inject some festival vibes and give your guests a glimpse of what to expect from the big day. These bespoke retro poster designs feature a mixture of poster fonts and describe not only all of the important information such as the date, time and location, but outline all of the exciting things to expect, like the music, food and games. These are printed on a natural kraft card and come supplied with super-cool neon envelopes, which pack a massive punch of colour. Alternatively why not print on a crisp white card with bright text, or even print on coloured card with white ink?
---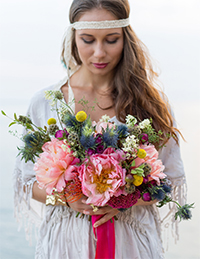 Bright and beautiful
Q. I'm on a tight budget, but am desperate for a big colourful bouquet. What are my options?
A. Hannah Emery says: At this time of year there's lots of bright and vibrant spring flowers to choose from, which are bold and have a delightful scent. A mixture of blooms like peonies, stocks, tulips, ranunculus and anemones would create a perfect bright bouquet – all of these flora come in a variety of different shades, which all work really well together. The hot trend at the moment is to use a mixture of foliage, which creates a loose and wild-styled arrangement. The use of different types of greenery creates space inbetween the bright flowers, which would make a lovely large bridal bouquet. Greenery such as eucalyptus and ruscus will also help to create a cascading posy.
---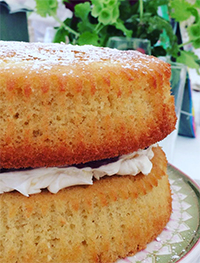 Delectable delights
Q. We're having a relaxed wedding and my hubby-to-be and I hate the idea of a three-course roast or an underwhelming buffet – what other choices do we have?
A. Anna-Maria Hawke says: Relaxed, quirky and stylish is what we specialise in. Our couples come to us for exactly this reason – they don't want a formal meal and we bring a whole experience to them.

The very nature of sharing an afternoon tea creates a friendly, warm and relaxed atmosphere. The guests always comment on the vintage crockery and our range of menus, which are all baked and prepared by our home bakers, fresh on the day.

We offer a traditional afternoon tea through to luxury and champagne options. Whichever you choose, there will be a selection of dainty finger sandwiches, scones with clotted cream and jam and of course a beautiful selection of delectable cakes.
---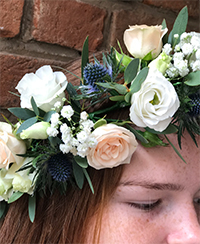 Crowning glory
Q. I want to incorporate some flowers into my hairdo for my spring nuptials. What sort of blooms would be appropriate?
A. Felicity Wiggins says: Fresh flowers are a wonderful addition to your wedding attire and can easily be added to your tresses in different ways. Hair crowns have become very popular especially for a whimsical-styled wedding. For this I would suggest a mixture of blooms such as eucalyptus foliage, spray roses, muscari, gypsophelia, hyacinth pips, hellebores and small spray chrysanthemums.

For a more classic look opt for a few simple flowers such as spray roses, lily of the valley, small orchids and gypsophelia can be pinned into a loosely curled hair style or attached to a hair comb for a classic half-up do.

A fascinator created on a hair comb is gorgeous and can be very individual using, decorative wire, beads and selective flowers such as muscari, hyacinth pips, small foliages, ceropegia woodii and small succulents are very flamboyant, individual and fun. Spring flowers are quite delicate and careful consideration should be given to the ones you select. I like to mix them in with more hardy blooms to provide support to the designs and to ensure that they last. I work closely with my brides and their chosen hairdressers to ensure that the blooms chosen will suit the style and texture of my bride's hair and look for their day.
---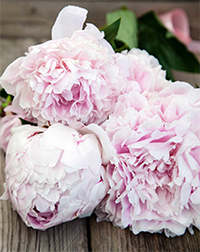 Pretty posy
Q. I'm clueless when it comes to flowers; I don't know what style of bouquet to have, what colours to choose or what's likely to be in my budget. How can I find a florist to help?
A. Loretta Dent says: Have you decided on your dress style? This can help with the choice of your bouquet style – for example a simple hand-tied bouquet would complement an A-line dress.

Your theme or colour scheme can also help influence your choices.

If your big day is following a romantic, rustic-vibe then opt for various shades of pink roses, peonies and summer blooms with soft, flowing natural-looking foliage, finished with natural raffia or hessian.

If you're on a budget there are so many foliages and fillers that can be used to create a romantic look, such as alchemilla mollis, variegated ivy, or herbs like rosemary and mint.

It's good to start gathering ideas by looking through magazines, books and create a moodboard or scrapbook of ideas that you like. Make sure you bring this when you pop into the shop to discuss your ideas further – we will be more than happy to help you.
---
Contact our experts...

Adam Presscott
Photographer

Anna-Maria Hawke
Caterer

Felicity Wiggins
Wedding Florist

Hannah Emery
Lead florist

Loretta Dent
Florist

Sarah Barrett
Stationer
---