Ask the experts
Here is a selection of Q&As from An Essex Wedding magazine. If you would like your question answered by our experts, please email it to editor@anessex.wedding.
To view more Q&A's on a different topic, please select one from the list below.
Hot topic: Expert advice
Local experts advise on your wedding woes
---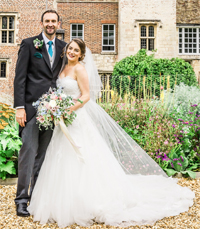 The height of style
Q. My husband is 6ft 4" and I'm tiny in comparison at 5ft. I think we're both a little worried about looking daft in our wedding photos. Are there any clever tricks we can use?
A. Ayshea Goldberg says: There are lots of poses that work really well with height differences, and I'd recommend these to reflect who you really are as a couple.

Full-length portraits with you nestled against your new spouse will look beautiful. If your dress is full, then your groom can be placed slightly behind and stand with legs slightly apart to reduce his height a little. Otherwise a gentle lean in towards you will give a natural curve and a romantic feel.

Images from the waist up can show off intimacy with your head resting on your beau's chest. A closer position will focus on the whole of you and part of your groom who becomes a natural border for a more creative fine art pose.

Seated portraits with you tucked into the groom will show you at the same height and are great for relaxed and fun portraits. It's as if you're snuggled up on your sofa watching your favourite Saturday night TV!
---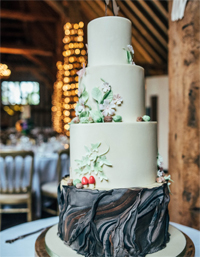 A slice as nice
Q. My fiancè and I are in search of the perfect cake to fit our woodland theme, but are not sure where to start – please help!
A. Maxine Orriss says: To have a defined theme at the outset is great. It really helps to tie lots of the decisions together. I would start with an internet search of some key words like 'woodland' and 'wedding', and see what appeals to you as I can guarantee the results will be wide and may not be exactly what you had in your head. Many of my brides have used this term and their ideas and concepts have differed significantly. For some it's the land of fairy make believe, elvish, whimsical and ethereal. Whilst for others, it's been more about keeping in tune with nature, soft natural colourings and references to nature – no sparkle or bling in sight. I had the pleasure of working on a cake for Kayleigh and Ed earlier this year, who tied the knot at Blake Hall in Ongar. Their interpretation of the woodland theme was lots of natural materials and bright foliage in a spectacular barn, which contrasted with the soft colour palette of the cake. I took reference from the lovely toppers that Kayleigh had sourced. Each tier featured a different woodland animal pair, rabbits, squirrels and mice in soft neutral colours, with soft green foliage, nuts, acorns and toadstools with the bottom tier designed to look like a tree slice. This is a good example of a less is more style, the colour palette is very refined, the shapes simplified but the overall effect was quite eye-catching and one of my favourite cakes to date.
---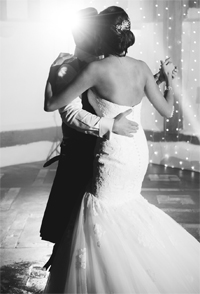 Oh what a picture
Q. Our photographer has suggested we come up with a list of 'musthave' shots before our big day. We'd hate to miss some, what are the most romantic parts of the day we need to capture on camera?
A. Helen Elliott says: The most important images to capture are you, the bride and groom! Make sure you leave enough time to go off, have some alone time and capture those special moments together. It can't get more romantic than taking a stroll all dressed up with a gorgeous surrounding. Don't forget the reactions coming up the aisle either. Great if you have two photographers, they can capture both of you – this is super-sweet if your other half is emotional! Lastly, your first dance, this is always ever so intimate and with dimly-lit rooms, and your favourite love song playing, nothing says romance like this – so make sure you book your photographer to stay until your first dance!
---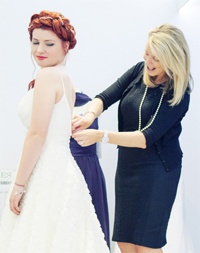 Dressed to impress
Q. I'm nervous about my bridal dress appointments, I'm 5ft but very busty and worry I won't be able to find a dress I'll like as stockists tend to cary standard sizes. How can I ensure I find the one?
A. Karen Lambert says: Please don't be nervous about your bridal appointment, we know that no one is the same shape or size, so we want to make sure that the dresses you try on fit you as best they can. It will be trial and error, but that's half the fun of it! We make sure there's no rush on your appointment, and as you have the boutique to yourself there will be time and space for you to feel at ease, we will help you in any way we can.
---
Contact our experts...

Ayshea Goldberg
Photographer

Helen Elliott
Photographer

Karen Lambert
Bridal boutique owner

Maxine Orriss
Cake designer
---