Ask the experts
Here is a selection of Q&As from An Essex Wedding magazine. If you would like your question answered by our experts, please email it to editor@anessex.wedding.
To view more Q&A's on a different topic, please select one from the list below.
Hot topic: Keep calm and marry on
Our experts answer your winter wedding woes
---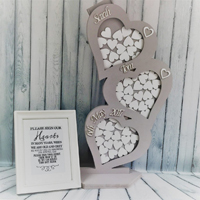 Dazzling Decor
Q. I'm looking for an alternative to a traditional guest book, something a little different that has the wow factor. What would you suggest?
A. Tina Warren says: A stunning and bespoke alternative to the traditional guest book is the guest book drop box. A perfect display piece for your venue available in a variety of designs and sizes, it captures all of your guests lovely messages as they write their special wish on a little heart and drop it into the frame via the insert at the top. Due to the design of the frame these hearts can be removed and rearranged afterwards if you wish.

All hand-painted boxes are bespoke to the customer with their choice of colour, design, size and special detailed wording. A colour matching service is included so the box will complement any wedding colour scheme or theme.

The box is displayed on a stand for the day and can then be removed and wall mounted at home to become a timeless keepsake. A small box of hearts and framed instructions are also included.
---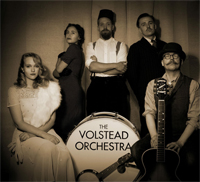 Music of the night
Q. I'm looking for something a little different in terms of entertainment to fit with our quirky personalities and wow our guests. What would you suggest?
A. Bob Gourami says: The right venue, good food and of course fantastic music are the essentials to not only create a lasting memory for yourselves but for all your guests too.

If you want to really make your mark a live band can't be matched. An act that can interact with your loved ones and create the mood for the whole event. Booking a vintage band will also add that unusual, quirky element.

My band, the Volstead Orchestra, play a mix of music from the 1920s and '30s, into the early war years. From the Jazz clubs of New York, to the cafès of Paris and the raucous string bands of the American South. The music not only evokes a bygone era for your themed evening but is also really exciting stuff. People dance to the jives, sing to the call and response of poor old Minnie the Moocher and as we all dress the part, so can your guests!
---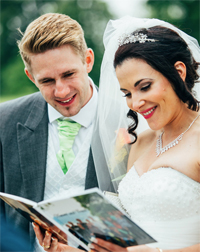 Glitz and glamour
Q. My partner and I are set to tie the knot on New Year's Eve. I want to look elegant for my late afternoon ceremony but also glamorous for our epic reception. Help!
A. Leanne Perilly says: Prep and prime your skin well and use long-wear, waterproof formulas to ensure your make-up stays put for the entire day and evening without the need for touch ups.

Make a statement by adding shimmer and sparkle in gold or silver to your eye look – Platinum by MAC is one of my favourite pigment shades that suits many skin tones. Add fine black liquid liner and false eye lashes for extra glamour and to ensure the look remains elegant.

Complete the look with shimmery highlighter and a natural pretty lipstick shade to compliment your colouring and wedding flowers and theme.

You'll have minimal time to change or adapt your make up for the evening so keep it quick and simple by adding a red lipstick, in a shade to compliment your eyes for the ultimate New Year's Eve glamorous bridal style!
---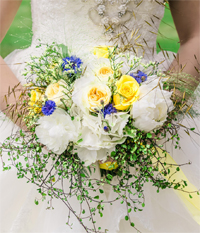 Bloomin' marvellous
Q. We're tying the knot this autumn and I'm looking for a beautifully bright bouquet without breaking the bank – what would you suggest?
A. Felicity Wiggins says: Autumn is harvest time and is a wonderful season when there are so many different, vivid colours and textures of flowers, fruits, and foliage available. Warm shades of red, orange and yellow combined with textural greenery, berries and grasses look amazing, a combined in a hand-tied design with natural ribbon would look very striking.

I'd suggest blooms such as gerbera daisies, chrysanthemums, dahlias, campanula with rose hips or hypericum berries, craspedia along with grasses such as miscanthus and setarie italic and alchemilla mollis foliage to provide a bright green zing and texture to the bouquet. This combination would provide a very warm, bold and bright design.

White wedding flowers in autumn can look amazing too, especially if combined with yellow flowers of different textures, such as white hydrangea, yellow roses, craspedia, grasses and mullhenbeckia, which is a lovely textured plant.

Small sunflowers such as the teddy bear varieties grouped together with eucalyptus foliage and natural hessian looks very bright and sunny, or a mixed sunflower bouquet with white daisy, wax flower, seeded eucalyptus, senecio maritima with a white or pale yellow ribbon on the handle, is another beautiful, bright bouquet.
---
Contact our experts...

Bob Gourami
Musician

Felicity Wiggins
Wedding Florist

Leanne Perilly
Make-up artist

Tina Warren
Owner
---