Ask the experts
Here is a selection of Q&As from An Essex Wedding magazine. If you would like your question answered by our experts, please email it to editor@anessex.wedding.
To view more Q&A's on a different topic, please select one from the list below.
Hot topic: Summertime… and the living is easy
Our experts are on hand to answer your questions
---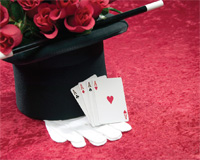 Close up and personal
Q. I'm having a summer wedding and my evening do will be outside. We've got a wide variety of guests, from babes in arms to elderly relations, and think a magician would do the trick when it comes to entertainment. The question is, can magicians perform outside just as well as they do inside?
A. Neil Devlin says: If anything, close-up magic has more advantages outside simply because it's usually less noisy, enabling a magician to converse freely with the guests. Also, they are more spread out, which alleviates physical restrictions that you might encounter in a bar or dining area. The attendees tend to be waited on by catering staff, so a magician has the added advantage of the guests staying in one place in their small group making them easier to manage (i.e. they won't disappear to the bar or elsewhere).

Us British like to be outside in the summer even if it's not that sunny, so guests are less likely to go back inside if they have the choice. If it's the other way round, people tend to gravitate outside if it's a nice day.

So, providing it's not hammering down with rain or blowing a gale, outside is probably better than inside for magicians. During the summer wedding season I'd expect to be working mostly al fresco.
---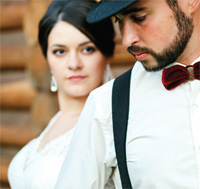 Keep it cool
Q. Weather permitting, we're hoping to tie the knot outside. What do you advise my hubby-to-be wears?
A. Danielle Harvey says: The preppy look is on trend and perfect for summer grooms. Team tailored shorts with an open-collar shirt – roll up the sleeves – and finish off with a quirky pair of braces and dapper bow tie. This ensemble is the epitome of seasonal fun, ideal for al fresco nuptials.

Alternatively, if this is too casual for your bride-to-be who wants something more traditional, then opt for a contemporary slim-fit two-piece suit in a cool, light-weight fabric. Again, keep it more relaxed with an open collar and casual shoes.

For colour combos, pair navy suits with pastel shirts or floral prints, or opt for a pale-blue hue for your attire and keep accessories pale yet interesting – perhaps some tan brogues and a feature-piece watch to draw the eye in.

Do: Add a pop of colour to really set off your big-day pictures.
Don't: Wear your sunglasses for snaps – not cool!
---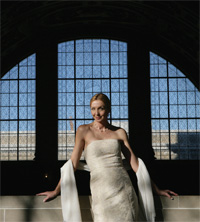 I've got chills
Q. I'm wearing a strapless gown for my summer al fresco wedding and hope the Great British weather will be kind, but just in case, what could I use to keep any chills at bay?
A. Laura Sutherland says: Although choosing a summer date should guarantee sunshine we can never be too careful where the unpredictable British weather is concerned! Luckily, there are a lot of stylish options for keeping the chill at bay if the clouds do start to gather. For example, having a pashmina close at hand (what are bridesmaids for?) to drape around your shoulders is a simple, elegant choice that's still lightweight. Opt for a style in muted neutral tones, or perhaps to tie in with your wedding theme or the colour of your bridesmaids' dresses.

However, if you want an add-on with a bit of fashion punch, opt for an overlay or statement jacket. As separates are the hottest bridal trend of the moment, many labels such as Charlie Brear and Charlotte Balbier are offering overlay tops, lacey jackets and sleeved wrap blouses – all of which will earn you sartorial points as well as keep you warm. And in anticipation of seasonal showers, it's essential to keep a parasol handy!
---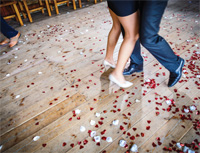 Twist and shout
Q. I'm planning the ultimate summer wedding for family and friends of all ages. What are your top five summer tunes to get my new hubby and I – as well as all our guests – in the summer partying mood?
A. Jef Smith and Rosie Holman says: Here are our top five tunes to get everyone dancing:


Summer of 69, Bryan Adams (cue lots of enthusiastic air-guitaring)
Twist and Shout, The Beatles (everyone loves The Beatles)
Hey Ya, Outkast (get ready to shake it in the breakdown)
Alright, Supergrass (We are young, we are free...)
All About The Bass, Meghan Trainor (we've had grans singing and dancing along to this one!)
---
Contact our experts...
Danielle Harvey
Features editor

Jef Smith and Rosie Holman
Musicians, Herbie Duo

Laura Sutherland
Fashion editor

Neil Devlin
Magician
---