Ask the experts
Here is a selection of Q&As from An Essex Wedding magazine. If you would like your question answered by our experts, please email it to editor@anessex.wedding.
To view more Q&A's on a different topic, please select one from the list below.
Hot topic: It's an Essex thing
Our experts offer advice on keeping it local
---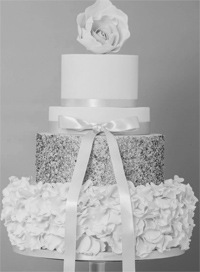 A slice as nice
Q. My wife-to-be and I are tying the knot this winter and want an elegant cake to match the season. What ideas would you suggest?
A. Claire says: I think we have just the perfect cake design for an elegant winter wedding, a four-tier contemporary, straight-edge cake with white lustred petal ruffles on the bottom layer, and silver edible sequins mixed with white crystals on the second; the two together are representing snow and ice. The third would be a simple white iced, shallow tier with a white or silver satin ribbon bow and the top tier would also be iced in white and have our elegant whimsical winter rose delicately dusted with white lustre and a little soft white glitter.

Each can be a different flavour so there's something for everyone, I'd suggest champagne, lemon, chocolate, vanilla and red velvet – a delicious combination. To display the cake perfectly I'd recommend a tall, contemporary, glass stand and you could opt for extra petals to scatter around the cake table which would be like snowflakes falling.
---
A place in the sun
Q. We're tying the knot in November and would love to go on a winter sun break from one of the nearby airports straight after. However, we have no idea where in the world can guarantee us sunny climes at this time of year. Can you help?
A. Sarah Reeve says: You certainly won't be short of fabulous weather if you honeymoon in November. It's a great time of year to explore Morocco, a country known for its culture, rugged landscape and mouth-watering cuisine. Its fourth largest city, Marrakech, makes an eye-opening mini-moon destination, or arrange a tour into the Atlas Mountains before heading on to Fez, Casablanca or Essaouira.

A little further afield, yet still under seven hours away by plane, Dubai boasts consistently good weather, sandy beaches and superb shopping. It's often twinned with Sri Lanka or the Maldives for a memorable long-haul getaway. Indeed, the Indian Ocean islands are incredibly popular at this time of year, particularly Mauritius with its spectacular scenery, incredible five-star resorts and a raft of exciting activities to satisfy the inner adventurer.
---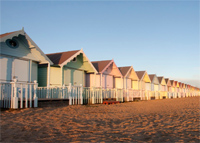 Memorable mini-moon
Q. We're outdoorsy types that love exploring but we've only got a limited budget for our honeymoon. We'd still like to do something to mark our union as man and wife, what would you advise?
A. Annie Cannock says: Why not take a mini-moon in the region? Although it would be nice to go straight to a tropical location, it's not always possible, and that's OK. Luckily for us, Essex is full to bursting with scenic countryside, fabulous hotels, tranquil spas and plenty of things to see and do.

Take a week or two to discover a new place or area you've never been to before – just because it's where you call home doesn't mean there's not a few stones left unturned.
---
Daring and dapper
Q. We're on the hunt for a groom's suit that will reflect our luxurious big-day style but it's proving difficult to find something within budget. What would you suggest?
A. Danielle Harvey says: Unlike brides, the choice for grooms is not extensive and finding the perfect suit to complement a theme while watching the pennies can be like finding a needle in a haystack.

Try and choose a luxe fabric that fits well and add personal touches such as his initials stitched on the inside, or having a pocket square made to match the lining.

The accessories are important – add a lush silk cravat or scarf to complete the look. Alternatively, a swanky pair of cufflinks and even a pocket watch will add wow factor.

Look to celebrities during the award season to channel their style for the big day. If you're tying the knot in the late afternoon or evening, you can't get more luxurious than a tuxedo.
---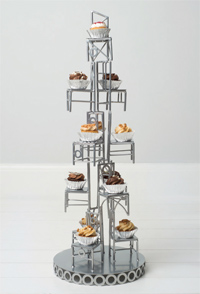 Make a stand
Q. My wife has quite a few intolerances to food, meaning we've had to opt for fairly plain cupcakes. Is there a way that these can be displayed to add wow factor?
A. Otis Griffith says: Like most things, by presenting them in a stylish and quirky way you can bring them to life. Beauty is in the eye of the beholder after all, and by distracting the eye to an exciting and bespoke stand, you'll ensure that you see the plain treats in a different light. You'll find yourself discussing the innovative ideas and the craftsmanship that has gone into the stand itself. It visually excites both the mind and the eyes, so it can entice you into wanting to eat any cakes that are displayed, and using complimentary colours to finish the stands gives them that final wow factor that can create a centrepiece that will tempt even the most self-controlled hands into wanting to try the goodies on show.
---
Contact our experts...

Annie Cannock
Features Editor

Claire
Cake maker
Danielle Harvey
Features editor

Otis Griffith
Sculptor

Sarah Reeve
Travel Editor
---