Ask the experts
Here is a selection of Q&As from An Essex Wedding magazine. If you would like your question answered by our experts, please email it to editor@anessex.wedding.
To view more Q&A's on a different topic, please select one from the list below.
Hot topic: Ideal suppliers
Our experts offer advice on keeping it local
---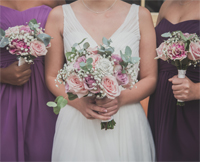 Blooming brilliant
Q. I'm tying the knot in early 2017 and have a tight budget for my bouquet. How can I spend my money wisely?
A. Rachel Dampier says: To really get the most from your budget, I'd suggest picking a few focal flowers such as roses or anemones, which will be in season early in the new year. These flowers will enable the bouquet to have a luxury appearance without a hefty price tag, such as an all-rose bouquet. Mixed among a delicate filler flower such as gypsophila, with soft eucalyptus foliage, a stunning yet affordable bouquet can be achieved. Finish with satin ribbon and a brooch to add a luxurious element. You could also include some quirky book-page roses among the blooms; this can add a new dimension while cutting costs further.
---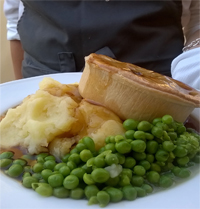 Food for thought
Q. We're set to tie the knot in February but have no clue where to start on catering. What are the local, seasonal options available at this time of year?
A. Linda Hamilton says: February is a great time to really showcase local and seasonal food ideas and this can help to personalise your wedding catering. Here in Essex we're lucky to have many great local producers to pick from including Wilkins of Tiptree, Prior Hall Pork and The Saffron Ice Cream Company.

Mulled cider will warm your guests up during a drinks reception and there are many small regional producers of both cider and apple juice, which is a great non-alcoholic option.

A root vegetable soup would be the perfect starter – serve in small bowls, as you don't want to fill everyone up too soon. Why not opt for celeriac for something more unusual? A mini toasted sandwich would be great on the side, look for a regional cheese with some locally produced chutney.

For the main course, why not consider some of the great British classics such as steak and ale pie, shepherd's pie or gourmet sausages and mash? You could ask your local butcher to suggest a flavour combination just for you, which would be a great personal touch. Presentation is key here, think elegant, gastro pub rather than all-you-can-eat buffets.

Sticky toffee pudding, treacle tart or crumble would all go down well at this time of year – especially when accompanied by a locally produced ice cream. Early rhubarb will be in season come February and would make for a really delicious crumble, or try with a vanilla or white chocolate panna cotta to give a pretty lighter dessert.
---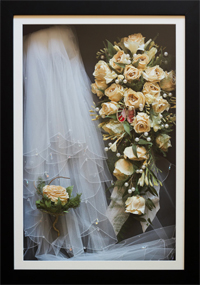 Pretty Posies
Q. I adore flowers and I would hate to see my bouquet go to ruin after my big day. Is there any way it can be save and kept as a keepsake?
A. Vicky Blackmore says: Yes, you can opt to have your bouquet freezed dried and framed along with any special keepsakes from your day.

I offer this and just an £80 deposit secures your place; it's advisable to book well in advance of your wedding as it's very popular, especially during the summer months.

On booking, I will give you advice on looking after your bouquet on your wedding day to keep it looking its best and we'll arrange for your big-day blooms to be delivered to me as soon as possible after your wedding, preferably within 48 hours – it's possible to send the bouquet by courier but hand delivery is always best.

Upon receiving your blooms we photograph your bouquet in detail, then it's dismantled and each flower is frozen separately in our special freeze drying machine, the moisture is slowly extracted from the flowers over many weeks until we have a perfectly dry flower!

While the flowers are drying, I'll meet with you to choose your frame and discuss how you'd like your handmade frame to look.

You can include any items of memorabilia, the only restriction is the 3in depth of the frame.

Once your flowers are dry and your frame is made, we set about recreating your bouquet and framing it along with those all important keepsakes. The entire process takes around 12 weeks, and the result is everlasting.
---
Va-va vroom
Q. I'm looking for wedding transportation for me and my bridesmaids and I, is there anything I should look out for when choosing my suppliers?
A. Hayley Sage says: You're choosing a car for a truly memorable ride for you and your best girls, so maybe go for a reliable, classic VW Campervan that seats yourself and your 'maids comfortably?

We have lovely, helpful chauffeurs who allow plenty of time, taking a slow relaxed journey while you enjoy music of your choice and drinks on the way to the ceremony. We also make sure we use scenic routes to add to the moment. Do make sure the wedding supplier you choose is reputable and has been established a while as this will fill you with more confidence. V-DUB Rides has been taking happy bride and groom parties for more than nine years.
---
Contact our experts...

Hayley Sage
Transport company owner

Linda Hamilton
Caterer

Rachel Dampier
Florist

Vicky Blackmore
Owner
---