Ask the experts
Here is a selection of Q&As from An Essex Wedding magazine. If you would like your question answered by our experts, please email it to editor@anessex.wedding.
To view more Q&A's on a different topic, please select one from the list below.
Hot topic: Wedding woes
Regional experts answer your wedding woes
---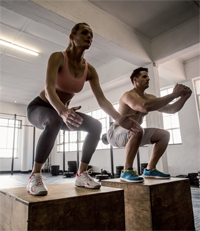 Let's HIIT it
Q. I keep hearing the best type of workout is HIIT: do you agree and will this get me in shape for my big day?
A. Cristina Fragnito says: HIIT is a great form of exercise to burn fat. The intense interval sessions work the heart hard for an all-out short period of time followed by a short rest. This burns more fat than steady state cardio in a short amount of time.

For example:
30 seconds of high intensity work with up to a minute rest. Decrease the rest period if you find this too long.

Exercises include:
Jumping squats
Jumping jacks
Frog burpees
Mountain climbers
Curls with resistance bands

Do this circuit four to five times and limit your rest in between exercises. Try it four times per week.

I'd also recommend weight training, which will help shape and firm your body. As well as increase your metabolism which in turn increases your lean body mass. So, mixing your HIIT workouts with weight training will get the best results.
---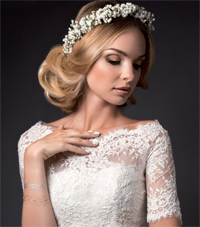 Golden glow
Q. My bridesmaids and I are hoping to have a beautiful golden glow for my nuptials – how can we achieve this safely without visiting the sunbeds?
A. Nadine Rigby says: There are a few options you can take to get that lovely gorgeous glow. The first is to have a spray tan, lots of brides are naturally worried about this option, what if it's un-even? What if it's too dark? Will it transfer onto my dress?

Do some research, there are some lovely natural-looking products out there, I use Sienna X. Just as you would with hair and make-up, have a trial run. The key to an even tan is exfoliation, hydration and an experienced spray technician.

If a spray tan isn't for you and you'd rather just have a natural glow, there are lots of products to help achieve this, I suggest Decleor gradual glow hydrating body milk. You can also ask your make-up artist to give you a dewy look using highlighters.

To help give your skin a boost ensure you keep up with a good routine, always remove make-up and moisturise, drink lots of water, and eat lots of food containing vitamin C like blueberries, strawberries, kiwi and broccoli – remember a good glow starts from within.
---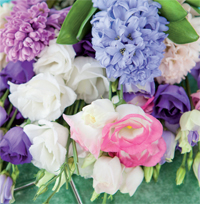 Pretty posy
Q. I'm desperate for a bright and beautiful summer bouquet while keeping in my budget – what blooms would you suggest I opt for?
A. Kate Argent says: I'd suggest you stick to traditional summer flowers such as stocks and sweet peas, which both have beautiful scents and are available in a range of colours.

Freesias are a lovely dainty bloom available in many hues. Spray roses, delphiniums, roses or calla lilies are a great focal flower that are available in a huge palatte of colours and will finish any bouquet off. Also think about adding foliage, it will help to keep costs down, and ivy or pittosporum will be in keeping with the bright theme. We love a good yellow shade, which makes everything look cheerful and bright.
---
Cheers!
Q. I'm looking for a bar to hire for my big day but want to get a good deal. What should I be asking the suppliers before I book?
A. Joseph Burke says: A lot of couples believe it'll be cheaper to stock a bar themselves and then dry hire the fixtures and staff, however, not only is this a big headache, but also a massive expense. Staffing the bar is a very important thing too, I'd recommend one bartender per 50 guests with a minimum of two behind the bar, plus another person, known as a bar back to collect glasses and keep the bar stocked up, allowing the bartenders to focus on service.

When it comes to drink prices, always ask your provider for a copy of their menu, ask what brands they stock? Also check what non-alcoholic drinks are served too, especially if you have children at your nuptials. Alcohol licenses should always be covered by the bar company and your bar manager should always be a personal license holder. Remember a cash bar service where your guests pay is your best option to save on costs.
---
Contact our experts...
Cristina Fragnito
Personal trainer
Joseph Burke
Mobile bar provider
Nadine Rigby
Make-up artist
---