Ask the experts
Here is a selection of Q&As from An Essex Wedding magazine. If you would like your question answered by our experts, please email it to editor@anessex.wedding.
To view more Q&A's on a different topic, please select one from the list below.
Hot topic: Keep calm and marry on
Regional experts answer questions on wedding woes
---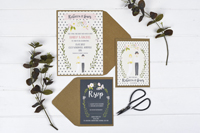 You're invited
Q. My partner and I have recently received a few plain and unimaginative homemade wedding invitations. What would you suggest we opt for as we want to ensure ours aren't like this and get our guests excited for our nuptials, refl ecting our bright and bold colour scheme?
A. Sarah Barrett says: There are so many ways to give your wedding invitations some personality, the choice of papers and specialist finishes are now so wide that the hardest part can be choosing! If you're opting for homemade then adding some envelope liners, or packaging up your bundle of stationery in some twine with a personalised tag makes for a much more thoughtful set of stationery.

Alternatively, if you'll be working with a designer then the options are endless! Letterpress can give really bold colour effects. Bright envelopes also give personality before your guests have even opened their invitations. Other ideas for a more bespoke approach are; personalised portraits, printing onto real wood, laser cutting, foiling or folded invitations.

The main thing is to be true to your style, from there your invitations will truly shine.
---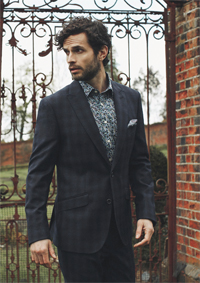 Catwalk to aisle
Q. My fashion-forward groom wants to look ontrend on the big day – what do you suggest?
A. Danielle Harvey says: As with bridalwear, grooms-to-be are looking to push the boundaries with their big-day attire. Gone are the days of a black three-piece tailcoat, in 2016 we saw a variety of navy hues, cool greys and plenty of tweed.

This year, botanical prints are huge across all styling aspects including fashion. Whether it's the shirt, suit lining, accessories or even the shoes, make sure your groom is in a fresh fl oral print in 2017!
---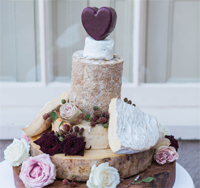 Cheese please!
Q. My wife-to-be and I aren't fans of sweet things and would love a cheese tower as an alternative. However we're not really sure where to start on choosing the layers – what would you suggest?
A. Phil Gunton says: When choosing cheeses for a tower the best place to start is with three to four of your personal favourites. Or alternatively, this is where our 80 years selling experience comes in. We can suggest similar varieties to your choices that are more suited to the tower or alternate arrangements to make them work for you and we can tell you if it will be enough cheese to cater for your guests.

We also have some pre-designed towers, which are a good place to start if you're in need of inspiration. These can be ordered directly or, if you prefer, can be changed to suit your needs with a call to our cheese department. Once your cheeses are chosen just tell us the date of the wedding and leave the rest to us. Check our website for a handy size guide that will show if your cheeses will tier nicely.
---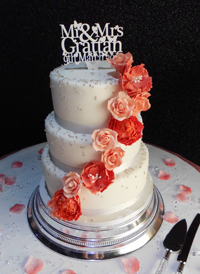 A slice as nice
Q. I want a showstopping cake for my nuptials but want to ensure there's a traditional element to satisfy the grandparents but also something a bit modern to refl ect my husband-to-be and I. What would you suggest?
A. Lucy Norwood says: Everyone's biggest dilemma when wedding planning is pleasing everyone. There are so many things you can do with the cake to keep everyone happy. Firstly, fl avours – it's a complete lie that fruit cake has to go on the base tier of a stacked cake due to its weight, when in actual fact a well-supported cake can have it any tier. How about opting for fruit, or your grandparent's favourite, as the top tier, and the other layers a fl avour you enjoy!

As far as design, the list is endless. Traditional wedding cake designs such as hand-piped details, swags and sugar fl owers are actually very on-trend at the moment, giving a classic, elegant look which wou ld easily please the older generation. If you prefer a modern buttercream or naked cake look, maybe consider sugar fl owers or a more traditional cake topper, such as a bride and groom fi gure, to add a bit of tradition.

No matter what you decide, remember this is your day, nobody else's, and as long as you're happy, everyone will be happy for you too!
---
Contact our experts...
Danielle Harvey
Features editor
Phil Gunton
Business owner
---