Why you should buy issue 84 of An Essex Wedding magazine...
January/February 2019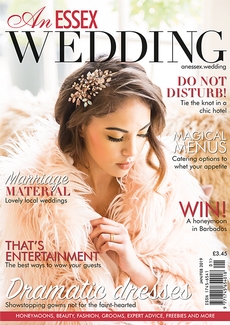 Barbados competition
Win a five-night honeymoon in Barbados, worth £3,800
Timeless elegance
Gorgeous gold tones brought Kayleigh and Karl's big day to life
A dreamy day
Ashley and Daniel set the tone for their nuptials with a purple and grey colour palette
Classically modern
Champagne-coloured finishing touches took centre stage at Chantelle and Andy's wedding
Spotlight on... Brentwood, Billericay & Basildon
We showcase a bevy of regional beauties
Do not disturb!
Delve into county's finest hotel venues
Blush pink, navy and gold - oh my!
Check out this gorgeous shoot set in the heart of the county
Peacock vibes
Rich purple tones coupled with teal, blue and green created the perfect colour palette for this shoot
Magical menus
Catering options to whet your appetite
That's entertainment
The best ways to wow your guests
Dramatic dresses
These showstopping gowns aren't for the faint-hearted
Boudoir belle
This season's bridal lingerie comes in blush pinks, sumptuous creams and soft nude tones
All of a flutter
Bring drama to your bridal look with fabulous false lashes
eMagazine
Available to download NOW for only £1.49
Printed Copy
(inc. free eMagazine)
In Stock
Click here to use our online ordering service
---
Buy a copy
There are 5 different ways to buy An Essex Wedding magazine.
Click here to view some sample pages from an eMagazine
To order the latest copy of An Essex Wedding magazine or to obtain back issues, click here.
Alternatively call us to order your copy, post-free for just £3.45, on 01376 514000
Read An Essex Wedding magazine in electronic format for just £1.49 per copy (Smartphone and Tablet compatible) click here
You can subscribe for just £17.60!
Annual subscription (6 issues)
Save over 15% off the normal cover price
FREE postage and packing
Receive each issue as soon as it is published
To order your subscription, simply call us on 01376 514000 or click here
Alternatively, click here to order an eSubscription for just £7.60
Readers will receive a 'Bride To Be' ginger and lime scented candle from Chelsea Candle, worth £19.95 when they take out a year's printed subscription to An Essex Wedding.*

Sign up for a year's subscription and not only will you save money on the cover price, you'll also receive a 'Bride To Be' ginger and lime scented candle from Chelsea Candle, worth £19.95*

Chelsea Candle's Memories Collection is inspired by the loving memories and nostalgia of Chelsea Candle founder Chelsey O'Neill – from freshly cut grass in the summer, to autumnal and wintry scents that evoke memories of childhood Christmases.

We're delighted to team up with Chelsea Candle to offer our readers its wonderful 'Bride To Be' candle – a refreshing blend of a crisp ginger fragrance, enriched by sparkling verbena and lime zest. The 300ml votive candle has a burn time of up to 50 hours.

For more information, visit www.chelseacandle.com

All you need to do to claim your gift is take out a year's subscription.*

*Subject to availability
* Subject to availability
4. Buy a copy from a retail outlet
An Essex Wedding magazine is available from newsagents and supermarkets.
However, if you do have problems, or if your newsagents has sold out, then call us!
We'll send your copy to you post-free for just £3.45 inc P&P. Simply call us on 01376 514000
5. Overseas Orders
For non-UK customers, please email admin@county.wedding for full details.
---