Why you should buy issue 81 of An Essex Wedding magazine...
July/August 2018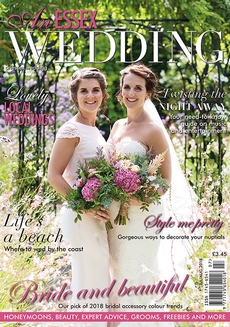 Algarve competition
Win a romantic honeymoon in the Algarve worth £5,000
All night long
Music and entertainment to wow your guests
Singing in the rain
Tips and advice for dealing with the dreaded 'R' word
Pets at weddings
There are lots of ways you can include them, from your hen do through to your honeymoon
Life's a beach
Delve in to the county's coastal venues
Chelmsford & around
We showcase a handful of regional beauties
Discover Dominica
Claire Ridley discovers the charm that this lesser known island in the Caribbean has to offer for adventure-loving newlyweds
A day to remember
Mellissa and PJ celebrated their nuptials with an informal-vibe
The perfect proposal
Irish dancing, a Ronald Joyce gown and a navy and grey colour scheme took centre stage at Siobhan and Jamie's big day
A splash of colour
These colours are #trending right now and perfect for brides and their maids
Clean living
Nutritionist Jenna Hope reveals her top tips for getting that bridal glow
50's chic
Bridesmaids' styles influenced by this ladylike decade
Freebies and offers
Great giveaways and discounts up for grabs
Festival fever
Get wedfest-ready and wow your guests with a blast of colour and fun accessories
Written in the stars
Check out your zodiac sign for big-day inspiration
Boys will be boys
The little ones will look oh-so cute with these designs
Fun in the sun
Melissa Barker discovers what makes the TRS Yucatan Hotel in Mexico such an appealing destination
The secret garden
A classic country theme set the tone for Gemma and Steven's wedding
eMagazine
Available to download NOW for only £1.49
Printed Copy
(inc. free eMagazine)
In Stock
Click here to use our online ordering service
---
Buy a copy
There are 5 different ways to buy An Essex Wedding magazine.
Click here to view some sample pages from an eMagazine
To order the latest copy of An Essex Wedding magazine or to obtain back issues, click here.
Alternatively call us to order your copy, post-free for just £3.45, on 01376 514000
Read An Essex Wedding magazine in electronic format for just £1.49 per copy (Smartphone and Tablet compatible) click here
You can subscribe for just £17.60!
Annual subscription (6 issues)
Save over 15% off the normal cover price
FREE postage and packing
Receive each issue as soon as it is published
To order your subscription, simply call us on 01376 514000 or click here
Alternatively, click here to order an eSubscription for just £7.60
4. Buy a copy from a retail outlet
An Essex Wedding magazine is available from newsagents and supermarkets.
However, if you do have problems, or if your newsagents has sold out, then call us!
We'll send your copy to you post-free for just £3.45 inc P&P. Simply call us on 01376 514000
5. Overseas Orders
For non-UK customers, please email admin@county.wedding for full details.
---