Why you should buy issue 82 of An Essex Wedding magazine...
September/October 2018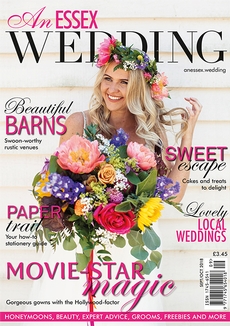 Fuerteventura competition
Win a romantic honeymoon in Fuerteventura, worth £1,900
All of me
A purple, white and grey colour scheme set the tone for Nicola and Andrew's big day
The sweetest thing
Tiptree jam favours, a baseball-themed cake and a laid-back vibe set the tone for Rebecca and James' nuptials
Gray to gold
Samantha and Pete opted for a day full of handmade touches, with fun being the main objective
Beautiful barns
Delve in to the county's rustic venues
Spotlight on... Epping & Harlow
We showcase a handful of regional beauties
Something old, something new
Check out this striking shoot, which seamlessly blends industrial chic and clean geometric lines
Paper trail
Step-by-step stationery for your nuptials
Sweet escape
Cakes and delicious treats to delight your loved ones
Seasonal shades
Be inspired by warm autumnal tones and on-trend metallic lustre
Movie star magic
This season's bridal dresses have taken Hollywood glamour to the next level
Fabulous fishtails
This favourite style never goes out of fashion
Head-turners
These veils, headpieces and accessories will add that finishing touch
Lip service
Pucker up with these products
eMagazine
Available to download NOW for only £1.49
Printed Copy
(inc. free eMagazine)
In Stock
Click here to use our online ordering service
---
Buy a copy
There are 5 different ways to buy An Essex Wedding magazine.
Click here to view some sample pages from an eMagazine
To order the latest copy of An Essex Wedding magazine or to obtain back issues, click here.
Alternatively call us to order your copy, post-free for just £3.45, on 01376 514000
Read An Essex Wedding magazine in electronic format for just £1.49 per copy (Smartphone and Tablet compatible) click here
You can subscribe for just £17.60!
Annual subscription (6 issues)
Save over 15% off the normal cover price
FREE postage and packing
Receive each issue as soon as it is published
To order your subscription, simply call us on 01376 514000 or click here
Alternatively, click here to order an eSubscription for just £7.60
Readers will receive a fabulous bundle from Pro Teeth Whitening, worth £30 when they take out a year's printed subscription to An Essex Wedding.*

Sign up for a year's subscription and not only will you save money on the cover price, you'll also receive a fabulous bundle from Pro Teeth Whitening, worth £30.

Pro Teeth Whitening provides high-quality, safe and effective teeth whitening products at affordable prices. All products are made from the finest natural ingredients and suitable for vegans and vegetarians.

Check out www.proteethwhitening.co

County Wedding Magazines is delighted to team up with Pro Teeth Whitening to offer readers its premium 14-day teeth Whitening Strips and new activated charcoal whitening toothpaste. The strips are formulated to safely whiten teeth using activated charcoal which helps remove stains and gently whiten teeth. The peroxide-free formula offers professional results in just 30 minutes without causing sensitivity.

When used twice a day, the toothpaste helps polish the surface of your teeth to significantly whiten and brighten your smile. activated charcoal absorbs tannins found in tea, coffee and red wine, all of which stain the teeth. The toothpaste also helps reduce bad breath bacteria, food stains and keep plaque at bay!

All you need to do to claim your gift set is take out a year's subscription!
* Subject to availability
4. Buy a copy from a retail outlet
An Essex Wedding magazine is available from newsagents and supermarkets.
However, if you do have problems, or if your newsagents has sold out, then call us!
We'll send your copy to you post-free for just £3.45 inc P&P. Simply call us on 01376 514000
5. Overseas Orders
For non-UK customers, please email admin@county.wedding for full details.
---