Three Fabulous Competitions
---
WIN! A wedding and honeymoon voucher courtesy of Debenhams Personal Finance, worth £1,050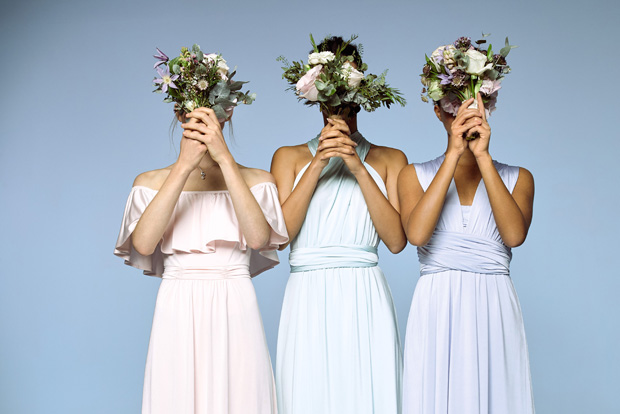 One lucky winner will feel assured that they are covered in case something goes wrong on their big day as well as receive a hassle-free honeymoon hoard. The prize includes, a Diamond level Wedding Insurance Policy, £500 worth of currency of your choosing, Tripp Luggage bundle and Annual Worldwide Travel Insurance for you and your partner.

Tying the knot has never been more painless thanks to Debenhams Personal Finance.

You can take the stress out of planning your big day with a Debenhams Personal Finance Diamond level Wedding Insurance policy, including up to £60,000 cancellation cover. Recent research has revealed that the average wedding sets couples back a whopping £18,500* therefore one lucky winner can have the added peace of mind that they are covered when it comes to their wedding day and enjoy what's due to be one of the best days of their life. Diamonds are now officially a girl's best friend!

Travel to your honeymoon destination in style, with a new Tripp luggage bundle, and it doesn't have to stop there. Enjoy a romantic dinner as the sun goes down, relax on the golden sandy beach with your loved one, or experience views from above with a helicopter ride. Create lasting memories that usually money couldn't buy, with £500 worth of your chosen currency.

One lucky winner will be able to do all of this whilst they indulge and unwind with the security that they are covered for any eventuality with Debenhams Personal Finance Travel Insurance, making your honeymoon even more memorable – the world's your oyster!

Check out Debenhams Personal Finance | finance.debenhams.com
The prize
- A Diamond level Wedding Insurance Policy
- £500 worth of currency of your choosing
- Tripp Luggage bundle
- Annual worldwide travel insurance for you and your partner.
For your chance to win, simply answer the following question and complete the form below before Friday, 3 August 2018.
Terms & conditions
Competitions are not open to employees (or their immediate families) of KD Media Publishing Ltd.
The competition closing date is subject to change without prior notice.
The winner(s) will be notified in writing.
The editor's decision is final and no correspondence will be entered into.
The prize is not transferable and has no monetary value.
If an advertised prize is not available, we reserve the right to offer an alternative prize of equal or greater value.
No purchase necessary to enter and there is no charge to enter via the website.
Prize must be claimed within 3 months of the closing date.
Prize must be taken within 12 months of the closing date.
By entering this competition you indicate your acceptance of our Terms and Conditions.
In the event that you win the competition, you agree that we shall name you in the media for publicity purposes.
By entering you agree to your details being shared with the prize provider for their own marketing purposes only, not to be disclosed to a third party.
Debenhams Retail Plc is an Appointed Representative of UK General Insurance Ltd who are authorised and regulated by the Financial Conduct Authority (Firm Reference Number 310101). This can be checked on the Financial Services Register by visiting the Financial Conduct Authority's website at http://www.fca.org.uk/.
All prizes are non-transferable, non-endorsable, non-refundable and non-negotiable. No cash alternative is available. The prizes cannot be used in conjunction with any other promotional offer.
Debenhams will contact the winner with instructions on how to redeem the prizes. The Winner will be solely responsible for making the arrangements in order to redeem their prizes in accordance with the instructions provided by Debenhams. Failure to follow the instructions will result in the prizes being forfeited.
Unless otherwise stated, no travel or accommodation will be provided by Debenhams in relation to the prizes.
By entering the prize draw the winner agrees to participate in such promotional activity and material as Debenhams Retail Plc may require. This includes, but is not limited to, the use of images for social media promotions.
Debenhams Retail Plc reserves the right to substitute or amend any part of the prize in the event of circumstances outside of its control for one of their choosing and will use reasonable efforts to ensure this has a value the same or greater than the original prize.
Any personal data processed by Debenhams will be processed in accordance with the Debenhams Privacy Policy which is located on www.debenhams.com and www.debenhams.ie.
The winning prize may be dispatched directly by a third party courier service employed by Debenhams. Therefore, the winner's details may be shared with this courier service for dispatch purposes only and will not be kept for any future marketing purposes.
No members of Debenhams staff or UK General are eligible for the prize.
The Diamond Wedding Insurance Policy
The Wedding Insurance will be subject to the providers' terms and conditions and eligibility requirements.
Debenhams Retail Plc is an Appointed Representative of UK General Insurance Limited. UK General Insurance Limited is authorised and regulated by the Financial Conduct Authority. Registered in England and Wales Company No. 4506493. Registered Office: Cast House, Old Mill Business Park, Gibraltar Island Road, Leeds LS10 1RJ. Firm No. 310101.
£500 worth of currency of your choosing
The winner must redeem their prize by confirming their chosen currency and the Debenhams Travel Money Bureau they wish to collect the currency from. Debenhams will contact the winners by email and/or telephone to request this information.
This prize is subject to availability of the selected currency at Debenhams.
Tripp Luggage bundle
The Tripp Luggage bundle is selected by Debenhams in their absolute discretion.
The winner will be entitled to collect the Tripp Luggage bundle from one of the participating stores. A list of the 88 participating stores that offer Personal Shopping services can be found at http://www.debenhams.com/content/find-a-store.
Annual worldwide travel insurance for you and your partner
The winner (and their guest) of the annual worldwide travel insurance must redeem their Prize by confirming the full names and ages of the parties travelling and such other relevant information that may be required by Debenhams to arrange the insurance.
The winner will be entitled to the Luxury travel insurance package which will be subject to any restrictions and exclusions in the policy wording provided to the winner by Debenhams.
Debenhams accepts no liability for any changes in the details provided once the travel insurance has been issued. Any changes required in the travel insurance will be at the discretion of the provider.
This prize will be subject to the insurance providers' terms and conditions and eligibility requirements.
Debenhams Travel Insurance is arranged and administered by ROCK Insurance Group. ROCK Insurance Group is a trading style of Rock Insurance Services Limited who is authorised and regulated by the Financial Conduct Authority (FCA No. 300317).
Law These terms and conditions shall be governed by English law and subject to the exclusive jurisdiction of the English courts. Exclusion of Liability
Debenhams Retail Plc makes no representation or warranty in relation to the prize provided and to the fullest extent permitted by law shall have no liability to you in relation to the prize, its fitness for purpose, merchantability or otherwise.
Debenhams Retail Plc reserves the right to disqualify prize winners from receiving their prizes where any such person engages in unsafe, illegal, unsociable or inappropriate behaviour.
For the avoidance of doubt, Debenhams Retail Plc will not be liable to handle any complaints relating to the prize. Any complaints should be directed to the service provider.
Good luck!!
---