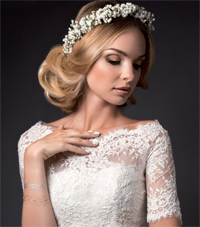 Golden glow
Q. My bridesmaids and I are hoping to have a beautiful golden glow for my nuptials – how can we achieve this safely without visiting the sunbeds?
A. Nadine Rigby says: There are a few options you can take to get that lovely gorgeous glow. The first is to have a spray tan, lots of brides are naturally worried about this option, what if it's un-even? What if it's too dark? Will it transfer onto my dress?

Do some research, there are some lovely natural-looking products out there, I use Sienna X. Just as you would with hair and make-up, have a trial run. The key to an even tan is exfoliation, hydration and an experienced spray technician.

If a spray tan isn't for you and you'd rather just have a natural glow, there are lots of products to help achieve this, I suggest Decleor gradual glow hydrating body milk. You can also ask your make-up artist to give you a dewy look using highlighters.

To help give your skin a boost ensure you keep up with a good routine, always remove make-up and moisturise, drink lots of water, and eat lots of food containing vitamin C like blueberries, strawberries, kiwi and broccoli – remember a good glow starts from within.