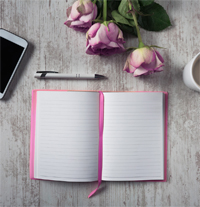 Help, I need somebody!
Q. I'm finding planning a wedding extremely stressful; how can I make the process smoother without compromising quality?
A. Jo Sanders says: You're not alone. I think a lot people find it really hard and this is why we set up Our Pretty Wedding. First things first, we always start with numbers – get a rough guest list together including your bridal party. You can then decide on the size and type of venue you need, how much food, decoration, flowers and set a rough budget; it's surprising how things add up, so do a bit of research of average costs in your area – magazine articles are great for that. If you do these things before anything else planning will automatically be easier. Afterwards you can start making enquiries and start visualising your day, I love a moodboard and you can set one up online or use an old fashioned scrapbook. Recommendations are always a good way to go but remember just because someone else thought they were good, your tastes and standards may be different, so get talking to them before making a decision. If you really are not in the mood for organising such an important event then contact some wedding planners in your area for quotes or get in touch with businesses like ours who can help with lots of different aspects and support you.