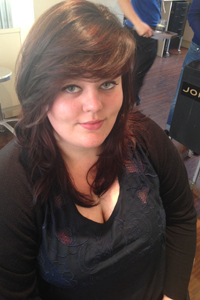 Get to know Annie Cannock, editor of An Essex Wedding, with these top 10 questions.
What do you love most about working on An Essex Wedding?
I love that I can bring local inspiration right to the region's brides. The wedding industry is massive, however there are so many fabulous suppliers in Essex who more than deserve to be presented on the same level as nationwide companies.
Describe the style of a An Essex Wedding bride?
An Essex bride is effortless whether they choose a relaxed gown or princess dress – plus we couldn't forget the beyond-gorgeous accessories.
What's your favourite feature to write for An Essex Wedding?
Real weddings of course! I love nothing more than sharing inspiring big days with our lovely local Essex brides. Also I fall hook, line and sinker for a happily ever after.
If you were to get married what type of wedding would you have?
I don't like to cross this path – work and personal (you can't be a bridezilla without the ring) – but I'd say a quiet, intimate big day.
Who would be your number one wedding guest and why?
In terms of a celebrity, probably Frankie Valli, he would have the guests on their feet. However, I'm more than happy with me and my future hubby's nearest and dearest and my darling doggo Minnie.
What are the five words that best describe you?
The craziest dog lady ever.
What books do you enjoy reading?
My favourite series is Harry Potter, but you can usually find me curled up with chick-lit, historical fiction or a thriller.
What three items could you not live without?
My desk fan, my mobile and my dog Minnie – not in that order though.
Favourite food?
In the autumn and winter my go-to meal is cottage pie and peas. However, in the spring and summer you can't go wrong with a barbecue – as long as the sun is shining.
Where are you happiest?
On a walk with my pooch and gorgeous boyfriend.
Contact me
I'd love to hear all about your plans for your big day, or whether you'd recommend your wedding suppliers. Alternatively, let me know about any budget-saving tips you feel may benefit other readers. Email me at editor@anessex.wedding.