Next has announced its first menswear edit with Gary Lineker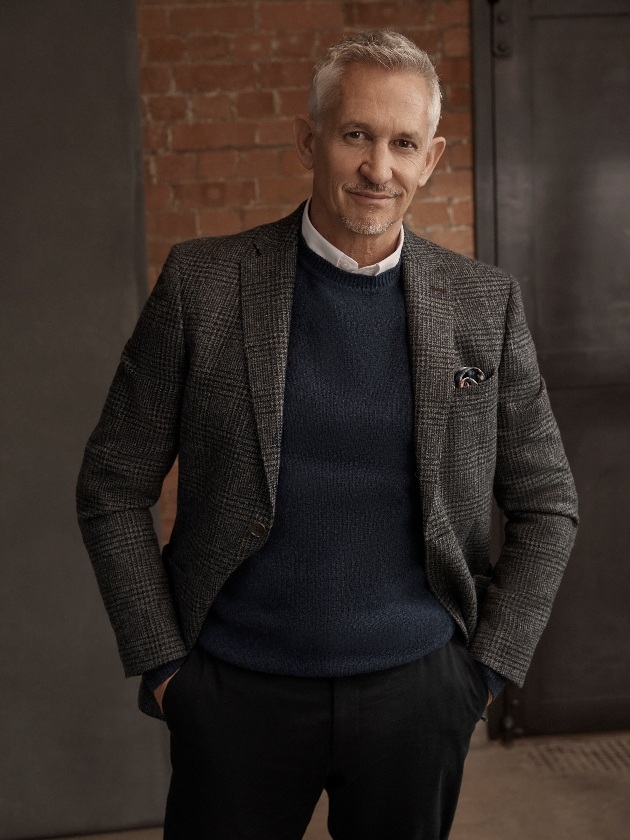 Next has announced its first menswear edit with TV host and World Cup golden boot winner, Gary Lineker. The 12 looks that Gary has selected for his winter edit are a mixture of casual and formal pieces to suit every style and occasion. Whether that's supporting the kids on a chilly Sunday morning from the sideline or dinner and drinks with family and friends, there is something for everyone.

Gary tells us all about the new collaboration:

Why did you choose to do a fashion edit with Next?
Fashion is something I'm really passionate about and I like the variety offered by Next. There is great tailoring and also smarter pieces for going out socialising. On the other hand, there is much more casual clothing for my Sundays off and holidays, both of which are very important to me. Next, although known internationally of course, is also a brand with a strong connection to Leicester!

Are there any looks or items in your edit that were slightly out of your comfort zone?
Before working with Next, I might not have gone for the rugby style top and longer length jacket, but after the team suggested it and I then tried them together, I think they work well. I could see myself wearing this combination for my winter Sundays when I nip out with my dog, Filbert and also to go out shopping!

What would you say is your go to look when filming?
A smart shirt with fairly neutral trousers, definitely. Wearing a smart casual jacket with the shirt will depend on what I am working on. I also like donning a tie for special occasions, like the FA Cup final at Wembley or a final of a major competition.

Is style important with regards to your job?
It is, but in all honesty, I think my job is no different to many others in this respect. Dressing up projects professionalism and also makes you feel good, which is just as important. There is certainly an expectation that television presenters should look good. What is noticeable is how varied dress styles are nowadays, it's not all shirt and tie, which is good!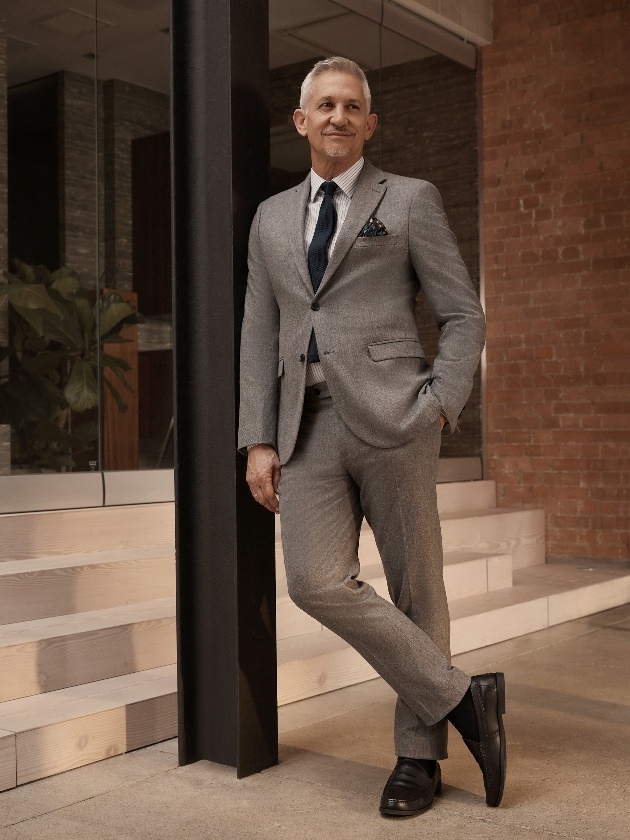 Which items do you repeatedly buy every winter?
The FA Cup in mind, and those cold weekends in round 3 and 4 in particular, I like a big warm jacket. Keeping warm on the touchline is a must and I did my time out in the cold in only a shirt and shorts as a player! So to now be able to wear a large warm jacket and waterproof shoes is great. I also like wearing woollen jackets in the winter.

Would you say your style has changed a lot over the years from footballer to presenter?
Definitely. I am much more conscious of what I wear and open to trying different styles and new colours, etc. now. With my schedule, the reality is I also simply need more clothes. When you are a player you can happily wear a tracksuit for most of the week, before putting on your club or country kit at the weekend.

What are your favourite four items from the edit and where you might wear these?
Grey trucker Jacket : a great piece you can smarten up or down. Definitely something I will be wearing out with friends.
Grey tailored suit: perfect for a big occasion football match.
Jumper, shirt and jacket combination: ideal look for a dinner in the winter!
Wadded long length jacket: for those cold days at football at the start of the year!
For smart-casual occasions, how do you walk the line between looking smart but not too dressy?
A jacket is key here – and going for a colour that is not traditionally associated with suiting, so I would try and avoid black or plain grey. Then I would pair it with chinos, which worn with a shirt or tee shirt looks smart but not over smart.
So, we know you wear suits often on TV, how impressed were you with the next suits in your edit and if so why?
I chose the two suits because they were comfortable, really easy to wear and for me are ideal for a range of settings. I can go to meet friends for dinner in either and also wear them both for work. Or even for going to see sports such as cricket, which I like to do when there is time in the summer and no football is on. The grey suit in particular is very versatile and can be worn with a number of different ties and pocket squares.
What is more important style or comfort?
Can I say both? If not, I would lean towards comfort. It is better to feel good in what you wear than to only follow a particular trend. There is no reason though why both cannot be achieved.
For more infromation about the collection, head over to
www.next.co.uk