Pure Luxury at The Belfry Hotel & Resort in Sutton Coldfield
Beth Morton and her hubby visited The Belfry Hotel & Resort in Sutton Coldfield after hearing about this award-winning hotel...

In the heart of Sutton Coldfield with three world-class golf courses, 300+ bedrooms, multiple restaurants and a luxurious spa, I was excited to experience it first-hand. The host of The Ryder Cup four times, more than any other venue in the world, The Belfry Hotel & Resort has gone down in history as the backdrop to some extremely notable golf moments and has hosted its fair share of famous names and faces. Less than 10 miles from Birmingham Airport, International Train Station, Alexander Stadium and Birmingham's NEC, it's surrounded by prominent local landmarks, and is in a prime position for any travelling guests who need a place to lay their heads.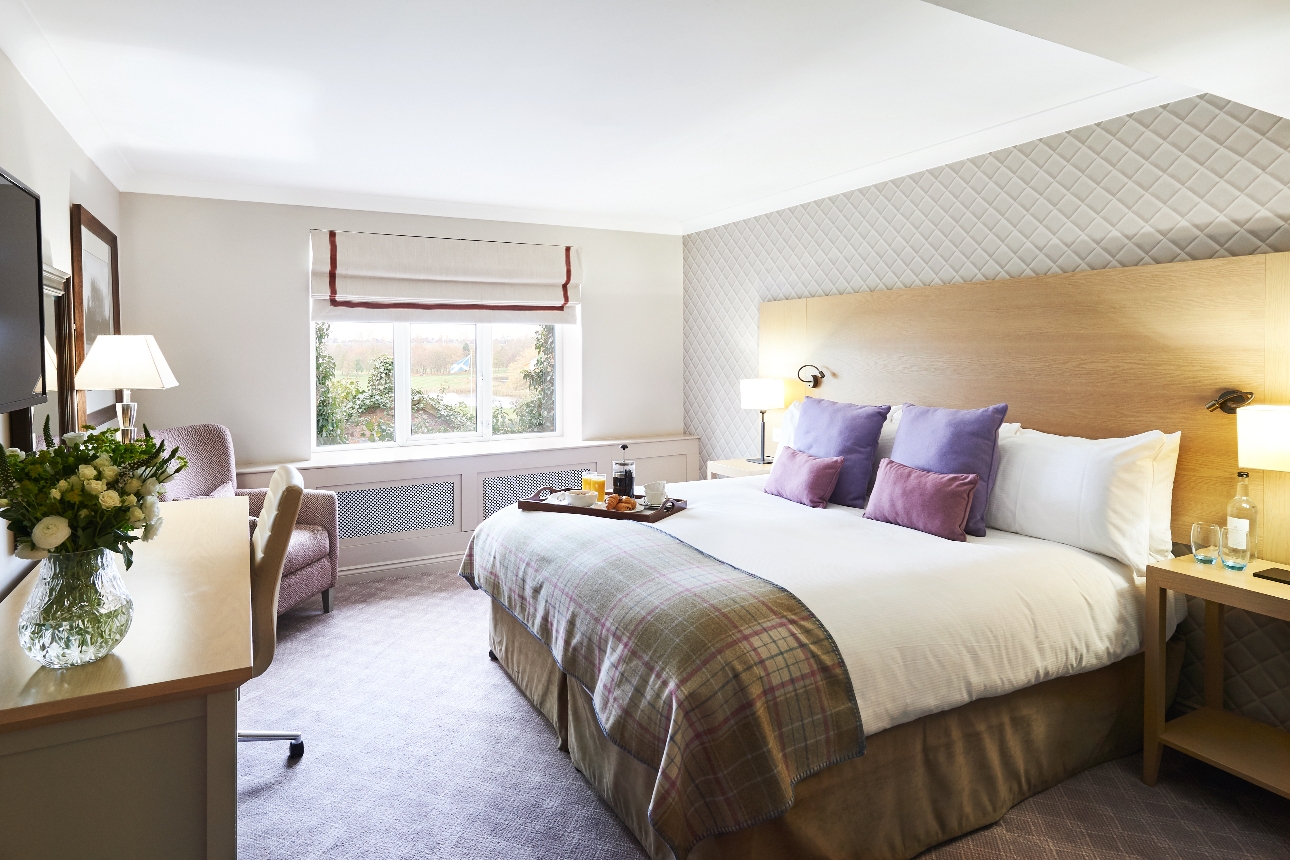 A ROYAL WELCOME
Walking through the double doors, I was met with a stunning entrance adorned with rich fabrics and beautiful floral displays. Walking past the generous amount of guest seating, the white portico pillars and vibrant yellow neon sign for the Brabazon Bar, I couldn't take my eyes off the quirky chandelier that was taking centre stage. The very helpful Ryan, who was working at the check-in desk, detailed exactly where we needed to go to find our room.

As we walked through the wood-claded corridors lined with busy event and conference suites, we found the lift up to the second floor in search of the Presidential Suite. The largest and most impressive of all their overnight accommodation, the suite offers a family-sized living room complete with comfortable sofas, a dining table, a mini-kitchen space with all the comforts of home, and two separate balconies with views of the world-class golf courses.

The bedroom had luxurious plush armchairs, a desk, a luscious kingsized bed, and quite possibly the biggest en-suite bathroom I've ever seen! Equipped with his and hers wash basins, a free-standing bath, a spacious shower cubicle, and two separate toilets, it's safe to say you won't be waiting for your turn to use the bathroom.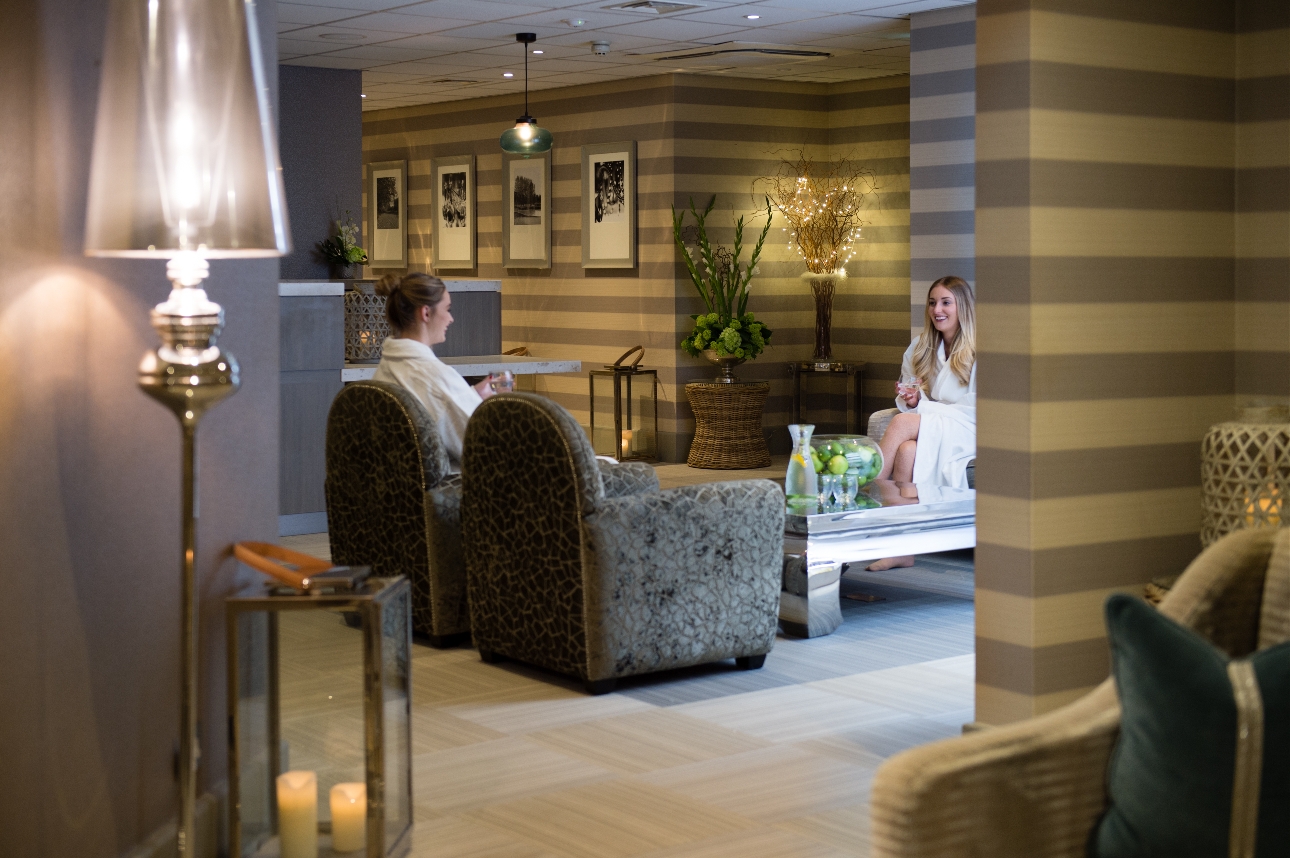 REST AND RELAXATION
Picking up our swim bags, we headed to the spa to try out the Fire & Ice Experience. Here, Michelle gave us a guided tour through the varied selection of 12 bio thermal rooms, all designed to enhance your mood and invigorate the senses. Knowing that this spa had been named a finalist in the Best Day Spa category for the Good Spa Guide Awards 2022, I was excited for the experience to begin.

Starting with a foot spa and moving through the hot and cold steam, sauna, and shower rooms, we experienced both the shock and delight that came with such extreme temperatures – it was divine! Our personal favourites were the Igloo Room, which offers chilled walls and an ever-filling ice bucket for a body massage, and the Aroma and Crystal Steam Rooms, both heavenly scented spaces designed to cleanse and purify.

From here, we popped down to the iconic Brabazon Bar, which was crowned winner of the Hotel Bar of the Year category at the Midlands Food, Drink & Hospitality Awards 2022, for a cheeky cocktail (or three) and found ourselves transported back in time. The bar, rich in bottle green leathers with portico pillars, showcases a breathtaking raised glass ceiling that is a sight to behold.

READY, SET, PLAY!
After hearing numerous tales of woe from my husband about how he's always the worst player on his group golfing trips, we both jumped at the chance of hitting a few golf balls at the driving range. Despite the brilliant Toptracer technology allowing us to see our flight paths and providing data to work on our swing technique, it's safe to say that we won't be challenging Tiger Woods to a match any time soon!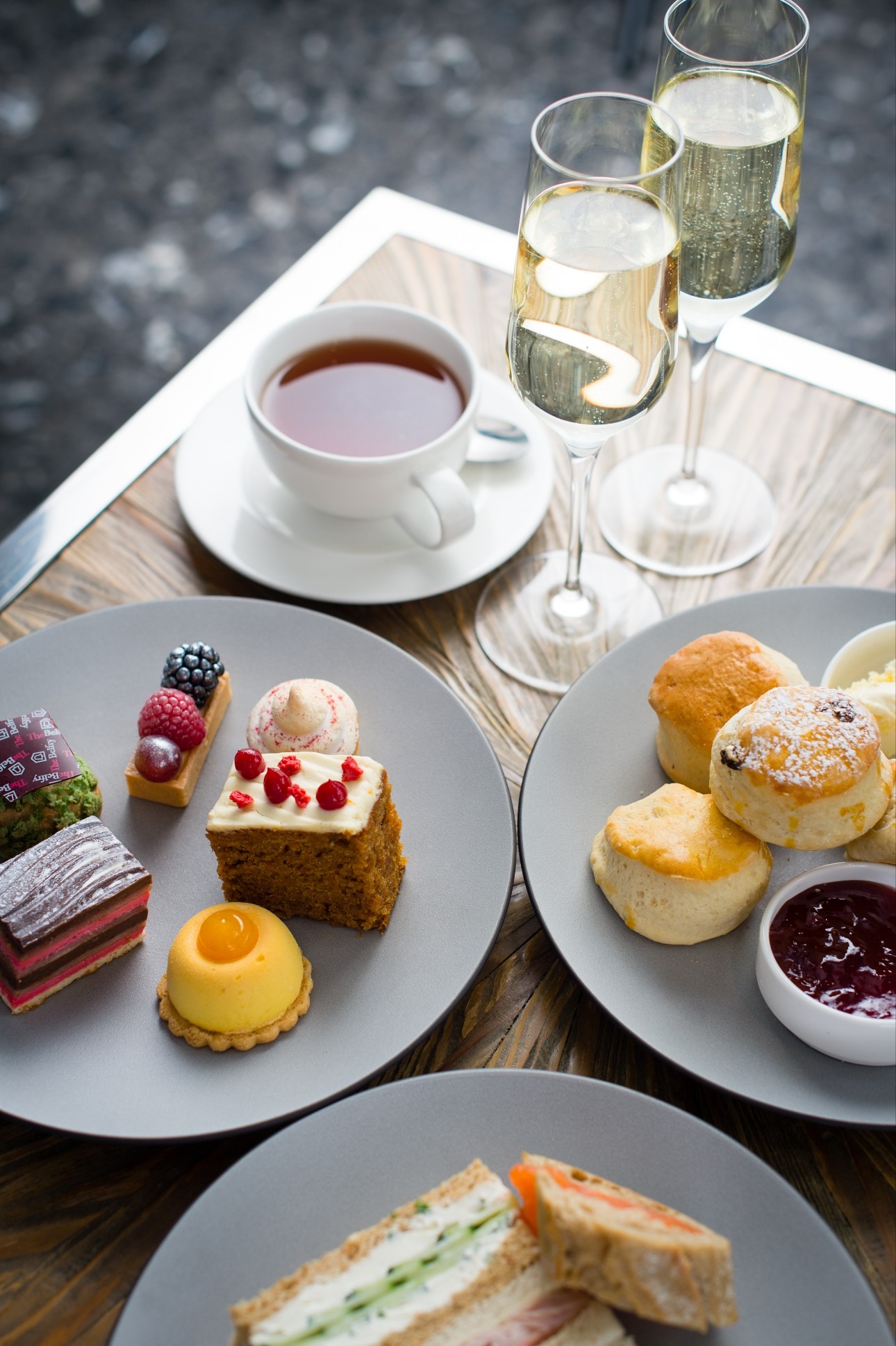 FOOD, GLORIOUS FOOD
The Belfry Hotel & Resort offers an impressive selection of restaurants, each a little different from the other, and we were lucky enough to dine in the fabulous Ryder Grill. The buffet here is one of the most delicious looking and gourmet-sounding selections I'd ever seen, but since my hubby is lactose-intolerant and vegetarian, we decided to choose from the à la carte menu. Having made our selections, we were treated to a stunning salmon, beetroot, and wasabi starter adorned with edible flowers and a vibrant carpaccio of tomatoes. The main course, generous in size, was a seared sea trout with garlic potatoes and a very artistic fennel bhaji. The highlight of the meal was the extra dessert that our wonderful waitress Annie brought out when she realised we were struggling to decide. We scoffed a chocolate torte, a cheese selection and a sticky toffee banana bread – yum! Our night ended on a high after we made our way back to our Presidential Suite and fell into blissful slumbers in a bed that felt lighter than air. We had a wonderful time at The Belfry Hotel & Resort and are looking forward to coming back soon!

The Belfry Hotel & Resort, www.thebelfry.com