Bottoms up! - 10% on a case of Pina Colada
Hailing from Essex, Tapp'd Cocktails (@tappdcocktails) are the UK's only ready-to-drink cocktail company offering drinks made from real fruit and using vegan and gluten-free ingredients. The perfectly blended drinks offer a great alternative to a traditional wedding bar, and they're also available delivered direct to your door for a hen party or date night. The selection of cocktails available will have your mouth watering, and the company regularly collaborates with its loyal customer base to develop new options.

We've teamed up with Tapp'd Cocktails to offer our lovely readers 10% discount on a six or 12 bottle case of Pina Colada, with a minimum spend of £19.99. Simply use the code 'PINACOLADA10' when ordering from www.tappdcocktails.com. Enjoy!
Offer expires: Friday, 8 October 2021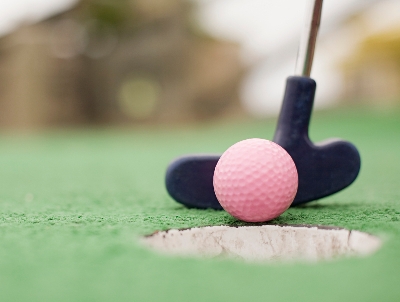 Hole in one - A 50% discount on bookings
So many couples struggle to find something to keep their guests entertained in those lull times between the key moments in a wedding. That's where Magic Frostie comes in. The magician and entertainer, who has 15 years' experience in the industry, has announced the launch of a new crazy golf course, which is now available for weddings.
What's more, we've teamed up with the company to offer a 50% discount on bookings, making it just £350 to hire all nine holes. The offer is valid on all weddings during 2021. So if you want to challenge your loved ones to a fun game, or show off your putting skills, head to the website for more information, www.magicfrostie.co.uk, and simply mention the magazine when booking to claim the discount.
Offer expires: Friday, 31 December 2021