Maddy and Ally created the most wonderfully relaxed day at Teybrook Orchard
Maddy and Ally found love after swiping right. "We started chatting on Tinder," Maddy tells us. "Although he continues to deny it, Ally pretended that the app stopped working so he asked for my number." Very smooth! Two weeks later, they met at Zizzi to sample Ally's favourite pizza together. "He later told me that he planned it so that if the date didn't go well, at least he had his favourite meal," Maddy laughs. She wasn't sure whether he'd had as good a time as her, but something tells us he did as it wasn't long before he was planning to pop the question.

Ally hatched a plan to propose while they were on a family holiday in Walt Disney World in Florida. "His parents watched our daughter, Niamh, while we went for a walk," Maddy remembers. "He flagged down a photographer and gave me a coin to throw into a wishing well. When I turned back, he was on one knee!" What followed was a tropical downpour and a soggy run back to the car – but not everything can be perfect, hey?

Back at home, the pair started planning their big day for 25th May, 2019. Maddy fills us in on the details…
I went to a Grace Loves Lace clearance day in London with my cousin. I managed to get a beautiful bohemian-style dress at a great price,which meant there was enough left in the budget for a sparkly evening number.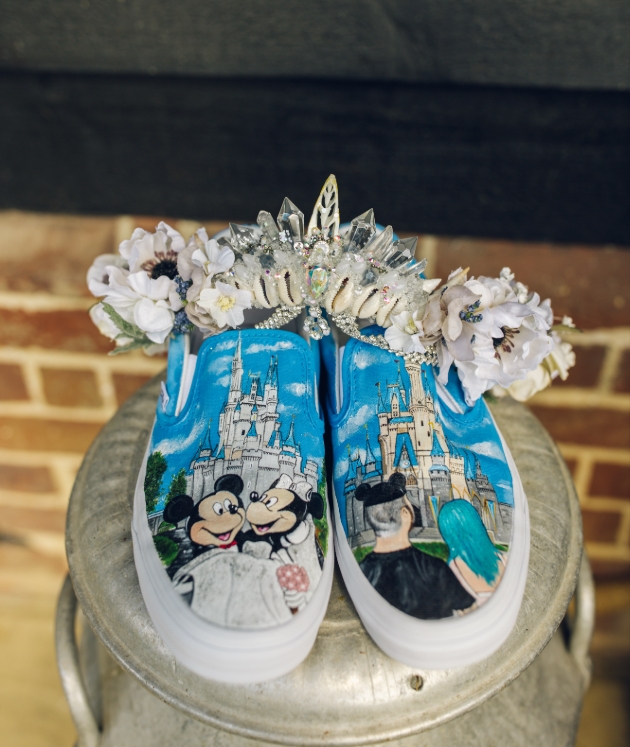 I teamed it with a bespoke crown and some custom Vans with painted scenes from Disney World on them – including of Ally proposing with Mickey Mouse ears on!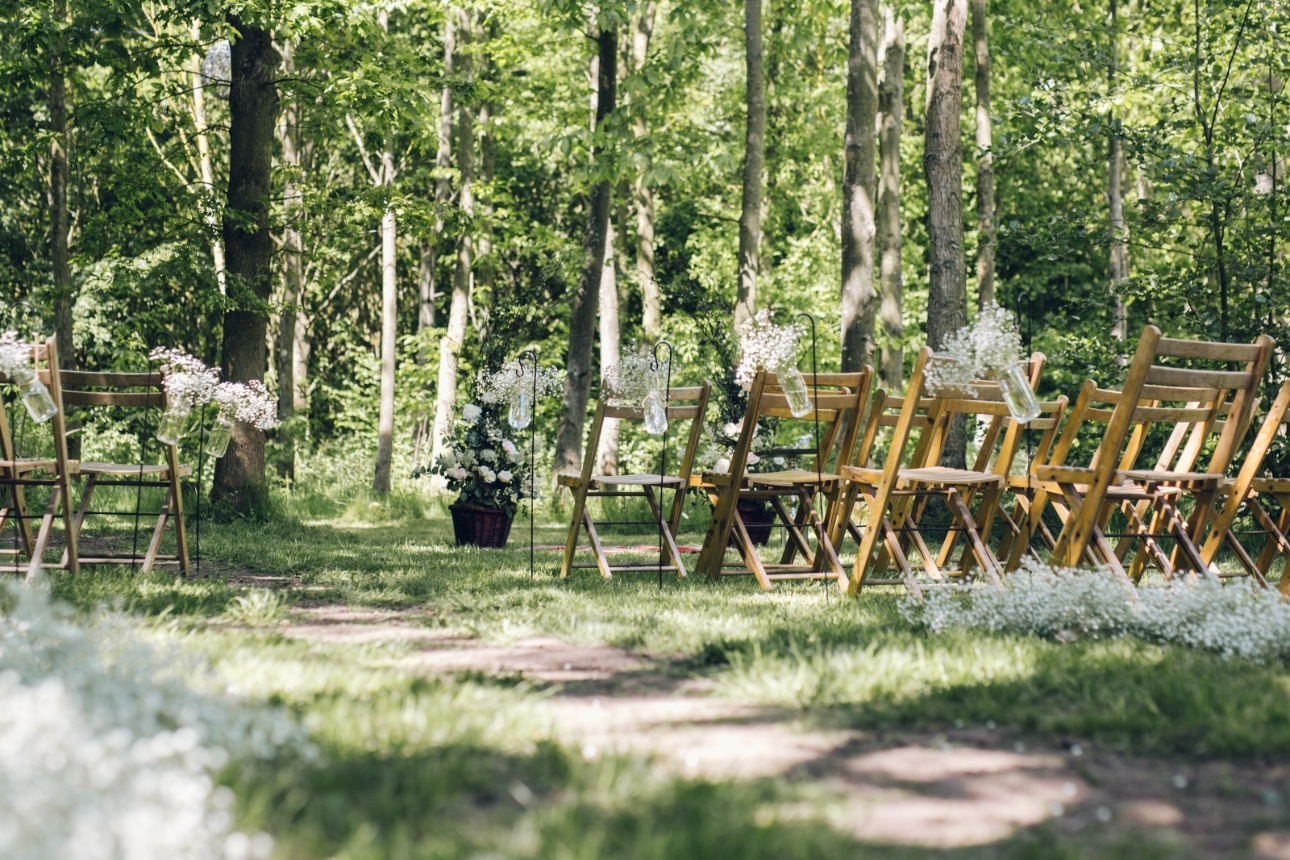 We wanted to break from tradition and have an outdoor festival feel, which was more suited to us. We were inspired by images of boho weddings and built our day around that.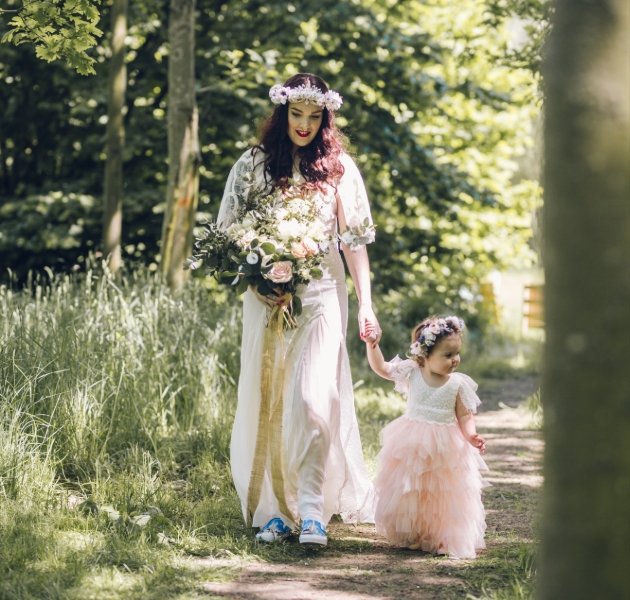 Having access to the venue for three days was great, giving us plenty of time to plan the day down to the smallest touches. It felt like a real team effort, with our loved ones kindly helping us to set up and take down again afterwards.
We visited Browning Bros' Teybrook Orchard venue, with the idea that we'd view other settings afterwards – but we didn't! The site had a large clearing with a marquee and a small glade where we had our ceremony. We loved that it was self-contained and our friends and family could camp.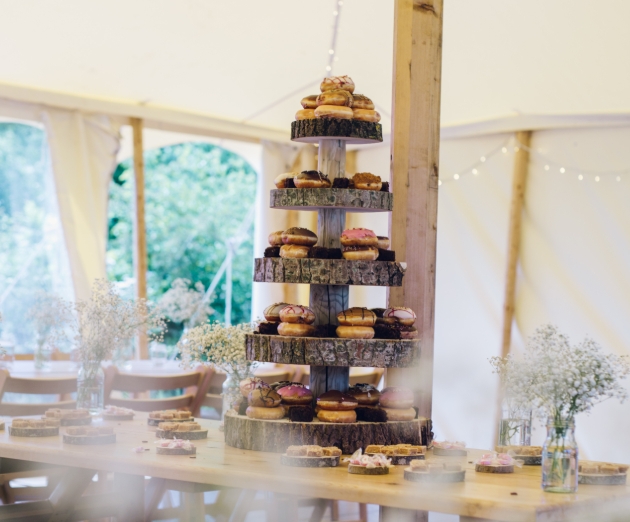 We didn't want a traditional cake, so we roped Ally's mum into making us brownies. We also had Krispy Kreme doughnuts, which we layered up on a rustic display of log slices. Ally's aunt brought a Scottish tablet – a super-sweet fudge. In the evening, we had a stand of s'mores, which we toasted on the fire pit.
My Kitchen Your Place has an amazing converted fire engine from which it provided incredible beef burgers with American cheese and chutney. For the veggies, there was halloumi, beetroot and avocado burgers. There's also a kitchen at the venue, so we had pizzas in the evening and bacon sandwiches the next morning. Combine all this with antipasti, cheese boards and a self-serve bar, and we made sure everyone was content.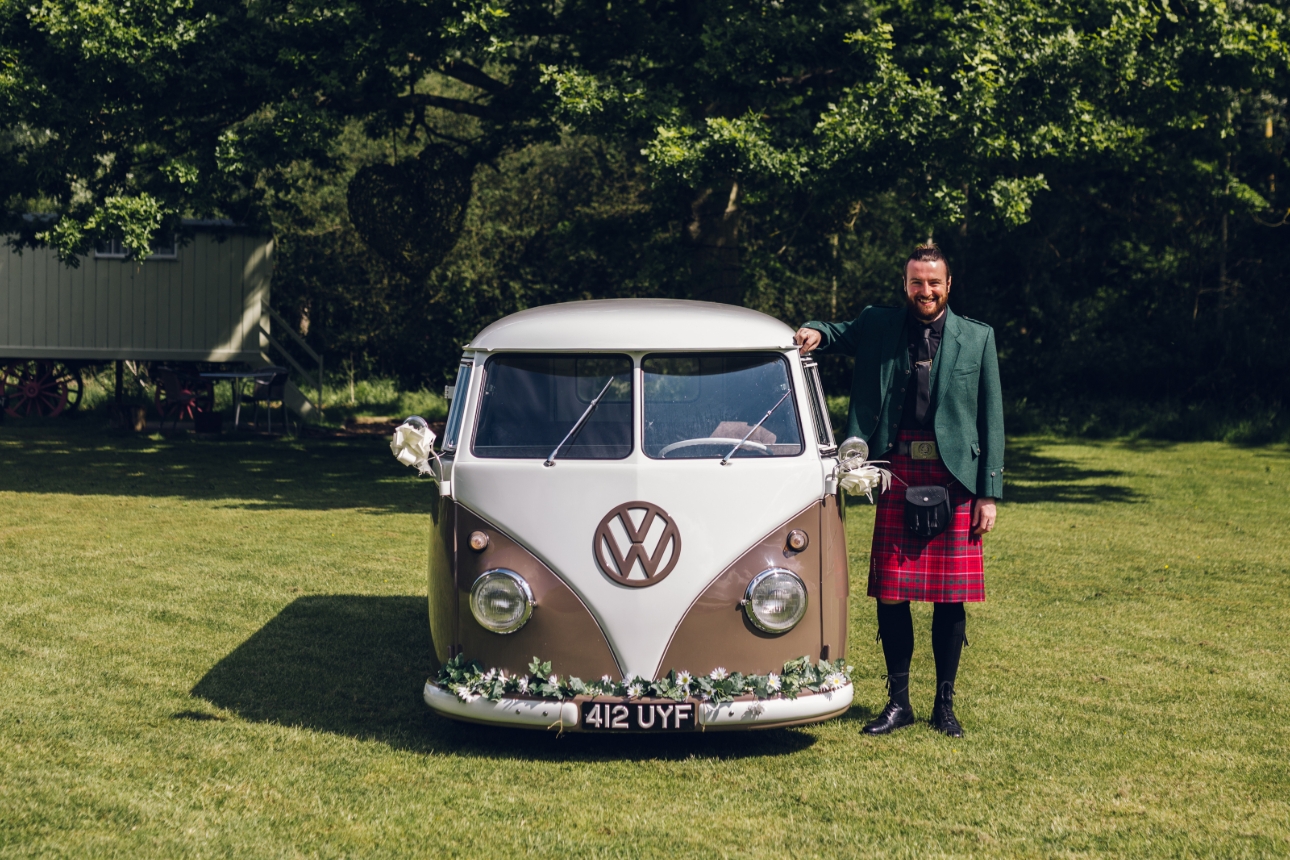 Ally's family are Scottish, and he wears a kilt to special occasions. Normally he borrows one from his dad or grandad, but as a present his parents paid for him to have one made in the family tartan. The groomsmen rocked tartan trews and the bridesmaids looked fabin pale pink bandeau dresses teamed with pink Vans.
In the marquee, we had two long rows of wooden picnic benches, with a top table for Ally and I with plush green velvet armchairs from Anthology Vintage Hire. We didn't have a table plan, we just asked our guests to sit where they wanted and mingle.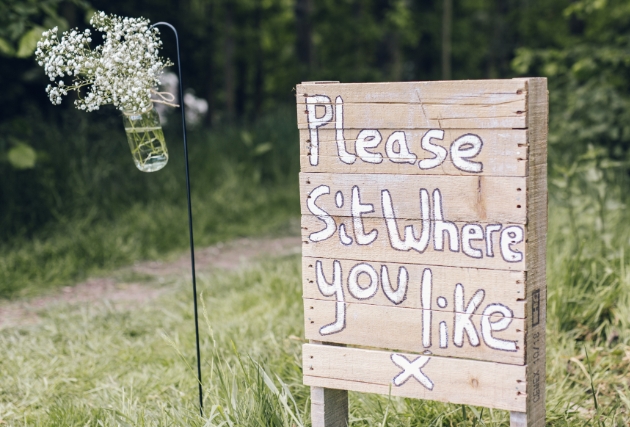 Ally had a list of things to do in the morning,which meant as I was getting ready, he was getting stressed! Once he had greeted everyone it suddenly hit him that he was about to get married. I had a chilled morning getting prepared with my sisters, and it was only when I was waiting to walk down the aisle that the tears started filling my eyes. Once composed, everything just fell into place.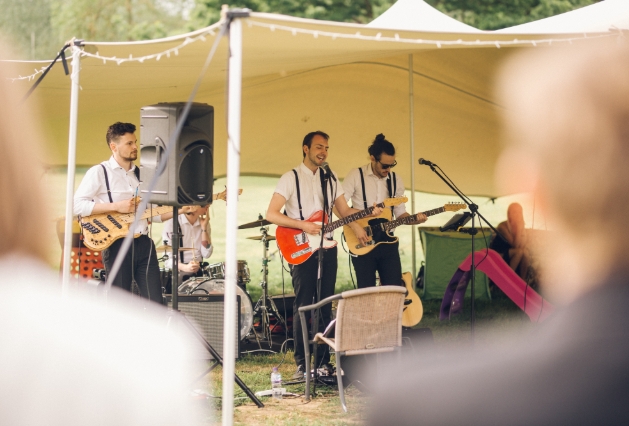 Winston and the Lads is a fantastic function band and Ally knew the members from school. They played an acoustic cover of one of our favourite Biffy Clyro songs for our first dance.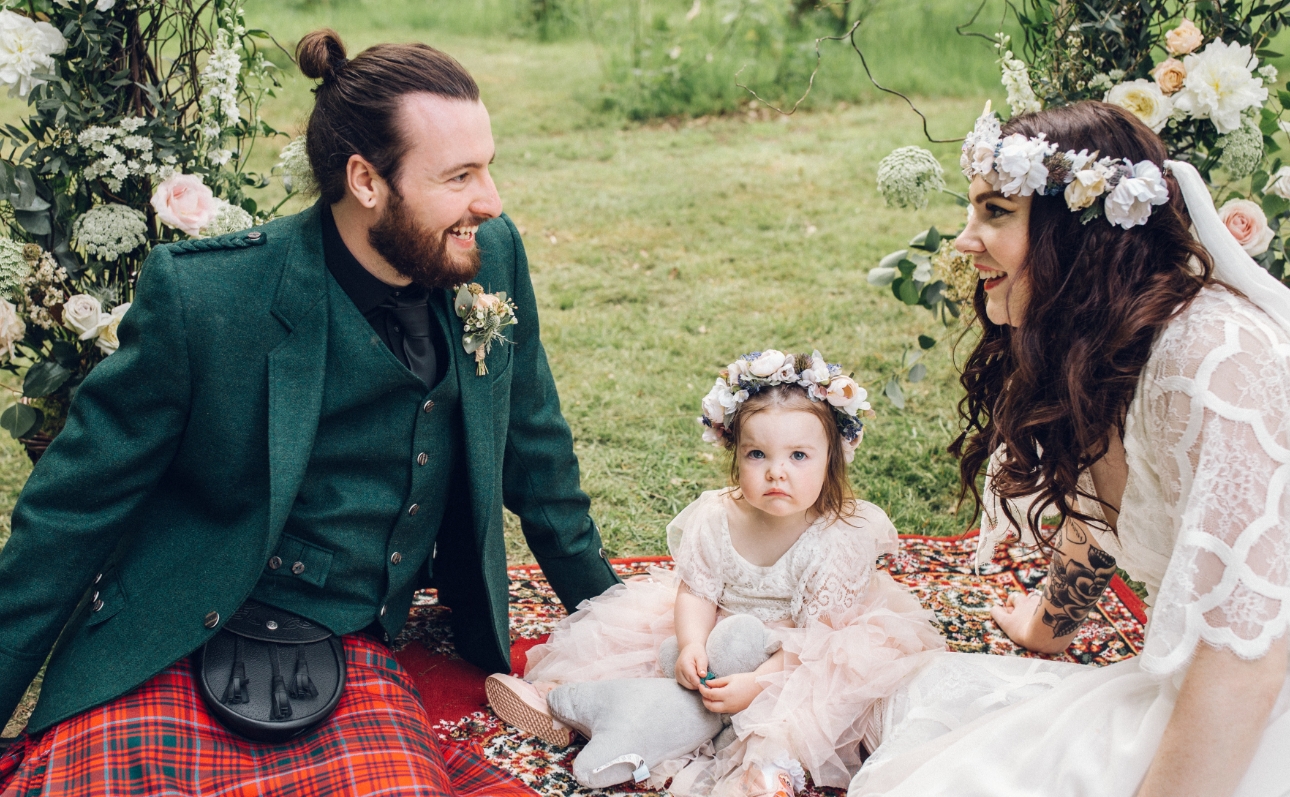 We involved our daughter, Niamh, as much as possible. We didn't want a big wedding that would get out of control when planning, so we ended up with a lovely celebration with 20 day guests and six more in the evening. It was really intimate and Niamh got to play with everyone.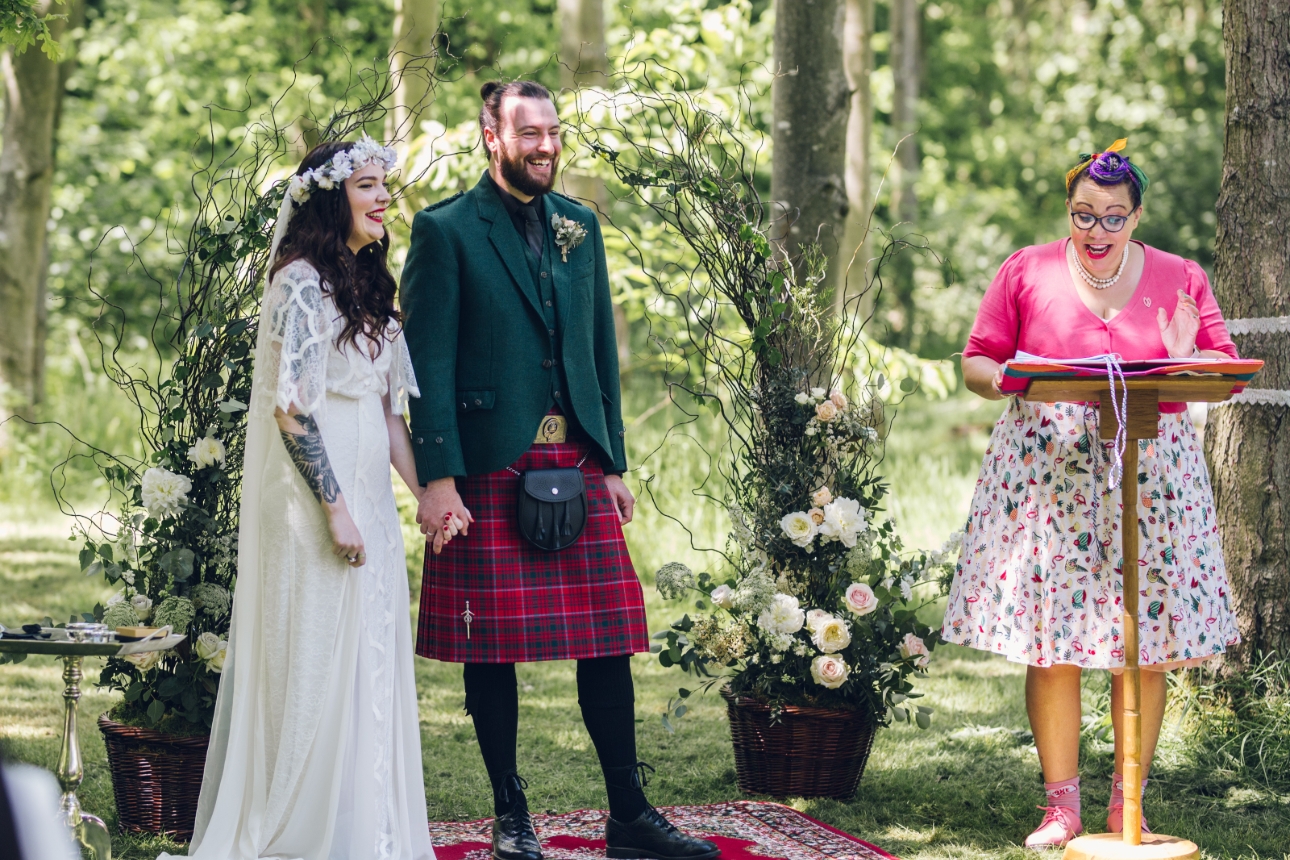 Our celebrant, Michelle Taylor, was incredible. She came in like Mary Poppins the day before and was a really positive, calming influence. She wrote an incredible, personal ceremony that involved our loved ones, and most importantly, Niamh.
Maddy and Ally's contact book