The Compasses at Pattiswick was the perfect backdrop for Hannah and Sam's classically styled big day
Hannah and Sam are both spontaneous souls with a zest for life. "It's definitely what attracted us to each other when we first met in a gym class," Hannah tells us. "We're also very family-orientated, which is so important to both of us."

The couple went on a short break to Reykjaviík in Iceland, where Sam had a surprise planned. "It was the first day, and we decided to go for a walk along the seafront," Hannah says. "As we were chatting, he turned to me and said he had a question to ask and started getting down on one knee. It was such an incredible moment!" With the spectacular setting by the deep blue sea, surrounded by snow and with the sun shining down, was it any surprise Hannah said "yes"?

Back in the UK, the loved-up pair started planning their perfect day for 11th May, 2019, with a ceremony at All Saints Church in Colchester to be followed by a reception at The Compasses at Pattiswick. Hannah fills us in on the details…
It wasn't a hard decision when it came to choosing a venue. "My sister got married at The Compasses two years ago, and we fell in love with it; it's really in a league of its own," Hannah explains. "Paul and the team made us so at ease, and nothing was too much trouble. It has a lovely family feel.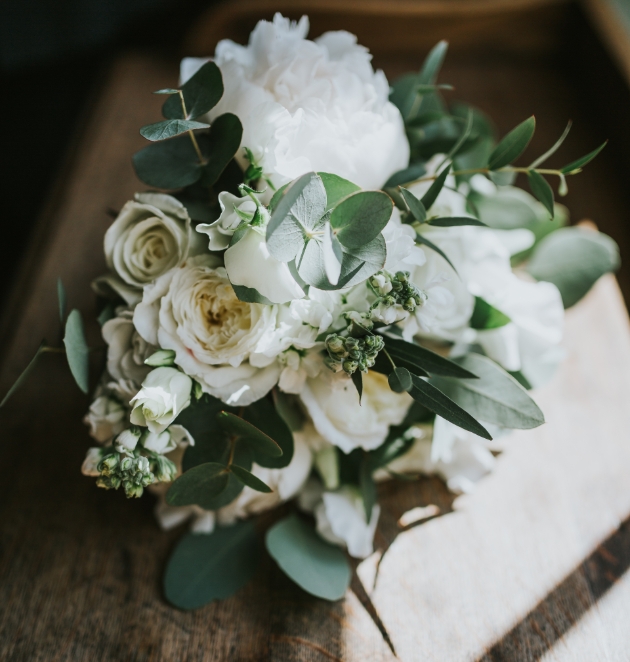 The theme the pair decided on was country elegance, with the aim of capturing the laid-back softness of the countryside alongside classic touches. "For the flowers we wanted clean and traditional, so we opted for a palette of greens and ivory, " Hannah explains. "I love peonies, so they were a must for the bouquets."

On the tables, silver crackled vases brimming with blooms and foliage brought a hint of sparkle, while the top table had a greenery runner with white peonies and roses. On the napkins were pretty sprigs of eucalyptus. The cake tied in perfectly with the theme. "It was simple and fresh, with flowers softly cascading down the side," Hannah says.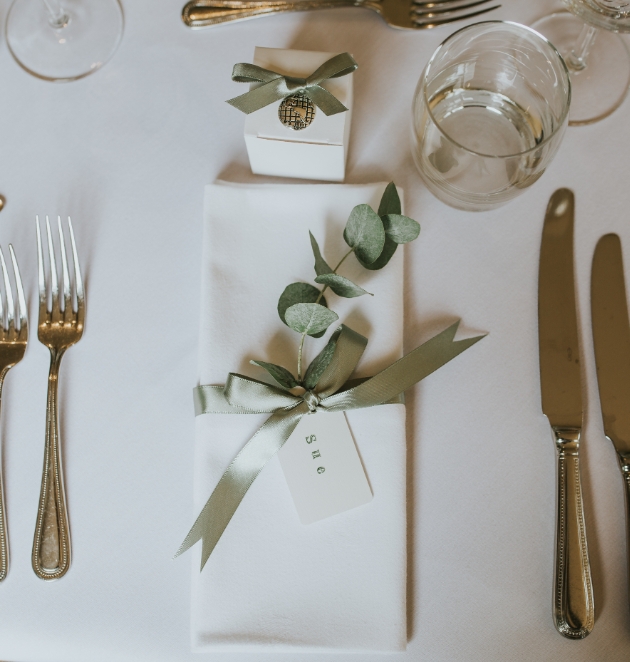 The duo love to travel, and this was represented in the table plan. "We named each table after a place we've visited together," the bride says. "There was a Polaroid of us at each destination. This was one of my favourite touches as it showed the journey we've been on together."

Luckily for the couple, Hannah's cousin is a whizz at crafting homemade touches. "We spent many Sunday afternoons drinking tea and making our favours," Hannah says. "In the end, we created trinket boxes with chocolates wrapped up in sage-green ribbon with a globe charm. There was a message reading 'You mean the world to us' inside.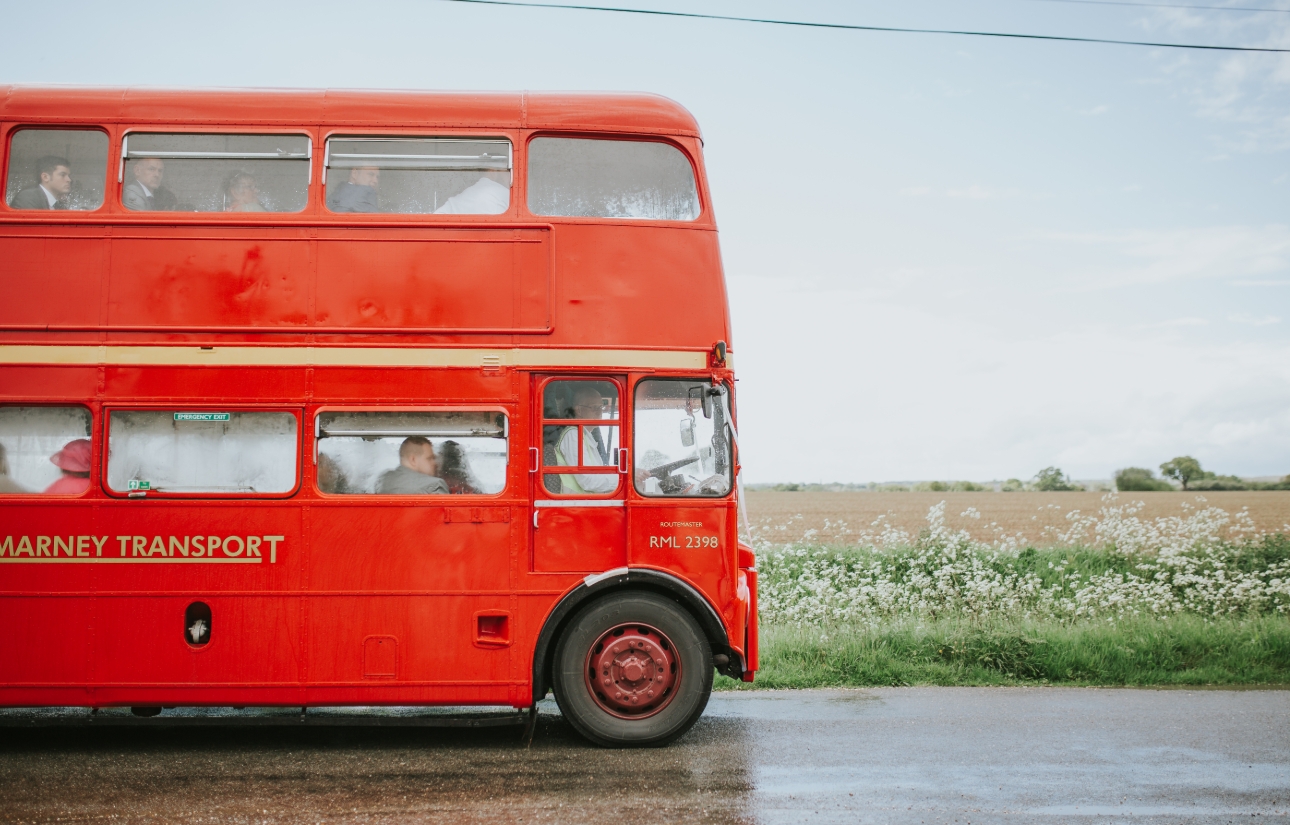 In order to arrive in style, there was a silver Mercedes for the newlyweds and a red double-decker bus for their friends and family. "We wanted everyone to feel at ease and to not have to worry about driving from place to place," Hannah explains. To kick the party off there was a DJ and photo mirror booth with props so guests could take home funny mementos.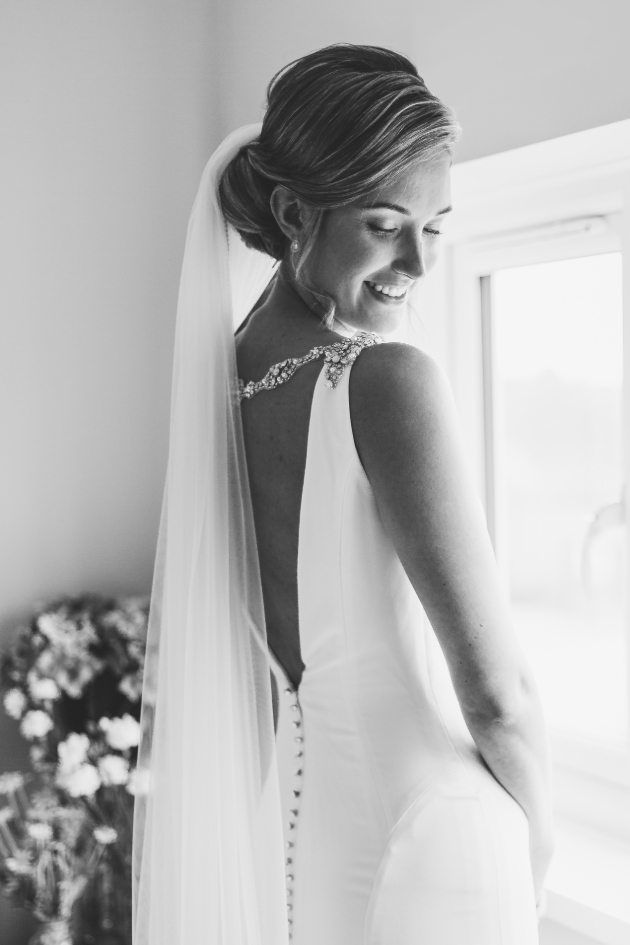 The bride found her fabulous Janine dress from Blue by Enzoani in MiliMili Bridal in Colchester. It was one of the first gowns Hannah tried on, and after looking in lots of other shops, she kept comparing everything back to it – she knew it was the one. "I loved its simplicity, with the embellished shoulders giving just a touch of sparkle," Hannah says. "I also loved the idea of a backless dress, so it had everything I wanted. I'm a big believer in less is more." She teamed the gown with a floor-length Swarovski-trimmed veil to bring together the whole look and for impact in the church.
Sam found his suit in The Groom's Room in Colchester. "He looks great in blue, but I really wanted him to wear black as I thought it'd be more classic-looking," Hannah says. "When he tried it on, though, it was too heavy, so the blue suit with black lapels was ideal! He and the groomsmen looked so smart in bow ties."
Hannah's maid-of-honour, sister Chloe, looked stunning in a soft green maxi dress with sparkly waist detail, while the two flowergirls were super-cute in ivory Monsoon numbers.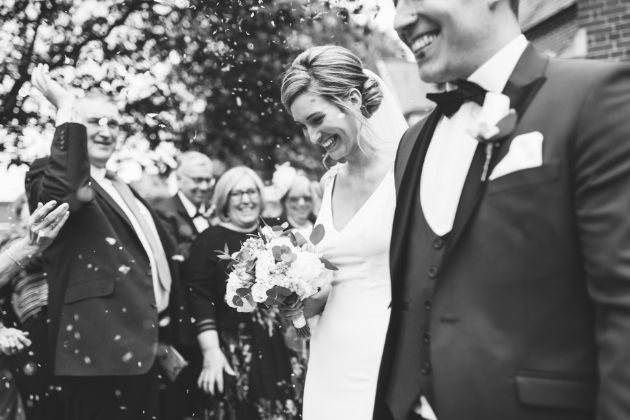 Both Hannah and Sam told us how loved they felt on the day. "To have all our family and friends celebrating with us was amazing," Hannah says. "We didn't stop smiling; we felt on top of the world!"

In the build-up, it was the ceremony that was making Hannah feel most nervous. "It ended up being my favourite part of the day," she laughs. "All the worry, stress and nerves went out of my head because I just wanted to enjoy the day. It's easy for some people to lose sight of why they're getting hitched, but all that matters is that you've chosen to get married because you love eachother".

The couple wanted to thank everyone who attended their big day, as they all made it so special. "In particular my closest family members, who helped keep me sane during the planning," Hannah says. "I made countless phone calls to my mum for advice!"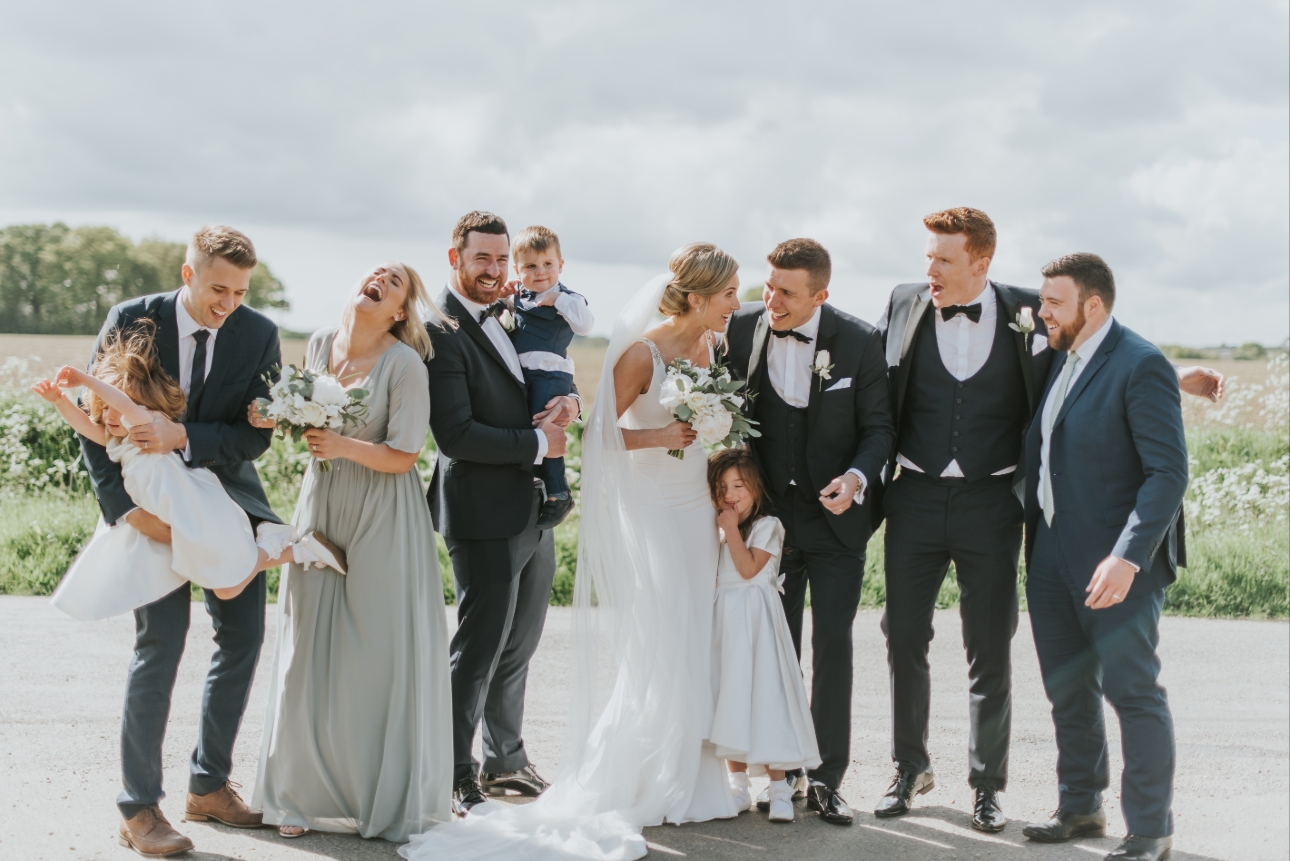 When asked what her advice would be for other newlyweds-to-be, Hannah said, "Remember why you're doing it and don't lose sight of that. Enjoy all of it, including the planning and the stress, because it goes so quickly. And before you know it, you're sat here writing about it, and it feels like forever ago."
Hannah and Sam's contact book