Cassie and Neil kept their day small and intimate with the most romantic atmosphere
It was a mutual friend who introduced Cassie and Neil on a night out in Colchester. "It was all so easy," Cassie says. "We just fitted together from the beginning." After a four-year relationship, Cassie was starting to give up hope of a proposal. But one day, Neil took her to Trafalgar Square – the scene of one of their first dates – and popped the question there. "I loved that he chose somewhere that had meaning to us," she says.

The pair started thinking about venues. "We liked the idea of holding our ceremony somewhere that we could go back and visit," Cassie explains. "We often walk past St Nicholas Chapel in Coggeshall and it seemed perfect for the intimate feel we wanted." As members of Marks Hall Estate, they knew the Coach House would be perfect for their reception. They chose to have a winter wedding on 29th November, 2018. Cassie continues the story…
I'm drawn to anything twinkly, and I love when it gets dark early in winter so you can get all cosy. We chose to have a black-tie theme with lots of gold, sparkle and flickering candles.
When it came to our flowers, we left everything up to the incredible Vikki of Vikki Browne Florist. From the moment I met her, she understood what I had in my mind and totally exceeded all our expectations.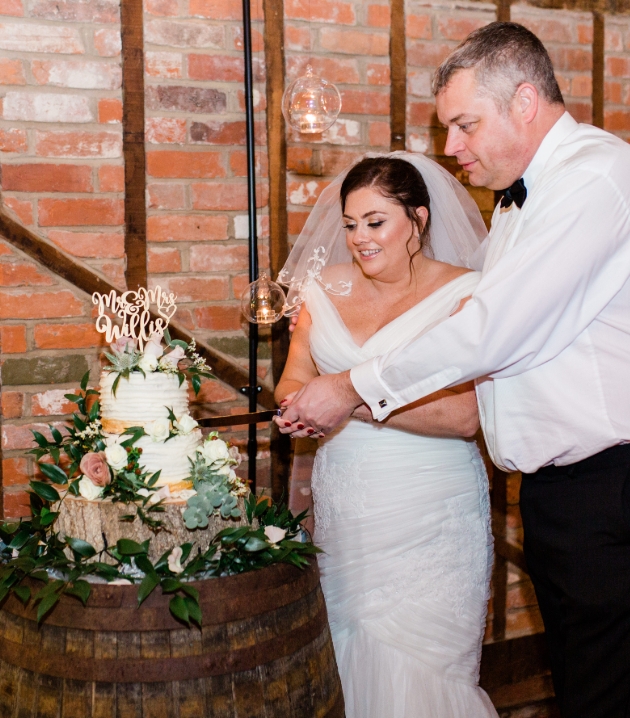 We went for a semi-naked cake with buttercream. My nan had given me some of the decorations that my mum and dad had on their wedding cake, and I loved the idea of using them on ours.
There's no heating or electricity in our ceremony venue, so Vikki created the most wonderful atmosphere with candles, white flowers and lots of foliage. For the reception, she made a tree for the centre table, which was covered in flowers, fairylights and candles. It worked perfectly with the high ceilings and beams at the venue.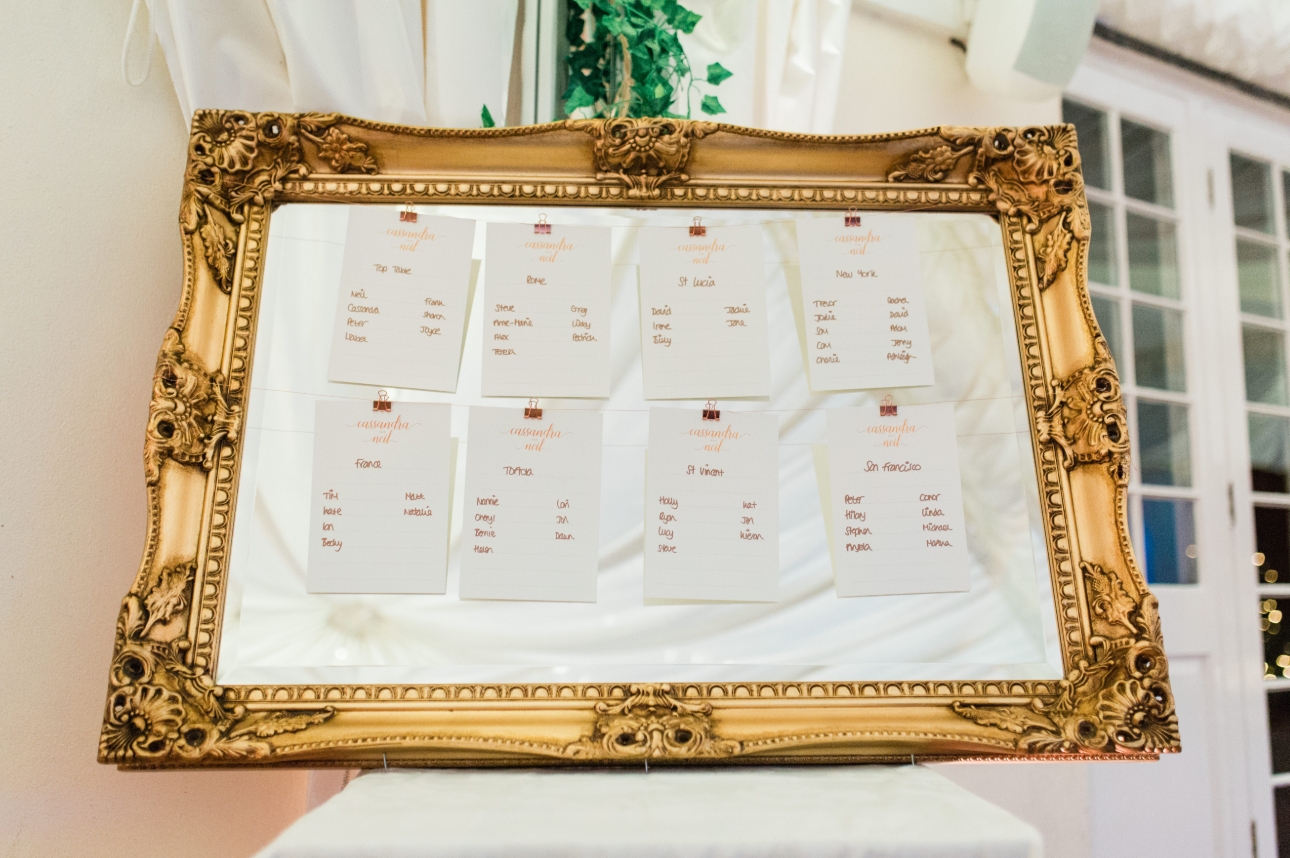 Our table plan was on a lovely ornate gold frame. We named the tables after places that have meaning to us. Our place settings were laser-cut from wood, which complemented the venue so well. I love that many of our guests have them up in their houses now. My mum, nan and I made candles from scratch for the ladies' favours, while the men had personalised matches.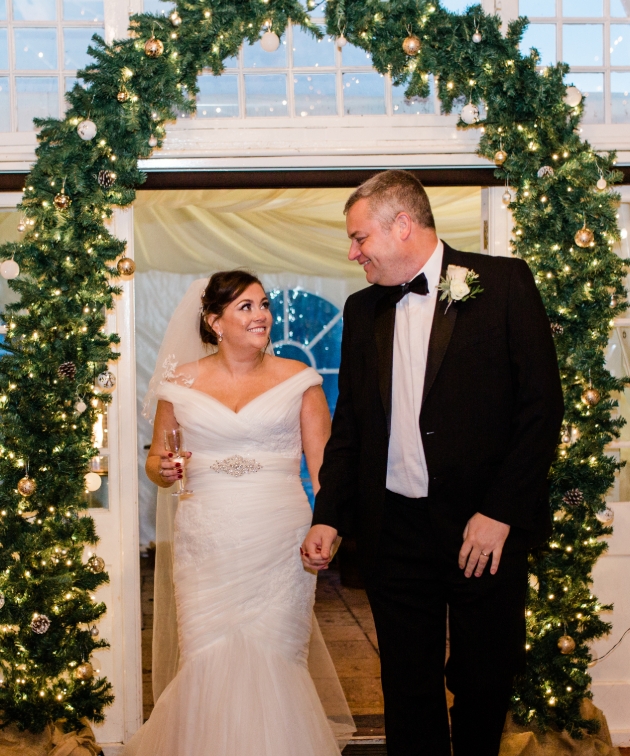 Neil's daughter, Isabel, and I love Christmas, but Neil wouldn't give in to a festive wedding! Luckily, the venue had their tree up just in time for our big day, which was a special touch. We also had a lovely archway of greenery and fairylights over the main entrance.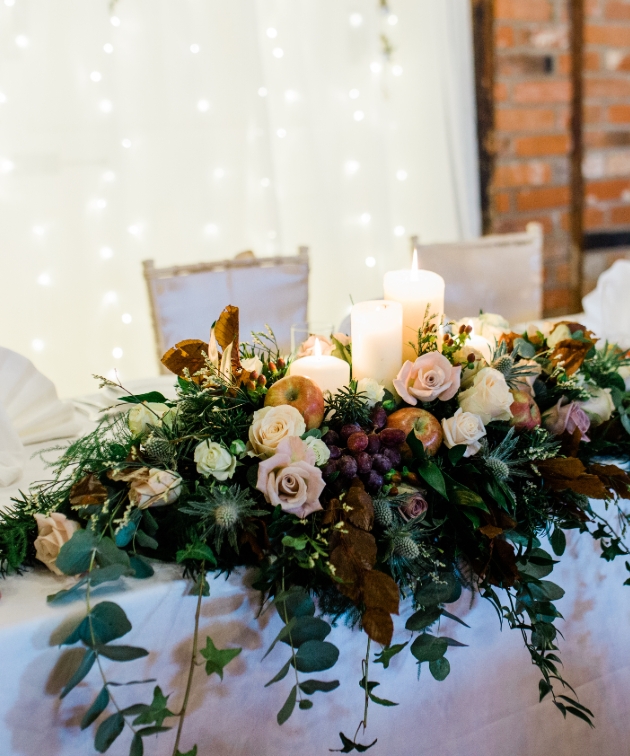 Neil was adamant that people always remember the food at a wedding. We often go to Blackwells Farm Shop and we wanted to use local suppliers with great produce, so it was ideal. Mark was amazing and so many guests commented on the standard of the food. My biggest nightmare was people going hungry!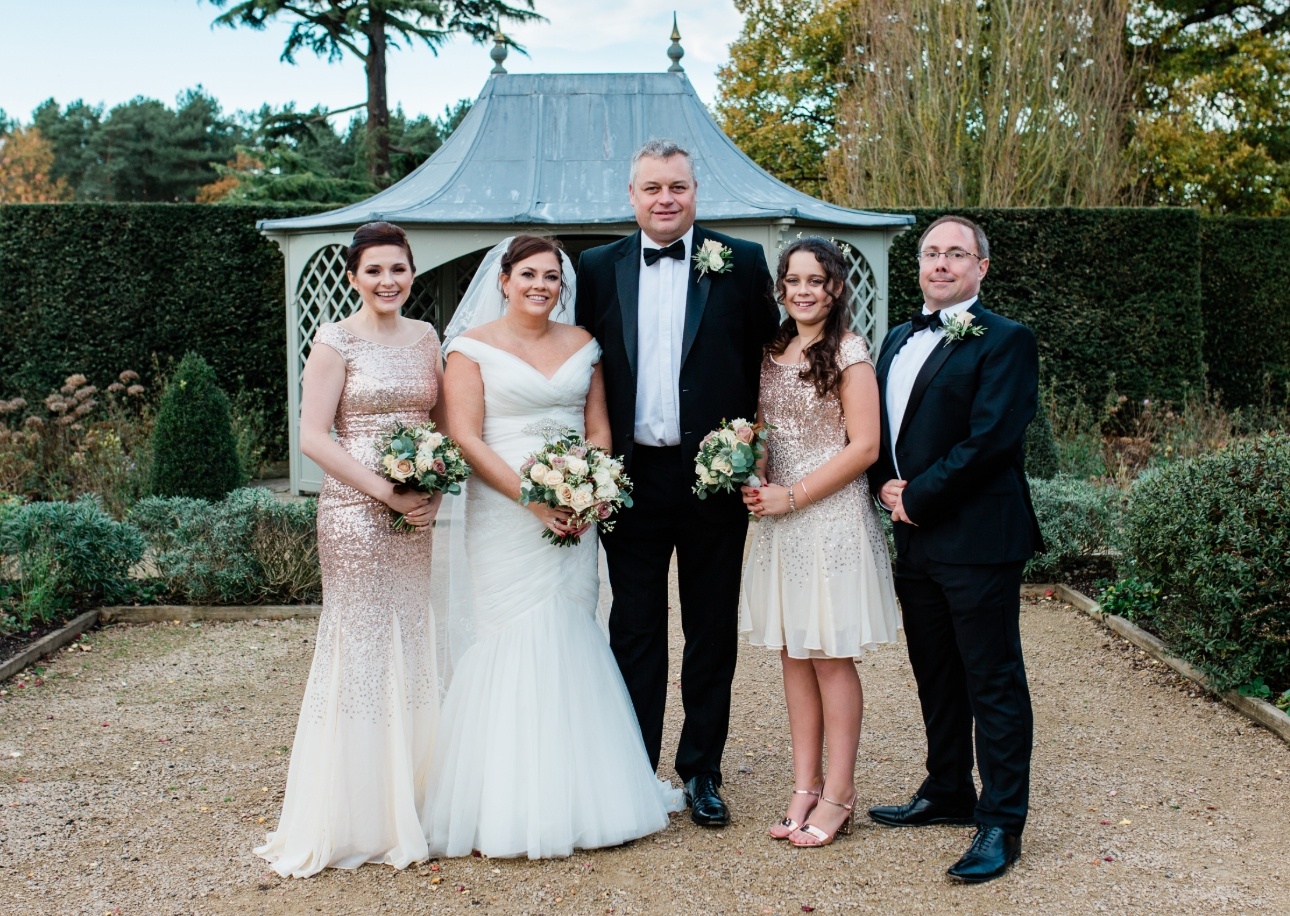 The men looked dashing in black-tie dinner suits while the bridesmaids wowed in gold sparkly dresses. Our guests also went to town with the theme everyone looked so smart!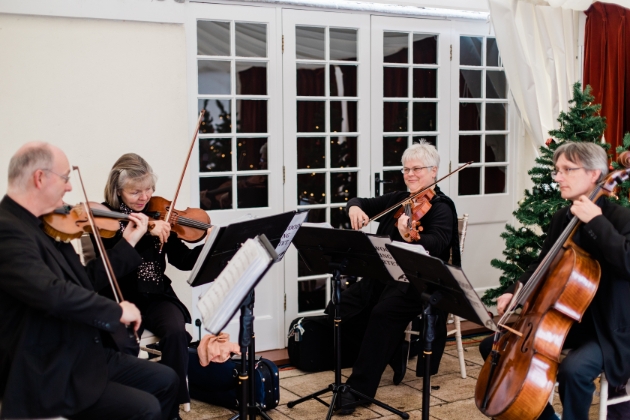 Our string quartet really set the scene and was perfect for entertaining our guests while we had photos taken and during the wedding breakfast.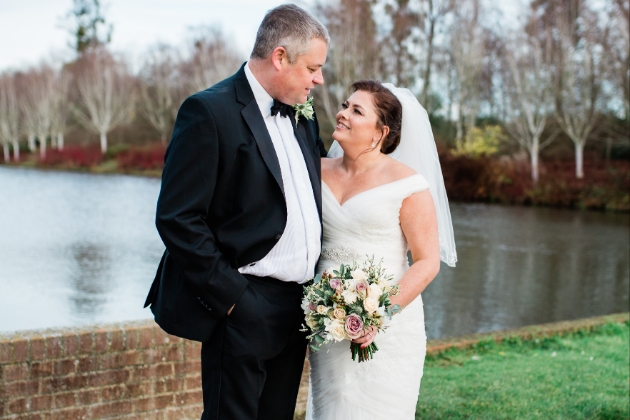 I had always imagined myself wearing a fishtail-style dress. I did try the princess look too, but it just wasn't me! I teamed my gorgeous gown with a glitzy belt and a sparkly cathedral-length veil, which caught the light beautifully. I am known for my shoes and I wasn't going to disappoint on my wedding day! I rocked gold Louboutins with subtle diamantes.
Our wedding was so special as we kept it small with the people that we love the most. Lots of people commented on how romantic it was. I loved that Neil's father and Isabel did beautiful readings at the ceremony – there wasn't a dry eye in the house. I also have to saya huge thank you to my maid-of-honour Holly who was always there when I was having a meltdown!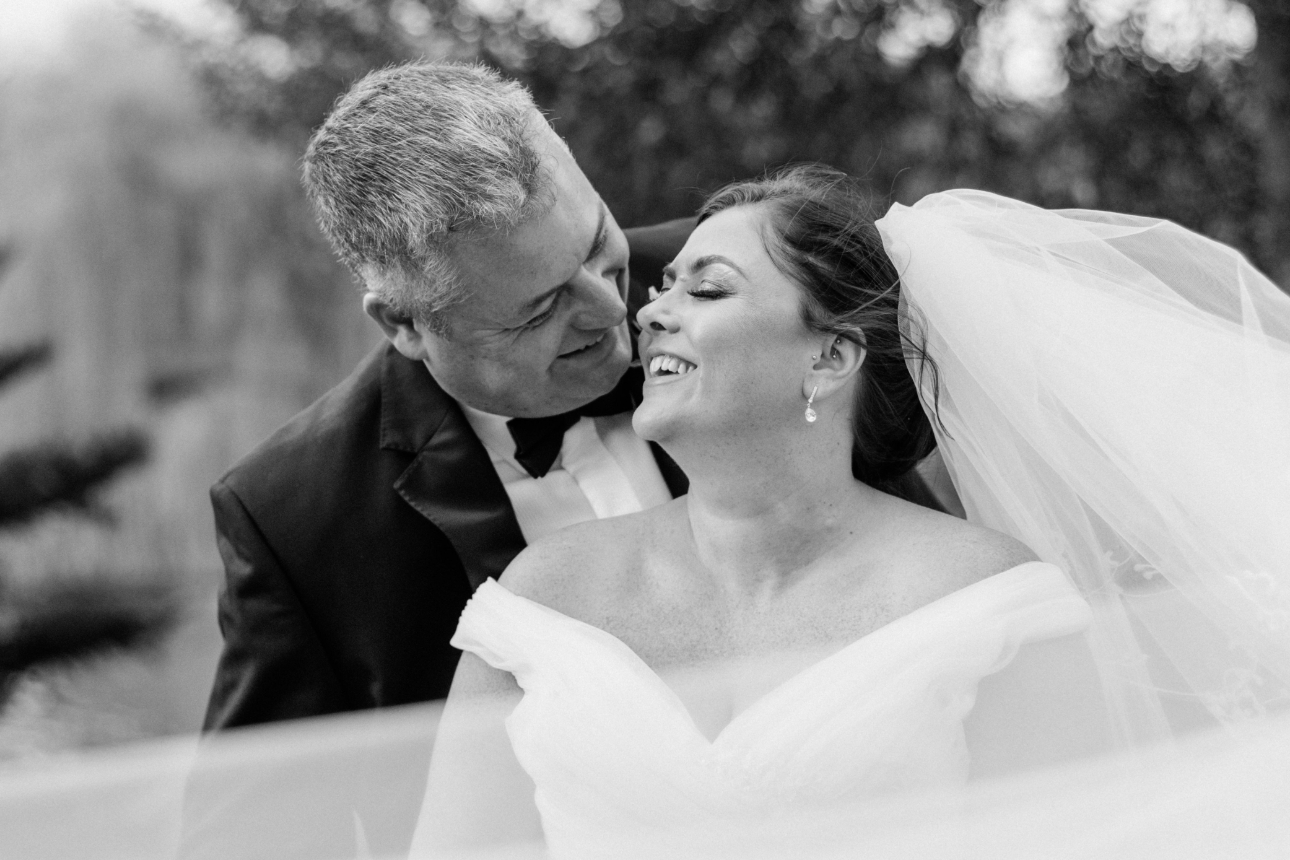 I was an emotional wreck in the week before the wedding, but I woke up on the day so excited for it to be happening! Neil is so laid-back in life anyway, so our big day was no different. The only time he felt nervous was when it was time to walk in.
Cassie and Neil's contact book