A brass band procession, a sunny yellow palette and a huge party – Francesca and Joe threw the ultimate celebration
After meeting at a work event, Francesca and Joe kept bumping into each other. "I guess it was meant to be," Francesca tells us. It took a while for them to go on their first date, but as soon as they did, the rest was history. "We've been together three-and-a-half years now," Francesca says. "In that time we've had amazing holidays, moved in together, and of course, got married!" One morning, Joe took Francesca out for breakfast. When they returned, there was a surprise in store. "The whole place had been decorated with balloons, candles and red roses – thanks to Joe's parents!" she says. "When he proposed it was such a surprise, I had no idea." The loved-up couple chose to tie the knot on 28th September, 2019, with a ceremony at St Mary's Church in High Ongar followed by a reception at Mulberry House. Francesca continues the story…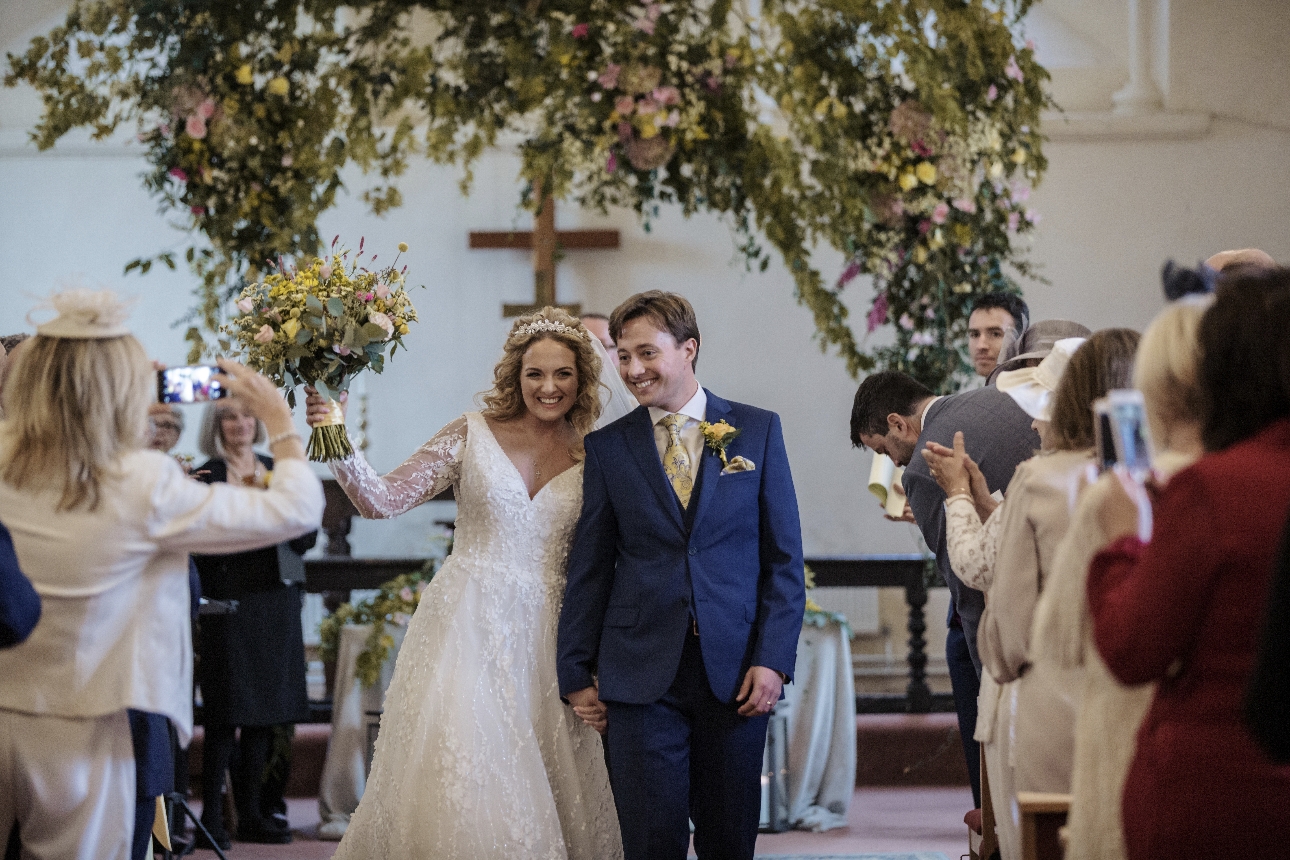 We opted for an English country wedding theme with a boho twist, all accented with ayellow palette. Finding wedding decorators Starry Eyed Weddings was a huge step increating the look we wanted. They transformed the church and venue into enchanting spaces; when I first saw the hanging floral display in the church it took my breath away.
I loved the idyllic grounds and setting of Mulberry House, with its whimsical bridge, willow trees and the lovely Georgian building. The staff were so flexible – wecould party until 1am and our loved ones could stay on-site. What sealed the deal was the charming church around the corner where we could wed.
Our wedding decorators went to town with our theme. There was a bespoke top table backdrop, hanging foliage, coloured paper decorations and an abundance of fairy and festoon lighting to set the mood.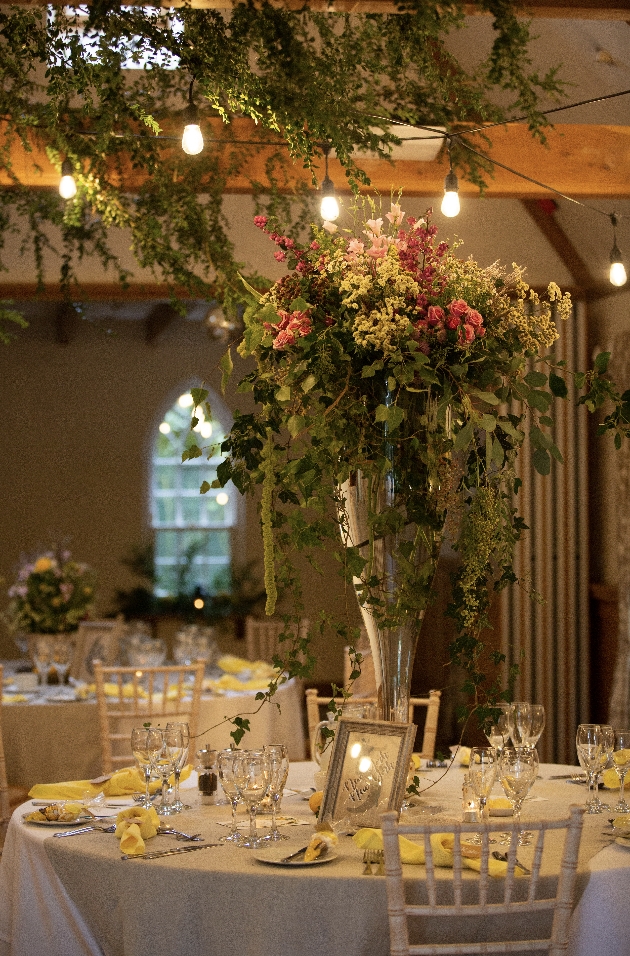 Hayley at Starry Eyed Weddings created spectacular floral arrangements for the centrepieces. The height of them created such impact in the room and they were brimming with foliage and wild, cascading flowers. She also created a master piecefor our table plan: a hanging scroll with incredible calligraphy.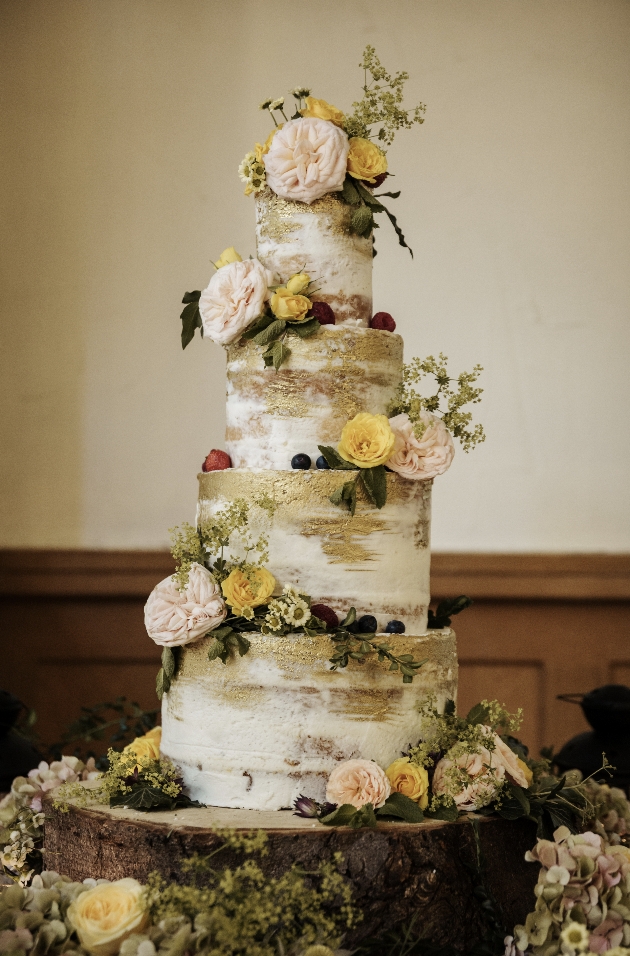 Lisa at Cake Cuisine made the most delicious cake; we chose lemon flavour to go with the day! It was a semi-naked style in four tiers with parts of it brushed gold. We cut it up during the speeches and had it for dessert, which worked so well as it was all eaten.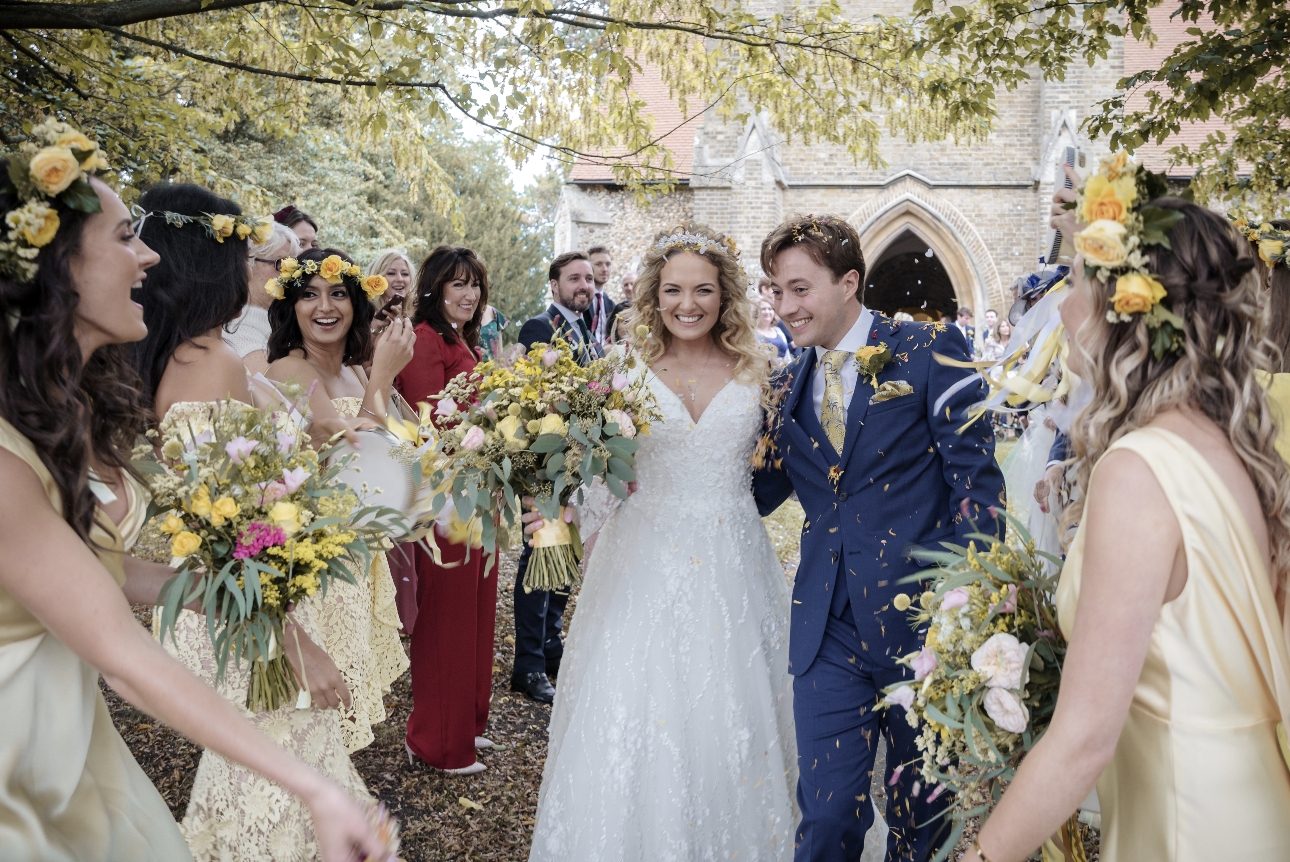 Mum gave up countless Saturdays to come dress shopping and I loved having that mother-daughter time together. My Kenneth Winston dress made me look and feel like a princess with it's A-line cut and pretty embellishment. I teamed it with a mid-length veil and my aunt let me wear her pearl tiara, which was very sentimental.
We had fun naming the tables after the people sitting on them. For example, we had New York, New York for our American friends and Finders Keepers for Joe's family, the Keepers! The favours were sweet cones filled with yellow treats.
It was important to me to look my best, so I had full hair and make-up done by talented local professionals. Gail Gardner tamed my hair into romantic curls and Gemma Peace gave me an exquisite natural make-up look but withan essence of my personality with a pink lip, shimmery eyes and a dewy appearance.
Joe and his groomsmen looked very smart in three-piece Ted Baker suits. The groom stood out with a yellow and blue paisley tie and pocket square. They looked great alongside my bridesmaids with their yellow rose flower crowns and Jill Stuart gowns. A week later, we saw that Leonardo DiCaprio's girlfriend had worn the same style!
We had a real party spirit with The Ongar Singers performing in church, the Harlow Brass Band playing as we walked to the venue and during the drinks reception and a fantastic seven-piece band called Seven who brought the house down in the evening. Pair this with a glitter artist and a taxi photo booth and we had the best time!
Francesca and Joe's contact book