Gemma and Rowan met in 2007, but Rowan was at boarding school so they kept in contact via Myspace and MSN Messenger (that's a blast from the past!) before meeting up again at Reading Festival in 2008. "We spent the whole weekend drinking and watching bands together," Gemma remembers. "After that, we started dating."
The pair went on holiday to St Ives, Cornwall, where Rowan had a surprise up his sleeve. "He set up a small tent so we could have a picnic watching the sunset, with Cornish pasties and cider," Gemma says. "I was changing our daughter's nappy, and when I turned around he was on one knee." We can't say it was a total surprise, as Gemma had seen the ring hidden in the changing bag beforehand!

The date was soon set for 5th October, 2018, at The Compasses at Pattiswick. We caught up with Gemma to get the lowdown on their big day...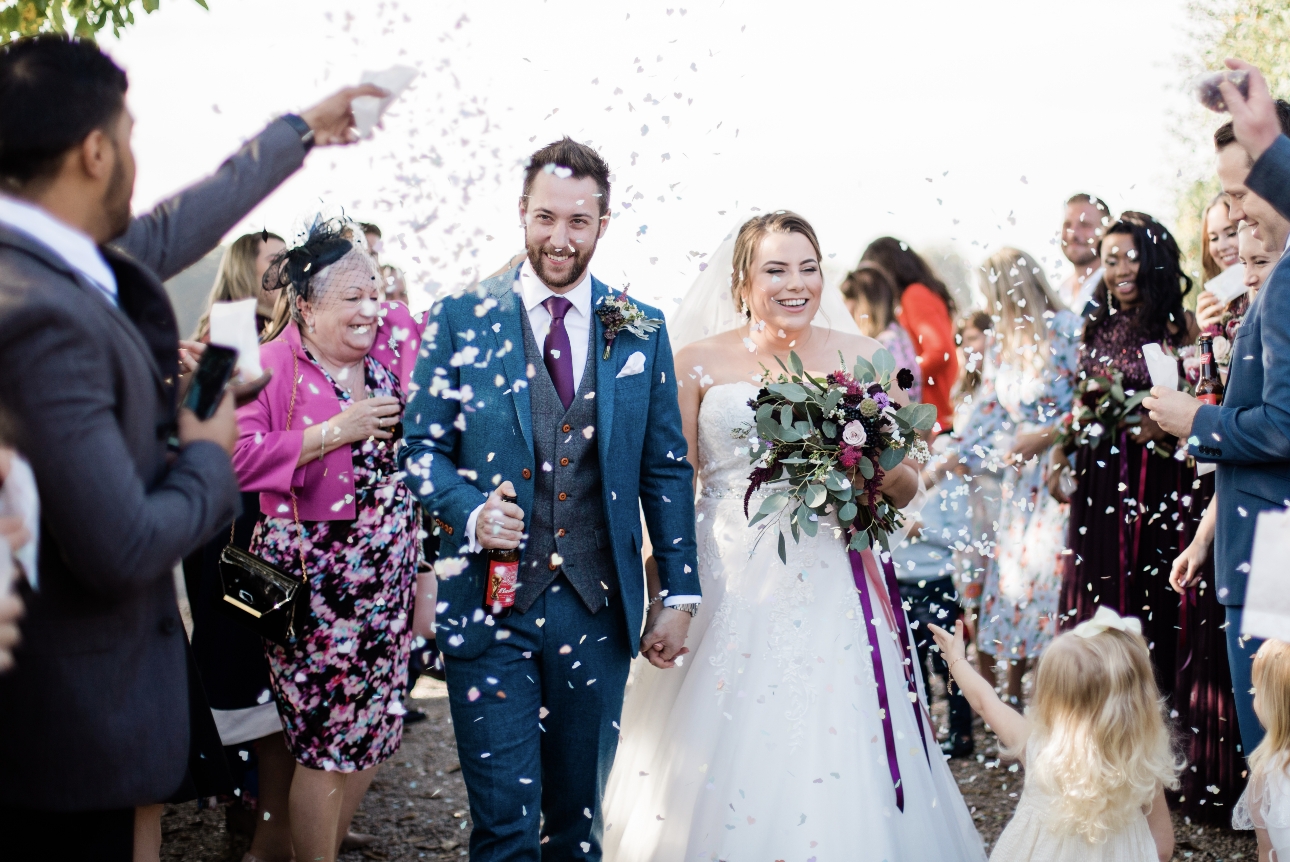 The couple loved the vibe of The Compasses at Pattiswick as soon as they walked through the door. "A warm log fire was burning and we immediately felt at home," Gemma says. "Great local food and spaces for all the family to enjoy made it the perfect setting."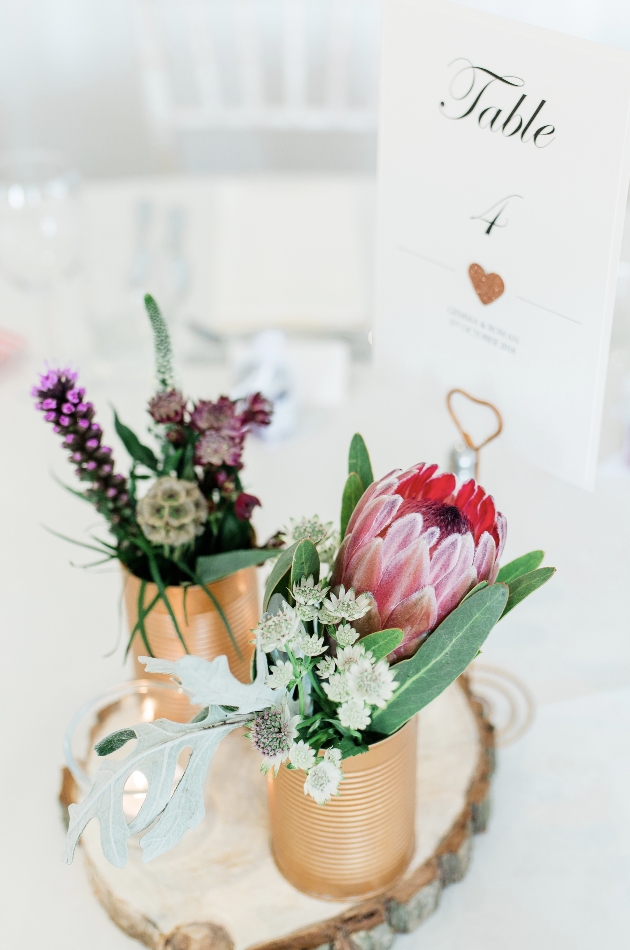 The couple used the time of year as inspiration for the colour scheme. "We opted for autumnal purples, dusky pinks, reds and copper," Gemma says. "Oak slices and copper cans filled with flowers added to the seasonal look." They used the talented Alison White Flowers to create their floral arrangements.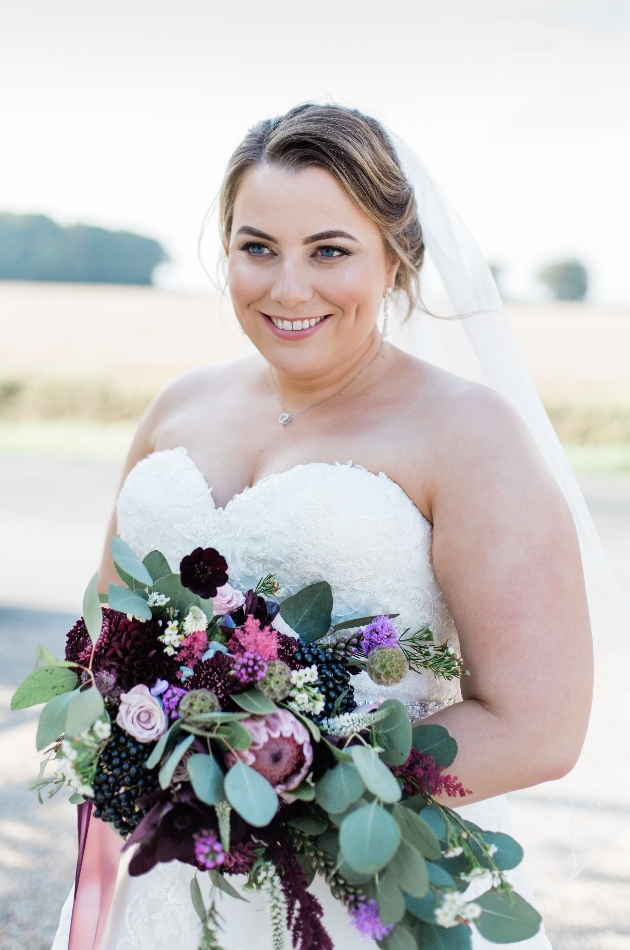 "We wanted the main bloom to be a protea, as the clasp on my engagement ring is shaped like one," Gemma tells us. "The rich shade was also ideal for our theme." The flowers were rustic and free-flowing, and Gemma's bouquet was a messy teardrop shape brimming with lush green foliage.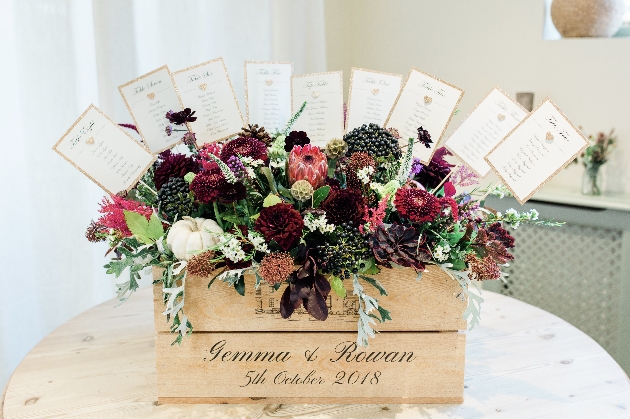 The table plan was a personalised crate filled with flowers, with the plan printed on ivory card backed with copper glitter. Guests were treated to Tiptree Jam mini jars. "We chose strawberry and champagne as well as apricot and armagnac," Gemma says. "The deep red and orange jams fit in with our autumnal palette." The pair added personal touches to make the venue their own. "We printed Polaroid-style photos of us and hung them from a string of lights," Gemma explains. "There was also ivory bunting hanging from the wooden beams."
Neither Gemma or Rowan like icing, so a naked cake was a no-brainer. "We went for a consultation with Little Lucy's Bakery and got on with Lucy straight away," Gemma says. "We also loved the samples! We had three delicious tiers of chocolate orange, carrot and vanilla with Oreo cream, finished with seasonal berries." The catering was provided by the venue. "We drank warm Winter Pimm's with our canapés," Gemma says. "Our three-course sit-down meal was followed by a kir royale toast. In the evening, we dined on fresh stone-baked pizzas from a converted horse box."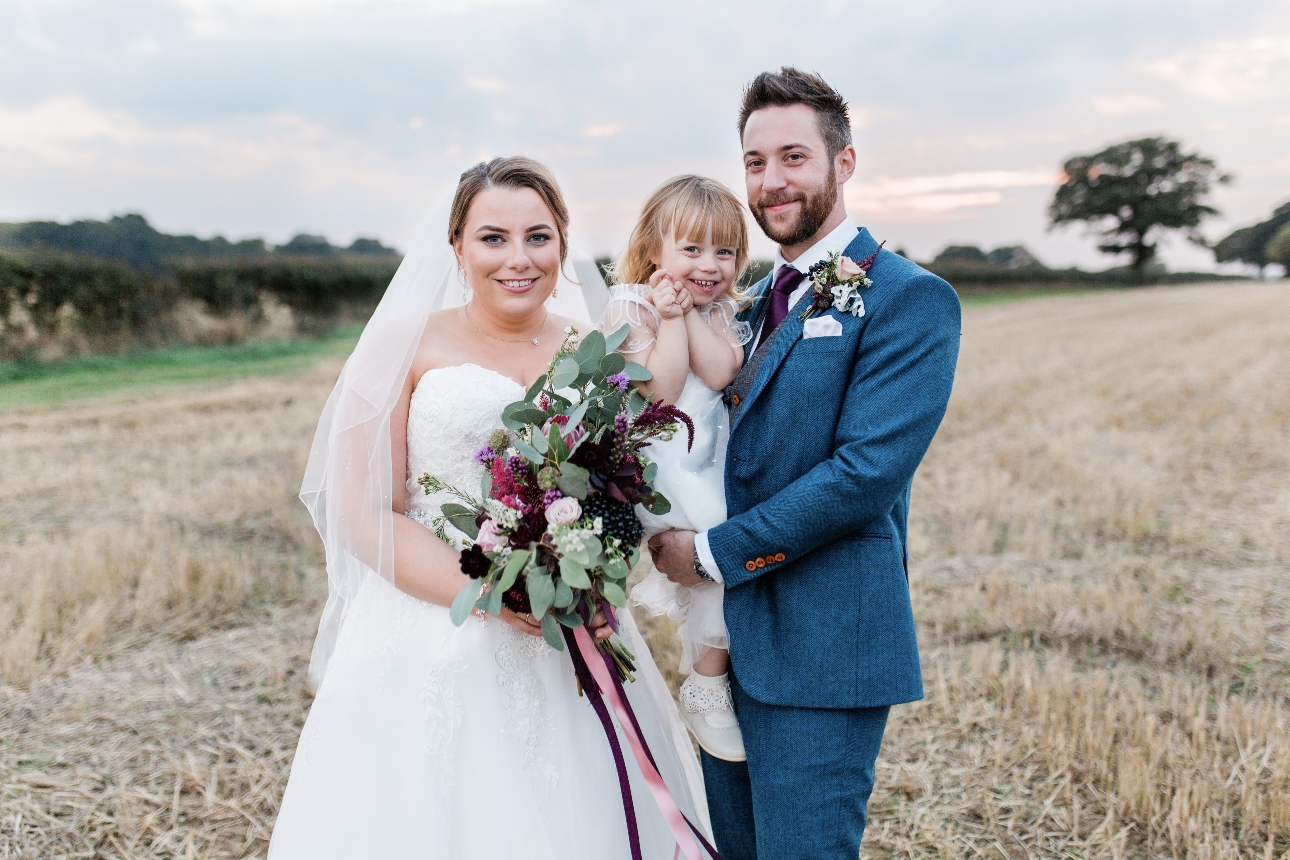 Out of all the dresses she tried on, Gemma's Mark Lesley gown was the only one to make her mum cry." I really felt like a bride," Gemma says. "It flattered my figure and I felt so comfortable."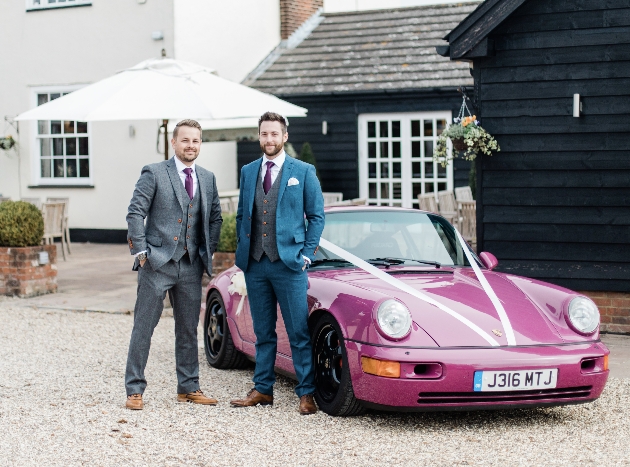 Rowan and his groomsmen wore bespoke fitted tweed suits from Jennis & Warmann, with Rowan standing out in blue.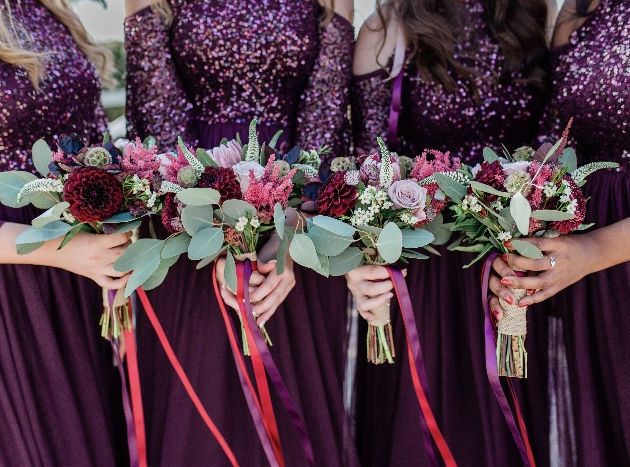 Gemma didn't want a traditional style for her bridesmaids. "I found these beautiful aubergine-coloured maxi dresses," she says. "The cold-shoulder embellished style suited all my girls perfectly."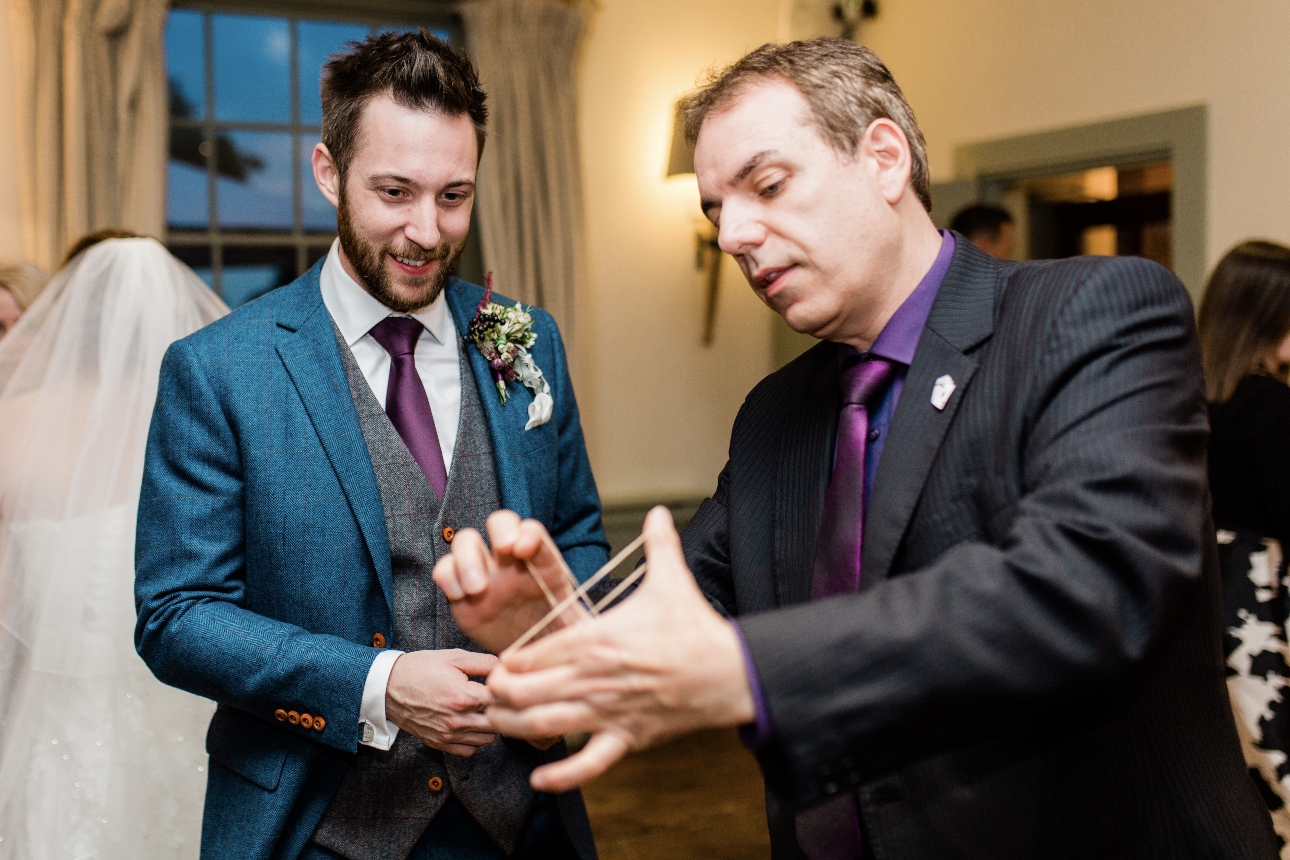 Rowan knew he wanted a magician on the big day. "We managed to hire a brilliant one called Russ Styler at fairly short notice," Gemma remembers. "He was great at breaking the ice between friends and family members who hadn't met before." In the evening, a DJ from Aurora Pearl got everyone partying. "Everything was run so brilliantly by Paul at the venue that there weren't any long intervals with people twiddling their thumbs," Gemma says.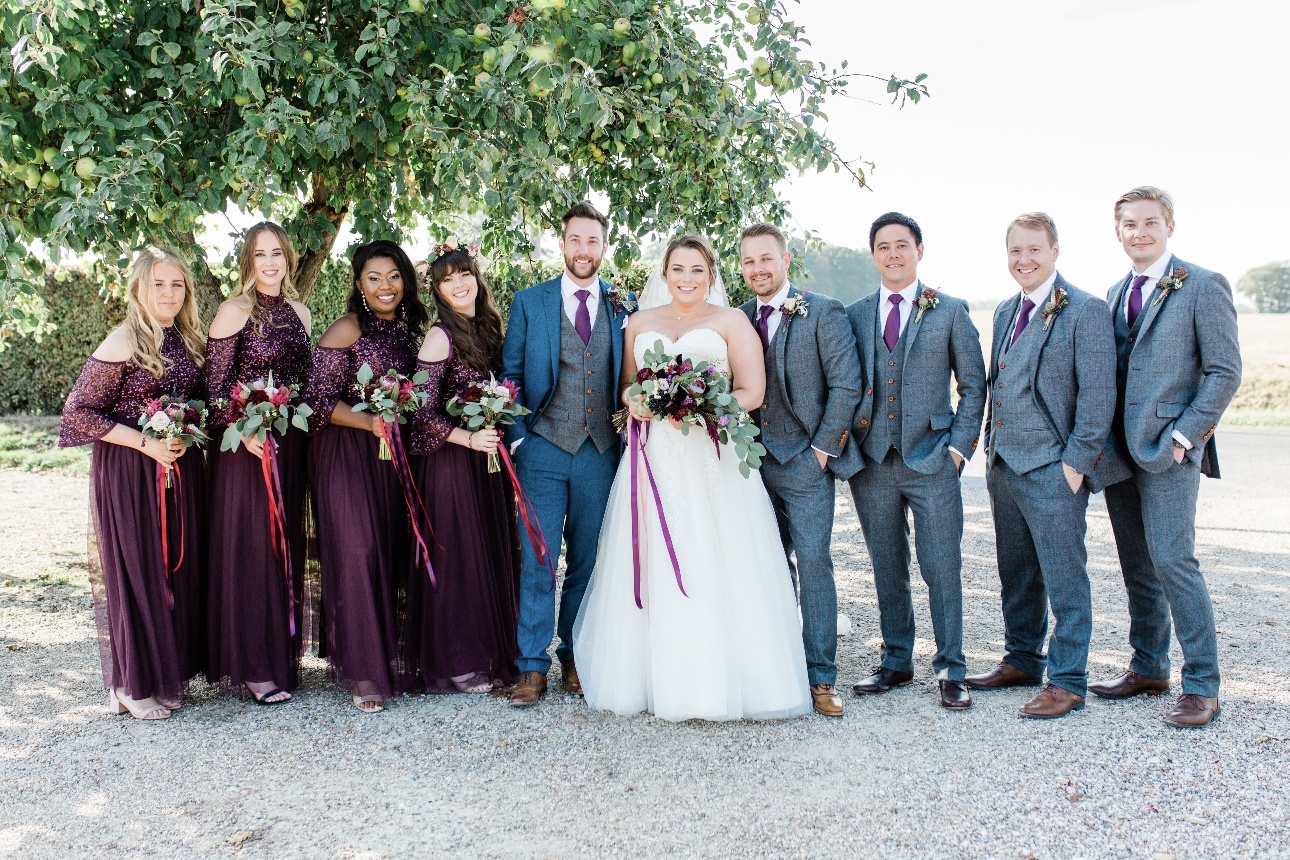 The ceremony was a highlight for both the bride and groom. "It felt amazing to be in a room full of people you love to share such a huge moment," Gemma recalls. "We took time after the vows to stand back and take it all in. It felt so surreal."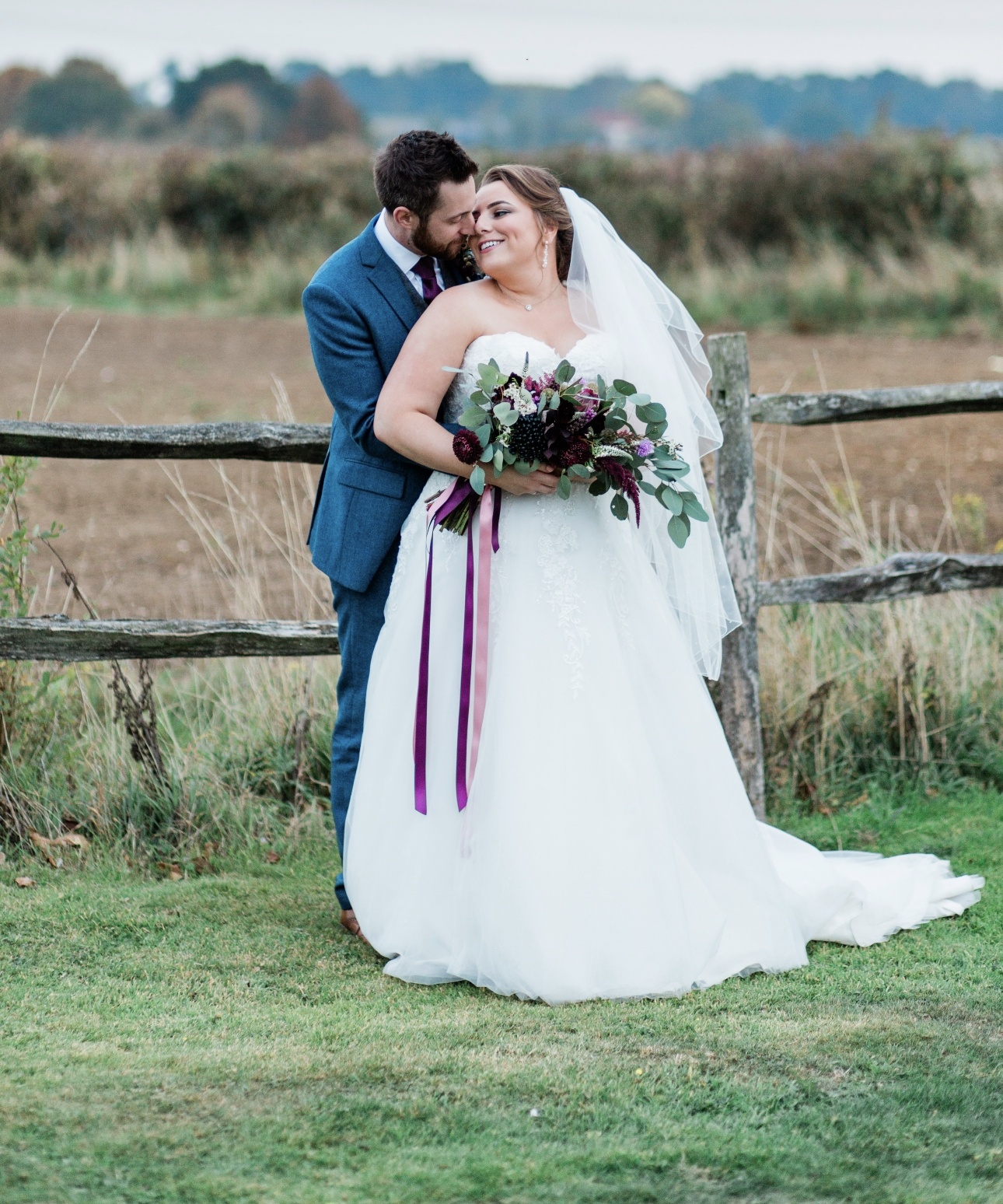 After 18 months of planning, the couple were so relieved that the day was finally here. "Rowan was nervous about his speech, but he relaxed as soon as it was done," Gemma says. "Unexpectedly, I didn't feel nervous at all. I put this down to the fact that we had such a wonderful team of suppliers working to make the day go smoothly. Our photographer, Gemma Giorgio, really stood out. She went above and beyond to capture the happiest moments, and she slotted into the day like a friend."
Genmma and Rowan's contact book