While working as teachers at the same school, Megan and Matt discovered that they shared a love of folk rock music. It turned out that Matt had a spare set of tickets for a festival in Lewes, where the pair's favourite band, Mumford & Sons, would be performing. "Little did we know that weekend would change our lives," Megan tells us. "It ended with me on Matt's shoulders as we sang I Will Wait at the top of our lungs!"
It wasn't long before Matt was dreaming up the perfect way to pop the question, and he hatched a plan with friends who lived in Brighton to meet in Lewes for lunch. "Our friend text to say she was 'running late', so Matt and I walked across a picturesque field," Megan says. It just so happened to be the field that hosted the festival where the couple first connected. Megan continues, "It was a beautiful sunny day when he got down on one knee. Families watched and clapped from afar, before our friends arrived ready for a prosecco-filled lunch to celebrate!"

The pair set the date for 8th August, 2019, at Blake Hall in Ongar. We caught up with Megan to find out how they planned their perfect wedding…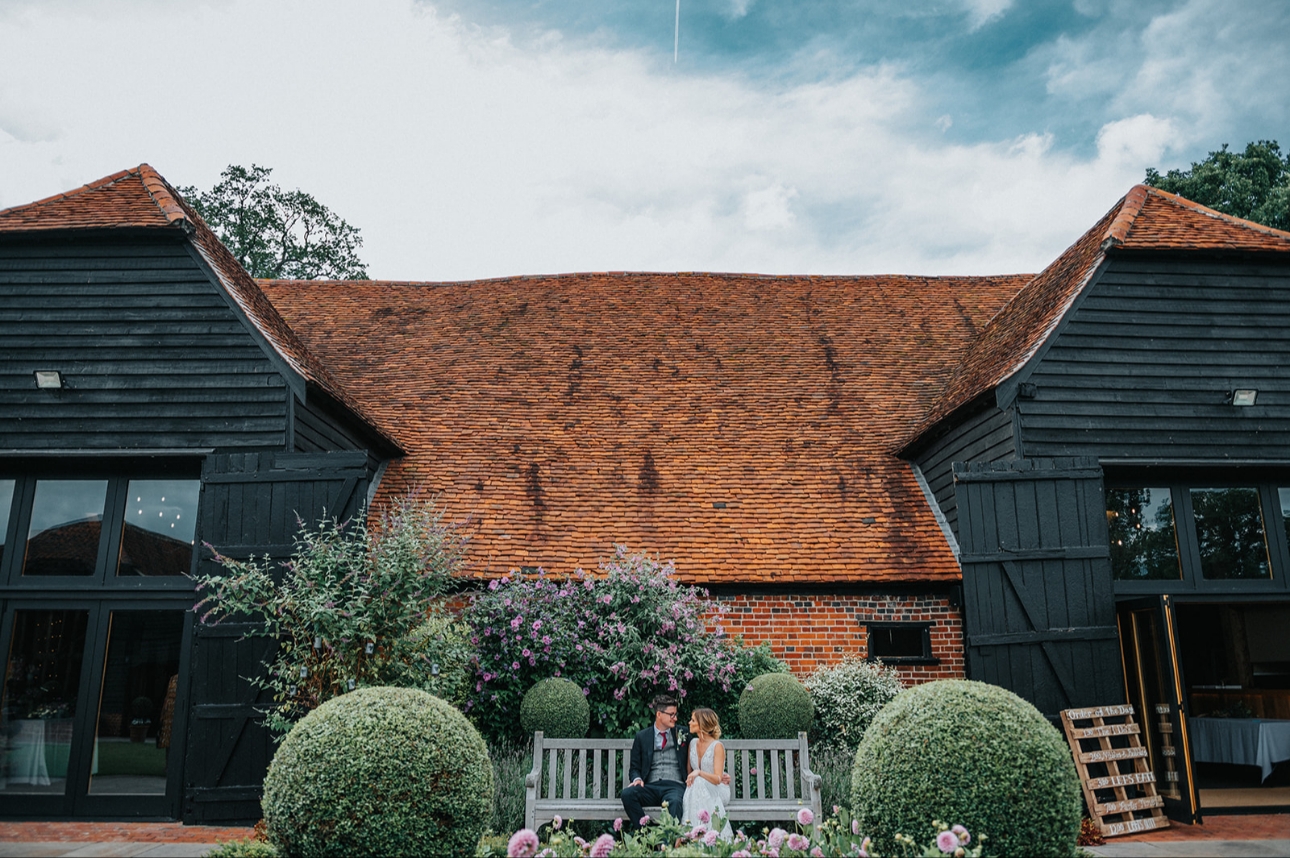 The couple fell for Blake Hall instantly, with its charming barns, idyllic gardens and on-site accommodation for the family. "It had a classy, rustic vibe," Megan says. "Everything was perfect from the drive up through the magical gardens and the romantic swing to the option to get married outside. It totally surpassed our dream vision."
The venue inspired their rustic theme. "We used the brilliant florist Cherry Tree Way," Megan tells us. "We wanted our flowers to be a celebration of late summer, with wild and naturally styled florals complementing the rustic setting." Roses and dahlias in warm peach tones provided impact, while grasses and meadow-style flowers softened the venue and gave a welcoming feel. The barn was brimming with natural styling, textures and tones.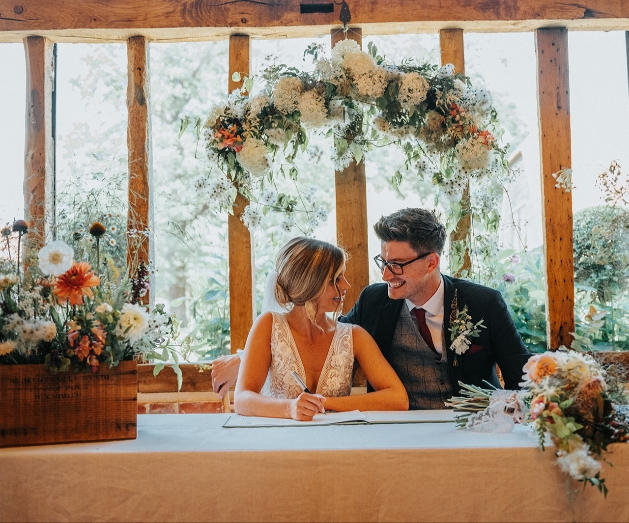 On the tables were beautiful silver tea sets, which were borrowed from a close friend, and placed on wooden slices. The delicious three-tier Victoria sponge cake was in a rustic style. "Rachel's Cake Boutique handpicked berries to decorate it," Megan says. "Just like the venue and flowers, the cake exceeded our expectations and was perfect for our theme."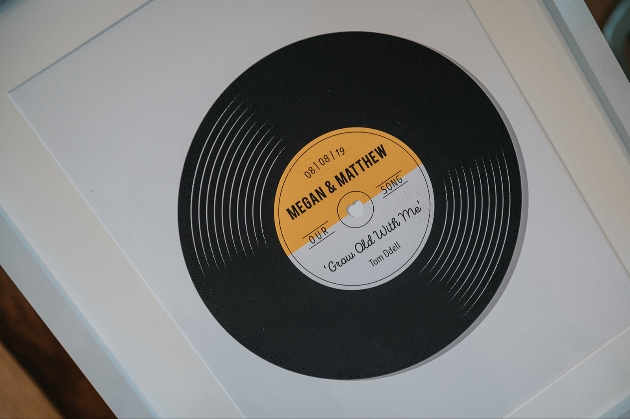 We love it when a couple reflect themselves in their wedding, and that's exactly what Megan and Matt did. "We named each table after an artist we've seen live," Megan explains. "For our favours, we burned CDs of our favourite songs from these bands, as well as I Giorni by Ludovico Einaudi, which is the track I walked down the aisle to."
Waters Edge Catering provided a sumptuous three-course feast. "We started with a light summery salad," Megan says. "Then it was on to Matt's favourite: sausage and mash! We finished with an Eton mess, cheesecake and chocolate brownie trio."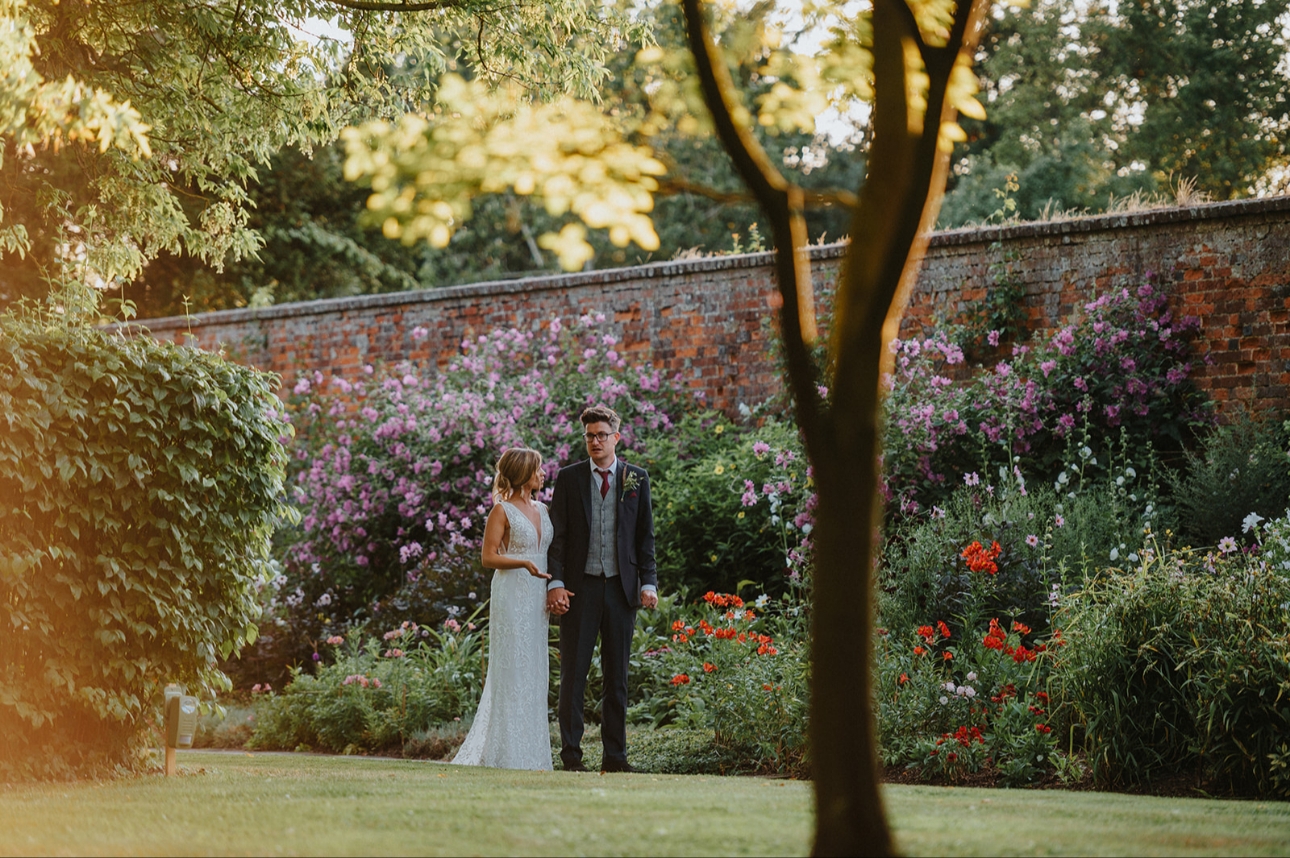 Megan's dress was from a friend's boutique back home in Canada. "This meant a lot because it brought a little piece of my home province to the day," she says. "I fell in love with the beautiful embroidery, plunging neckline and sparkle of Riley by Made With Love. It was classy, sexy and so easy to dance in! I had it altered by the lovely ladies at Stitch in Time, Leigh-on-Sea." The bride had a wonderfully relaxed wedding morning, staying at the venue's guest house the night before with her wedding party. "It made the morning so hassle free as our hair and make-up artists came to us," she says.
The men all looked dashing in navy suits with a tweed waistcoat and maroon tie. Megan's brother, Matthew, was her "brosmaid-of-honour" and her sister-in-law, Melissa, was her bridesmaid.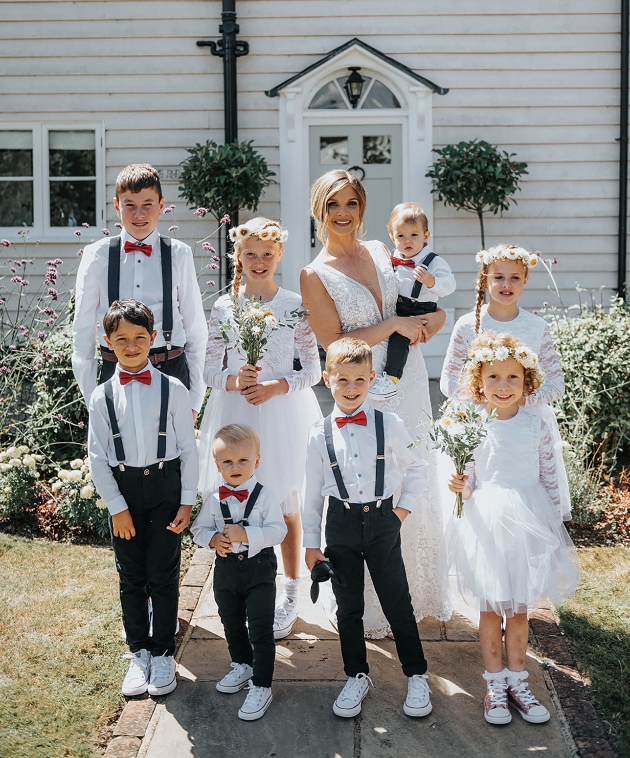 "Matthew wore the same as the groomsmen, while Melissa looked stunning in a mocha-coloured maxi dress with a plunging neckline similar to my gown." The newlyweds shared their celebrations with their nephew, Wesley, who turned one on the same day!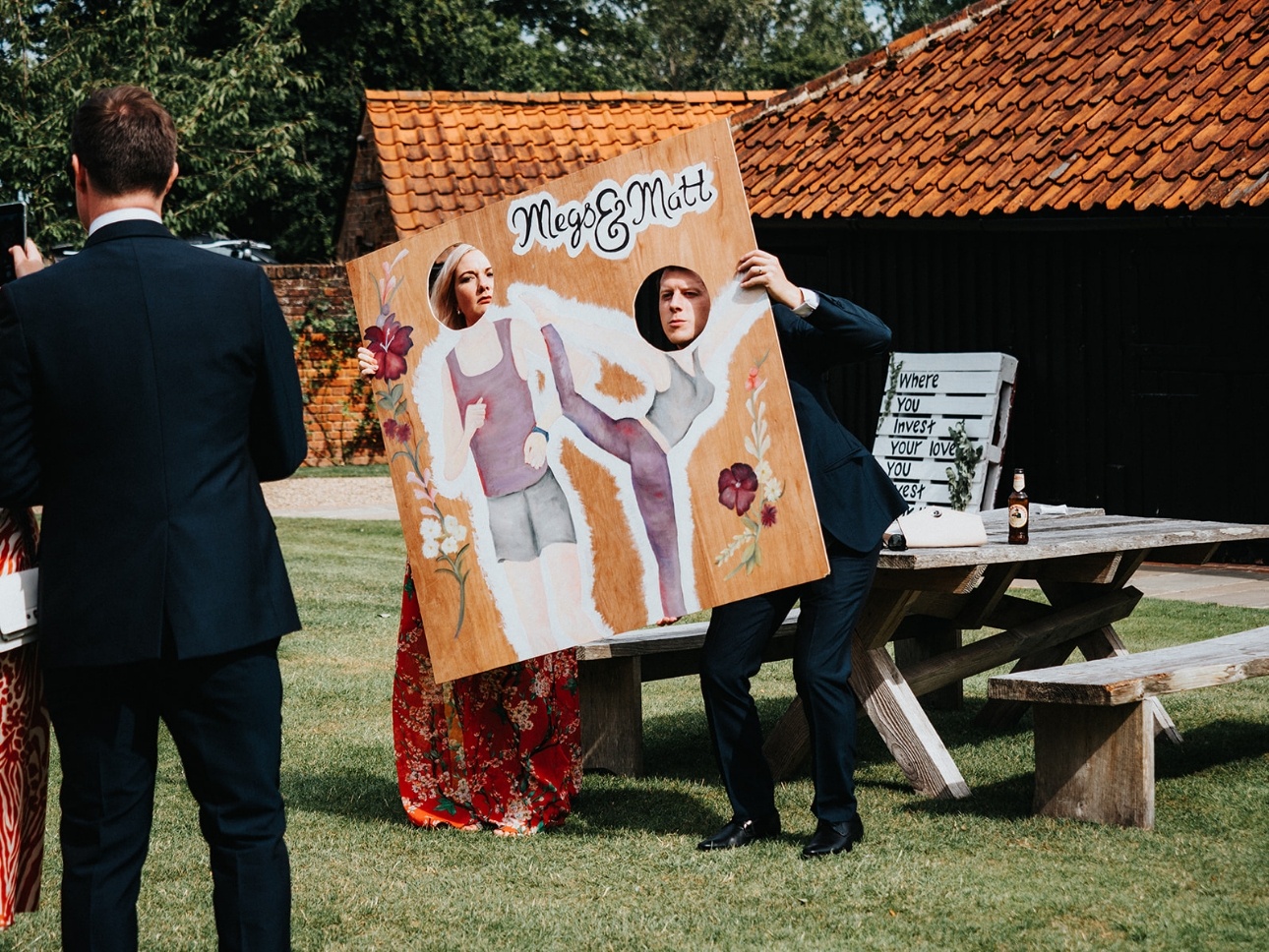 The couple entertained their guests with giant garden games outside, which suited the rustic vibe.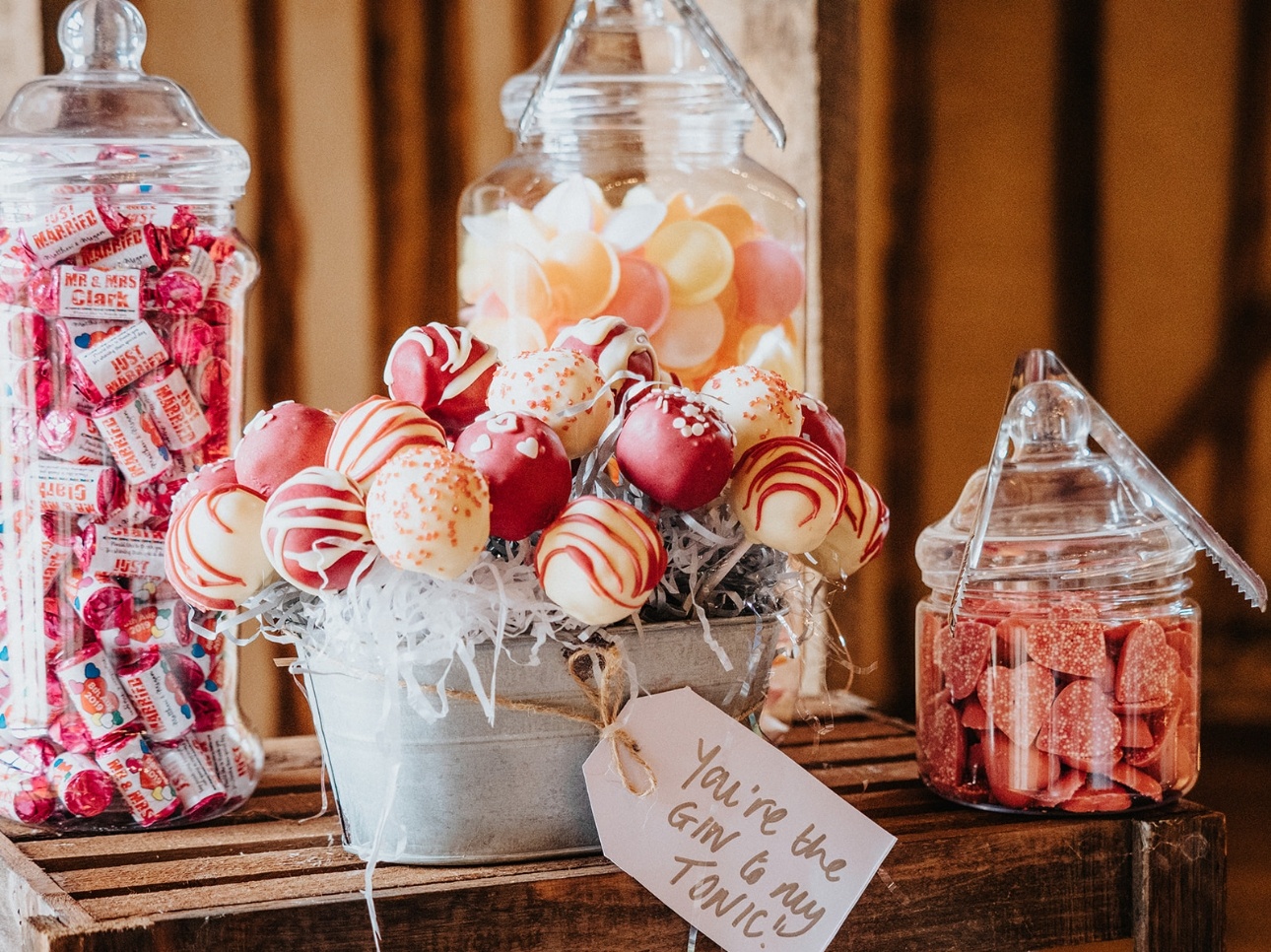 The couple entertained their guests with giant garden games outside, which suited the rustic vibe. "We also invited our make-up artist to come along in the evening to provide some festival sparkle," Megan says. "Beards, collar bones, cheeks and eyebrows were all taken over with glitter and glam– one friend even left with a sparkly bald head!"
Their talented band, Wandering Three, performed the newlyweds' favourite songs, as well as the first dance and father-daughter dance. "It was uncanny how good their rendition of Mumford & Sons was," Megan remembers. "It really set the mood for the night, and we were so sad when they finished their last set."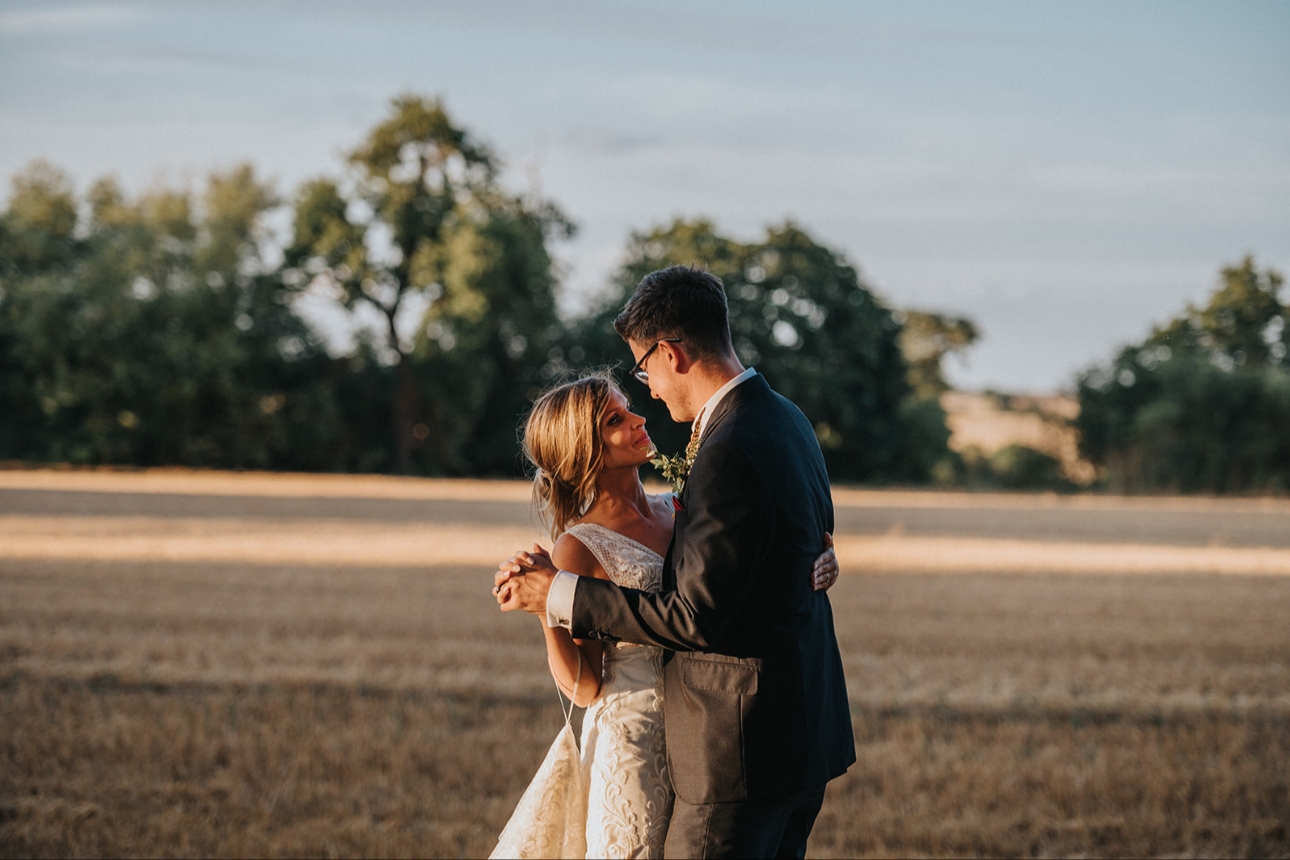 The couple agreed that everything on the day was even more amazing than they could have imagined. "We just kept saying 'this is the best day of our lives' to each other!" Megan says. Like many couples, it was the ceremony that brought on the nerves. "It actually ended up being our favourite part of the day," Megan remembers. "We wrote our own vows, which made it so special. Another treasured memory was when we had our couple shots. Our photographer, Michael Briggs Pictures, took us away from everyone and played our first dance song and told us to dance in the street. We got totally lost in the moment – it was magical!"
Megan and Matt's contact book