Charlotte and Dean knew each other through friends, but they never really had more than a passing (drunk) conversation! That is, until a mutual friend thought they might have potential. "One Saturday evening I got a message from Dean. He asked if I 'fancied a dance, like a tango or something'," Charlotte laughs. Funny messages turned into funny dates – and the rest is history!
Shortly after Christmas 2016, Dean decided it was time to pop the question. They had a trip booked to New York on the 26th January, 2017, to celebrate his 30th and he knew he wanted to do it before then. Charlotte tells us, "He asked my brother's permission and went ring shopping with his mum, then came up with the most wonderful proposal, which still makes me tearful now." The day before they were flying to the states, Dean drove them to a spot on the cliffs where Charlotte's dad's ashes were scattered and where the family had recently planted a tree in memory of him. "I had no idea it was coming, I thought Dean was just being nice taking me there," Charlotte says. "When I turned around, he was on one knee! As my dad wasn't around to ask permission, he thought it was best to have him nearby. I was shattered and stressed from work, but I don't think it could have been more perfect." Their week in New York was spent celebrating and talking weddings!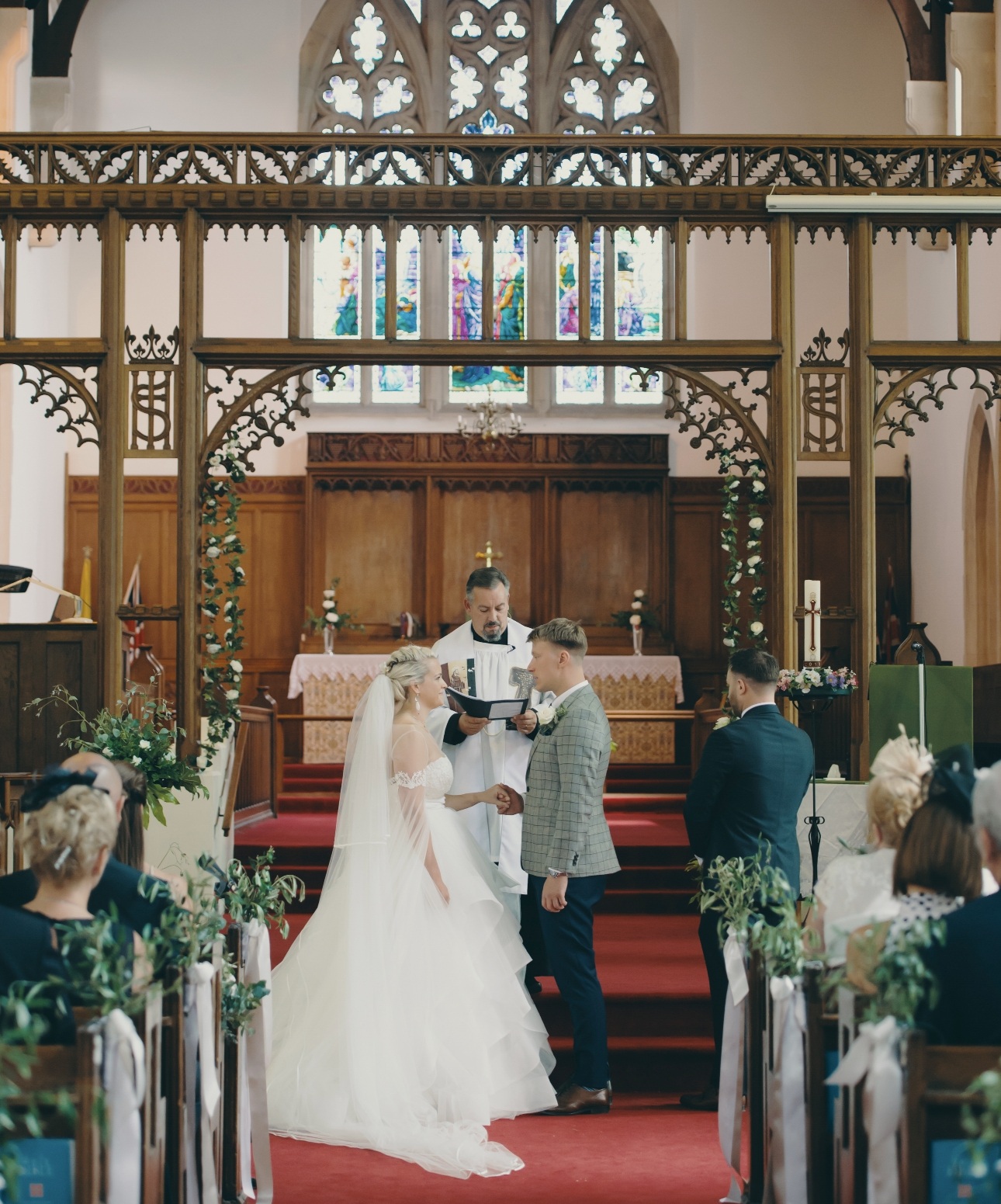 The pair took time at the beginning of their planning journey to decide exactly what they wanted from their day. "We wanted a hybrid of traditional and modern, formal and relaxed," Charlotte explains. The first thing they did was book a meeting with Charlotte's church reverend, Lee. "I got to know Lee when my dad reached out to the church after his cancer diagnosis," she says. "Dean isn't a follower of the church so was nervous to meet Lee, but they hit it off straight away. We confirmed the date for 9th June, 2018, at St Saviours Westcliff.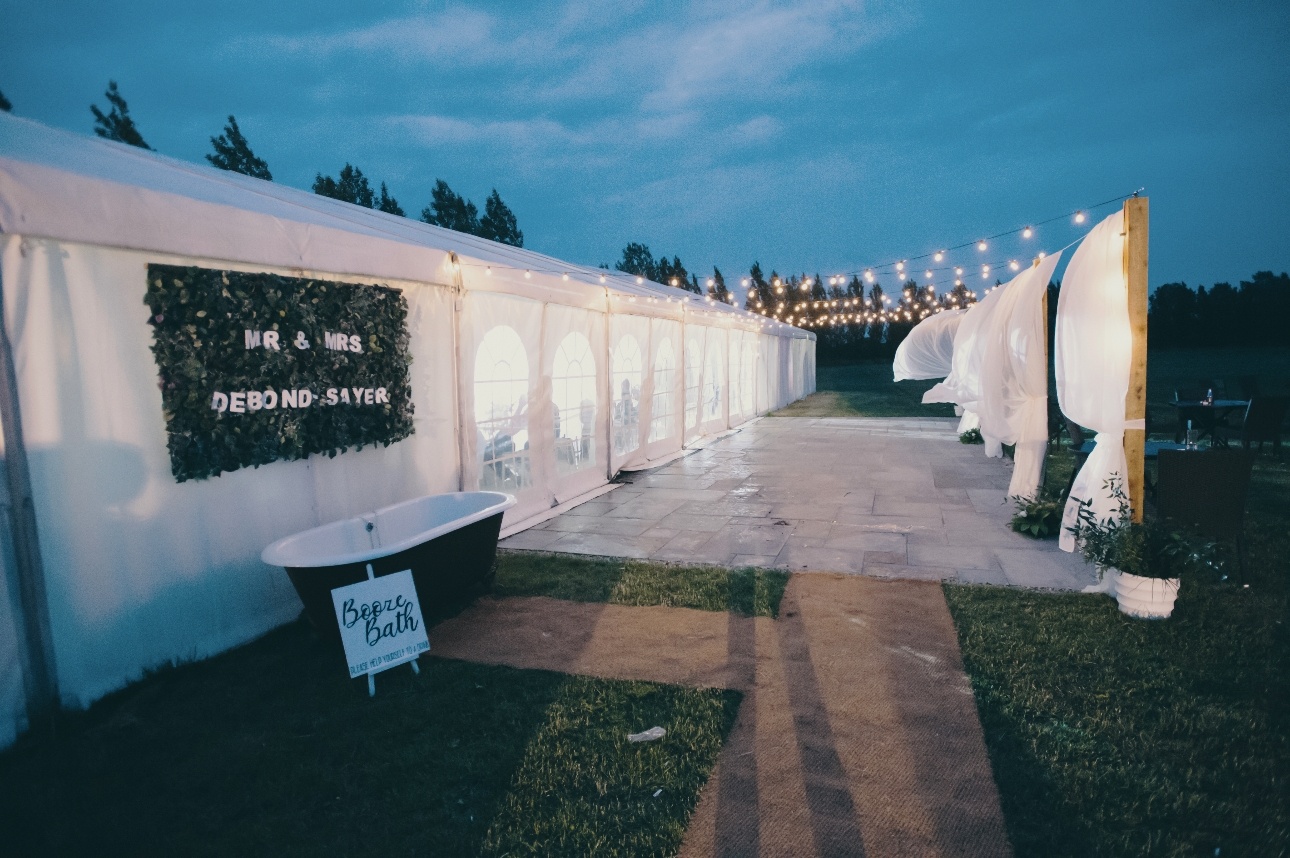 The hard part was finding the reception venue. "We needed somewhere that was local to the church, large enough for our guestlist, had plenty of indoor and outdoor space and was a complete blank canvas," Charlotte says. "We basically asked for the impossible!"
A family friend mentioned that they had a space at Garons Park, and they had been thinking how it could work for weddings. "After a year of meetings, planning, research, investment and determination, The Boundary was born," Charlotte says.
"It's been one hell of a journey but we have made the venue that Southend was screaming out for, fulfilling the needs for ourselves and others who are looking for a friendly, flexible venue with stunning in-house catering."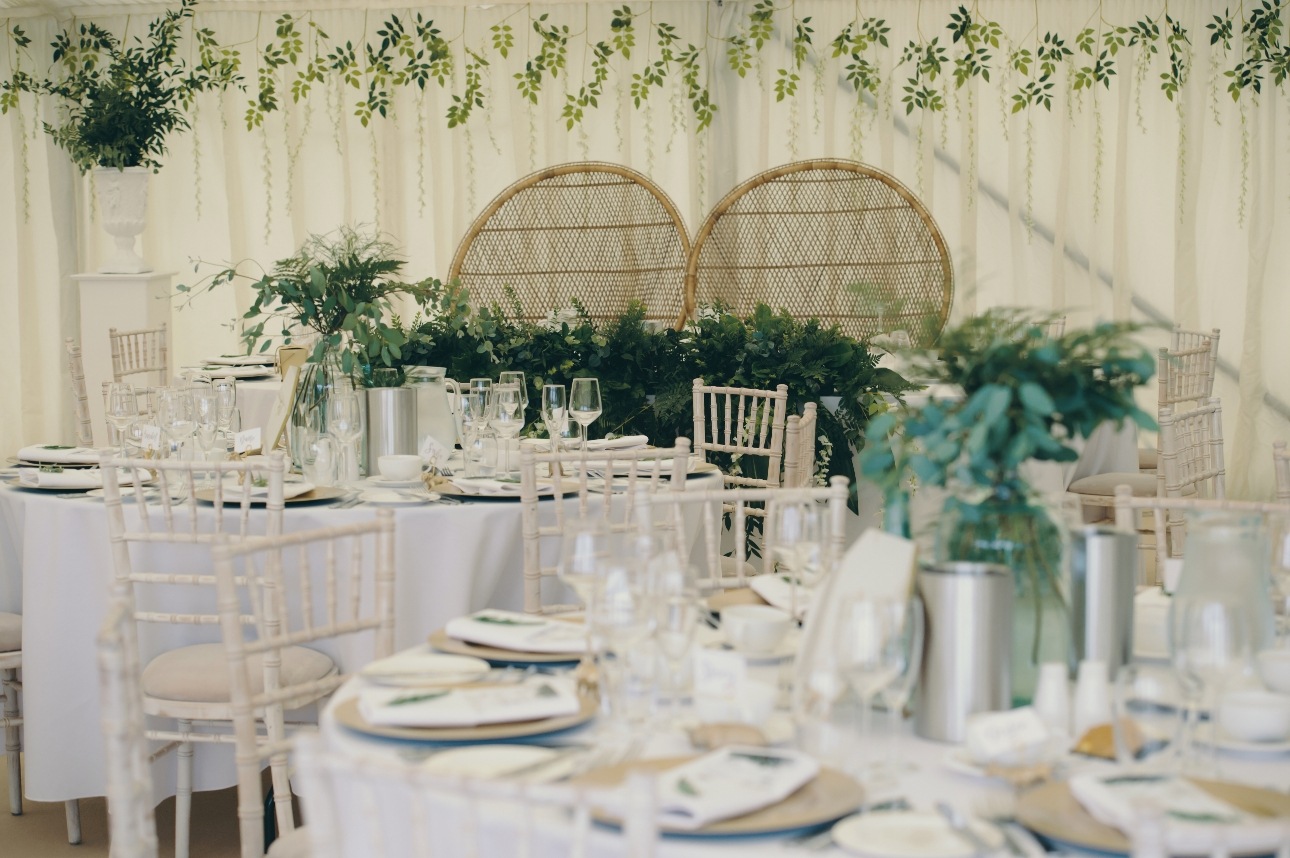 Charlotte and Dean's day was classic yet contemporary with botanical accents. The gorgeous bouquets were from Bunched in Leigh-on-Sea. "Mine was huge and wild," Charlotte says. "It had olive leaves in it and it was tied with hand-dyed ribbon." Being an interior designer, Charlotte has an eye for detail, so she got to work collecting vases and bottles from charity shops, boot sales and Facebook Marketplace, which her mum filled with greenery. There was also a showstopping wisteria installation hanging from the ceiling, decadent vintage furniture, which is now a permanent fixture at the venue, and a Victorian bath was repurposed and filled with beer and ice. The table plan was made from an old-school peg board. "We have one at home now with the lyrics to our first dance song on," Charlotte says. The quirky place settings were made from plastic toy animals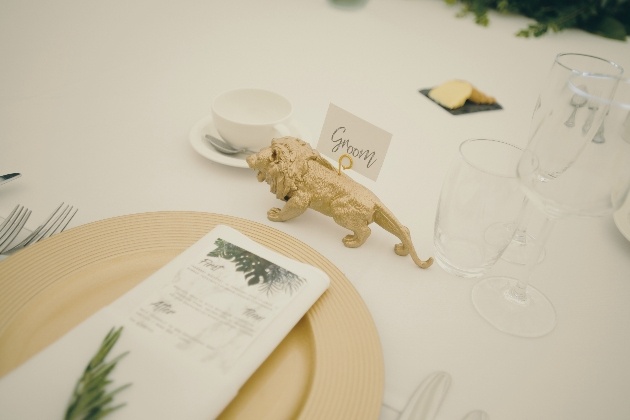 The quirky place settings were made from plastic toy animals sprayed gold. "We loved seeing our guests' reactions to what animal they got," Charlotte says.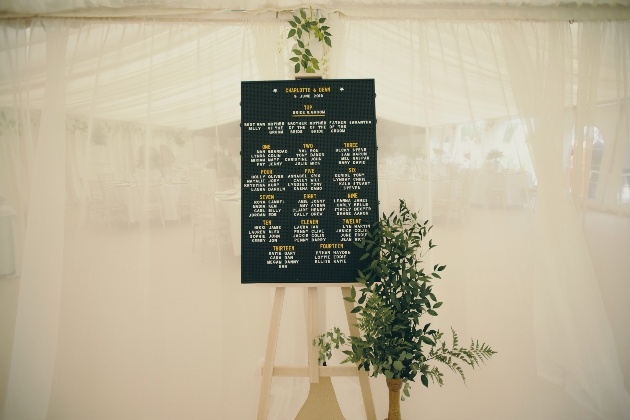 "Our daughter, Nora, now loves playing with them." The rest of the stationery was created by Charlotte and her mum, who even went on a calligraphy course for the perfect finishing touch.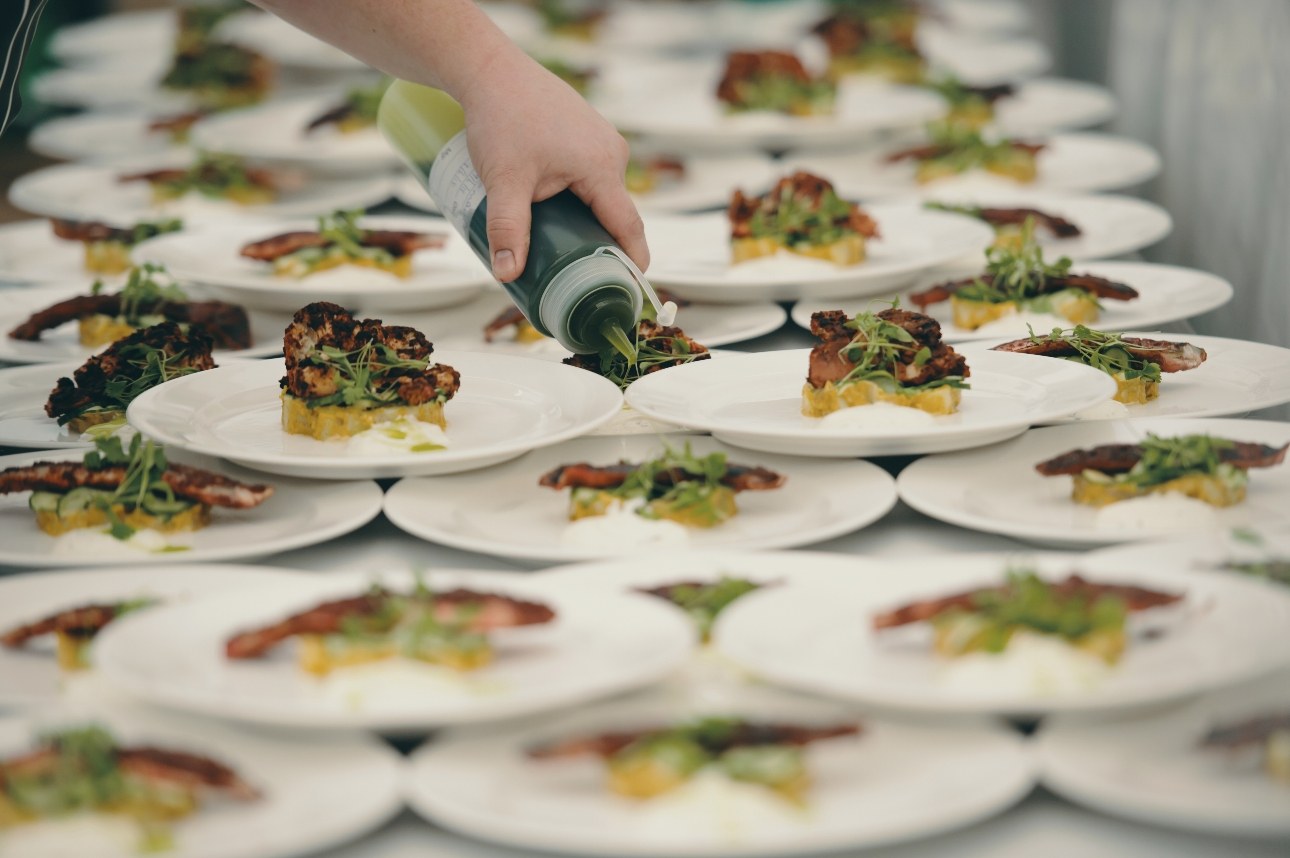 Family and friends were treated to a dessert station packed with cheesecakes (Dean's favourite), as well as vintage drinks trolleys brimming with delicious sweets, shots, port and cigars. "It's safe to say both trolleys were empty by the end of the night," Charlotte laughs. When it came to the catering, the couple wanted their guests to love the food, and have something they wouldn't normally get at a wedding. "My friend Jack looks after the catering at The Boundary," Charlotte says. "He created us a menu of tandoori mackerel followed by braised beef with roasted pearl onions and potato dauphinoise. In the evening, we dined on pulled pork buns with all the trimmings. The food is still talked about to this day!"
Charlotte had pinned so many Hayley Paige dresses on Pinterest that she knew she had to try one. "I went to a boutique in London that stocked the designer, but unfortunately it wasn't the experience I hoped for," she says. "I ended up buying the gown secondhand from a lovely girl I found on Instagram. Trying the dress on again, I finally got my Cinderella moment! I had it altered at Stitch in Time in Leigh-on-Sea, and owner Faye even sourced a lace sleeved top from her friend at Blush Brides when I had a wobble about wearing a strapless gown in church!"

Being a big accessories fan, Charlotte knew she wanted to make a statement with her jewellery. "There's a gorgeous local brand run by two sisters called Black & Sigi," she says. "I went to owner Clio's to discuss and we had the best evening looking at jewels and coming up with ideas. She got my vibe and created the most beautiful hair slide, earrings, necklace and my bridesmaids' gifts." Charlotte finished her look with a fabulous leather jacket, which her talented friend adorned with a motif saying 'Hopeless romantic'.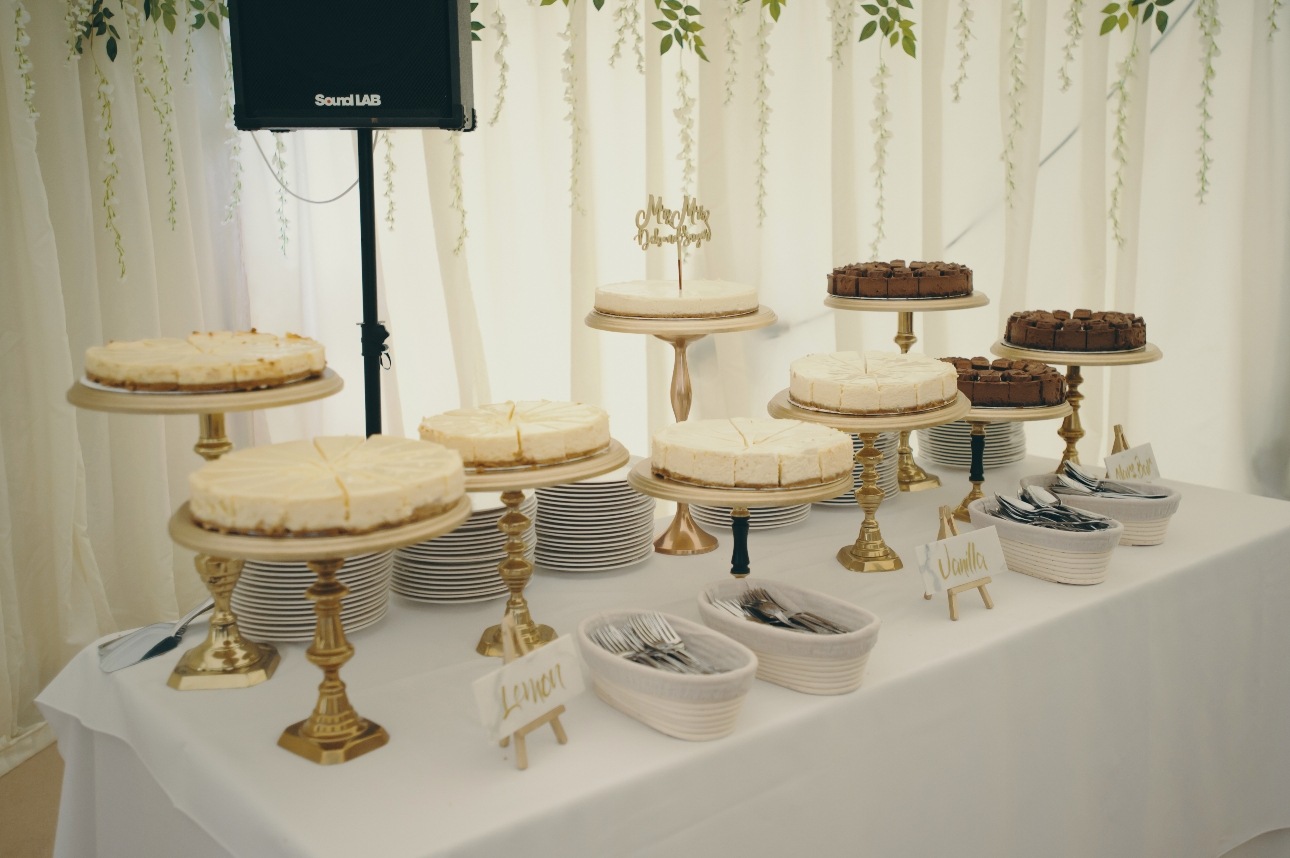 Dean knew he wanted a suit and shirt tailor-made for the day. They went to The Grooms Room in Colchester and received excellent service, and Dean ended up with a gorgeous Prince of Wales check jacket with navy trousers. "He looked so handsome," Charlotte smiles. "The groomsmen coordinated with navy suits and a checked waistcoat." Charlotte chose a palette of nude and metallic for her bridesmaids and sourced various dresses and let her best girls try them on and see which they liked. "As if by magic, each of them fell in love with a different style," Charlotte says.
Charlotte says that seeing Dean's face as she walked down the aisle will stay with her forever. "In the lead up to the wedding Dean was so relaxed, whereas I was having sleepless nights," she says. "His laid-back nature made me feel like he wasn't as into the wedding as me. However, seeing his face on the day made my heart skip a beat. Thankfully, our amazing videographer, Rideout Wedding Films, managed to capture it." Building the day from scratch made Charlotte and Dean's day extra-special. "Every part of it was personal to us," Charlotte says. "We love that The Boundary can now provide this canvas for many more couples."
Charlotte and Dean's contact book