Sasha and Vaughan met while on the same course at Brighton University, but once they left they lost contact. It was when they were both working in London that they bumped into each other again. "A few times on the way to work the tube doors opened and Sasha was on the other side," Vaughan says. "One day, I was at the London Transport Museum with a friend when I saw Sasha acting in a video about buses. My friend encouraged me to get in contact, exclaiming how beautiful she was – and how single I was!"
Thank goodness he did, as it wasn't long before Vaughan was planning how to pop the question. "He proposed to me the day before New Year's Eve," Sasha remembers. "We had just returned to London after spending Christmas with family, and Vaughan suggested we visit Kenwood House in Hampstead. After touring the inside of the house and exploring the grounds and lake, Vaughan produced a box and said he'd got me an extra present. I was a little confused until he asked me to marry him." Sasha answered with a resounding yes, and they celebrated with prosecco from the local Londis!

The date was set for 20th July, 2019, at the stunning Hutton Hall. We caught up with Sasha to find out how they planned their dream day…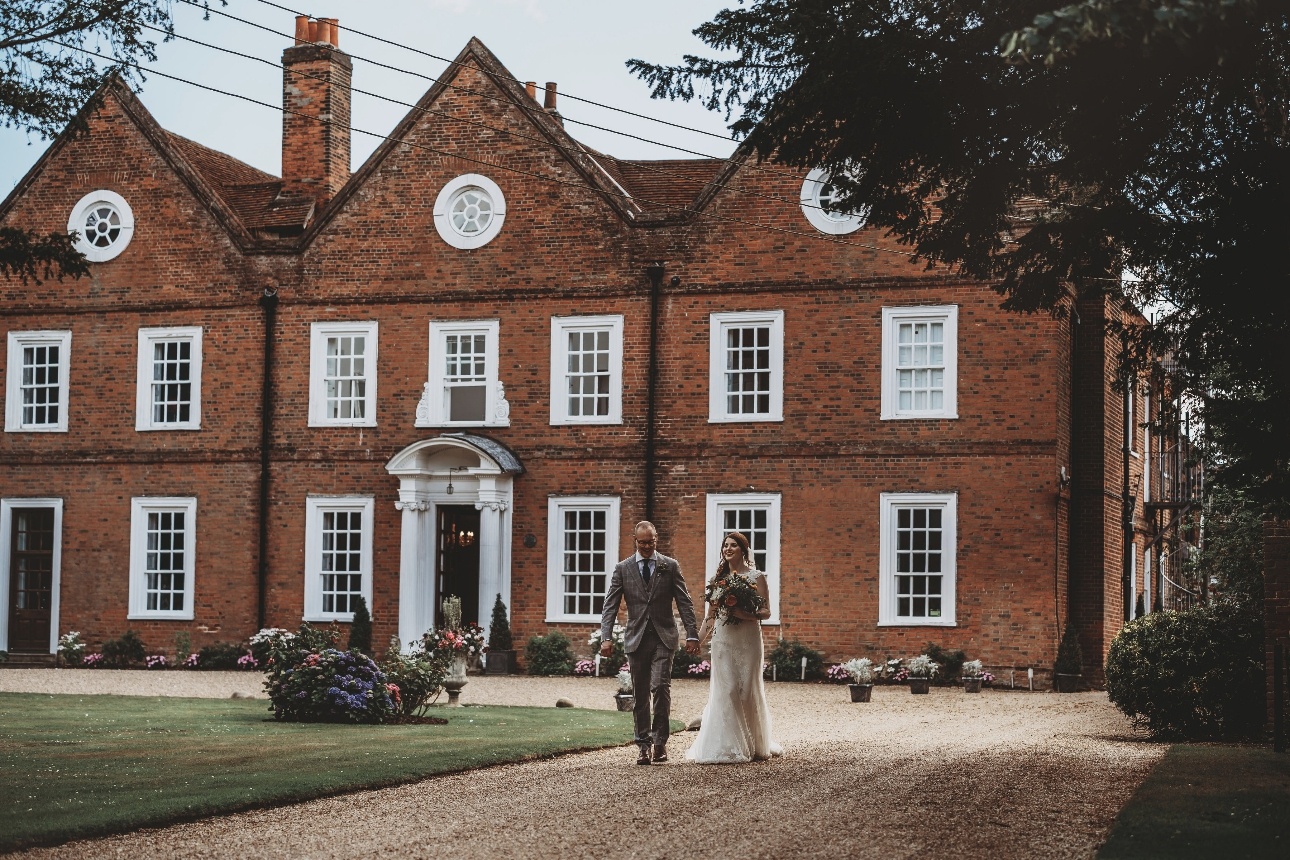 The couple visited 13 venues in total, on a mission to find a setting that was accessible for family and friends, while giving them the chance to have a bespoke day. "We shortlisted two very different venues," Sasha explains. "We then revisited them with our parents for the final decision. Hutton Hall won us over. We loved the bright and modern interiors of this Georgian country house."
A timeless palette of navy and silver was chosen, and the couple knew that flowers would be a big part of their day. "We wanted our wedding to feel natural and rich," Sasha explains.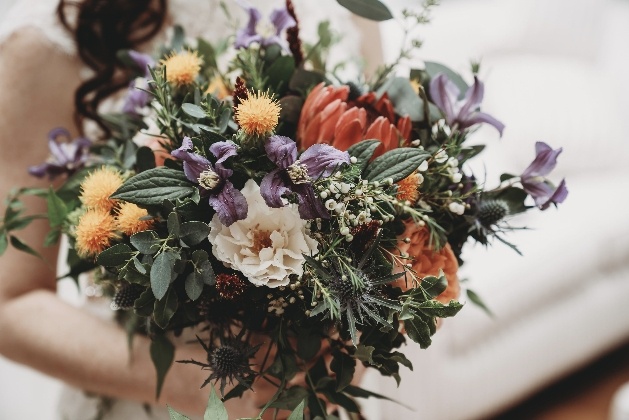 "We focused on lots of foliage with pops of colour coming from in-season wildflowers in blue, purple and orange to complement our colour scheme. Our favourite feature from our florist, Urban Flowers, was the moongate – it made a gorgeous backdrop for our vows."
As Vaughan and some of their guests have dietary issues, they were keen to find a cake that everyone could enjoy. "We found Bee's Bakery, which makes delicious vegan and gluten-free cakes – and you'd never know!" Sasha says. "Our cake was adorned with wildflowers and it tasted great." In the evening, they arranged a pizza van from Abigail's; it went down a storm with guests but the newlyweds managed to miss it!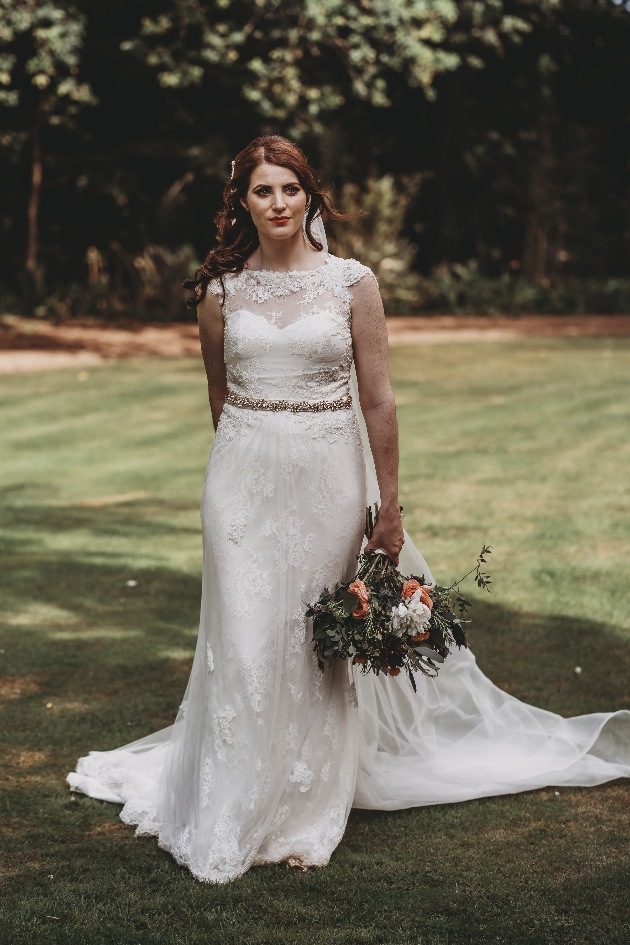 Sasha wore an exquisite gown from the Snow collection by Annasul Y. "I accessorised my chantilly lace dress with a gold and crystal belt," Sasha tells us. "I fell in love with my gold Kate Spade shoes, they were beautiful and comfortable, but the glitter texture did catch on my dress!"
The groom looked dashing in a grey check suit, and the buttonholes featured a thistle to celebrate the family's Scottish roots. "We wanted the groomsmen to feel smart but a little raw around the edges, which complemented the down-to-earth feeling of the wildflowers," Sasha explains. The bridesmaids rocked beautiful 30s-style embellished dresses from Monsoon.
Sasha is a member of a choir called Songbirds, and they performed after the ceremony. "Near Vaughan's parents' house is a distillery, Burleigh's Gin, where we were able to design our own gin," Sasha says. "We ordered a big batch so during the choir's beautiful performance we were sipping our very own tipple."
The newlyweds were keen to reflect themselves and the things they love in the day. "We painted a face-in-hole board in homage to Brighton, where we met," Sasha says. "We also love lawn games, so we got some for our guests to play during the drinks reception." The pair knew they wanted a live band, and after hours of searching came across Ruby and The Rhythms. "The band were an amazing choice," Sasha says. "They even performed I'm Gonna Be (500 Miles) by The Proclaimers for my mum, who was going through chemotherapy and recovering from surgery at the time. The song brought so much joy, and dancing to it with my mum is one of my fondest memories.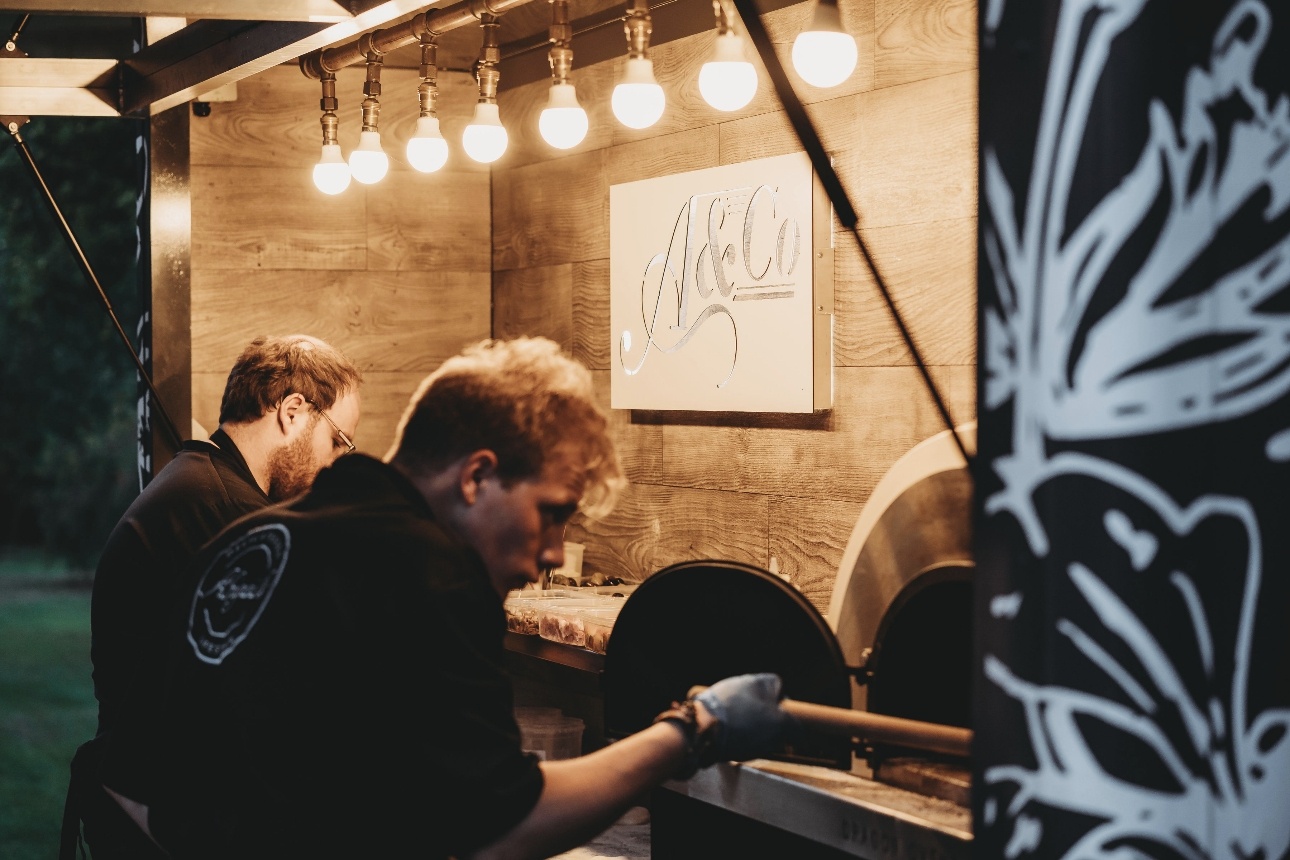 To capture the antics of the evening's festivities, Sasha and Vaughan set up a DIY photo booth, with plenty of playful props. "We have an extra 800 photos that really capture the fun, joy and coming together of our loved ones," Sasha smiles.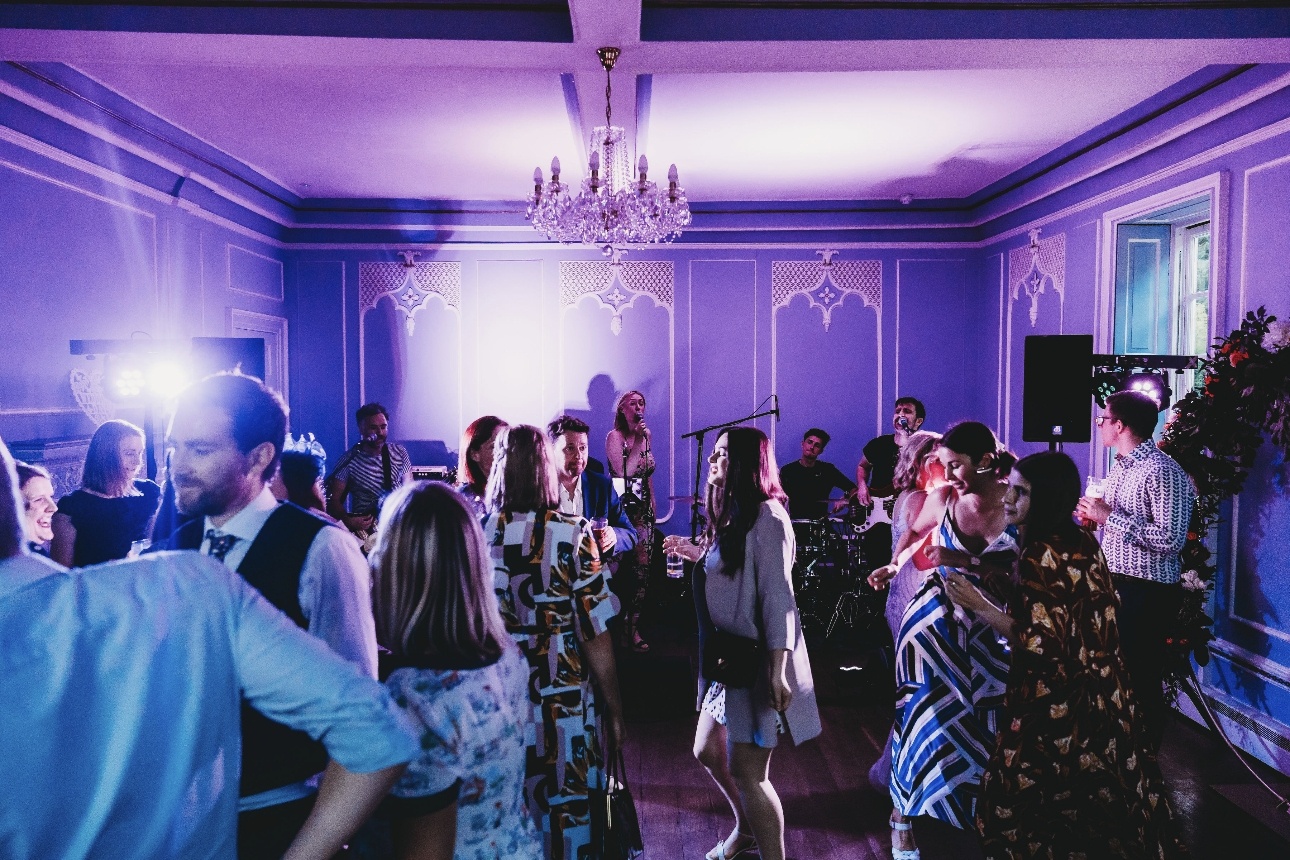 The pair both had stressful mornings, with Vaughan having to rush into town after finding his shirt had a stain on it, and Sasha waking up to find there was no hot water. "The moment we saw each other, all the nerves dissipated. We were incredibly happy and it all just felt so right," Sasha tells us.
The pair booked dance lessons before the big day. "We didn't want anything over the top," Sasha says. "We just wanted to feel more confident on the dancefloor. We had a simple routine to Nina Simone's Feeling Good, and even though it may not have looked that exciting, it made us feel the part and have some real fun."The dynamic trio of photographers Matt Wing and Greg Coltman alongside videographer Phil Smith not only captured Sasha and Vaughan's day beautifully, but they also helped them to feel relaxed and allowed them to enjoy special moments together.
Sasha and Vaughan's contact book