Hannah and Jon Alford met in July 2016 at a dinner not realising all along it was a set up!
"We got on really well and had loads in common, particularly as we are both music teachers," shares Hannah. "Our first proper date was on 27th July to the Royal Albert Hall to watch one of the BBC Proms, and every year since we try to go around the same time for our anniversary, although in 2020 that wasn't possible!"

Jon had planned an epic proposal over the Easter holidays in 2018 but it didn't quite go to plan. Hannah explains, "It's a bit of a long story but one we'll be telling for the rest of our lives involving a surprise party, a lost suitcase, a thunderstorm and being naked in a car park!" Although it did all happen at Lake Garda in Italy so nothing can really be more romantic than that!

The big date was set for 27th July 2019, with Gosfield Hall setting the scene.
Less than a month after getting engaged Hannah, Jon and Hannah's mum began visiting venues; luckily with shared tastes and ideas they agreed instantly when visiting Gosfield Hall. "As soon as we arrived, we were instantly wowed by the beauty of the grounds and the friendliness of the staff, it seemed to tick every box. We wanted a venue which had character and picturesque grounds, we loved the way each part of the day was hosted in different rooms, the food and drink options were outstanding, and to top it off they only had availability for our preferred date which seemed like fate."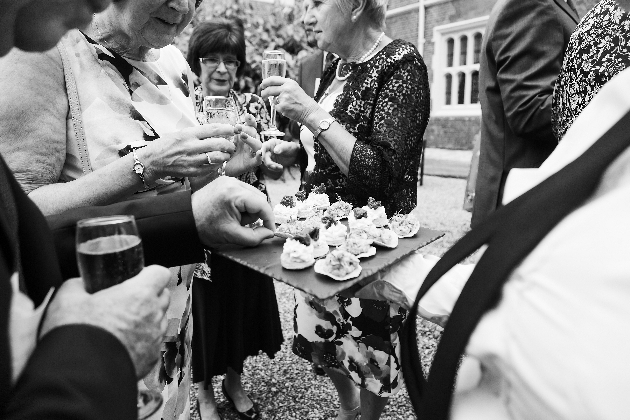 The interiors were clearly a standout reason to saying 'I do' to the venue, with Hannah excited to have her pre-wedding preparations in the Ladies Chambers and her mum got very emotional at the breathtaking Roccoco Suite!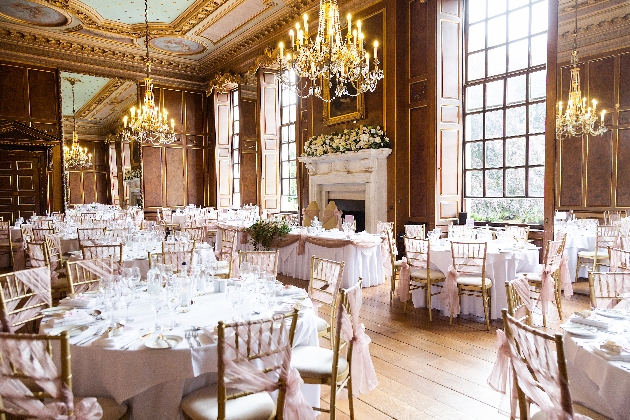 "Whilst we were exploring the venue we bumped into an old work colleague of Jon's, Gaynor. Gaynor was to be our wedding manager at Gosfield Hall, we knew again, it was meant to be!"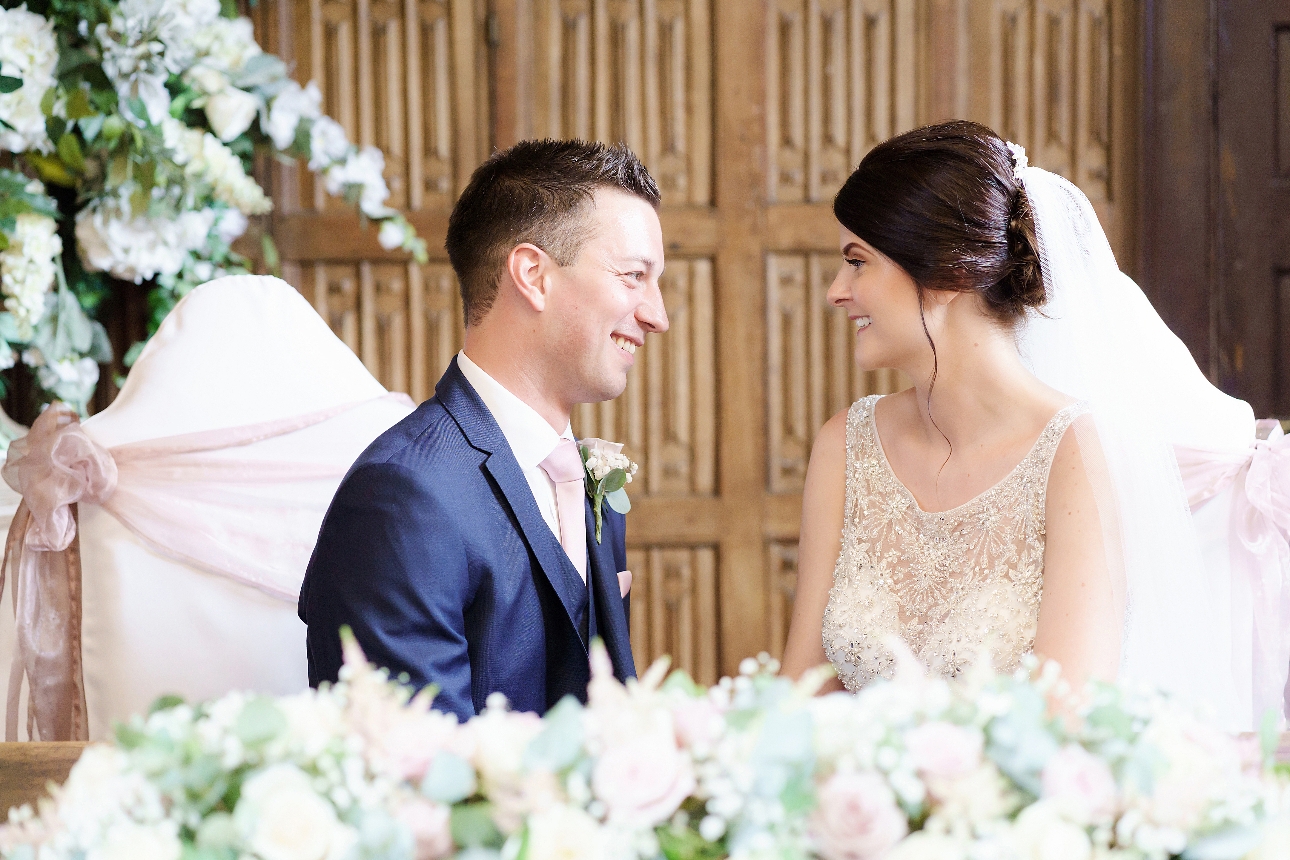 Ensuring the decorations complemented the venue was paramount to the couple when planning the style of the day. "We made sure that our flowers complemented our colour scheme, and luckily this tied in nicely with the aesthetics of the venue," adds Hannah. "For the flowers, we took the lead from Megan of The Willows, who knew what worked well together and what suited the theme. Each member of the wedding party had a different combination of the following: silver dollar eucalyptus, avalanche and love lace roses, white gypsophylia and pink astilbe."
With the interiors providing an instant backdrop Hannah felt they needed little decoration so opted for simple hurricane vases filled with rose gold beads and fairylights, "We found rose gold photo holders to slot our table names into to match and then stood the centrepieces onto mirror plates and scattered hearts cut from old pieces of sheet music," adds Hannah. The couple continued the music theme and her mum made heart bunting out of the same music paper and cone confetti holders.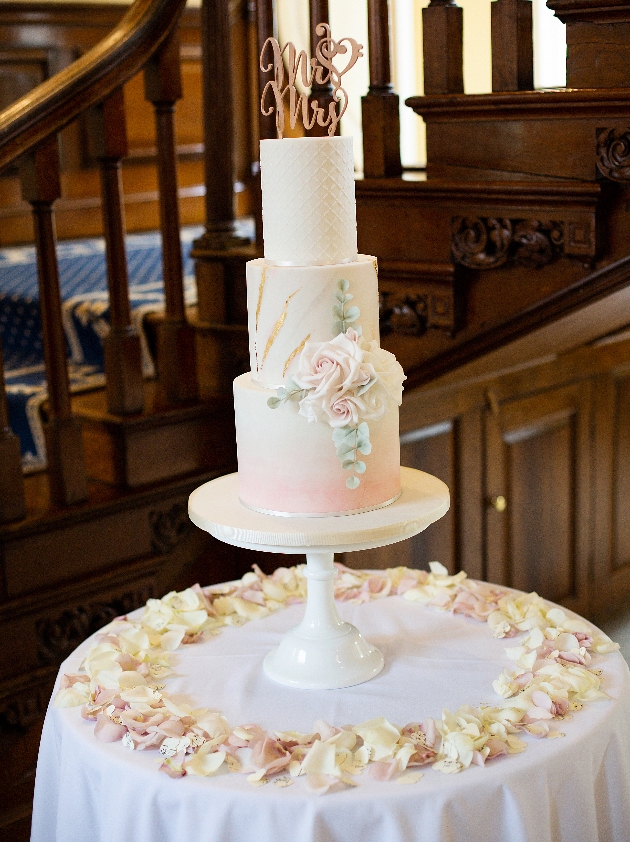 The pièce de résistance of the wedding breakfast the three-tiered cake, had layers of chocolate and salted caramel, carrot cake and cherry bakewell, and was designed alongside Helen from Amelie's Kitchen to ensure it complemented the couple's colour scheme. "A colleague of mine designed and laser cut our musical cake topper which I spray painted to match the colour scheme!"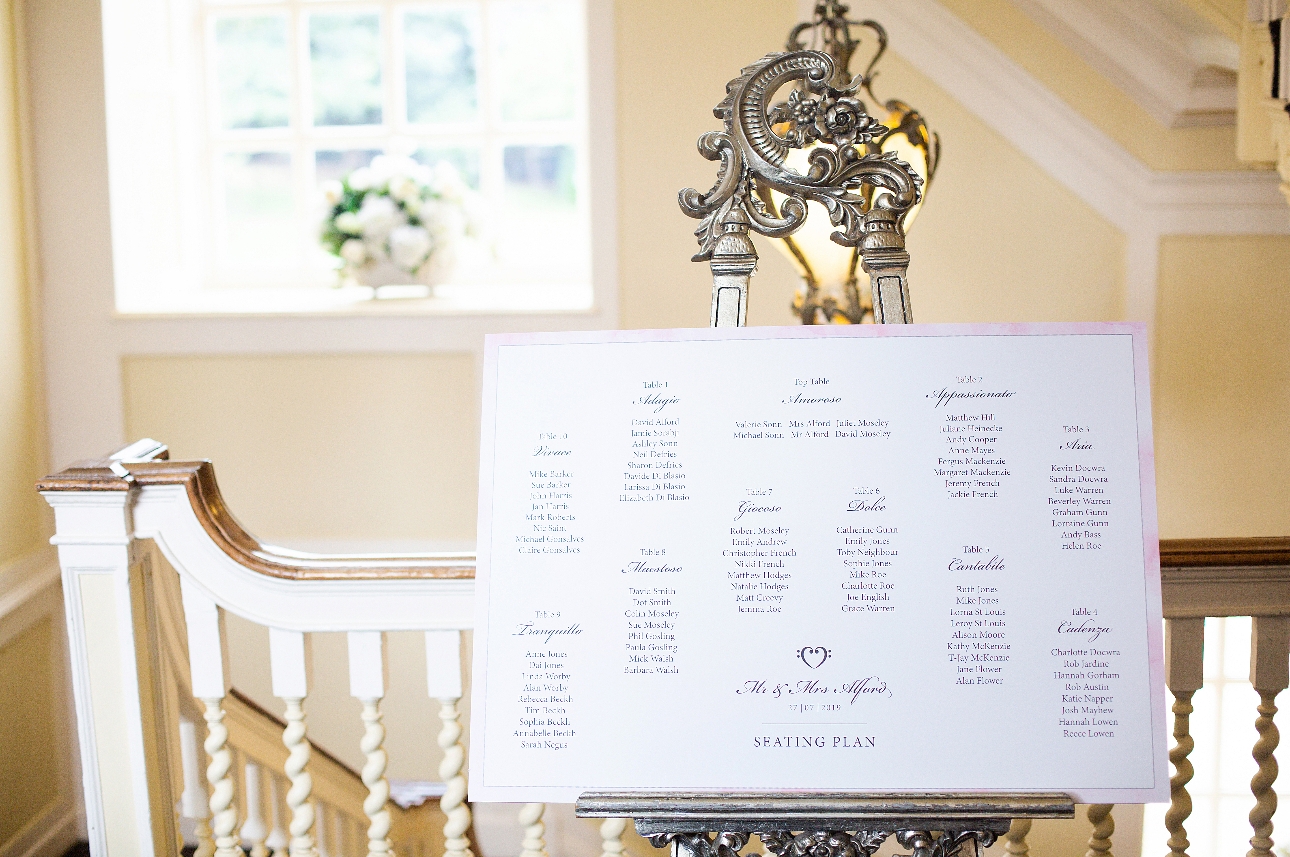 The stationery epitomised romance with a soft pink watercolour background, which transpired across all of the on-the-day stationery and signage. Hannah personally wrote each guest's place name out for the wedding breakfast; during the latter, Eye Spy and Place Your Bets activities were put onto the tables to encourage guests to mingle. "This led to some fantastic pictures, and I think it got the guests who didn't know each other talking – nothing wrong with a bit of friendly competition in betting on how long you all think the speeches will be!" shares Hannah.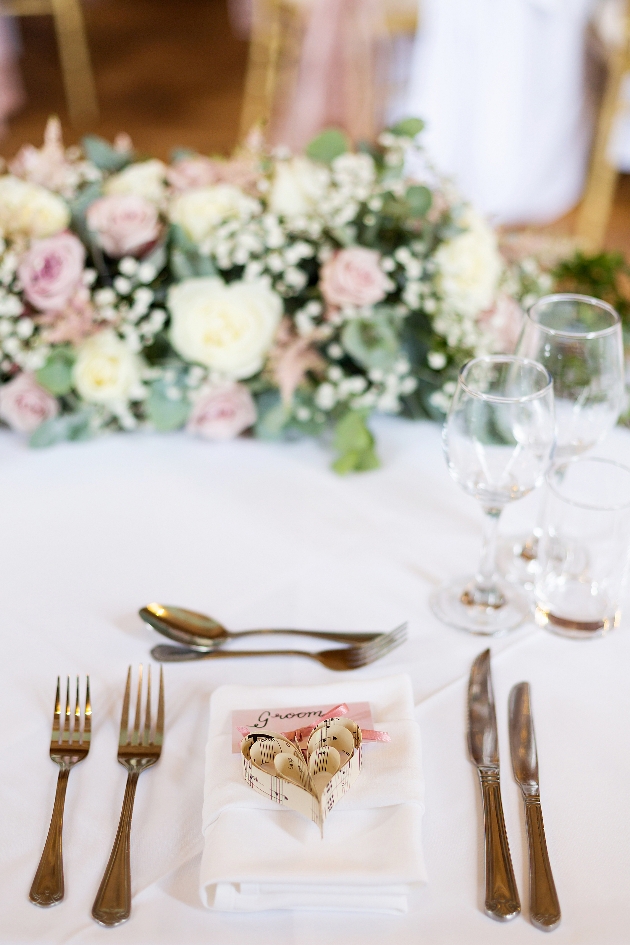 The wedding dress shopping experience can be different for everyone and Hannah's initial search left her a little disheartened at first; but raring to go on the second outing, hair and make-up done, she was ready to be open minded and try everything and anything on! "We walked into J'adore in Coggeshall and my mum picked out a dress (the 16th dress for me to try on after the first trip!) it was not the style I had in mind, but clearly that was something I had to let go of!" recalls Hannah.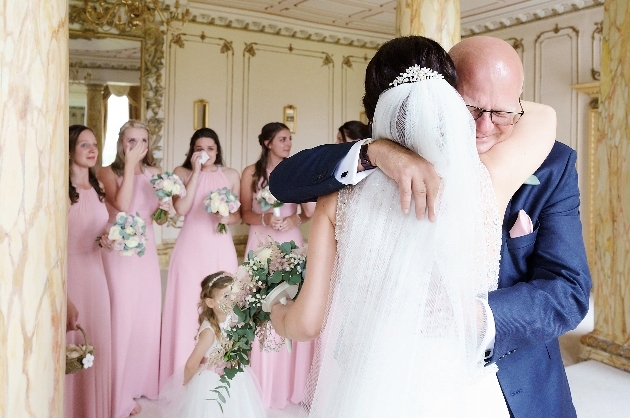 "As soon as I tried it on, and the shop assistant secured the buttons I knew that this was the one. I walked out to show mum and Catherine and they both welled-up, although my mum cries all the time I had never seen my best friend cry so this was definitely the dress for me!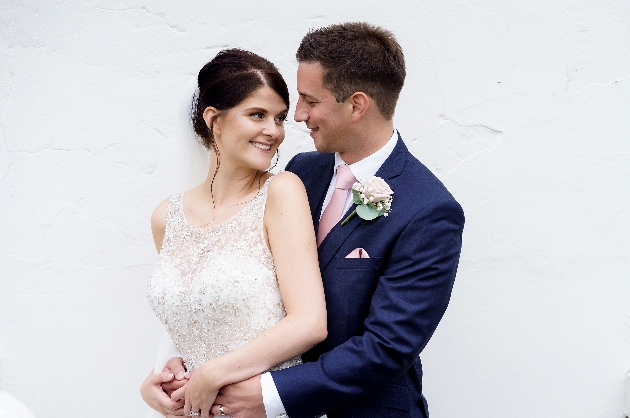 "As well as being beautifully bejewelled with sequins and beads, the dress was super-comfortable and, as it wasn't fitted, I could eat as much as I wanted on the day – result! It was a very emotional day and we celebrated with prosecco!"
Hannah accessorised with a veil from J'adore, something she originally said she didn't want but it finished off the look perfectly. "I added a bejewelled hair comb, also from the dress shop, to sit on top of it and the jewels of the comb matched the beads on my dress. Mum also gave me the garter from her wedding which had some blue ribbon on it so it was my something old and something blue," add Hannah.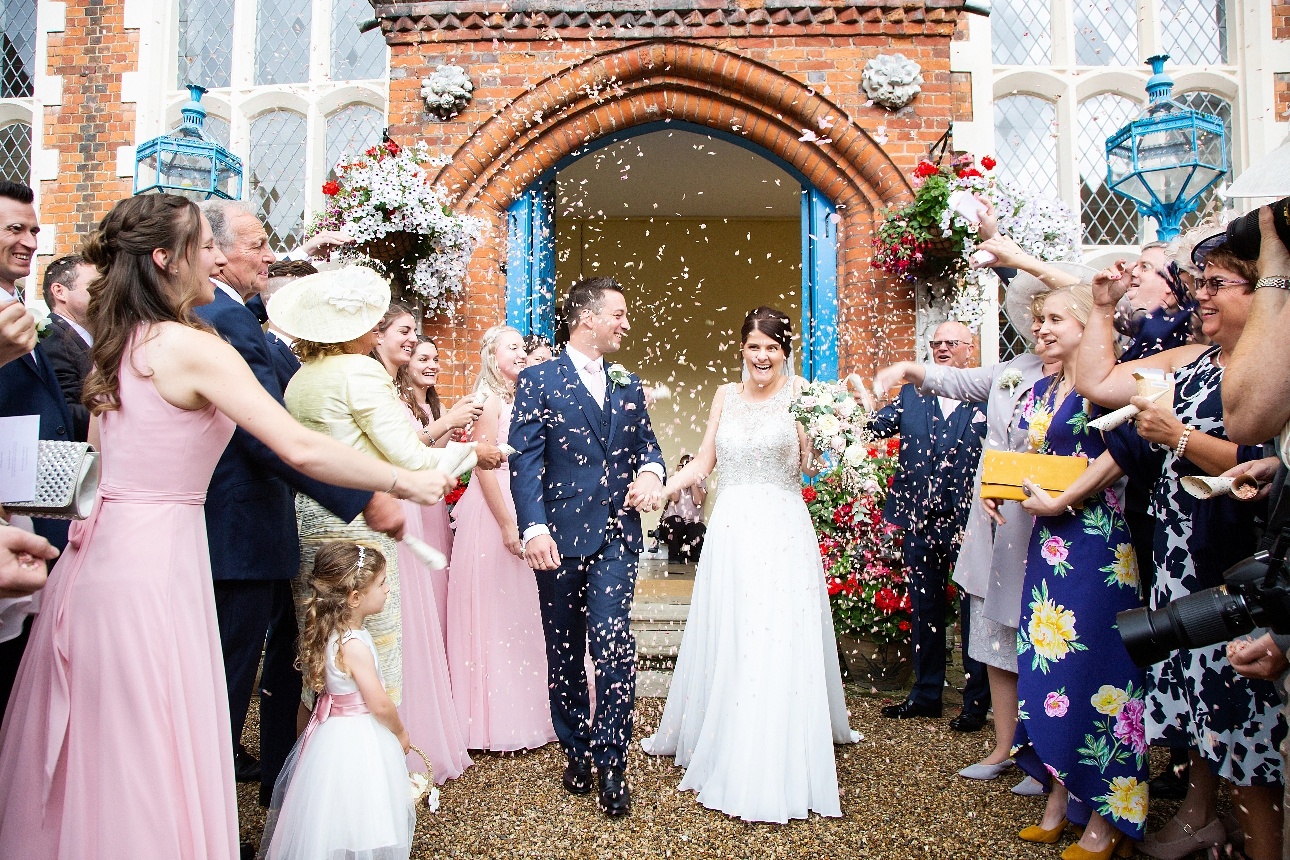 Jon had four groomsmen and, along with Hannah's dad and Jon's stepdad, they wore the same as Jon and they all scrubbed up really well!

For the bridesmaids' and flowergirl dresses amazingly everyone agreed on the same colour, a rose quartz hue found in The Bridesmaid Boutique in Bulphan. "It was amazing everyone liked the same colour and style and it suited them all, they looked beautiful. Our flowergirl wore the cutest white dress and it came with a matching rose quartz ribbon which tied into a bow at the back. I wanted my bridesmaids to be comfortable, so let them choose their shoes and hair dos (as long as it wasn't up like mine!) and they all did their own make-up. Our mums also looked stunning on the day, with outfits from Condici complete with wonderful hatinators."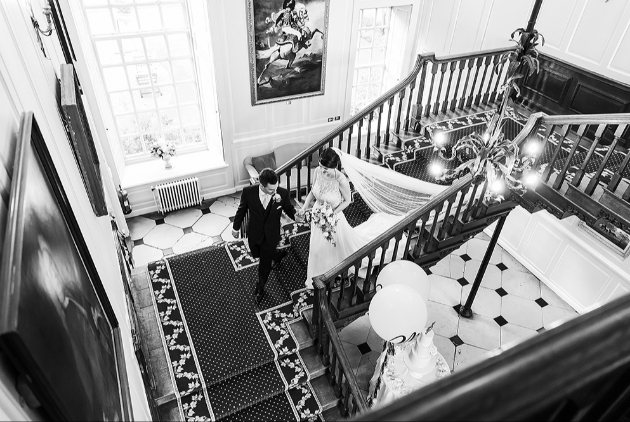 "We unashamedly spent the most money on food and drink at the venue. We wanted to make sure our guests had plenty to indulge in over the course of the day and they certainly did!" recalls Hannah. "Considering the weather, we were lucky enough to hold our drinks reception outside in the courtyard. We had plenty of cocktails and canapés to go round and keep our guests occupied whilst we escaped for our photo shoot. We served prosecco, strawberry daquiris, pimms, and beers, and basil, feta and tomato crostinis, tempura king prawns, mini scotch eggs, smoked duck croquettes, bang bang chicken and chocolate-dipped strawberries – our wedding manager even organised for one of everything to be sent up to our room to make sure we tried all the food!

"Our wedding breakfast was also perfect, for starters we had prawn and crayfish tian or roasted artichoke and asparagus tart, beef wellington or roasted vegetable wellington for mains and then a trio of desserts with eton mess, chocolate and salted caramel brownie and créme brulée. Whilst all of my efforts were spent on enjoying every mouthful, I think Jon's mind was elsewhere in mentally preparing for his speech!"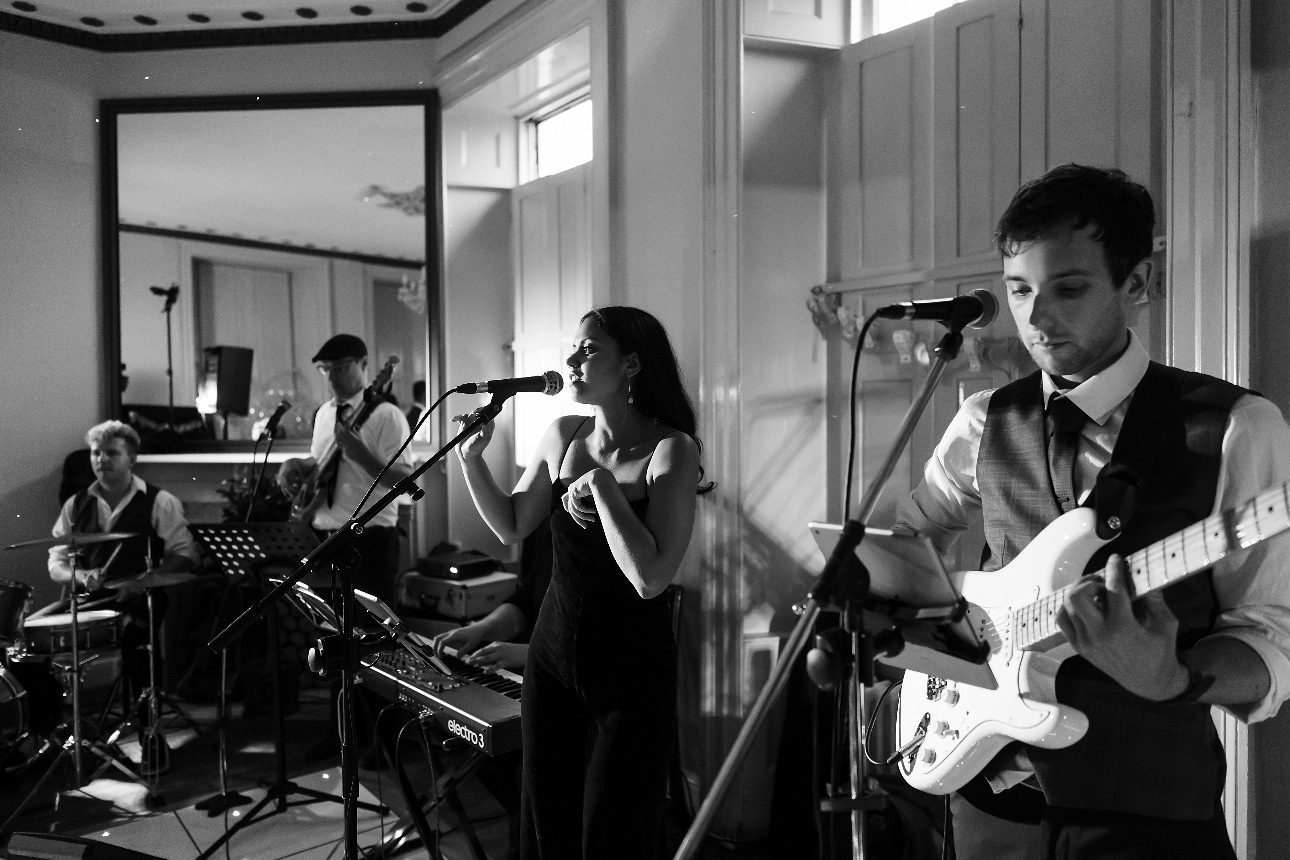 As Hannah and Jon are both music teachers, their number one priority was to make sure that the day was filled with good music. "We sourced a pianist, Luca Dimitri from a website called Function Central, who played during our ceremony and welcome drinks. He performed a selection of pieces whilst guests were arriving before the ceremony: Clair De Lune by Debussy, Just the Two of Us by Bill Withers, I Get A Kick Out Of You by Jamie Cullum and Isn't She Lovely by Stevie Wonder. As the bridesmaids walked down the aisle, he began to play the piece I Due Fiume by Einaude. This continued as my dad walked me down the aisle. This was a very special moment. I'd bought him some cufflinks for the day which said 'Today a bride, tomorrow a wife, always your little girl', which sums up our relationship really well. As soon as we started walking, dad spotted Jon was crying and pointed it out to all of the guests!"
There were two readings: Jon's brother-in-law read lyrics from the song More by Frank Sinatra and Hannah's auntie read Ordinary Morning by Joyce Grenfell.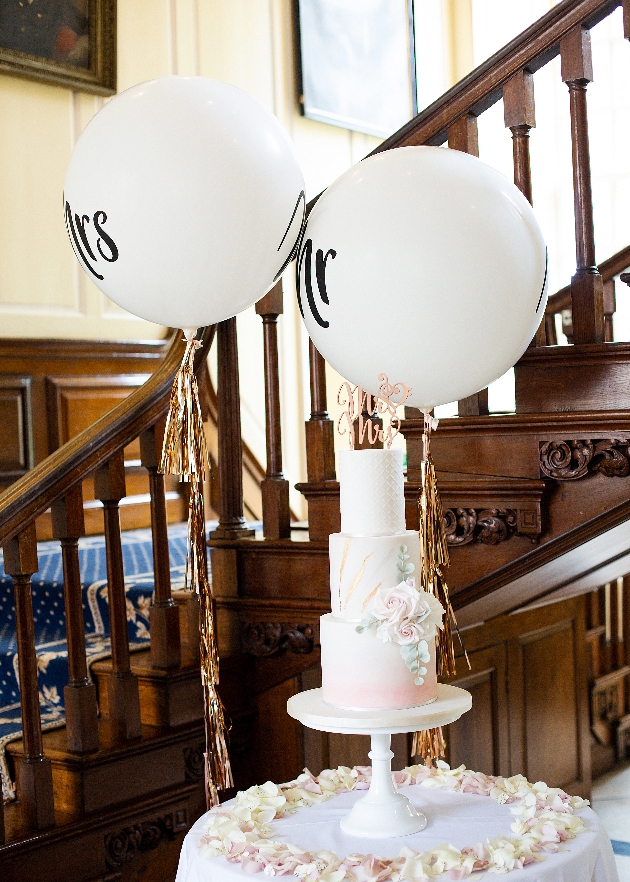 "As we signed the register, our pianist performed What A Wonderful World by Louis Armstrong and Can't Take My Eyes Off You by Andy Williams which are two of our favourite songs. As the sun came out at the end of the ceremony, we walked back down the aisle to Everything by Michael Bublé."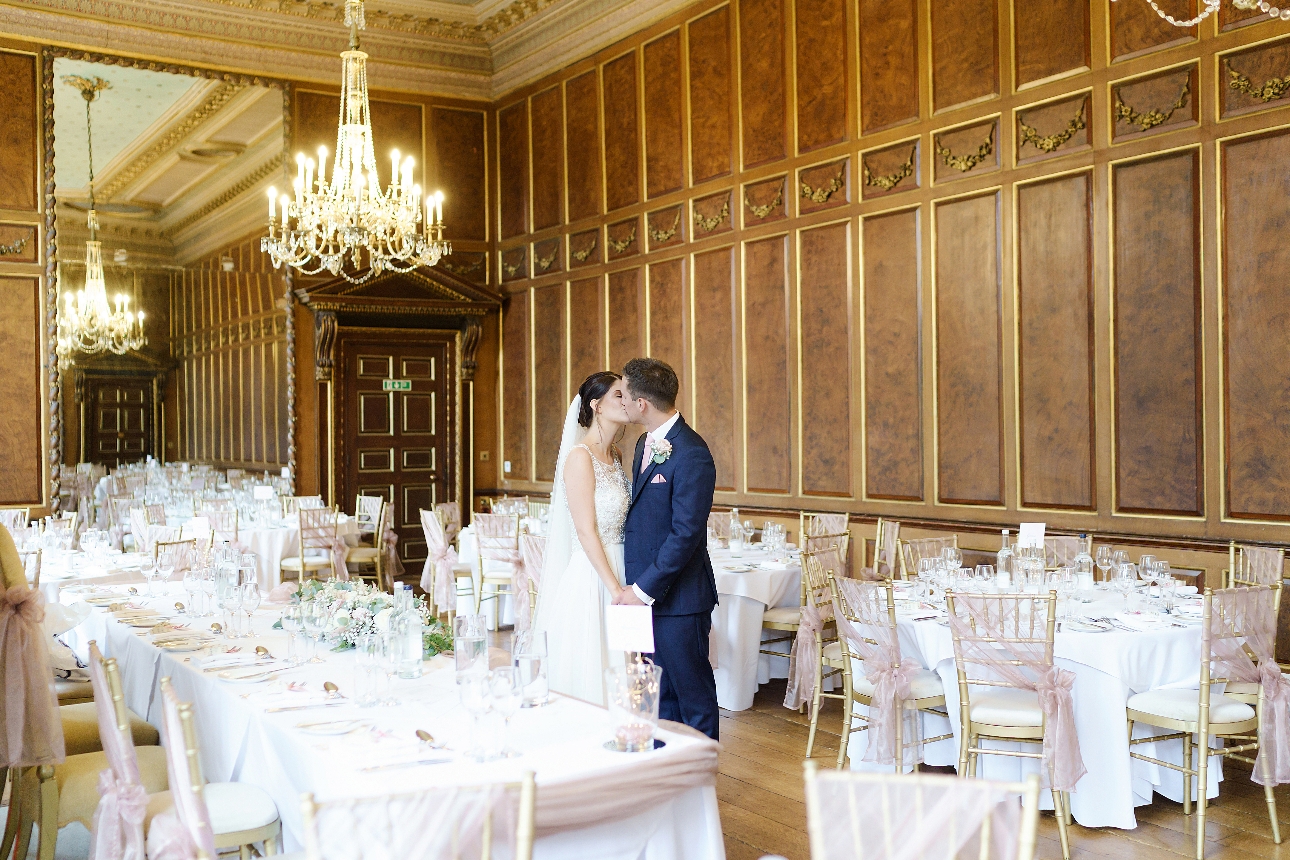 For the reception, the couple wanted to see the band perform live before booking and found The Blue Lion Band. "They're sort of like a 'pick'n'mix' band where you can select which instruments you want and you can also choose which music you want them to play from their set list and give them three requests to learn especially for your big day. They put on a showcase in London which we went to with Jon's parents, and we thought they were great so we booked them for our evening reception. Our guests were up dancing all night, the band was fantastic at entertaining everyone, and the venue's DJ played some great tunes to keep everyone on the dancefloor!" The couple's first dance was to Never Too Much by Luther Vandross. "We asked the band to perform an acoustic arrangement of the song and they absolutely nailed it! We aren't the most gifted dancers so didn't prepare a choreography, but we did practise a couple of moves to make sure we didn't look like complete melons!"
"I think it's natural to worry about whether the speeches will go down well, but they were perfect. Dad started off, after a huge round of applause fuelled by Jon's stags chanting! Dad had included props in his speech and managed to include a picture of the time I performed for Boris Johnson (who had recently been elected as Prime Minister) and a framed childhood blankey. It was the perfect balance of funny and emotional and he remembered to thank all of our suppliers – I would expect nothing less from my dad!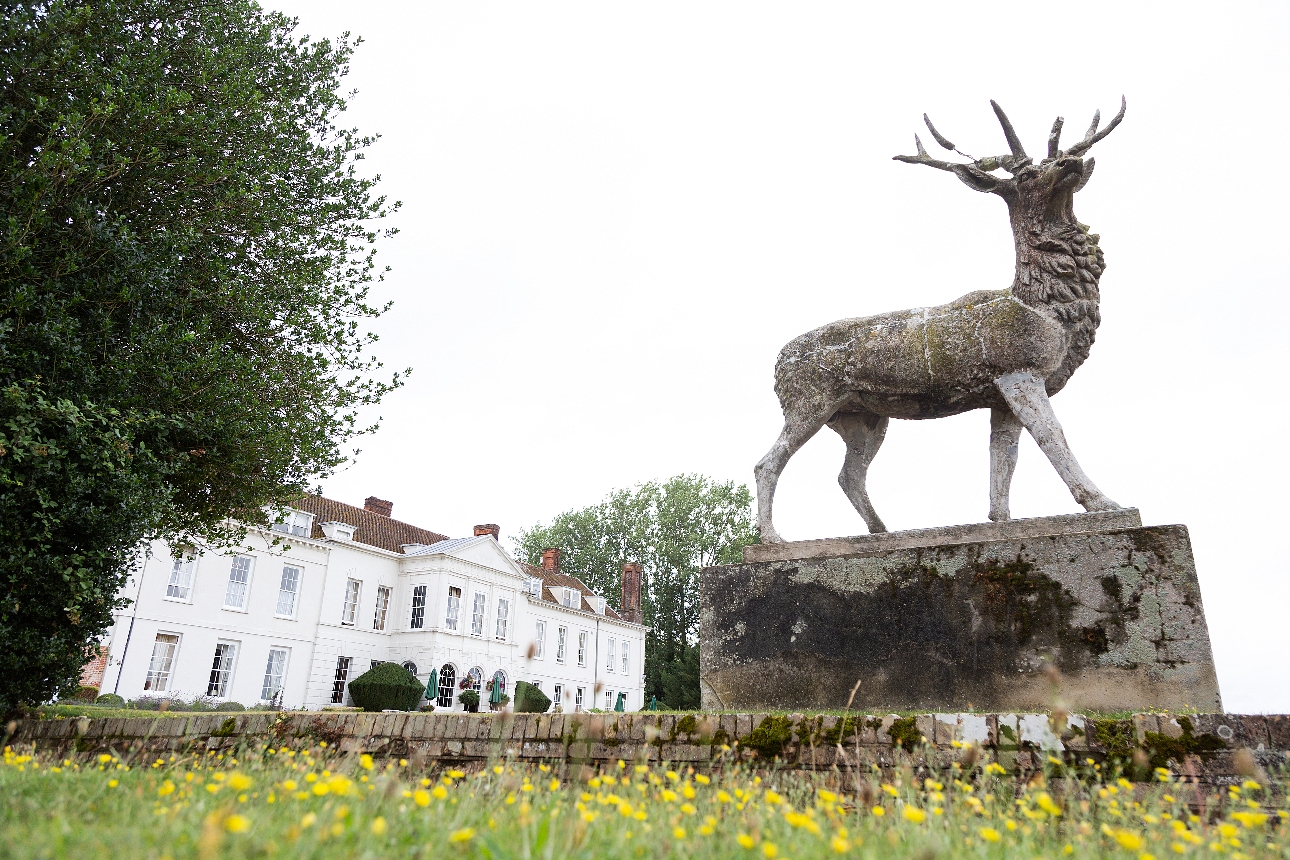 "Jon's speech was, again, very well-prepared and emotional. He extended our thanks and appreciation to our parents and our wedding party for everything they'd done to make sure we had the perfect day. Jon's brother and best man finished off by telling a few funny childhood stories about Jon and the stag do. All three speeches were very well received, they couldn't have gone better!"
Not all weddings have a life-size cutout of a famous TV chef, Hannah explains why their day did: "On the hen do my friends and I discovered Ainsley Harriott's 'Why hello Jill!' phrase and found it hilarious, so the night before the wedding whilst we were enjoying the hot tub in the Ladies Chambers my bridesmaids introduced me to a cardboard cutout of Ainsley! The guests loved him, there are loads of pictures of him in the DJ booth and he was centre of attention on the dancefloor when Jon and I were off mingling with our guests!"
Hannah and Jon's contact book