Jordan and Adam met in old-school fashion on a night out at Faces Nightclub, Essex. "I was a regular there and spotted Adam one night and, after a few vodkas, was the one to approach him!" recalls Jordan. "However, nothing developed from this particular night. Fast-forward a few months and we was both in the same venue once again, this time we exchanged numbers and the rest is history."
Luxury holiday destination Barbados set the scene for Adam's proposal, "This is a very special place to me and my family, we visited the island every year from when I was 14," shares Jordan. "We was on holiday, with my parents, and one night Adam planned a surprise overnight stay at the House Hotel on the south coast and claimed it was just to spend time together." Dinner was booked at one of Jordan's favourite restaurants, however, Adam had arranged for the evening to be spent al fresco on the restaurant's veranda where he had lit the pathway leading to it with candles. "I led the way, and as I got to the table I turned around to Adam on one knee popping the question!" recalls Jordan. "The waiter was even ready with a camera to capture a photo of the exact moment!"

The big date was set, 6th March 2020, with St Andrews Church Hatfield Peveral and Hatfield Place setting the scene.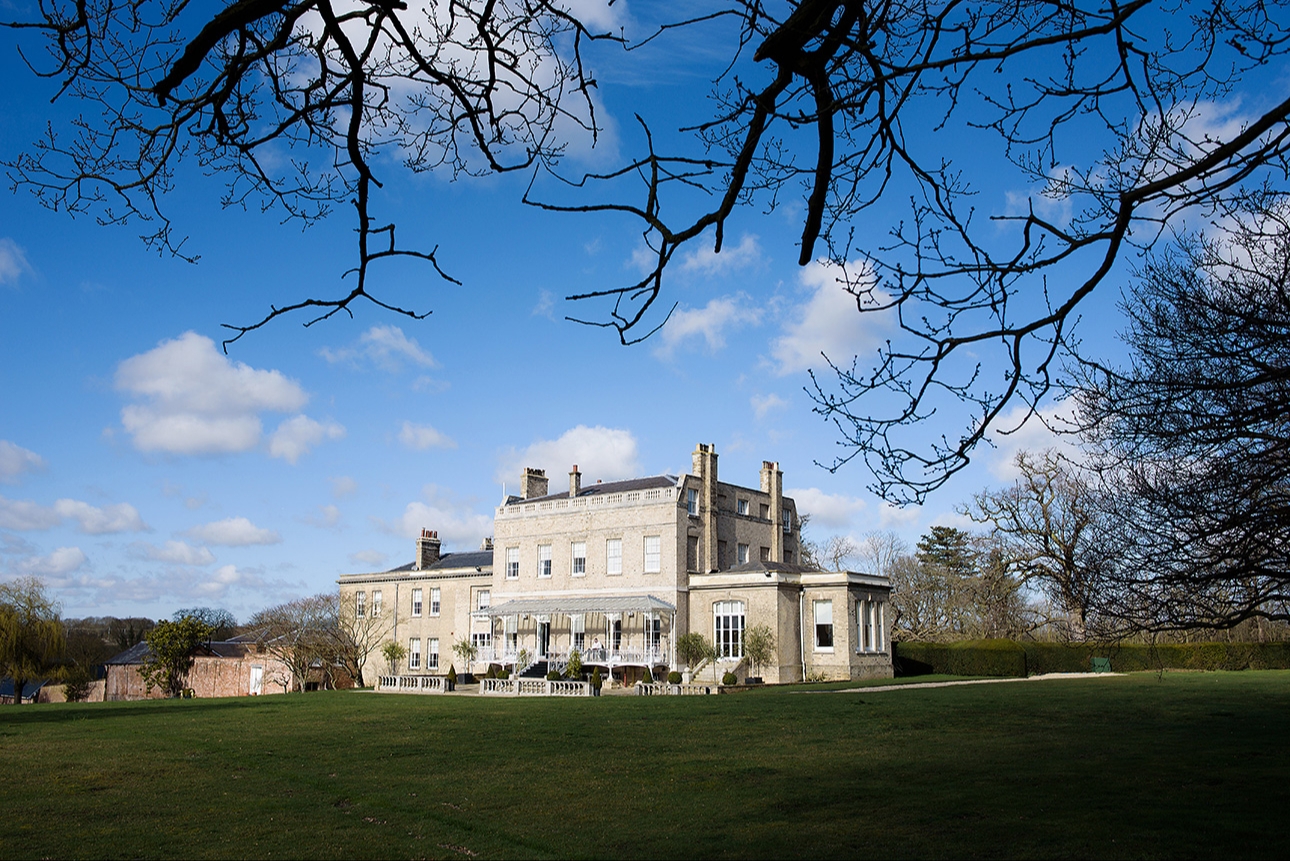 When searching for the big-day venue, nothing had stood out to Jordan and Adam. As fate would have it, they were pushed in the direction of Hatfield Place, a new wedding venue due to open, and after hearing about it at a wedding fair they drove straight there on the way home. "When we arrived, it was still partly undergoing building works, however Michelle who runs the venue was on-site and let us have a look around," shares Jordan. "As soon as we walked into the venue we knew it was the one. We just loved the feel of the place, the entrance hall was beautiful and we felt a connection. It was really exciting seeing the plans of what it was going to be like and knowing we would be one of the first weddings there."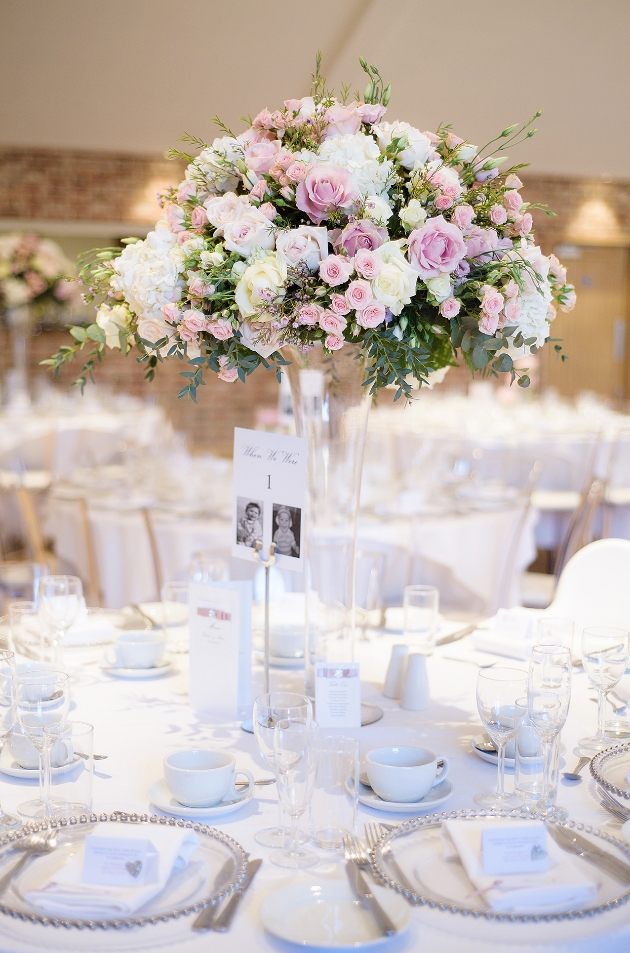 Always wanting a classic, simple and elegant theme for the wedding, Jordan decided on all of the finishing touches – Adam is laid-back and was happy to go with the flow. "For the flowers it was always going to be soft pinks and whites, and our florist Karen came up with some ideas and we decided on various types of style and sizes of roses with a little hydrangea here and there," adds Jordan.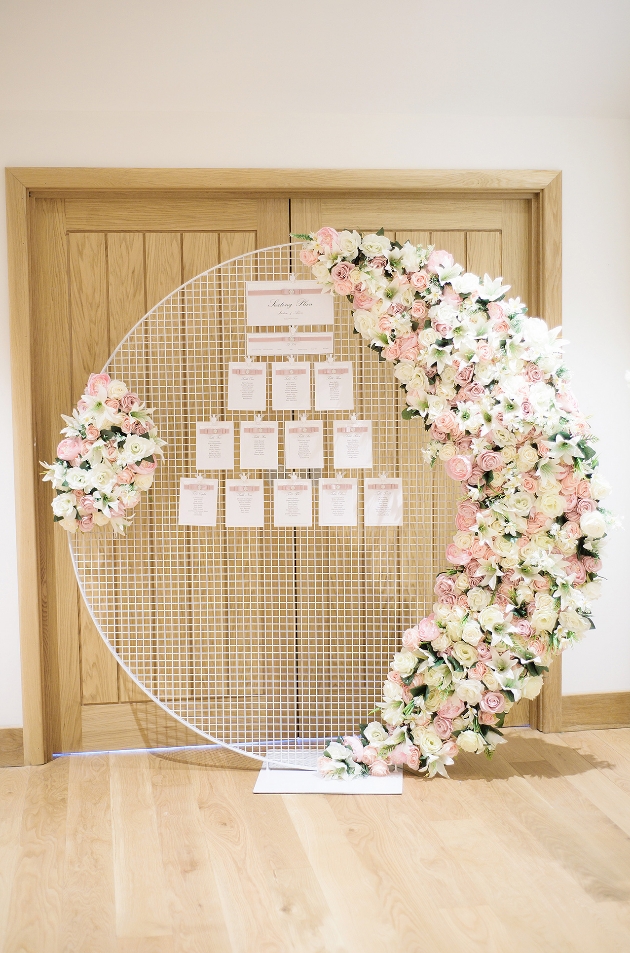 The floral displays were in a mix of high tall vases and low vases, with a display of flowers on the top table and around the table plan, which was displayed on cards pegged onto a six-foot hoop. The cake was a simple four-tier design with pearls covering the top tier and some blush roses down the side, boasting a mixture of flavours: classic jam and buttercream sponge, lemon and even champagne fillings.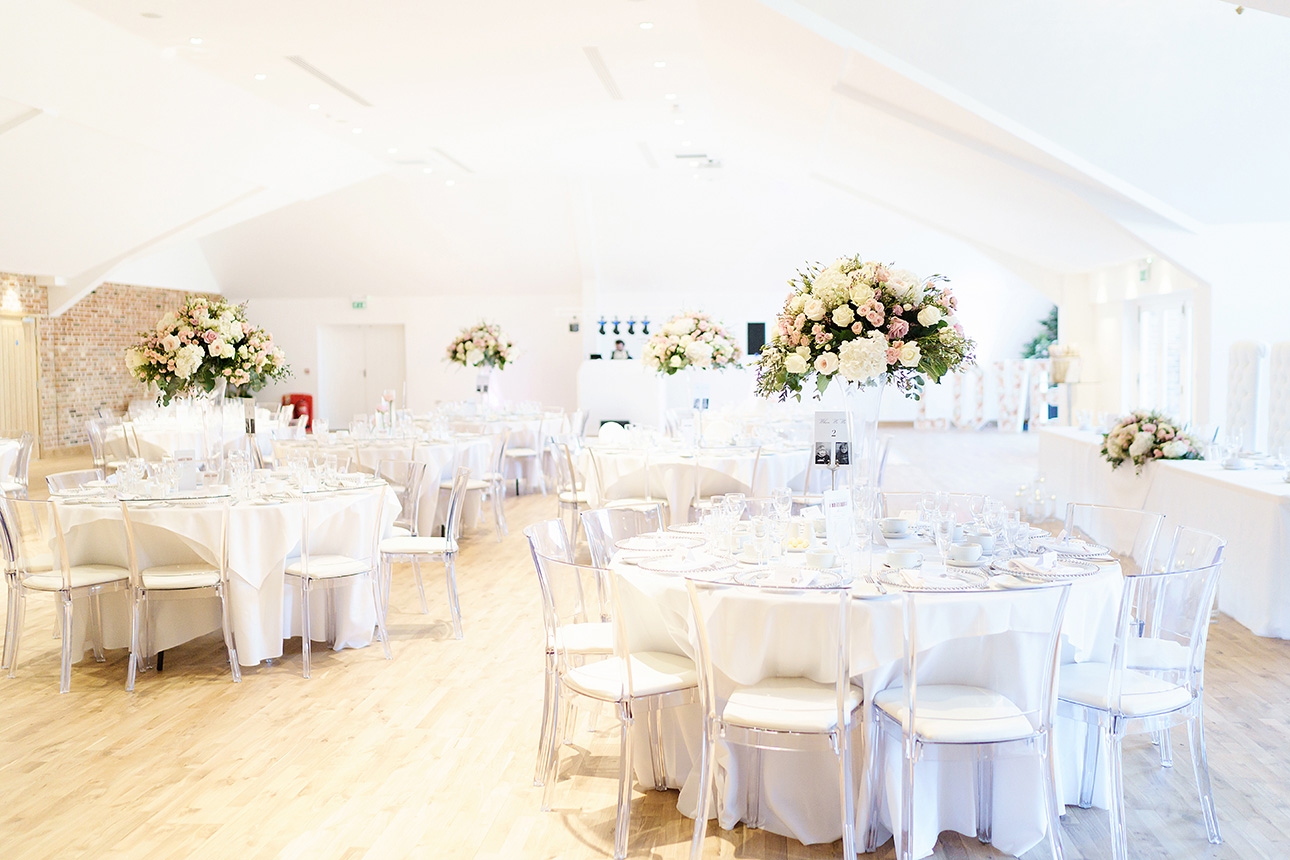 "One of our favorite things were our table numbers," says Jordan. "On each one we put photos of ourselves at that particular age, it was such a great idea we spotted online and made a great keepsake too. We decided to donate the money we would of spent on favours to Cancer Research UK. Each guest had a placecard at their dinner setting which included a beautiful little brooch of the Cancer Research symbol.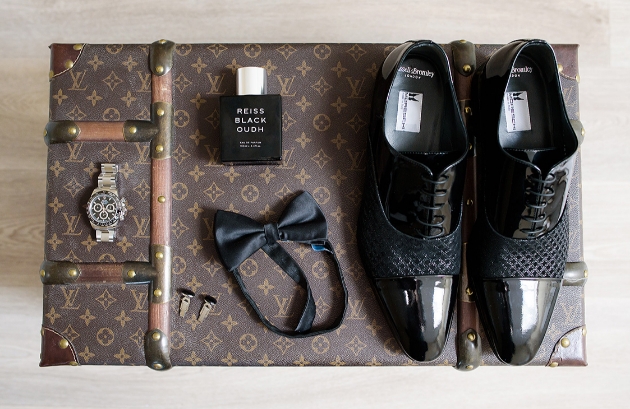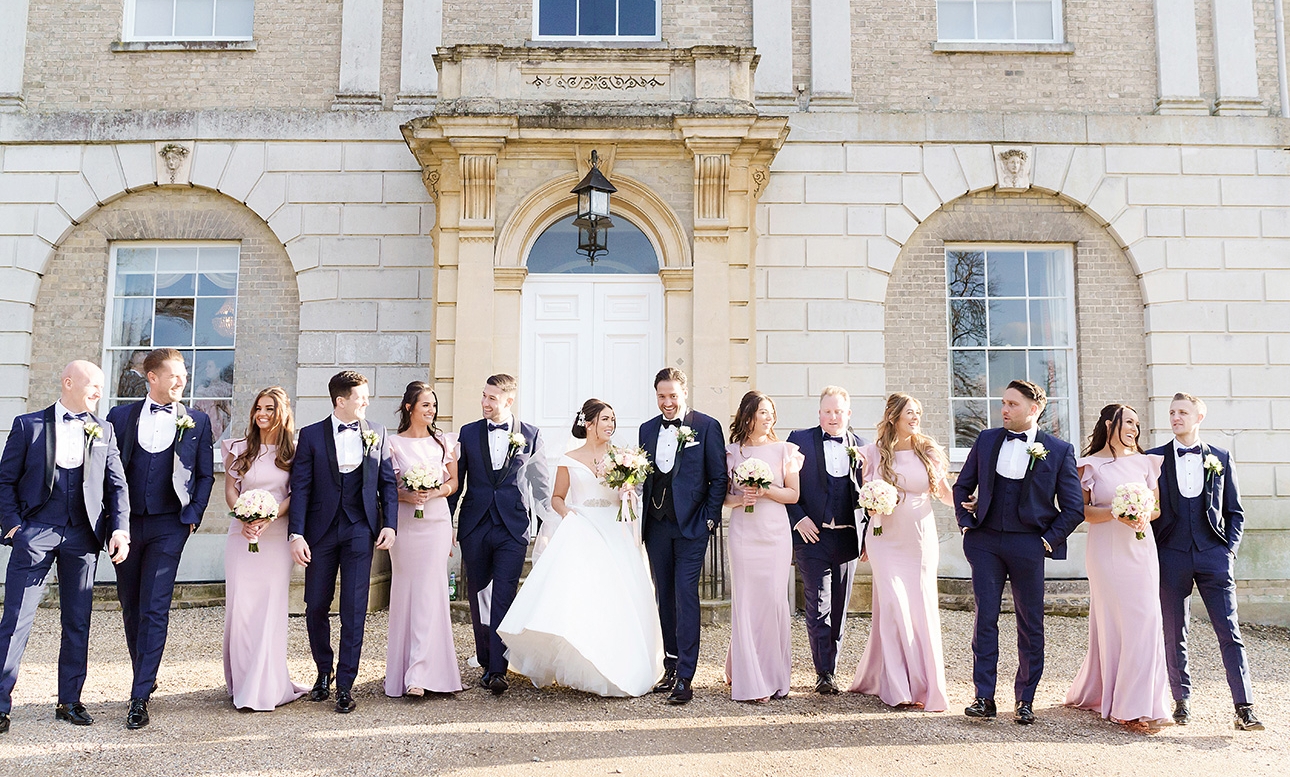 "We loved our wedding meal, we went for a ham hock starter, chicken main and trio of desserts – as well as vegetarian options of course! One thing that I wanted to do was have a cocktail bar at our drinks reception for guests while we were off having our photos. Being a cocktail lover myself, I thought how amazing it would be to have a little pop up bar offering a selection of cocktails – something a little different to the usual fizz and beer. We included a choice of our favourites: passionfruit martini, a gin fizz, an aperol spritz and a raspberry mojito. They went down a treat with our guests."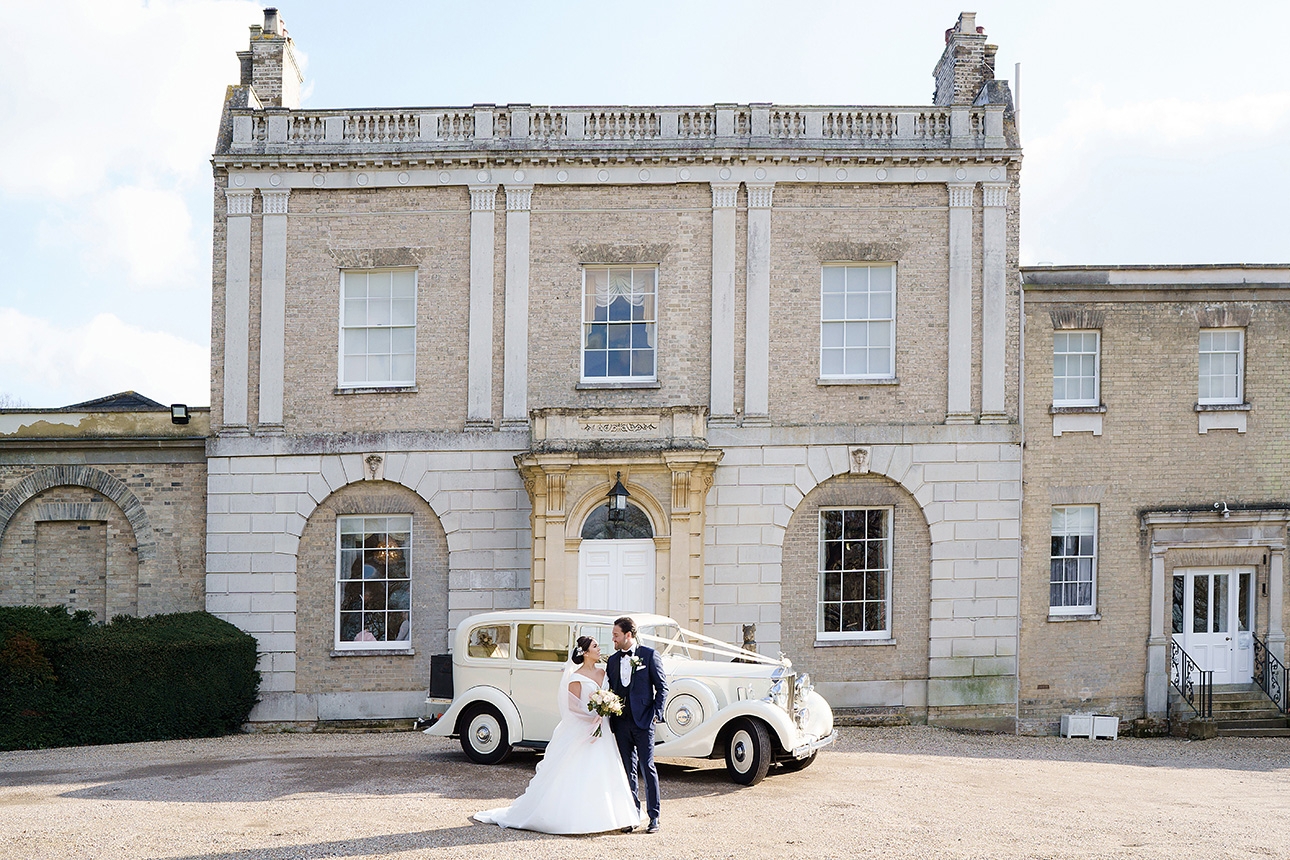 The couple also considered their guests' transport needs on the day, and booked a coach to pick up any guests that were staying in the local hotel to take them to the church and wait outside whilst the ceremony took place and then take them from the church to the venue.
Jordan's Suzanne Neville gown was from local boutique The Bespoke Wardrobe.

"I always imagined I would wear a fitted dress with sleeves but as soon as I started dress shopping I knew I needed an A-line dress, it suited my body shape so much more," shares Jordan.

"I spotted an off-the-shoulder neckline which I thought looked stunning and I then had a thought of turning this into a collar style with a turnover that made the look really classic and elegant. I then added a fuller skirt and decided to accessorise with a simple ivory belt with a touch of sparkle in the centre. I also wore a hairpiece and veil with some pearl detailing that caught the light perfectly. The ladies at the boutique were happy to help me design exactly what I wanted. I think we ended up putting together a few styles from around three different dresses that were in the store – I couldn't of been happier with the end result."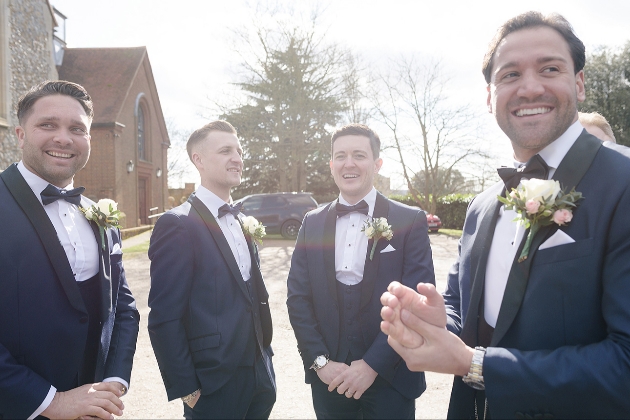 The groom wore a made-to-measure three-piece dinner suit in dark navy with the groomsmen and father-of-the-bride in a similar style.
The bridesmaids looked beautiful in blush pink, fitted dresses with flutter sleeves, low backs and a small train to complement the elegant theme.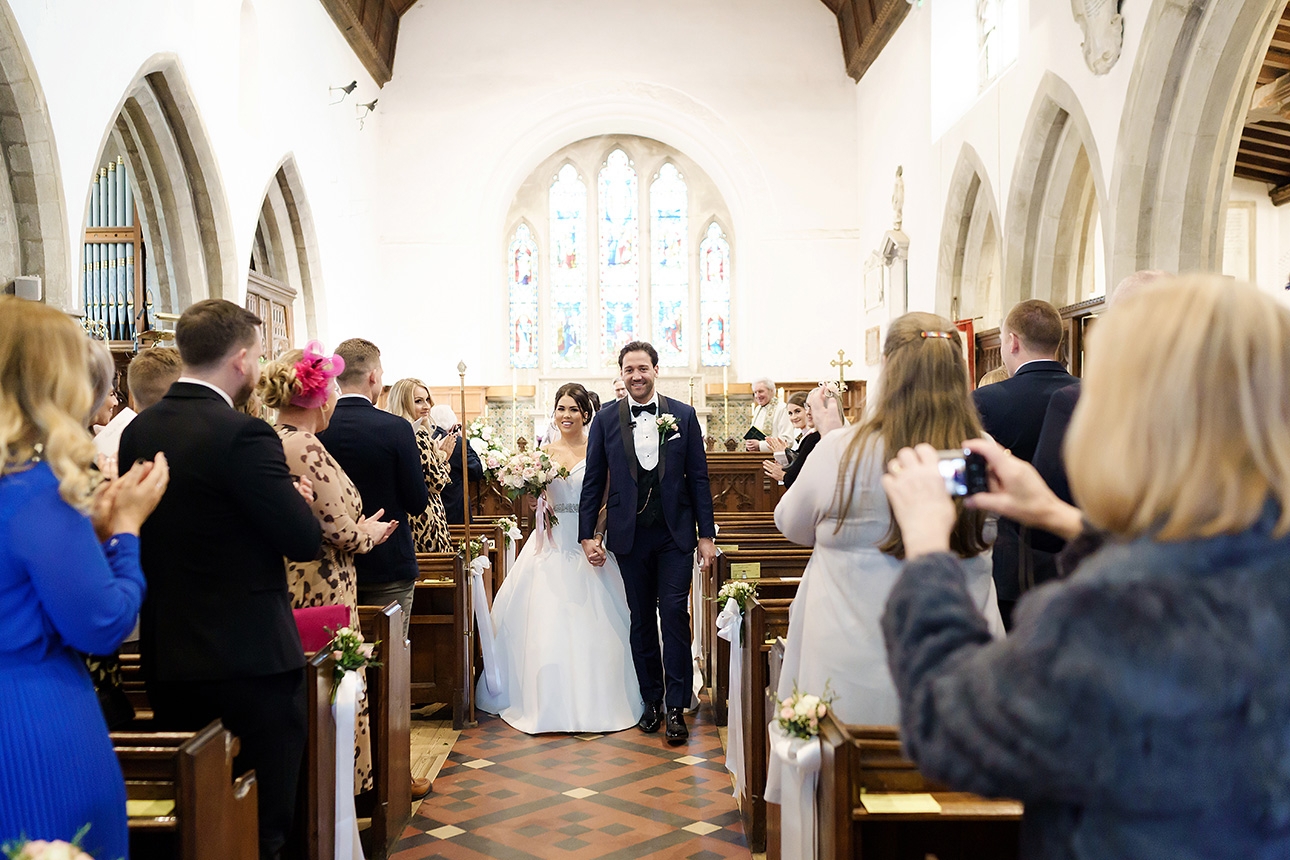 Guests were entertained by a DJ, Brad James, and a saxophonist, the couple's good friend CJ Sax. "We also had a soul singer to get the night started and everyone in the mood to party," shares Jordan. "Something a little different that we also booked was a caricaturist. He walked around the venue and people ended up queuing to sit with him he was that popular! It was great because he stamped his work with our wedding date and details, and the drawings made great keepsakes for the guests.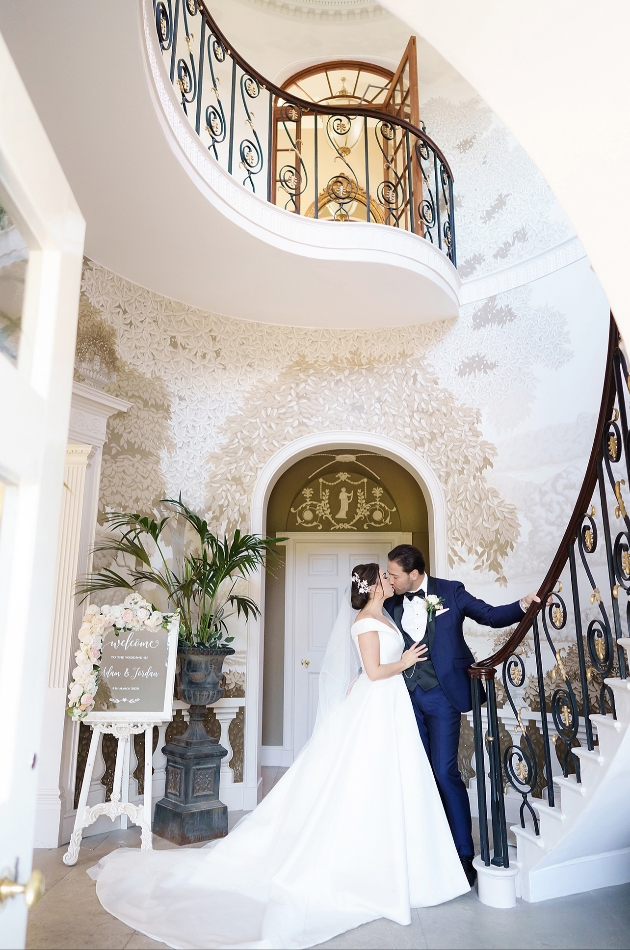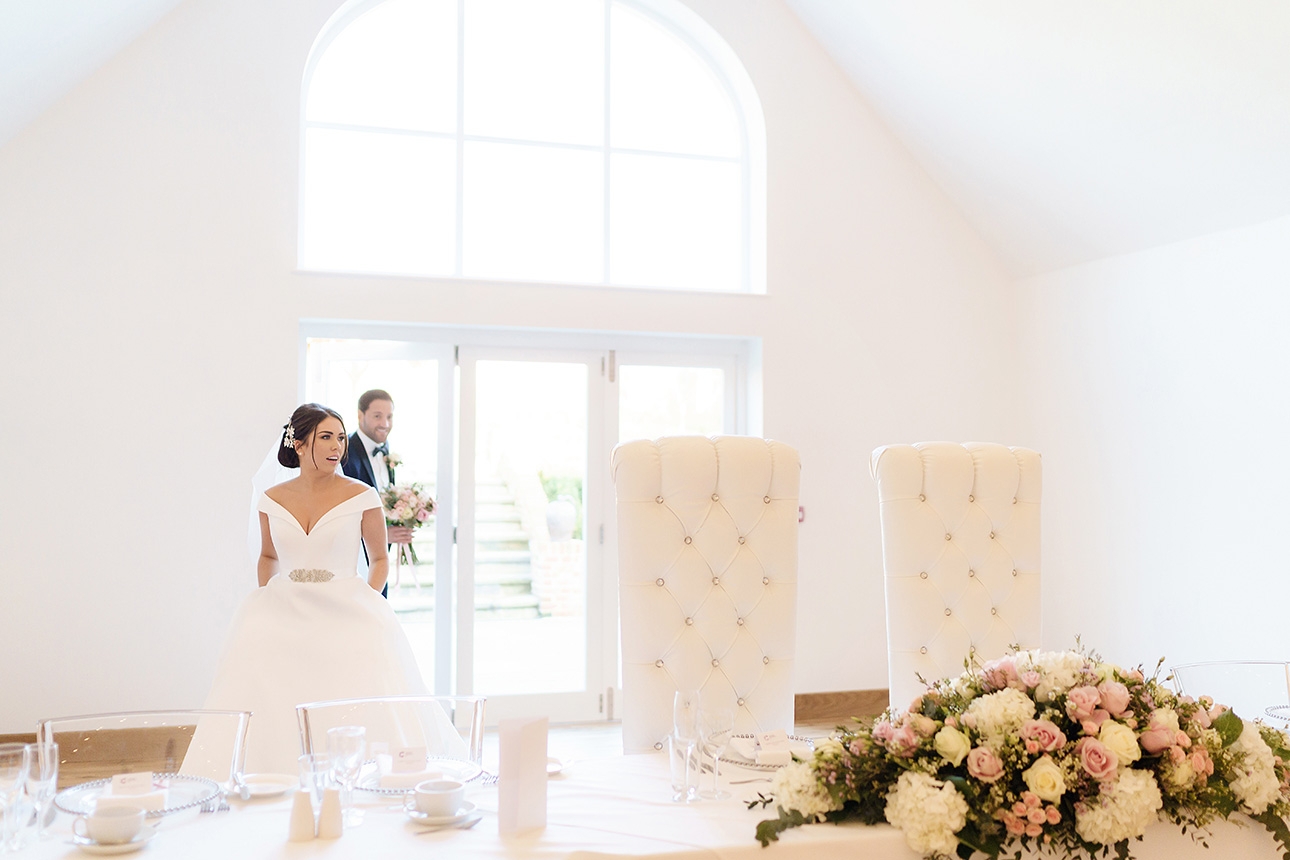 "We're so glad that when planning our wedding we tried to plan it as if we were the guests and what would make our day the best day ever. Because of this, we ended up focusing on food and drink and music and entertainment; we're so glad we did because that really is what made the atmosphere something to remember forever."
Having the best day of their lives, it's hard to pick one standout moment but for the couple – after the ceremony of course – it was later in the evening when the DJ was playing Wonderwall by Oasis. "All of our friends had us both on their shoulders and we all just danced and sung at the top our voices, it still makes us emotional now thinking about it!" highlights Jordan.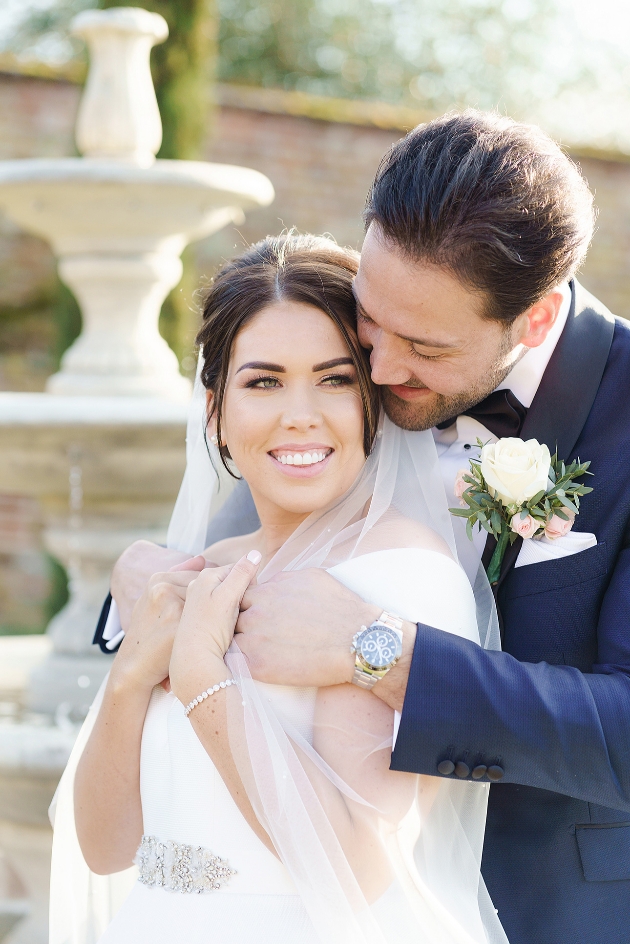 Additionally, the speeches were all memorable with the groom, best man and father-of-the bride all having such funny and sentimental things to say. "Every single one of our guests stated they had the most wonderful day and that means everything to us," ends Jordan.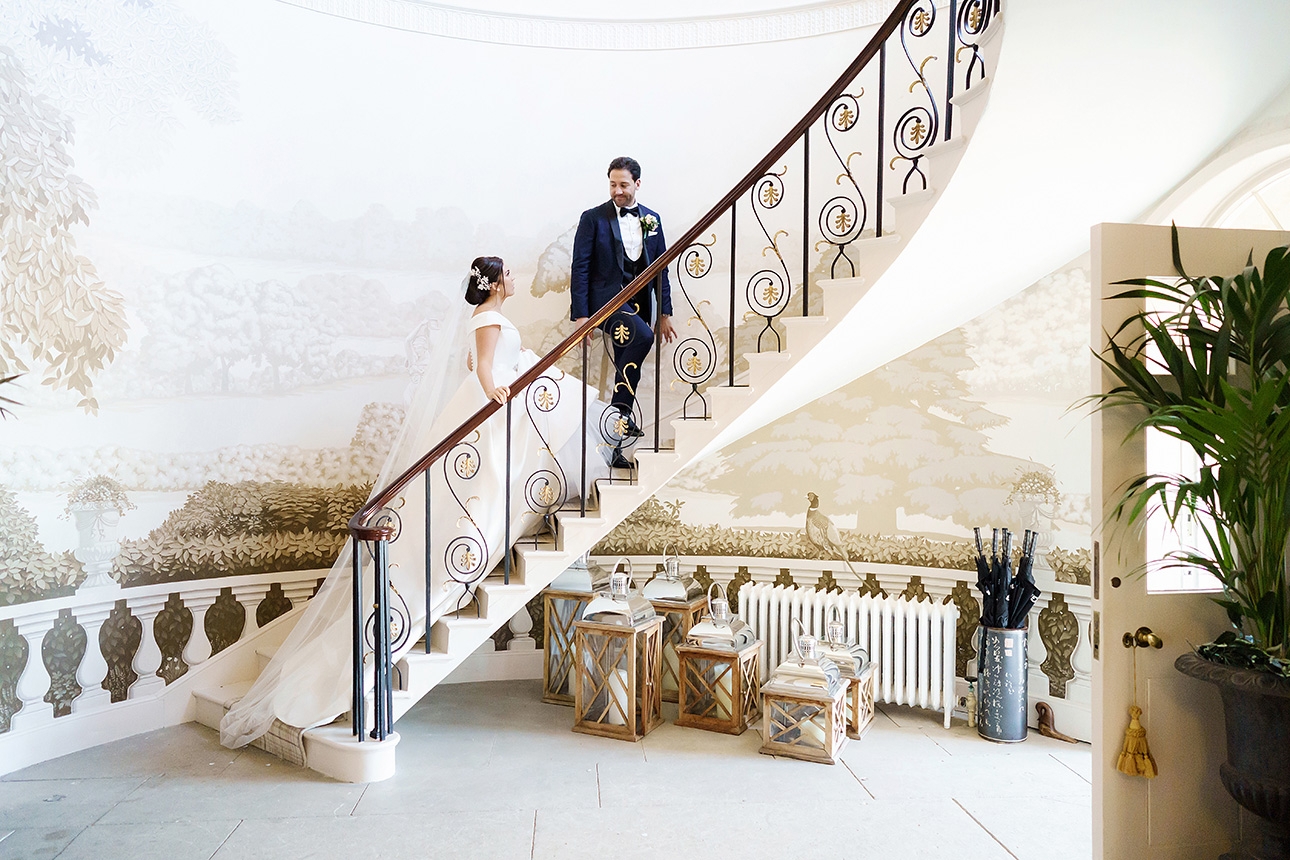 Tip: "Don't sweat the small stuff, things don't always go to plan and that's ok! Secondly, focus on what matters to you both and because you're having the best time everyone else will and it will fall into place." – Jordan
Jordan and Adam's contact book