Louise met Dewar at an Annie Mac gig when they were there with mutual friends. "My dad owned a motorbike shop, and after chatting we realised Dewar had bought his first bike there before we even knew each other!" says Louise.
"I loved that Dewar was confident, but not cocky, and he made me laugh all the time – plus he's very easy on the eye! He says it was my hairstyle at the time that attracted him to me –which was red and shaved down one side! – as well as my quirky personality."
Dewar proposed to Louise on her 30th birthday at Leigh on Sea restaurant, The Boatyard. "The waitress asked if we'd be happy to sit upstairs, which I thought was inconvenient as we had our youngest, Archer, in his pram. However, Dewar said it would be nice to look out at the sea, so we went upstairs – and there was nobody else there!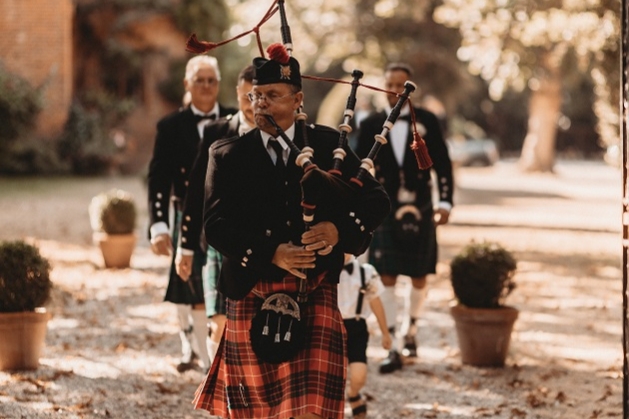 I assumed it was just a quiet lunchtime, but after we sat down Dewar
passed me his phone and told me to watch something. I'm a huge fan of the Netflix series, Selling Sunset, so was shocked to see a video from one of its stars, Maya, wishing me a happy birthday, and saying she hoped I said 'yes' to the proposal.

At this point I looked up to see Dewar on one knee, alongside our four year-old son, Maddox. Dewar told Maddox to hand me the ring box – which he promptly threw at me! – and I opened it to see a stunning ring inside.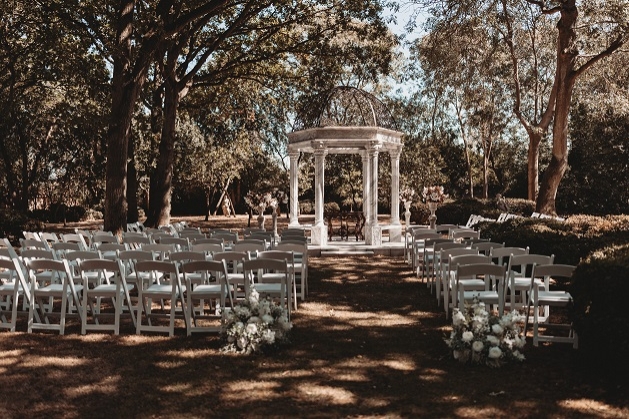 I always said I wanted a low-key engagement, so this was perfect, and I was so overwhelmed.

I of course then FaceTimed my mum and sister who were just as hysterical as me!"

The couple set the date for the 12th August, 2022, choosing Creeksea Place for their big day. Here, Louise tells us more about their amazing wedding…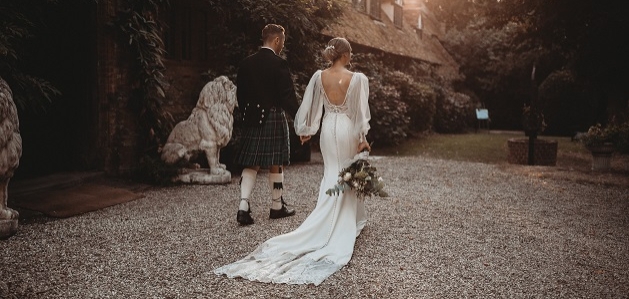 The couple originally discussed getting married in Devon, but soon realised it wasn't logistically possible with all of their guests.

"I found Creeksea Place by accident when I was looking for outdoor venues," continues the bride.

"I checked their website and saw they had availability for a twilight wedding in just four months, so my sister and I went to have a look around a week later.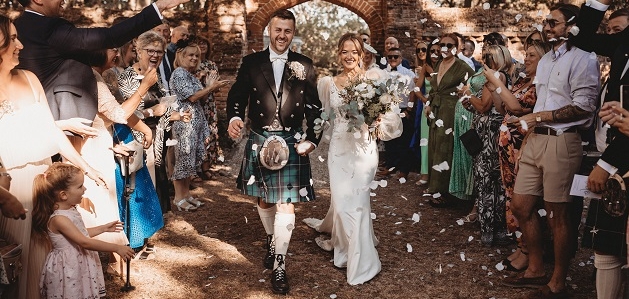 As soon as we pulled into the gates, I knew it was going to tick all the boxes, and it ended up being the first and only venue we looked at.

The outdoor ceremony area which they call The Orchard is breathtaking, and it made for the most beautiful setting."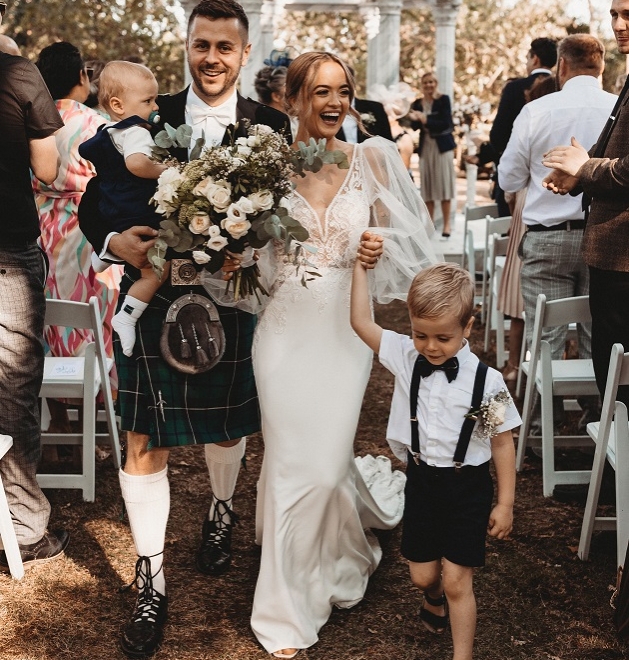 Louise and Dewar fell in love with Creeksea Place not only as a venue, but also due to its attentive staff.

"Our wedding planner Claire was incredible from the moment we made our booking, and we became friends throughout the process," says Louise.

"Michelle, another coordinator, and Jon-Paul, the owner, were also amazing on the day.

Nothing was too much trouble, and they ensured our day went without a hitch – and that we both had a drink in hand at all times!

I honestly cannot recommend Creeksea Place enough."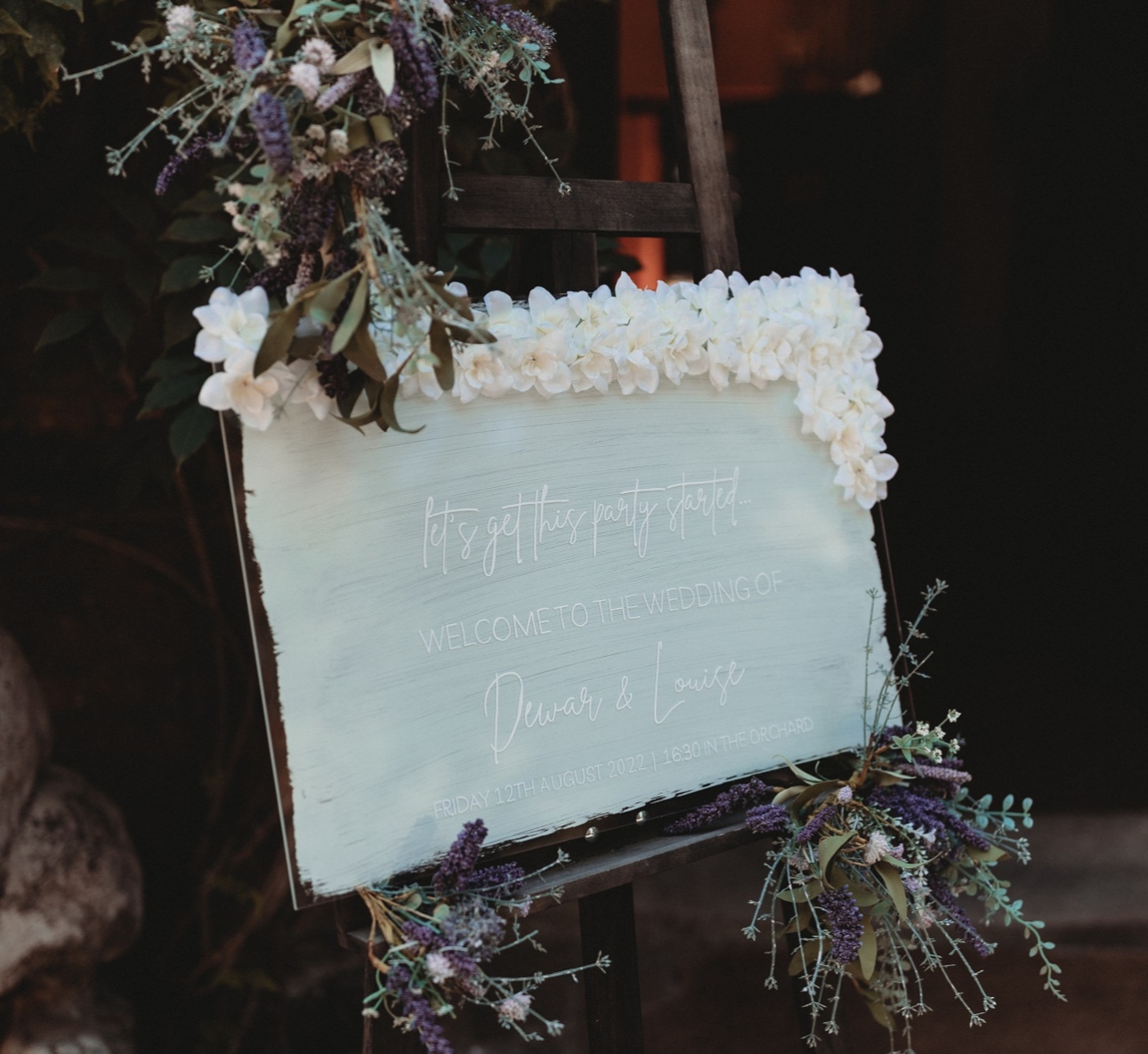 When planning their wedding the couple wanted everything to look fresh and natural, deciding on a white and green theme.

"I own a wedding stationery business, so made all of our wedding invitations, order of the days and welcome sign," continues Louise.

"I used a Perspex sheet for the sign, with sage green paint and artificial flowers to give our guests an idea of our colour scheme as soon as they arrived.

It was also important to us that our wedding was mainly about everyone having a great time celebrating our marriage, so our sign read 'Let's Get This Party Started', which was very fitting!"
Louise and Dewar's flowers and centrepieces also followed the same theme. "My bouquet consisted of white English roses, ranunculus, eucalyptus and clematis leaf," continues the bride "My sister, who was my maid-of-honour, had the same flowers in a smaller bouquet, while my other bridesmaids had large gypsophila bouquets, with the flower girls carrying lighter versions.

Dewar and the groomsmen wore rose and gypsophila buttonholes, and all of our family members had a small buttonhole, too."

When it came to dressing the tables, the couple decided to remember friends and family no longer with them.

"We opted for simple milk bottles, filled with artificial roses, peonies and noble leaf sprays, before adding a name tag to each bottle of the friends and family we wished were still here, alongside their framed photograph."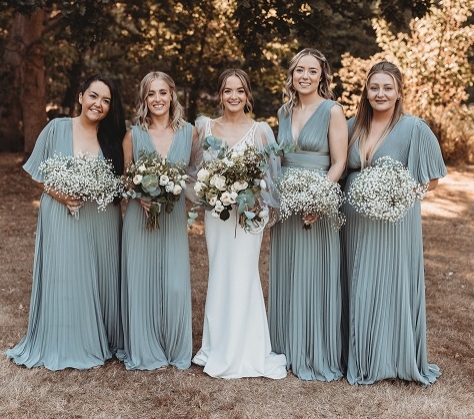 Louise didn't want to spend a lot of money on a wedding dress she'd only wear for a few hours. "I went to my local Wed2B store with an open mind, with the dress I chose nothing like what I thought I'd buy!" she says. "It had beautiful lace detail on the train and body, and buttons all the way down the back. The shop assistants both cried when they saw me in it, so I knew it was the one!

However, I really wanted sleeves, so I took my gown to an amazing local dressmaker I've used multiple times, who added incredibly beautiful organza, bishop-sleeves with cuffed, button up wrist detail. I couldn't believe how perfect they were and how much of a difference they made, and the comments I had throughout the day were overwhelming."

Louise's bridesmaids wore sage green dresses to further complement the couple's scheme. "I initially wanted white, but seeing as my gown was off-white it was impossible to find anything that looked quite right – plus it's really hard to buy white bridesmaid dresses!

In the end I looked on ASOS and found the dresses the girls wore, mixing two different styles together. They both had lovely waist wrap detail, and my bridesmaids all said they were really happy with how the outfits accentuated their shape.

Our flower girl dresses were from Next, and featured lovely button and bow details at the back. They looked so cute and said they felt like Princesses for the day!"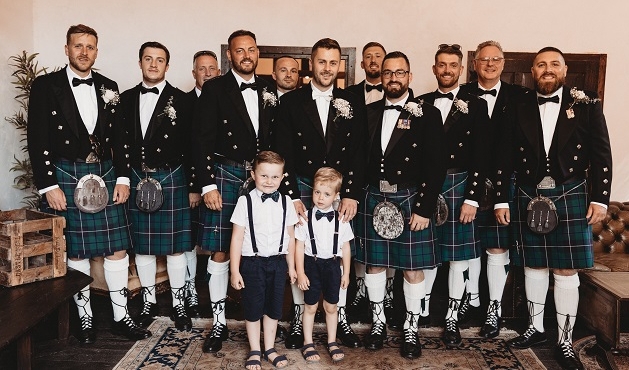 Dewar's dad is Scottish, so it was important for the bride and groom to reflect this on the day. "Dewar loves to wear a kilt at any and every opportunity – and I love to see him in one! – so when we set the date we knew straight away that the male wedding party would wear them," says Louise.

"We hired the kilts from Moss Bros, choosing Douglas Modern tartan as it went well with the bridesmaids' dresses. They teamed them with dress shirts, waistcoats and jackets, along with bow ties, sock flashes and sporrans. I think they secretly all loved wearing them, even though a couple of the lads were worried about their legs being on show!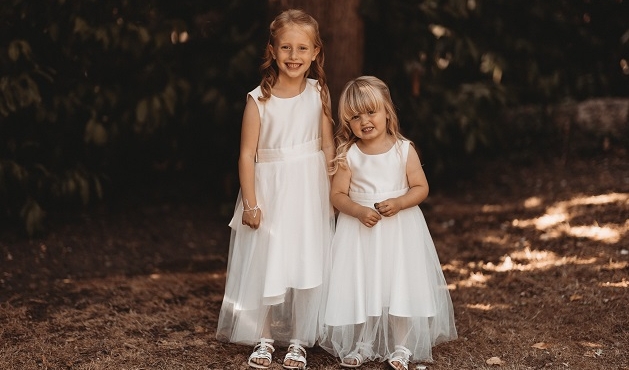 Our page boys, however, didn't want to put on a 'skirt', so wore navy chino shorts, shirts, tartan bow ties and braces."

The nod to Dewar's Scottish heritage didn't end there, with the groom's parents organising a bagpiper as a surprise for Dewar to keep in with tradition.

"The photographer got some amazing shots of Dewar coming out of the manor house to see the bagpiper playing," continues Louise. "It really added an extra special element for both us and our guests."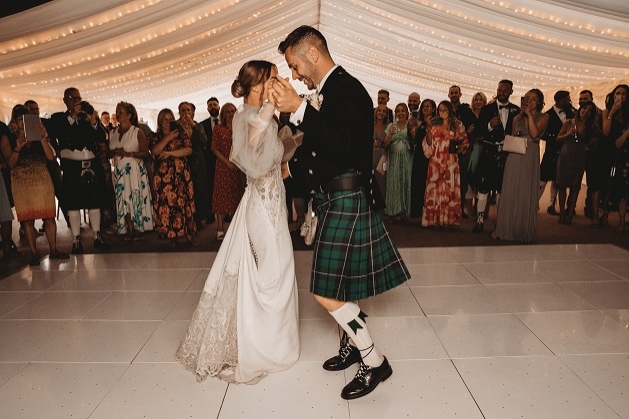 There were also a fair few laughs at the couple's wedding which Louise and Dewar are sure to remember.

"At one point in the evening, Dewar and I thought it would be a good idea to dance on the table!" laughs the bride.

"We ended up nearly tipping it over, and there was nearly a big bride and groom pile-up on the floor!
My brother-inlaw also fell asleep with my nieces after a few too many beers, on a makeshift bed made from chairs and a random duvet.

I think this was the most photographed moment of the day!

It ended up with him being sick in a rose bush, which is surely the sign of a good wedding!"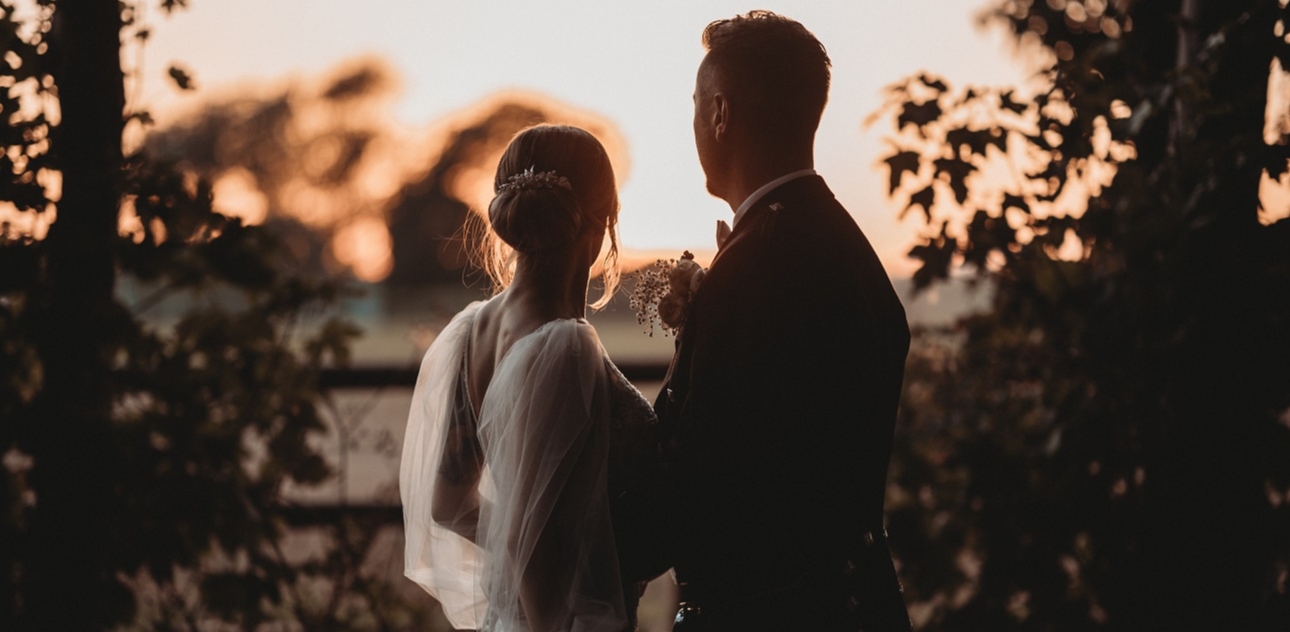 "Don't make things more difficult than they need to be and don't worry about things going wrong on the day – the only people who'll know are you!"
Louise and Dewar's contact book