Emma and Adrian met via the dating site Tinder.
"Adrian was the first to message," remembers the bride. "He sent me a poem, which I thought was really sweet, and we met up a week later. There were no awkward silences, and it felt like we'd known each other for years. We also got each other's sense of humour, and our connection felt unbelievably natural."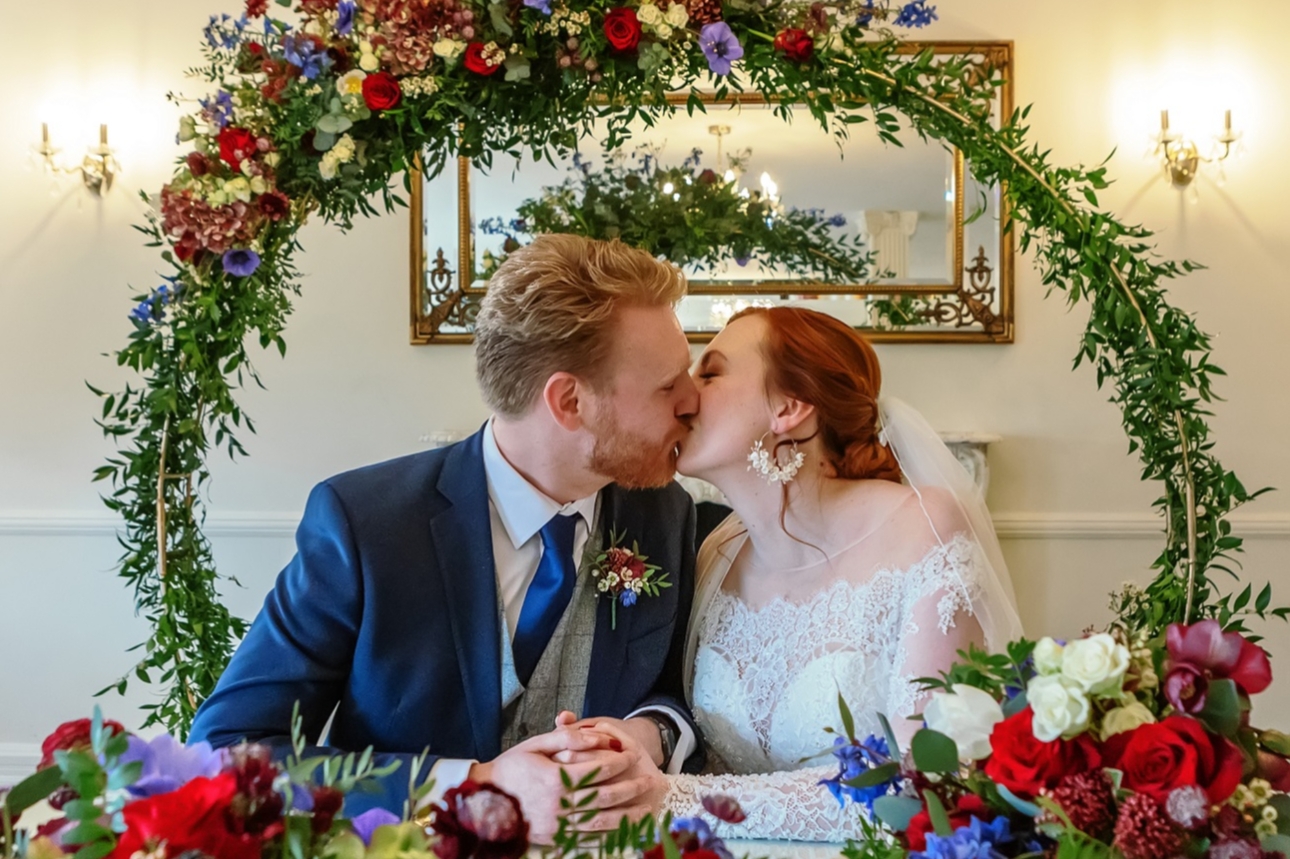 Adrian originally wanted to pop the question on a trip to Japan, but Covid meant their holiday got cancelled. "With his proposal plans thwarted, he instead asked me to marry him at the park where we had our first date. However, it didn't exactly go to plan, as I managed to fall out of the front door as we were leaving the house – and broke my ankle!

It really hurt at the time, but I didn't realise how bad it was, so insisted I was OK. We went to the park where Adrian got down on one knee, but we never managed to celebrate, as the pain got worse and worse – so we ended up in A&E!"

The couple chose the 4th February, 2022 for their wedding, saying 'I do' at Parklands Quendon Hall. Here, Emma tells us all about their incredible day...
We walked into the wedding venue and I was blown away. I can't put into words how perfect it was – it was everything we wanted and more!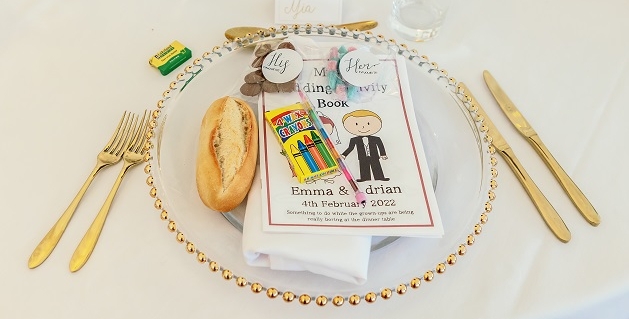 We wanted favours that people would enjoy and not leave on the table. We're both huge chocolate and sweet fans, so planned favours around this. It was a huge success, especially with the kids!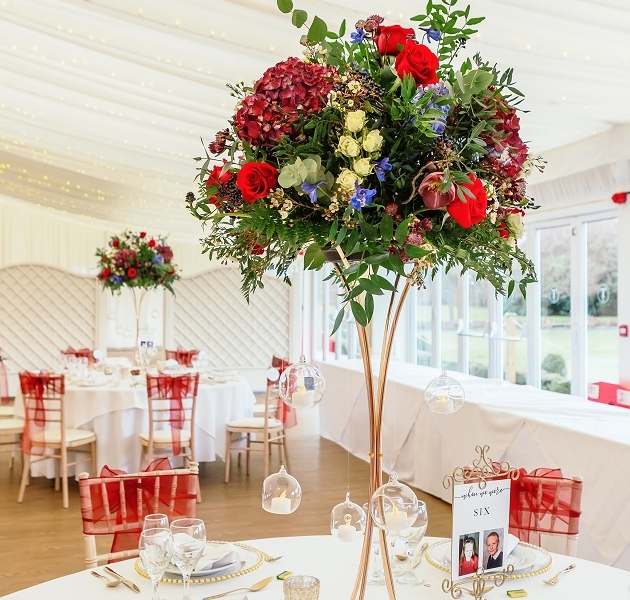 Our centrepieces were made by our amazing florist, featuring gold stands to match our colour scheme and flowers that matched my bouquet. We also had hanging tea lights, which added to the wintry feel.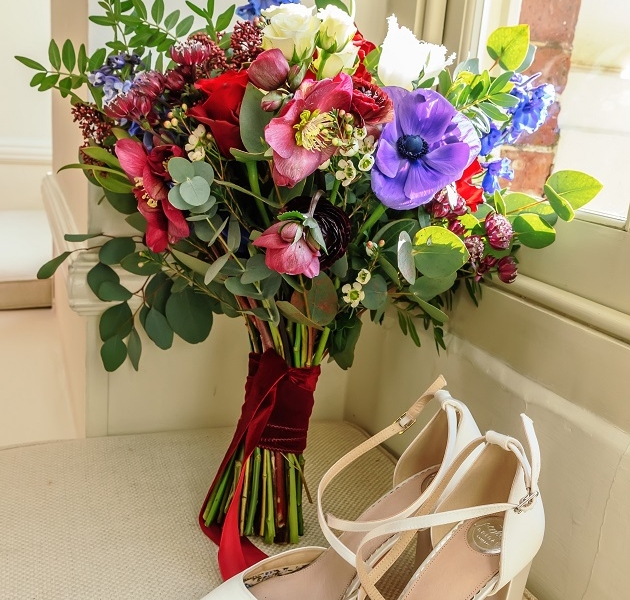 I left the choice of flowers up to my florist, simply telling her our colour scheme and theme. I also asked her to include sunflowers at the back of my bouquet, in remembrance of a family member.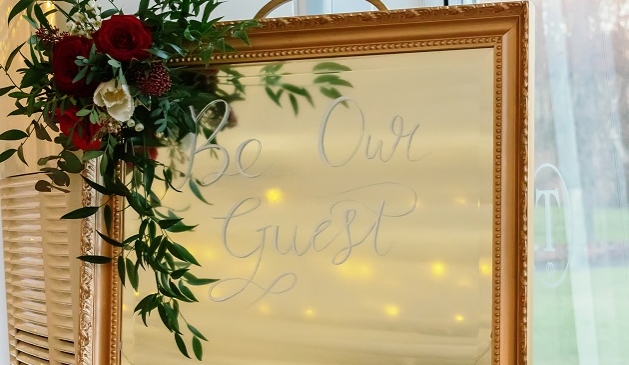 I made the table plan myself, finding a mirror at a boot sale and spraying it gold. I then learnt how to do calligraphy for the guests' names.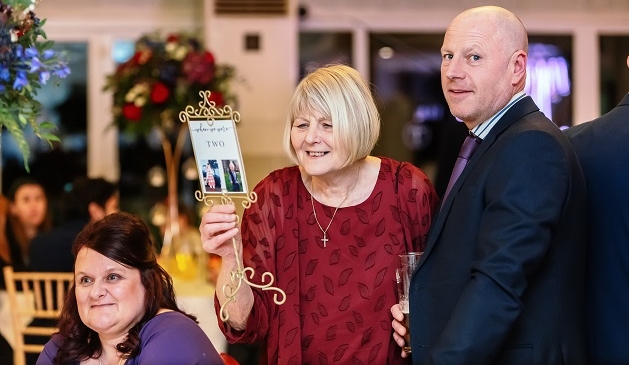 I made our table names, using photos of us as children. These were a real hit, as many guests remembered the photo being taken.
We had a three tiered cake – which I very nearly knocked over by accidentally cutting into the plastic supports holding it up!
I wore two wedding dresses. My first was a Mark Lesley design with a wow train, detailed back and long sleeves. I accessorised this with a cathedral length veil, hair pins and statement hoops.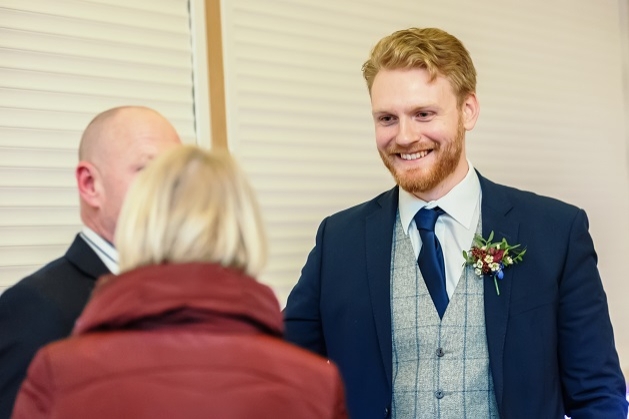 Adrian looked incredibly handsome in his navy suit, which he teamed with a grey waistcoat and dark blue tie.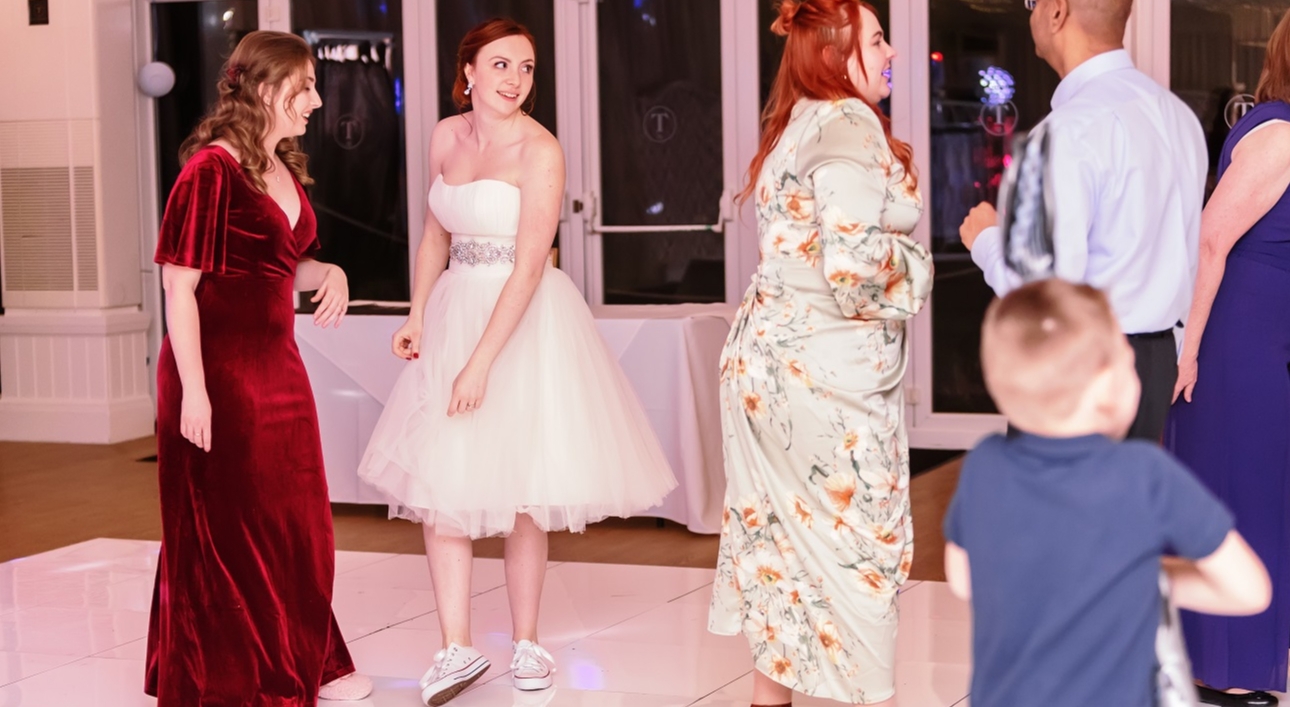 Once our evening guests arrived, I changed into a tea length, off the shoulder dress for more of a party feel. I also wore customised Converse, sparkly belt and earrings.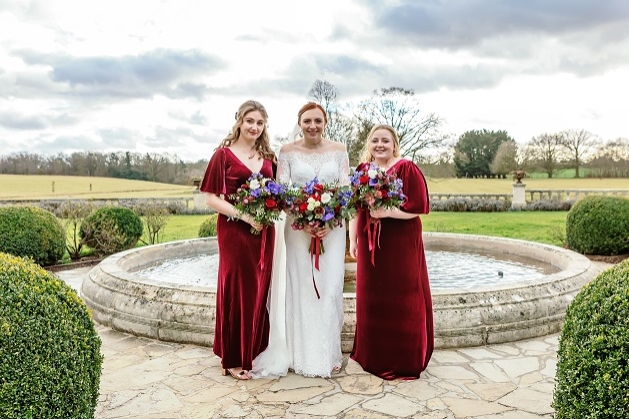 My bridesmaids wore velvet burgundy dresses with sleeves, and were exactly what I envisioned for our winter wedding. They also had gold shoes to match our colour scheme.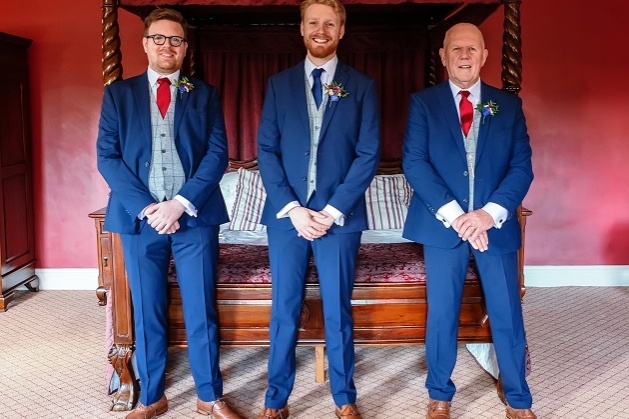 The groomsmen wore the same as my husband, but instead opted for burgundy ties. They also wore slightly smaller buttonholes than Adrian.
I'll never forget walking down the aisle. I saw Adrian welling up, plus all our family and friends smiling and crying. There was so much love in the room, and it was an amazing feeling.
There were a few moments we had to laugh at throughout the day. I got caught to my dress while trying to put Adrian's ring on – plus my dress was too long for the first dance!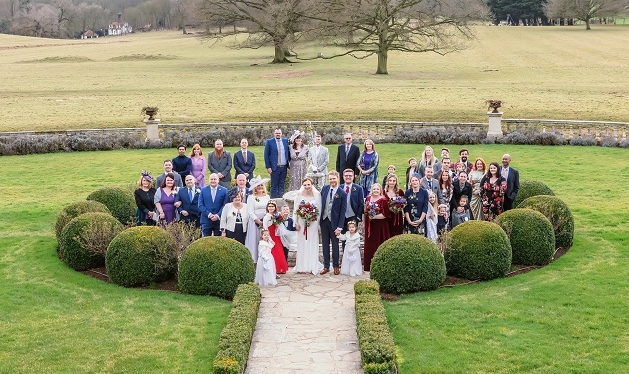 Our photographer was so friendly – ever yone loved him! So many people commented how good he was with the children, and the fact he made everyone smile.
Our videographer went above and beyond the call of duty. He brought me snacks, calmed me when I was anxious, and even sorted a hot water bottle when I wasn't feeling well. I cannot thank him enough.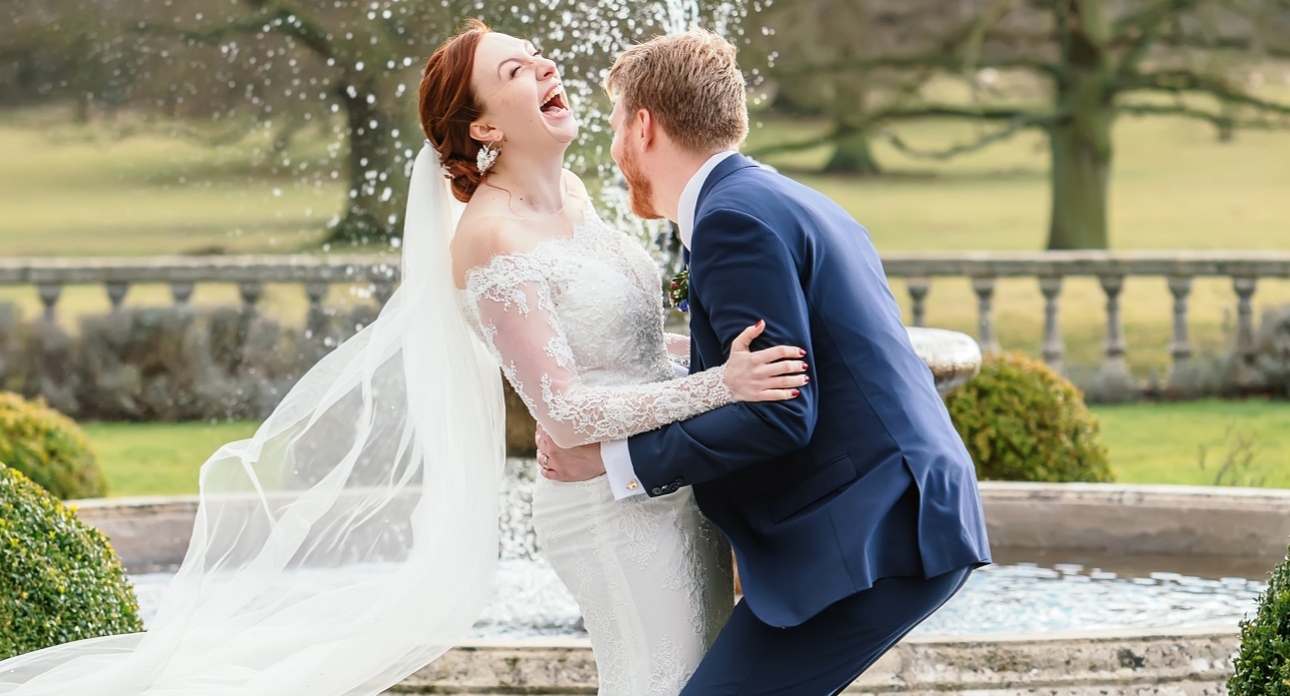 We were both on such a high throughout the day and night. I said to Adrian afterwards that it was literally the happiest day of my life – and I can still remember the feeling now!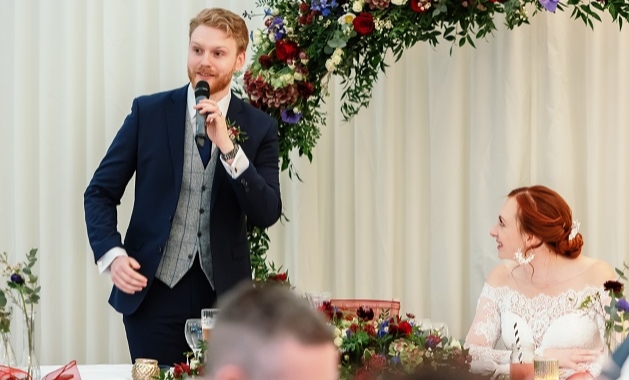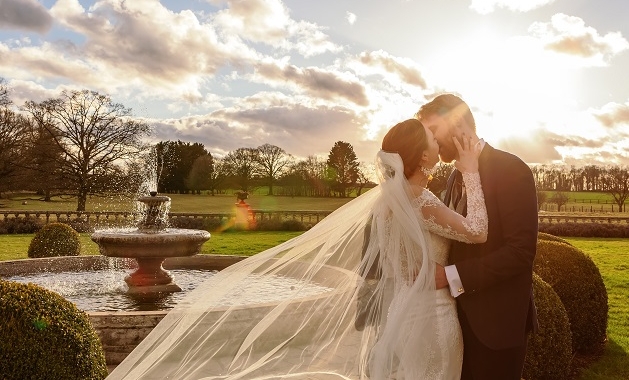 Emma and Adrian's contact book