Olivia and Neel met at university in London, through mutual friends as well as both playing sports for the medical school. Olivia reveals, "After one particular 'sportsnite', we shared a McDonalds on the way home and ever since then we've been inseparable, sharing everything we do.
What first attracted me to Neel was his very social personality and easy ability to make me laugh...he's also very handsome which may have helped!" Neel adds, "It was looks that first attracted me to Olivia, but getting to know her, her sense of humour and how kind she is, were what made me want to marry her."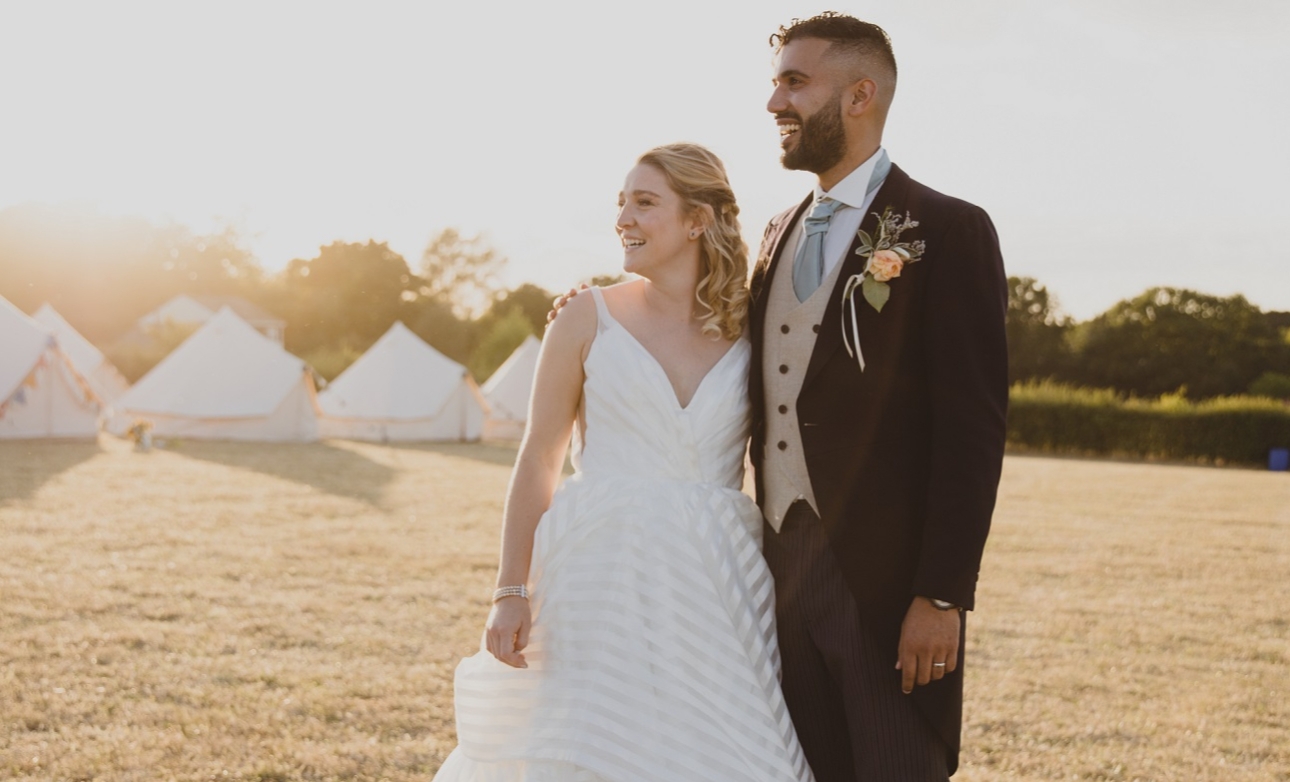 Neel proposed on the couple's fifth dating anniversary, it was a complete surprise. Olivia explains, "We were working hard during Covid (myself in A&E and Neel in ITU) so decided to take a week off in late November to explore some of the local hikes in our area. During our hikes Neel had been using his camera to take photos and videos, telling me that he was going to make a video at the end of the week. Little did I know, he was just practising each time to be able to record the proposal without me noticing!

On the day of the proposal, I was cooked breakfast in bed and Neel then went off to pick me up a large bouquet of flowers from the local florist – the first flowers he'd ever got me, (I'd previously told him I wouldn't marry him unless he'd bought me flowers!). On his walk to get them, Neel rang my dad to get the 'okay' to propose that day – no issue.

"Me none the wiser, Neel set up the camera to take a selfie at the highest point overlooking the wonderful countryside, like we'd done on previous hikes, only when I turned round to smile for the camera, he'd dropped down on one knee to ask if I would marry him – obviously I said yes! He'd picked out a beautiful ring from a local jeweller which was the icing on the cake."

On 20th August 2022, the couple said their wows at All Saint's Church, Purleigh followed by a reception at a private field they hired in Hazeleigh. Here, the newlywed's share some of their favourite moments from the day...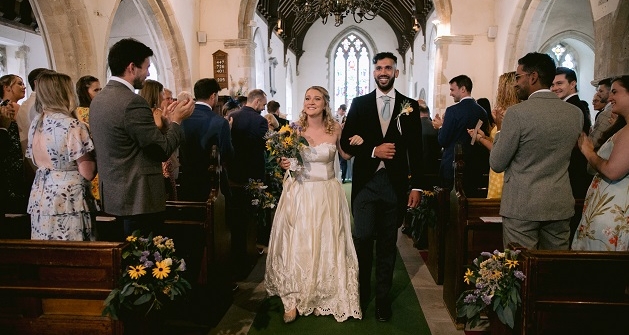 The local church is the parish church where my parents live and has wonderful views over Maldon.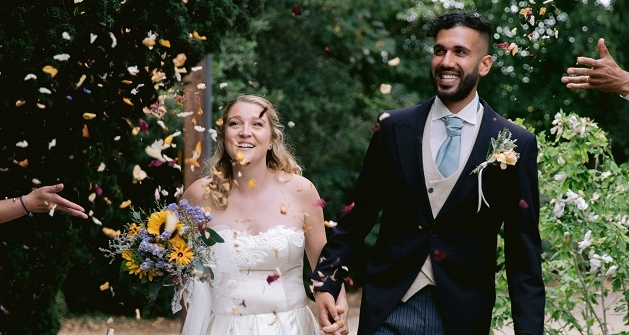 We had an organist on the day and the church bells rang!
The church is next door to our favourite pub, the Purleigh Bell – where the groomsmen got ready, our guests gathered before the service and we had our first drink as a married couple.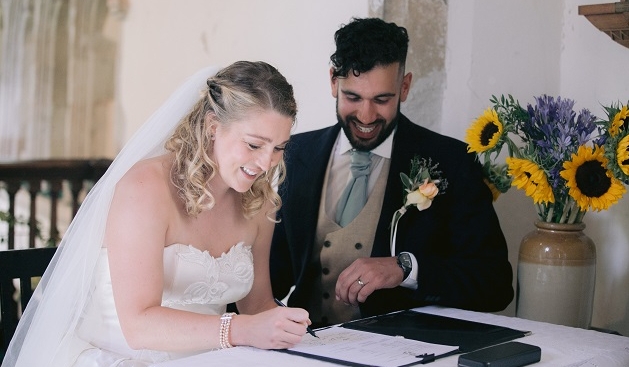 Sunflowers were a big part of the wedding because it was a nod my grandfather's favourite flower, who unfortunately passed away during covid two years before the wedding but was a big part of my life and really approved of Neel as my boyfriend.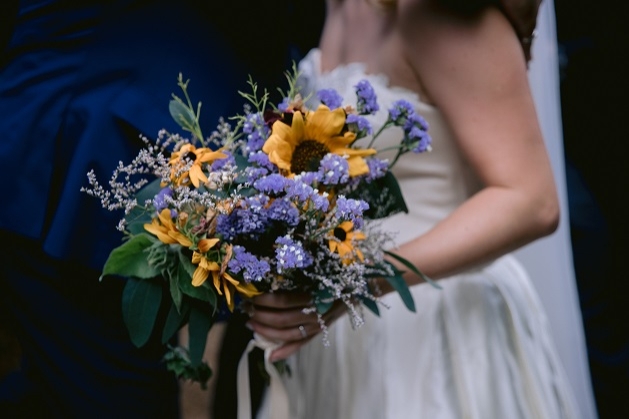 All the flowers for the bouquets and buttonholes were grown on my mum's Purleigh allotment with the help of her allotment friends too.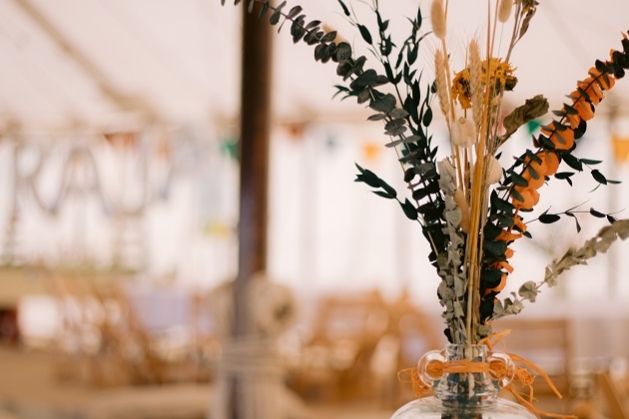 The centrepieces were dried flowers recycled from a friend's wedding earlier that year – making sure to have a bit of orange or yellow in each centrepiece.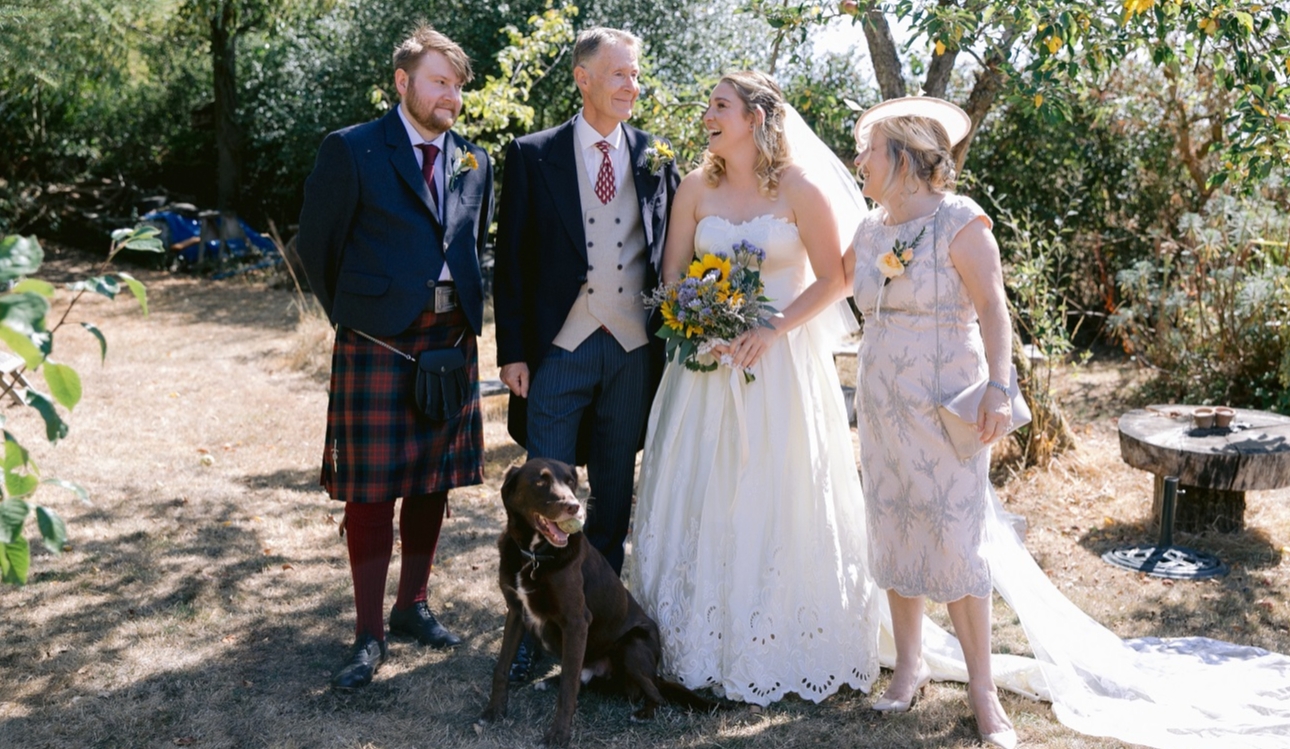 I wore my mother's wedding dress but redesigned by Noble and Wright Arteliers. This meant a lot to me as I could redesign the dress to exactly how I wanted. Plus, my mum's wedding dress was made from material picked out by her and her friend and then sewn together by my nan, so it was lovely to see my nan's reaction when I walked down the aisle.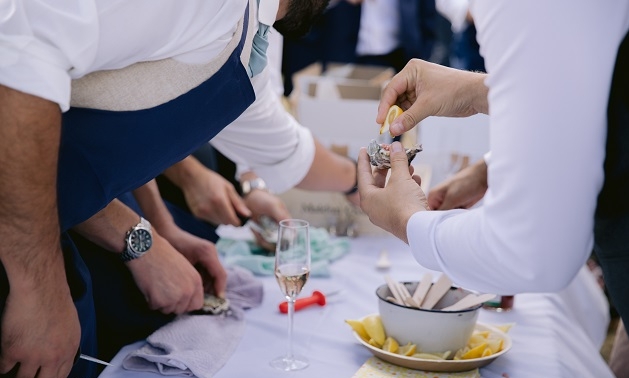 We started the reception with local Maldon oysters – shucked by the groom and groomsmen who had learnt how to do it on the stag do! We paired the oysters with local sparkling wine from New Hall vineyards.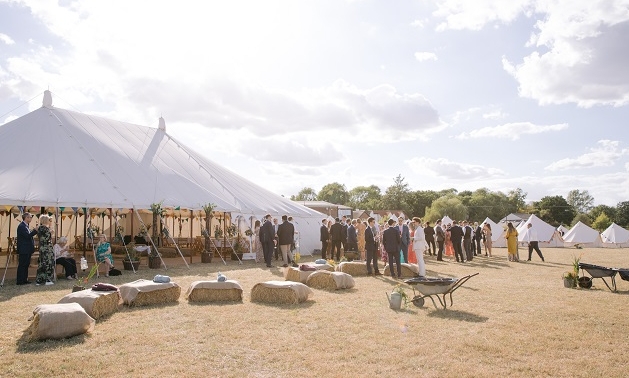 We had a very informal hog and lamb roast and allowed the guests to sit where they wanted.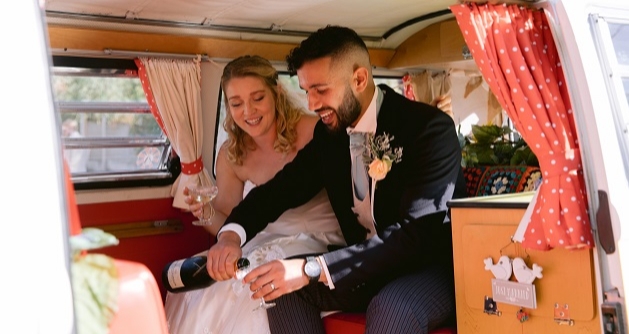 To tie in Neel's Indian heritage, as well as our love of Indian food, we also had Indian savoury snacks from Sambal Express, Barkingside.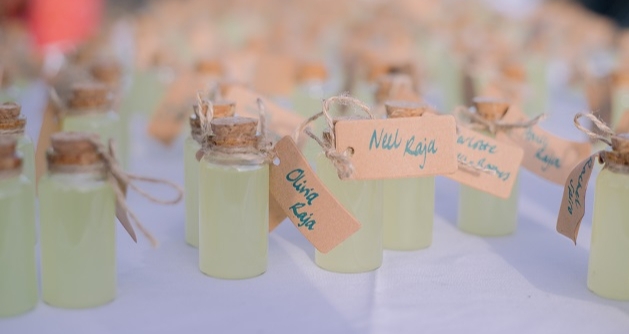 The favours were limoncello in small glass bottles (they reminded me of Alice in Wonderland, and all were recycled after the day!).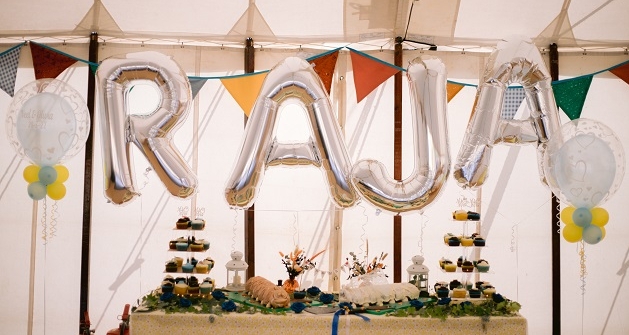 Each birthday I always request a caterpillar cake, so we decided to have Mr and Mrs caterpillar cakes for our wedding, and also cupcakes so everyone would be able to have some.
My mum is very creative and reused our old bed sheets and old fabric to make bunting to decorate the marquee. The bunting is now termed 'the family bunting' and is used for other special occasions.
For the reception I wore a secondhand wedding dress - I didn't want to get too much mess on my Church wedding dress as I'm keen to have it remade if I ever have a daughter who gets married!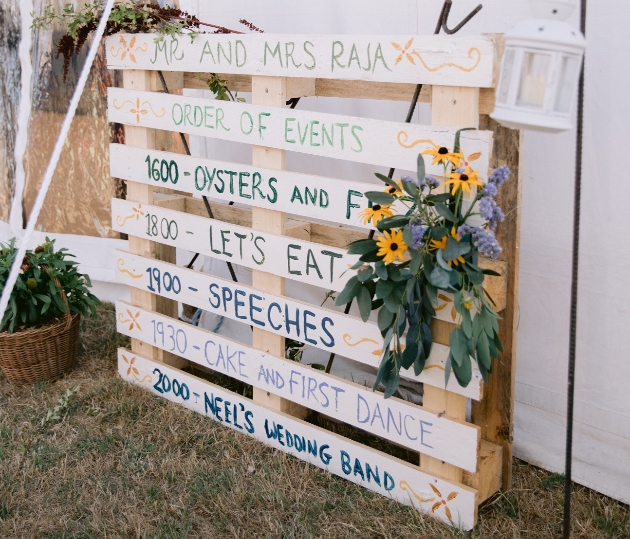 All the energy for the reception was powered using emission free energy, thanks to TCP Eco. Friends and family were pleased with the idea of an eco-friendly wedding and using the hydrogen power really set it apart!
I've always wanted to ride in a camper van and my mum saw the 'Little Yellow Bus' at another wedding. Luckily, they were free on our date!
For our guests to stay overnight, we used Victoria Lily Events who set up cute bell tents.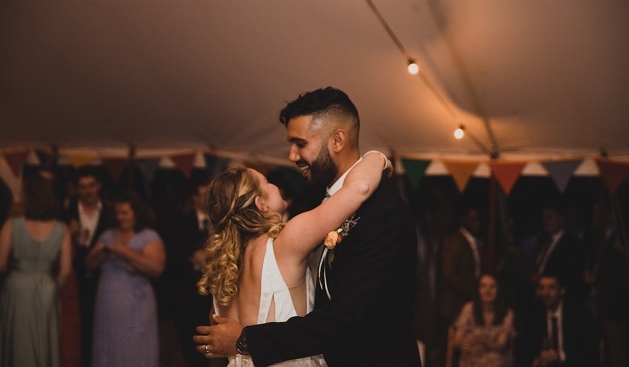 The entertainment was provided by Neel (on bass and vocals), his oldest friend Dan (guitar) and Neel's dad Nim (on drums) – they formed 'Neel's Wedding Band' for the evening and did a set for everyone to enjoy before we all hit the dancefloor.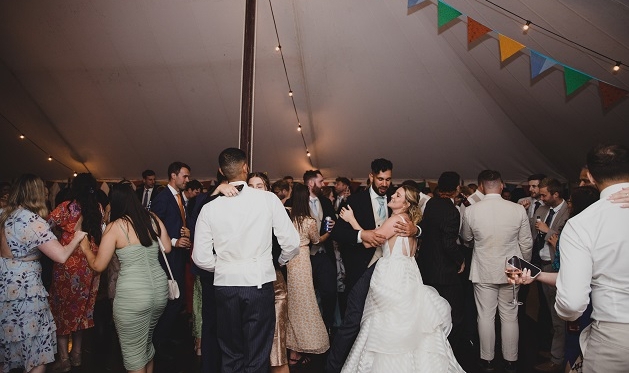 For the first dance we'd chosen Maroon 5s Sunday Morning. Unfortunately the PA system had a bit of a mishap and it meant we couldn't hear any vocals. Jacob – Olivia's best friend, is an amazing singer – and after some persuasion, he kindly stepped in. Everyone was soon on the dancefloor singing at the top of their lungs.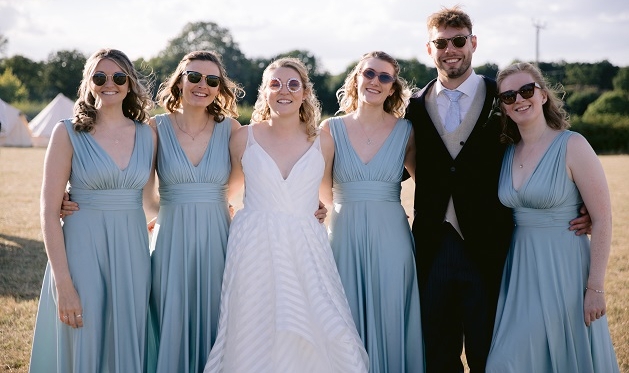 "Avoid being on your phone during the day – everyone who you want to share your wedding with will be there and if not, there will be plenty of people and an official photographer who will document the day for you."
Olivia and Neel's contact book