Wedding Wine Guide Q&A with Sarah Knowles part one!
Sarah Knowles MW joined The Wine Society in March 2014 and passed her Masters of Wine qualification in 2015. She is responsible for Champagne, North America and Italy, as well as overseeing the portfolio of sparkling wines and spirits; so, there really is no better person to be advising you and answering all of your wedding questions? Red or white for a meat course? Wine or Champagne for your wedding toast? Read our three part guide over the next three weeks (check back here every Friday) to have these questions answered!
What wine trends are you seeing in 22/23 weddings?
English sparkling wine is gathering popularity as the fizz of choice for toasting the happy couple, and I suspect in this Platinum Jubilee year this trend will continue. That said, prosecco has just had a wonderful quality vintage in 2021 and the wines have never looked as good, so I suspect this trend will continue too…

For weddings in 2022 and into 2023 I suspect the trend of offering a rosé as well as a white and red will continue, with Southern French the most popular, but with great value to be found in Italy and Spain too.

Wedding cocktails are also on trend pioneered by Pimms, but with white Port and tonic or vermouth and soda, with fragrant herbal and citrus garnishes hot on the heels for a more individual and foodie take.

Greek whites and Italian reds are also starting to appear on more wedding tables as these naturally food friendly styles offer an alternative to the more classic French staples.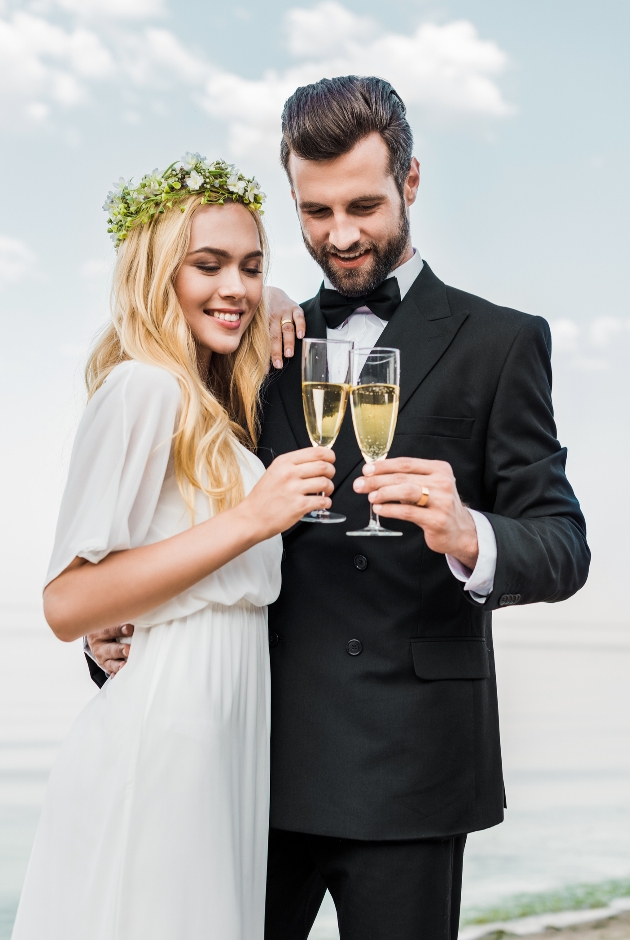 How do you begin to choose which wines to buy/serve?
Choosing wines for a wedding can be tricky for many reasons. Trying to select wines that will potentially be served all day, with and without food, and to a wide range of guests with individual tastes can mean that couples opt for wines that they know will be crowd pleasing.

A great way to select wines is to order a case, invite the wedding party over, and try the wines together. Making a fun evening out of the decision can add to the whole wedding and garnering various family and friends' opinions may also help.

You could also taste with an expert to help guide you, for example, The Wine Society offers tastings at our showroom in Hertfordshire to member couples looking for the right wines. This sort of service can really help widen the wine styles you consider.

If you really do have a favourite wine – make sure you include it in your day, mine was a particular Champagne, and now whenever my husband and I have it, we call it our 'wedding wine' and share an extra toast!

To get around the issue of trying to please all my guests at my own wedding, I opted for two whites and two reds, putting all four wines on the tables so that my guests could make their own choice between differing styles. I was able to do this safe in the knowledge that The Wine Society would accept a proportion of returned stock on wedding orders.

Also don't forget sweet and fortified wines, we had port with cheese in the evening, which I decanted into decanters bought at charity shops. Not everyone had a glass, but those that did had a really memorable moment in the evening and a great pairing! I also went to a great wedding where the dessert was fresh strawberries and cream, and we all had a glass of Moscato d'Asti – the perfect sweet sparkling match – and the glass that we could all also keep for the toasts (the fact that it's lower in alcohol may be a plus point too, particularly towards the end of the day!).

How much wine should you buy?
You know your guests, make sure you count for those who might be driving or not drinking for any reason, and account for children, but then also try and total up the amount across the wines you really think your guests will drink. Opting for a bottle of head of red or white wine, plus toasts might be a bit ambitious if you also have a bar serving beer, or G+Ts, or have a wedding cocktail etc...

The Wine Society's advisers can give members great estimations of how much to buy if you let them know your numbers, and if you over order, you can always return full cases. The team can also let you know if the wines you have selected come in half or magnum sized bottles which could help.

Does price matter?
Weddings can cost a lot. The Wine Society offers wines at a huge range of price points from £5.95 all of which are endorsed by our expert buyers. There can be great value to be found under £10 and fantastic fine wines under £20. Price in itself doesn't have to be the deciding factor in your selection of the wines, if you have a budget in mind then our advisors will be able to find the right wines for you.

To save a little at my own wedding I really wanted Champagne for the toasts and for the initial post ceremony drinks. However, later in the afternoon, I swapped the Champagne out for a fantastic, but less expensive, sparkling wine which went down a storm! Also, within my two whites and two reds I had different prices covered so that the average bottle price suited our budget, but I could have a pair of wines above it, and a pair below.

Check out the County Wedding Magazine news headlines on Friday the 13th and Friday 20th May to read parts two and three.