Visit Essex puts Essex on gastro map
The county's tourism body, Visit Essex, is launching a campaign to firmly place Essex on the gastro map. Highlighting the county's boom in Essex wine and vineyards, ahead of English Wine Week (18-25 June), movers and shakers in the industry met at Great Bardfield Vineyard, near Braintree, on 16 June to mark the industry's recent successes.

Vineyards in Essex have expanded at phenomenal rates in recent years, and the East Anglia region now provides at least 10% of English wine in Great Britain1. However, the majority of wines are grown in Essex (at least 50 vineyards), an area famed for its dry sunny climes and a shared geology with the champagne region of Northern France, which is helping Essex vineyards produce award-winning wines.

Over the past few years, Essex wines have established themselves on a global stage with prestigious awards, from New Hall Vineyard picking up a Gold Medal at the Independent English Wine Awards for their 50th Anniversary 2018 Chardonnay, to Tuffon Hall receiving a Gold Medal at the same awards for the last two years in a row!

Whereas Saffron Grange has just picked up three international gongs for their latest vintages. In fact, Essex wines have become so renowned, that Wine GB, the national association for the English and Welsh wine industry, aims to put the Bacchus grape forward for its own special wine appellation.

Maximising opportunity in the vines, vineyards are also diversifying and opening up their grounds for wine trails, tastings, cellar door sales, as well as music events, weddings and short stays: a real boost to the local tourism industry and perfect activities for pre- and post-wedding celebrations.

Councillor Mark Durham, Chairman of Visit Essex, is championing the campaign to place Essex on the gastro map. He said: "Essex is predominantly a rural county, home to the finest food and farm shops, top eateries, such as the Michelin-starred Galvin Brothers' Galvin Green Man, and of course we're home to TipTree Jam and their acres of strawberry farms, as well as our world-renowned oysters. We're now also home to over 50 vineyards, which are providing some of the finest English wines, fast becoming the 'still wine capital' of the UK.

"Our vineyards are also opening their doors and becoming big business within the tourism market too. From wine tastings to events in the vines, as well as glamping retreats and luxury accommodation, they're a wonderful asset and major attraction for people to visit Essex."

Adding to the food and drink mix, an increasing number of distilleries and brewhouses are opening across the county, including East Coast Distilleries on the North Essex coast, home of Tide's Fortune Gin, and the English Spirit Distillery in Great Yeldham, which produces the widest range of scratch distilled spirits under one roof! Here you can enjoy a range of tasty spirits that can be sampled on their 'English Spirit Distillery Tour & Tasting'.

To discover more, visit visitessex.com/food-and-drink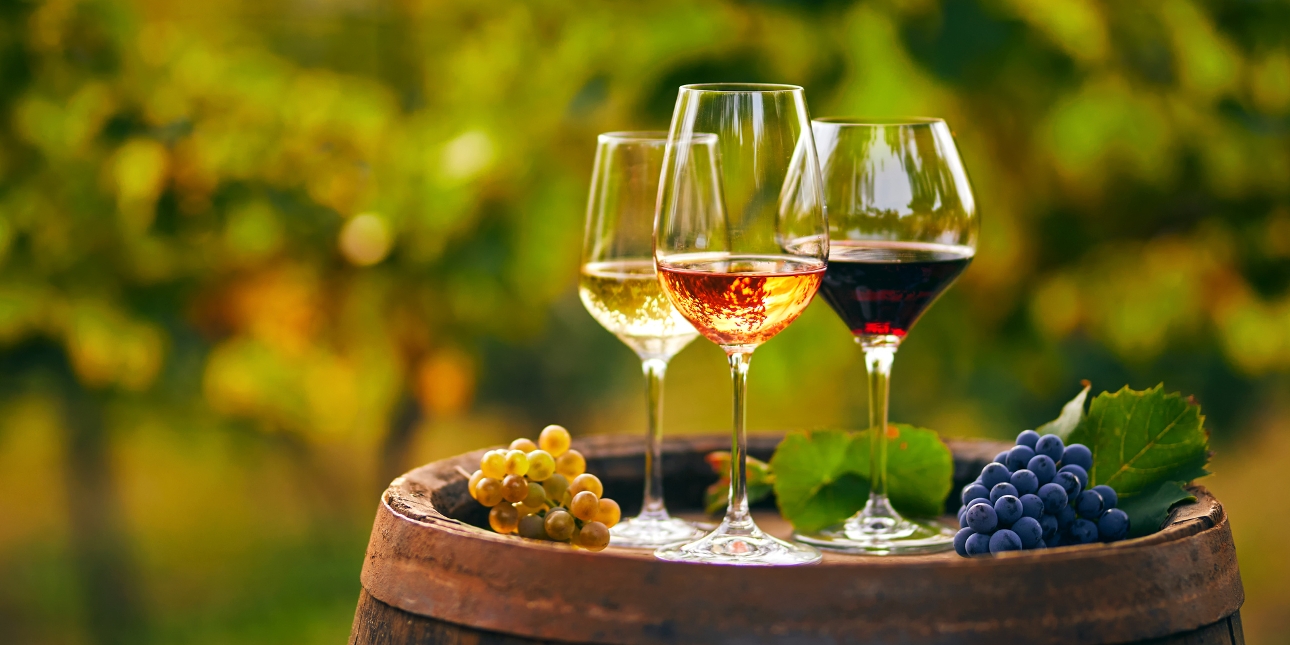 PLACES TO STAY
Great Lodge at Bardfield Vineyard
Stay at the luxurious Great Lodge at Bardfield Vineyard in one of the three converted barns, where visitors can choose from bed and breakfast or self-catering options. Relax in your cosy room with comfy double beds, stunning wooden floorboards and a contemporary rustic design, with floor-to-ceiling windows, or enjoy a tour of the vineyard and wine tasting, either with a self-guided trail or for groups by appointment. There are three accommodation options: the Rose Barn, the Cart Lodges and the Stables. Overnight prices start at £80

Hall Farm Cottages at Crouch Ridge Vineyard
On-site at Crouch Ridge Vineyard, located near the River Crouch, stands an exquisite barn conversion, Hall Farm Cottages. These self-catering cottages offer spectacular views of the River Crouch and the vines, as well as two bedrooms, a spacious kitchen/dining/lounge area and a bathroom with a shower. Prices vary by season, with the winter season running from the beginning of December to the end of March, and the summer season starting at the beginning of April and finishing at the end of November. Overnight prices vary by season and start at £100 per night.

Tuffon Hall Farmhouse at Tuffon Hall Vineyard
Tuffon Hall is an award-winning vineyard with a 6-bedroom converted farmhouse on-site. There is accommodation for up to 12 guests, and the house contains three large bathrooms, a bright and spacious country kitchen and a cosy sitting room with a log burner. The property is conveniently located on-site and is well-stocked with all the necessities for a relaxing stay, including Sky TV (with movies and sports), a full range of utensils and cooking equipment, and guests will receive a large welcome hamper with cupboard essentials and extra treats, including a bottle of award-winning Classic Cuvee. Visitors can upgrade their stay to include a vineyard tour and wine tasting experience. Prices vary depending on when guests visit, and there is a minimum of a two-night stay at this exquisite farmhouse. Stays start from £1,051, with higher rates in the summer holidays (July and August).

WINE TASTINGS AND TOURS
Saffron Grange Vineyard
Saffron Grange is a spectacular vineyard located in Saffron Walden and sits on the same chalk that runs through Northern France. Its unique soil formation combines with the climate and topography to make the perfect conditions to make grapes, and tours and tastings of its award-winning sparkling wine take place regularly. Tickets are priced from £20 per person and are now available for the 2022 season. Tours run on Thursdays and Saturdays from April to October.

Crouch Ridge Vineyard
Tours and tastings take place at the wonderful Crouch Ridge vineyard on select days of the month from May to October. All tours commence at 11am, and you will be taken around the vineyard, hear about Crouch Ridge's history and get to sample its excellent wines. You'll also be able to pair these wines with sumptuous food. Tours and tastings are only available by booking. For £50, you can enjoy the 'All the Bubbles' package, where you can learn about the differences between champagne, prosecco and cava and sample great English sparkling wine and champagne. Private tours start from £30pp and for a special treat, why not enjoy a private vineyard buggy tour and sparkling picnic for £250, including two souvenir glasses.

Clayhill Vineyard
Tastings and tours take place at Clayhill vineyard during the summer months. Contact the vineyard directly to see when these are taking place.

Bardfield Vineyard
Bardfield is open mid-week between May and September for guided tours and wine tastings, and group visits by appointment can be followed by a tasty ploughman's lunch or scrumptious afternoon tea. If you feel like exploring for yourself, self-guided trails are also available, with information sheets that can be collected from their shop. For a unique experience, why not call ahead and ask to feed their alpacas! Their grapes are made into four varieties of wine, Bardfield Bacchus, Anne of Cleves, Bardfield Blush and Sparkling Brut, which are available for purchase at their shop.

DISTILLERIES AND BREWERIES
East Coast Distilleries
Located just off the estuary in Landermere, East Coast Distilleries produces delicious gins that are available for purchase in their shop. From the Tide's Fortune Essex Dry Gin to the Afternoon Tea Gin with Two Lumps, East Coast Distilleries offers something for all tastes. They offer short free tours on Saturdays, as well as free gin tastings.

English Spirit Distillery
The English Spirit Distillery in Great Yeldham produces the UK's biggest collection of scratch distilled spirits and liqueurs in their 'Black Barn', which is nearly 200 years old. A Distillery Tour & Tasting allows visitors to see how they distil the UK's widest variety of spirits under one roof, including vodka, gin, rum, brandy, single malt, liqueurs and more. Tours are £20 and last for approximately 60 minutes.

Redchurch Brewery
Winner of 9 World Beer Awards, the Redchurch Brewery is committed to creating delicious, high-quality beers to suit every drinker. They create gift crates for special occasions, including birthday, thank you and with love gifts, and offer Tours & Tastings to go behind the scenes and see how their beer is made. Tours cost £22.99 per person and can be purchased online for yourself or as a gift.

THINGS TO DO
Tuffon Hall
The vineyard at Tuffon Hall thrives with activity during the summer months, with its notable Jazz in the Vines taking place in the summer months, where they welcome jazz bands and you can enjoy wine and food in the evening. They also host DJ in the Vines, and various Autumn and Christmas-themed events later in the year

Clayhill Vineyard
Enjoy the unrivalled views over the River Crouch at Clayhill Vineyard. The vineyard winds down to the estuary on the glazed balcony, families can sit over coffee and cake, or a glass of wine, and take in the views. There are binoculars on offer to keep the little ones amused, and they can spot wildlife in the area! Visitors can wander between the vines, too.

Crouch Ridge Vineyard
You can enjoy a delicious meal, with various menus being offered, including brunch, afternoon tea, and a cellar door menu. All food is freshly produced and sourced locally. They offer five course tasting evenings, private dining experiences and two course seasonal lunches. They source freshly caught fish and shellfish from local fisherman, meat poultry and vegetables from local farmers, cheese from a local dairy farmer and jams and chutneys from local fruit farmers. The on-site wine and barn terrace offers indoor and outdoor seating.

Bardfield Vineyard
Take a self-guided trail through the vineyard, with information sheets provided at the vineyard shop. The area offers a stunning view of the vineyard, as well as walled gardens and beautiful alpacas. You can even feed the alpacas if you let the vineyard know when you will be visiting!