Top tips on how to save money on a hen-do
Hen-dos provide a great opportunity to bring together your nearest and dearest for pre-wedding celebration and excitement. However, with many brides now opting for more exotic or expensive locations for their celebrations, the cost of a hen-do can quickly add up.
Anita Naik,Savings Expert at VoucherCodes.co.uk, has some great tips on how to make savings on your upcoming hen-party:
· Take advantage of drinks packages – Nightclubs are synonymous with hen-dos, however entry and drinks can get pretty pricey. Venues will often offer discounts on pre-purchased drinks packages so it's worth checking what deals you can strike before getting there.

· BYOB restaurants – Eating out in cities can be an expensive activity, particularly when the drinks are flowing freely. However, some restaurants have 'bring your own booze' (BYOB) policies, meaning you can bring alcohol from home or even pick up a few cheaper bottles from the local supermarket. Restaurants will often put a considerable markup on their drink prices, so buying booze beforehand will mean you save yourself a fair amount of money.

· Booking flights on a budget – For those jetting off abroad for their hen party, there are some easy ways to save your pennies when it comes to booking air travel. The first is considering when you fly. Avoiding weekends and public holidays can help keep costs down. You can also select flights at less popular times, for example late at night or early in the morning, as these are normally a little cheaper. Setting up airfare alerts with specific airlines will also help you keep track of price changes so you can pounce on a deal when prices are at their lowest.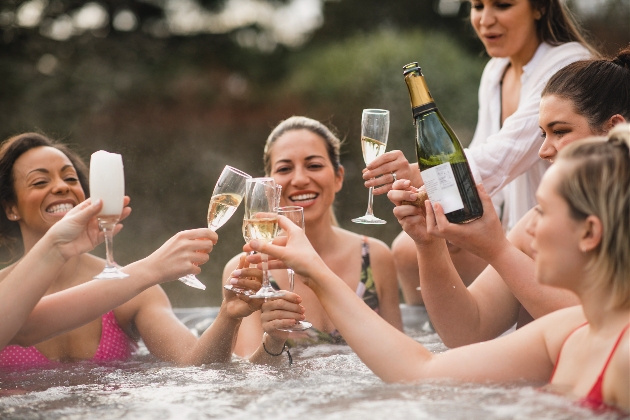 · Save on spa trips – You don't need to fork out a fortune for a spa break. Use VoucherCodes.co.uk to find discount codes and earn rewards on spa breaks. For example, they have deals on a variety of popular booking sites such as Spa Seekers, Buyagift, and Wowcher, just to name a few.

· Hen party essentials – No hen party is complete without a sash, balloons, and a veil, and whilst individually the cost is small, it all adds up. When it comes to purchasing your hen-do decorations, a great place to start is discount stores. They often have a wide range of options at really affordable prices. Alternatively, get crafty and make the decorations yourself by repurposing some old material to make bunting and a sash.