How to throw an insta-worthy engagement party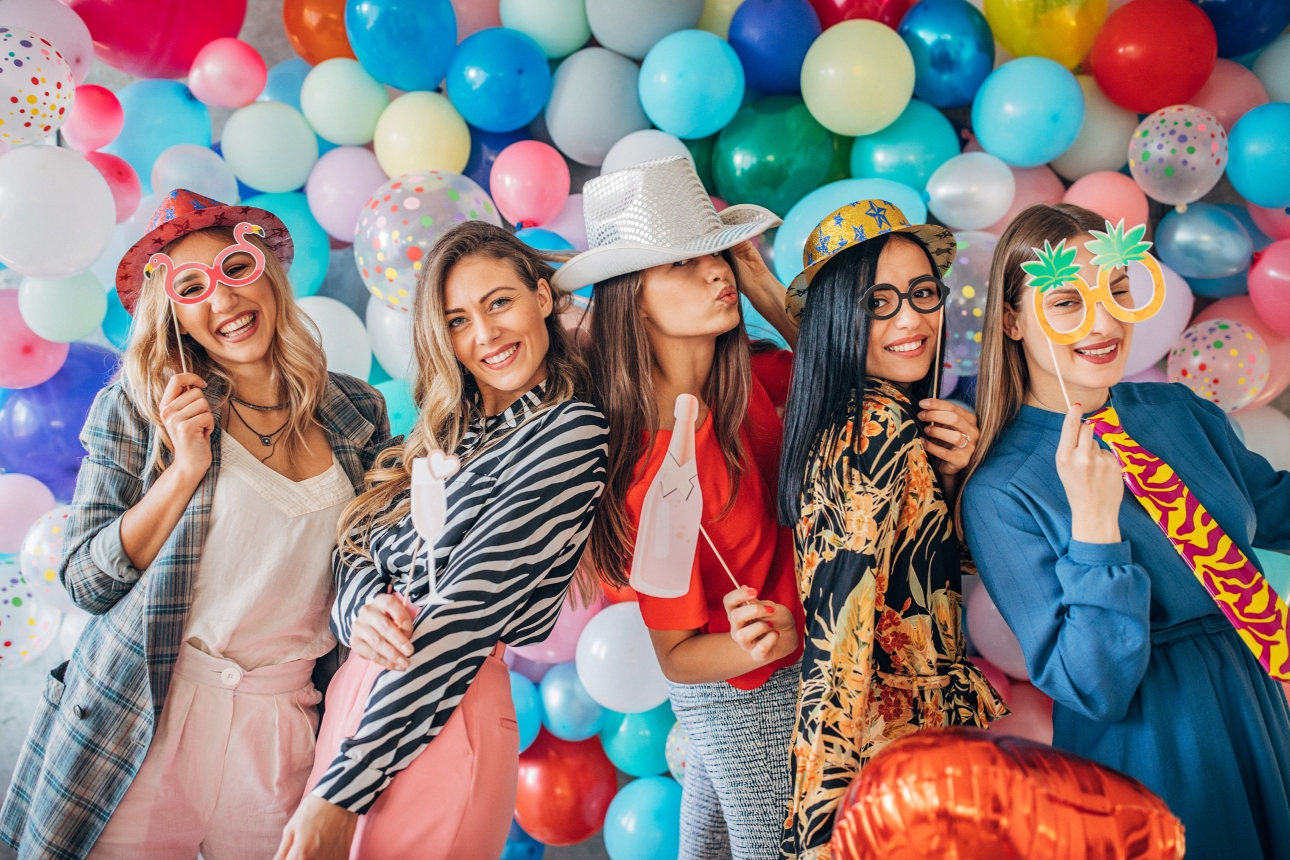 You never have to scroll too far to stumble upon a celebrity engagement party on instagram and if you've recently got engaged yourself, you're probably thinking - should I throw one too? The short answer is yes, absolutely. While planning the wedding is always top priority, there's no reason why you shouldn't have a party to get all your loved ones together and celebrate the big news straight away - particularly when most weddings take place a good 12 to 18 months post-proposal. However, hosting an engagement party of your dreams can still be quite a daunting task.

To help, wedding jewellery experts, Queensmith have pulled together 11 tips for taking your celebratory soirée to the next level.

Decide on a venue
There's no such thing as kick-starting your party planning too soon. In fact, it'll do you more favours because you'll have even more flexibility when it comes to booking a venue that's perfect for you both. The type of venue you decide to go for will depend on your budget, the number of guests and importantly, the atmosphere you want to create for your party. There really are no set rules when it comes to deciding on a venue, it can be as formal or informal as you'd like. For example, if you want a more formal party, then you could hire out a private room in a restaurant for a sitdown meal or a rooftop bar to sip on cocktails all night long. If this isn't really the vibe you're after and a more informal and intimate party would suit you better as a couple, then this can still be a spectacular occasion for everyone involved. For instance, host a little shindig at your home, local pub, or even at the park with a big green space for all the guests to socialise and enjoy together.

Finalise your guest list
First things first, to avoid any drama on the big day, do not invite anyone who will not be coming to your actual wedding. Usually, people invite less people to their engagement party (versus the wedding itself), primarily sticking to just their closest family and friends. Not only does this provide the perfect opportunity to get your wedding invite list together but also means that any family members or friends that haven't met yet can do so for the first time, which will be quite a heartwarming moment. Some people prefer to just invite their friends - no family - for a less formal, much more relaxed gathering than the actual wedding.

Lock in a date
The sooner you pin down a date, the better. Sending out the invite as soon as possible will give your guests enough time to set aside the date and means that you will be surrounded by all the people you love most at your party. It's really fun to celebrate while the news of your engagement is fresh; try hosting your engagement party one or two months after your proposal. This is a great time to show off your engagement ring to people you haven't caught up with yet! To avoid diary conflicts amongst your guests, aim to have the invites out at least 4 weeks in advance - or at least ask them to save the date via a quick WhatsApp.
Take lots of photos
On special occasions like this, make sure you take lots of photos to capture the memories. To save you from snapping away on your phone the whole time, you could go the extra mile and hire a photographer to do the hard work for you. Having a professional on hand to get the best angles and lighting will save you and your guests the worry, and means that you can compile all of the photos into a scrapbook after. A huge trend for engagement parties is installing a 'step and repeat' or balloon arch - essentially a little setting to perfectly frame your photos; choose a photogenic backdrop and throw in balloons, flowers, or fun props to take your photos up a notch. We've seen 'step and repeats' blow up on Instagram amongst celebrities and friends alike! You could also leave some disposable cameras around your venue, so your guests are free to snap away. This can result in some of the best candid photos, and you can send your guests physical copies along with their wedding invites!

Make a banging music playlist
Nothing kills a party quite like a bad song - or worse, no music at all... Whether you opt for a DJ, live band or a huge speaker at your engagement party, it's important to pull together a big list full of your favourite tunes to get everyone up on their feet dancing. You'll probably want to start your engagement party with a laid-back playlist while people mingle and chat. As the night progresses, the bigger tunes can start to play - and why not throw in some songs that are meaningful to you and your partner? Think flashbacks to the biggest hits from when you met or a teaser of what might feature at your wedding! If you really want your guests to party, then it's well worth considering whether there's a dance floor available at your venue of choice too.

Decorations
It goes without saying that decorations are the star of the show. They can completely transform any space, so depending on your theme of choice, it's important to get this part right. It's so easy to blow your whole budget just on decorations, so bear this in mind before you get too excited. Once you've narrowed down your theme, there is still lots more to consider. A good tip is to choose between flowers or balloons; flowers may feel more like your actual wedding, so balloons will help keep the mood casual. Order loads of your favourite photos from throughout your relationship, and having this hanging like bunting around the room. You could start with the earliest photo you have of your and your partner, and end with photos of the proposal! Fairy lights and lanterns will give the space a real warm, romantic, glow from dusk through the night. However, if your taste leans more towards modern decor, then neon signs might work better - you can hire super sweet neon 'love' signs or if you're really splashing out, have something custom made!

"Wow" your guests with food and drink
If you and your partner are true foodies, then you will want to wow your guests with incredible food and drinks options. In fact, plan out the food menu in advance and be sure to include all of your favourite things, or order in from the places you love to add that extra personal touch without too much effort. If you have a sweet tooth then think about organising a doughnut wall. Not only do these look impressive, they also taste amazing and let's be honest - who doesn't enjoy a doughnut? Many couples like to order a cake for the occasion, decorated with phrases like 'he' or 'she said yes!' or both of your names. In terms of drinks, you could custom make a menu of your favourite cocktails as a couple - and even think about renaming them to reflect memories of you both. For an extravagant look and to keep your guests happily topped up, a champagne or prosecco wall is an eye-catching addition to any party. Not everyone has food or an open bar at their engagement parties - afterall, you'll have a wedding to save for! If you're hosting your party at a bar or pub, let your guests know if the bar is paid for. It can be a nice gesture to pay for the first few bottles of champagne or prosecco.
Coordinate your outfits
Planning an outfit for you and your partner is usually the stressful part. However, to secure those perfect couples shots in advance of your wedding, it's worth it. According to traditions, the bride-to-be usually dresses in all white but there are no hard rules. If you're the bride, consider bridal details; silk, lace or light, pale colours, for a whimsical look. It's your party, so the formality of the dress code goes back to the vision you have in mind. For example, a jumpsuit or cocktail dress and a smart shirt with trousers combo will create a chic look for you both, but a floral dress or shorts with trainers for the groom-to-be may feel more "you". Ultimately, dress for what feels right for the party.

Clean your engagement ring
Whatever you do, don't forget to clean your engagement ring! This could be the first time many of your friends and family will see it for the first time, and of course it will be subject to lots of photos. Diamonds are oleophilic, meaning they attract oils and dust, particularly from makeup, moisturisers and cooking oils, which will make the diamond look a little dull - but it's an easy fix with a quick clean! Cleaning your engagement ring won't take long and you can clean your ring safely using household items like fairy liquid and a toothbrush. If your ring is from a jeweller, like Queensmith, that offers free ring cleaning whenever needed then make sure to book this in a day or two before your party and avoid oils after the clean.

Organise games to play
To keep your guests entertained, you could come up with some themed games for them to get involved in. These do not need to take much planning time, but could result in hours of fun for your guests. For example, wedding date predictions or a competition that quizzes guests on 'how well do you know the couple', or create your own version of 'Mr & Mrs' while your guests watch on. If your party is outside on a summer's day, then you could offer some games like mini golf or croquet and adult-sized jenga to play.

A quick speech
There's no need to get into long and detailed speeches at your engagement party - save the good stuff for the wedding! But a quick 'thank you' to guests for attending always goes a long way, particularly if they've travelled for the occasion. It can be nice to reflect on the fact that the people there are the people nearest and dearest to you as a couple. And of course, a thank you to your partner can be really sweet. Maybe this will be a good opportunity to recite how the proposal went - so you don't have to repeat yourself all night long when people ask!