Hada Labo Tokyo's new suncare collection
Hada Labo Tokyo, the cult beauty brand from Japan, has launched two suncare products which combine the very latest skin science and innovations from the East with strength European sunscreen standards and regulation. And both are available in Essex! Superdrug is stocking the new Hada Labo Tokyo Water-Resistant Moisturising Sunscreen: Face Cream SPF 50 and sun lotion.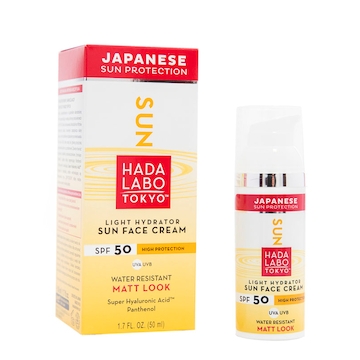 New Hada Labo Tokyo Water-Resistant Moisturising Sunscreen: Sun Lotion SPF 50
Featuring all the incredible benefits of the exclusive face cream, as well as protection from sun damage and signs of ageing, the new Hada Labo SPF 50 Sun Lotion makes sunny days a breeze. A dry-touch consistency, delivered in a quick-absorbing and non-greasy formula makes the lotion a dream to apply — even on wet skin and has an SPF 50.

Plus, the new Hada Labo Tokyo Sun Lotion guarantees the highest protection against sunrays. This is thanks to the skin scientists at Hada Labo Tokyo bottling up the very latest clinically proven quality, photostable filters to shield the skin against harmful UVA and UVB radiation. And to hydrate the skin thoroughly, vital for when in the sun, the New Hada Labo Tokyo Water-Resistant Moisturising Sun Lotion SPF50 contains three intensively moisturising Super Hyaluronic Acid ingredients to help prolong skin hydration needs and bust ageing in the sun. In addition, the new Hada Labo sun lotion includes the regenerating Panthenol, and rebuilding anti-ageing ingredients – Collagen and Elastin. The RRP is £20.99.

Hada Labo Tokyo's water-resistant moisturising sunscreens — in 50SPF face cream and body sun lotion formats — protect against sunburn and the signs of ageing on multiple fronts:
Three different UV filters provide proven protection against both UVA and UVB via physical and chemical modes of action. Anti-ageing ingredients include three forms of hyaluronic acid:
Sodium Hyaluronate — a water-binding hydration hero which helps replenish moisture lost from the outer-most layer of skin. Each molecule can hold up to 1000 times its weight in water.
Super Hyaluronic Acid — also known as sodium acetylated hyaluronate, which was developed to increase affinity with the skin and lock in moisture to provide prolonged hydration.
Nano Hyaluronic Acid — also known as hydrolysed hyaluronic acid, is made up of even smaller molecules, to maximise moisture retention deep with the epidermis and help combat wrinkles and other signs of ageing.
Squalane — a moisturising lipid, which is found in human sebum, helps to repair the skin barrier, boosts collagen and counteracts wrinkles.
Panthenol — an antioxidant and lubricant derived from vitamin B5 which enhances the appearance and feel of the skin.

Hado Labo Tokyo's products are available from: