Luxury pre-wedding get together - the British Grand Prix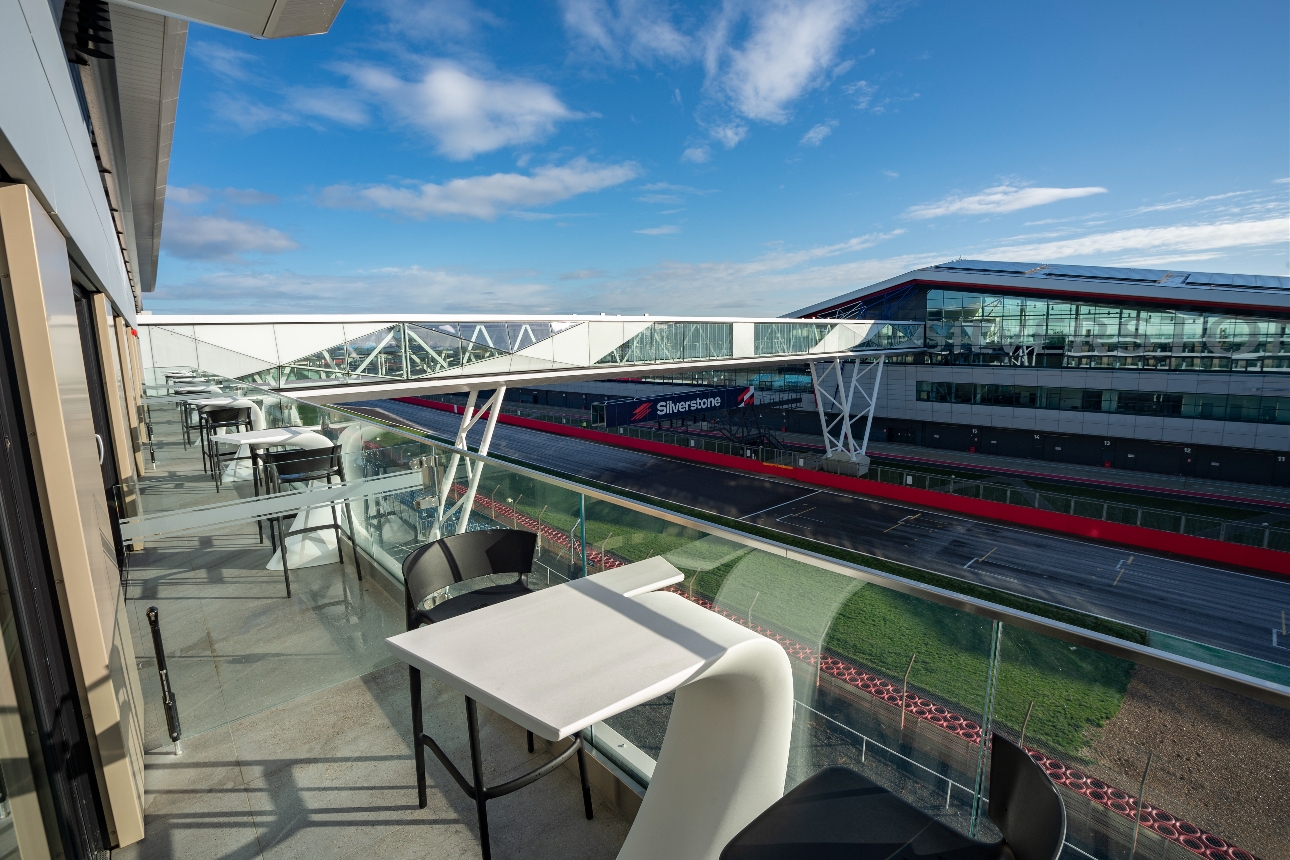 Experience the FORMULA 1® British Grand Prix like never before. The most exclusive hospitality at Silverstone, one of the world's most iconic motor racing circuits, guarantees an unforgettable experience at the greatest sporting spectacle on the planet.

Be closer to the action while enjoying more access, more entertainment and more style than ever before with MATCH Hospitality's FORMULA 1® official hospitality offering. MATCH Hospitality offers an incomparable combination of first-class facilities, unrivalled viewing and seamless service worthy of this breathtaking sport. For the first time, Hilton Garden Inn (the world's first Grand Prix start/finish line hotel – owned by Bricks Group) Silverstone is offering an exclusive hospitality package designed with flexible group sizes in mind, including unforgettable views of the track accompanied by incredible hospitality.

BOX BAR & KITCHEN AT HILTON GARDEN INN SILVERSTONE
Quite simply, there is no closer place to pole position to enjoy a day of hospitality. The largest outdoor terrace on the track offers jaw-dropping elevated views of the start/finish line, directly overlooking the pit lane on the Hamilton Straight with menus created by celebrity chef James Martin. A full bar will serve premium spirits and Champagne, with live entertainment and knowledgeable guest speakers to keep the energy high between races. For petrolheads who don't want to miss any of the action, all of the racing will be streamed live to a TV video wall, personal radios and event programmes will be provided, and racing simulators will offer a taste of how it feels to take on Silverstone's many challenges.

STARTING GRID SUITES BY HILTON GARDEN INN SILVERSTONE
The most prestigious trackside location for dynamic entertainment in the inimitable style of Hilton Garden Inn. These private hospitality boxes for 12 to 50 guests enjoy incredible views from balconies overlooking the grid and the pits. Witnessing all the pre-race spectacle as the cars line up and the tension builds is one of the highlights of any Grand Prix weekend. Chef James Martin has created a mouth-watering menu and guests will enjoy a full bar with unlimited premium drinks and dedicated hosts serving each suite. With live streaming of all the race action across the circuit, complimentary event programmes, personal radios and access to racing simulators included in every package, entertainment is guaranteed. The action never stops throughout the Grand Prix weekend, and MATCH Hospitality plans to catch every moment at these additional key locations around the circuit, including:
OCTANE TERRACE
Ibiza comes to Silverstone. For party people who enjoy a festival atmosphere this is where to be. Located at the fastest part of the circuit alongside Hangar Straight where the drivers will top 200mph, this is the spot to witness heart-stopping F1® velocity and Instagrammable action. Expect artisanal and celebrity chef-designed street-food, BBQ demos and guest entertainment such as racing simulators and live music with DJ's throughout the day (exciting headliners TBA). An elevated grandstand provides a thrilling view as cars get ready to brake for Stowe corner.

THE RACING GREEN
F1® festival with an elevated view from a dedicated grandstand and simulator rides. Situated within the inner track with a dedicated grandstand giving views of multiple corners. The Racing Green offers F1® excitement with the perks of a family-friendly fun fair with exciting demonstrations. The grandstand offers great views of Wellington Straight and Aintree, the Loop and Village too. With an array of artisan street-food, cooking demonstrations and food trucks, this all-inclusive package ensures a great day out with something for all the family.

FUSION LOUNGE
Relax on the extended outdoor terrace and witness the heart-pounding race action – including the final dash to the finish line – or watch from the grandstand for a traditional race-day experience. Enjoy an exquisite all-day menu, premium spirits, cocktails and Champagne. Choose between indoor and outdoor lounge areas, featuring live entertainment, all of which combine to make the Fusion Lounge one of the hottest tickets at the F1®. The Fusion Lounge also includes access to our exclusive Fusion Lounge Race Day After Party.
IGNITION CLUB
The Ignition Club is the location of choice for racing enthusiasts who know their F1®. With incredible views of six of Silverstone's famous corners from the grandstand, terrific entertainment, and a newly extended terrace for the ultimate vantage point, this is where the most passionate fans will feel right at home. On race day the knowledgeable compère and a range of guest speakers will guide through every twist and turn of the track, providing insight on team tactics, standings and racing history. With MATCH Hospitality's Formula 1® British Grand Prix 2023 hospitality packages starting from £268 per person, the biggest challenge will be deciding which one to choose.

For more information about hospitality packages at the Formula 1® British Grand Prix 2023, please visit www.hospitality.silverstone.co.uk.

Psst! Also check out the new Red Bull Pole position package!