What to talk about before buying a house with your partner
Buying a house together is often one of the big stages in many people's marriages, whether it be before or after you tie the knot. It's an exciting time and a great experience to have together, as you find the perfect place to potentially start the rest of your life together.
However, to ensure the process is as smooth as possible, it's best to be as informed and prepared as you can. Whilst it might not be the most romantic dinner chat, it's important to discuss financials and possible challenges you might encounter - the key is to be as open as possible with your partner.
Brian Murphy, head of lending at Mortgage Advice Bureau shares four crucial considerations to talk about with or ask your significant other before taking the leap and buying a home together:
First things first, what can we realistically afford together?
Research last year found that just 17% of adults in a relationship in the UK regularly discuss finances with their partners, which means some of us could be in the dark as to our other half's money situation. Before beginning your search, or speaking to a mortgage adviser, ensure you are open and honest with each other about how much you can commit towards home ownership. This will make a considerable difference to the kind of home and the area you eventually choose.

Be honest about your financial history.
If you're talking about money and what you can afford, make sure you also discuss your financial history and any red flags there might be. It can be an uncomfortable topic, but it's better to know than get rejected for a mortgage because of a black mark on one of your credit scores – which you hadn't discussed. Things that might go against you include if you've regularly missed payments on any credit agreements or loans or you're still paying off credit cards with high interest.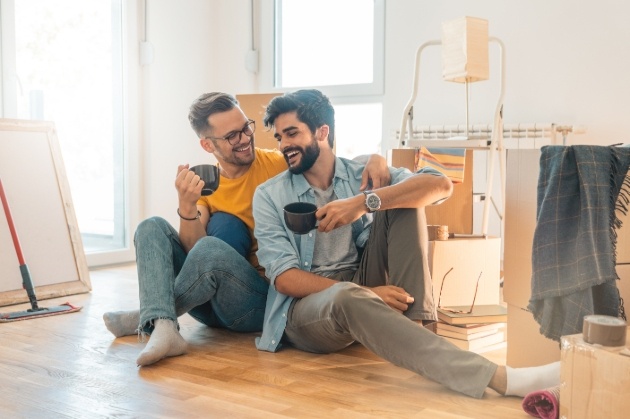 Hypothetically, what would happen if you break up?
Although this isn't the most pleasant, it's worth running through the different financial scenarios if you and your partner ended the relationship. If things go awry, it's good to know where you'll stand financially and what could happen to the home if you decide to separate.

When it comes to it, who will be on the deed and the mortgage? Will you be joint tenants or tenants in common?
There are two options for your agreement – either joint tenants or tenants in common. If you choose to be joint tenants, you will both own an equal share of the property. If one of you dies, your share is passed to the other tenant, and if you take out a mortgage – it's a joint one. Alternatively, tenants in common means that you do not have to have equal shares of the property. For instance, if one of you earns more, you could choose to pay more towards the house and have a greater share. Be sure to chat this one through carefully - there are legal points to consider with both choices, and both have pros and cons to weigh up.