Winter weddings: how to create the perfect tablescape
Creating the perfect tablescape to bring that wow factor is an important part of your wedding. But how does winter change things? Here, Suzanne Pearce from the interior experts Casa Bella offers some tips.

Planning the aesthetic and decoration for your wedding is an exciting task, but it can be tricky to know how to adapt to the seasons when you are having a winter wedding, as so many classic wedding tablescapes are inspired by floral summer designs. But there's still plenty that you can do to incorporate the seasons and make your wedding table look as beautiful and atmospheric as you like. The added drama of seasonal foliage and scenery can add a whole new level to your winter wedding, and can make for some truly memorable photos. Here, we'll show you how you can create a beautiful winter wedding tablescape that's personal to you and your partner.

Visualise your tablescape
When you come to deciding the style of the tables at your wedding, you should lay out a plan and visualise what you want it to look like, to ensure that it can come together the way you prefer. Try making a Pinterest board, or printing out pictures to create a physical mood board. This can help you explore colour schemes and ideas that you'd like at your event. It can even be helpful to include photos of the wedding venue in your mood board so that you can try out themes next to the building that you'll actually be having your wedding in. Think about any themes that you'll be working with as well, whether they are colour schemes, rustic vs. sleek, or anything else that might have inspired you when creating your décor — and therefore your tables.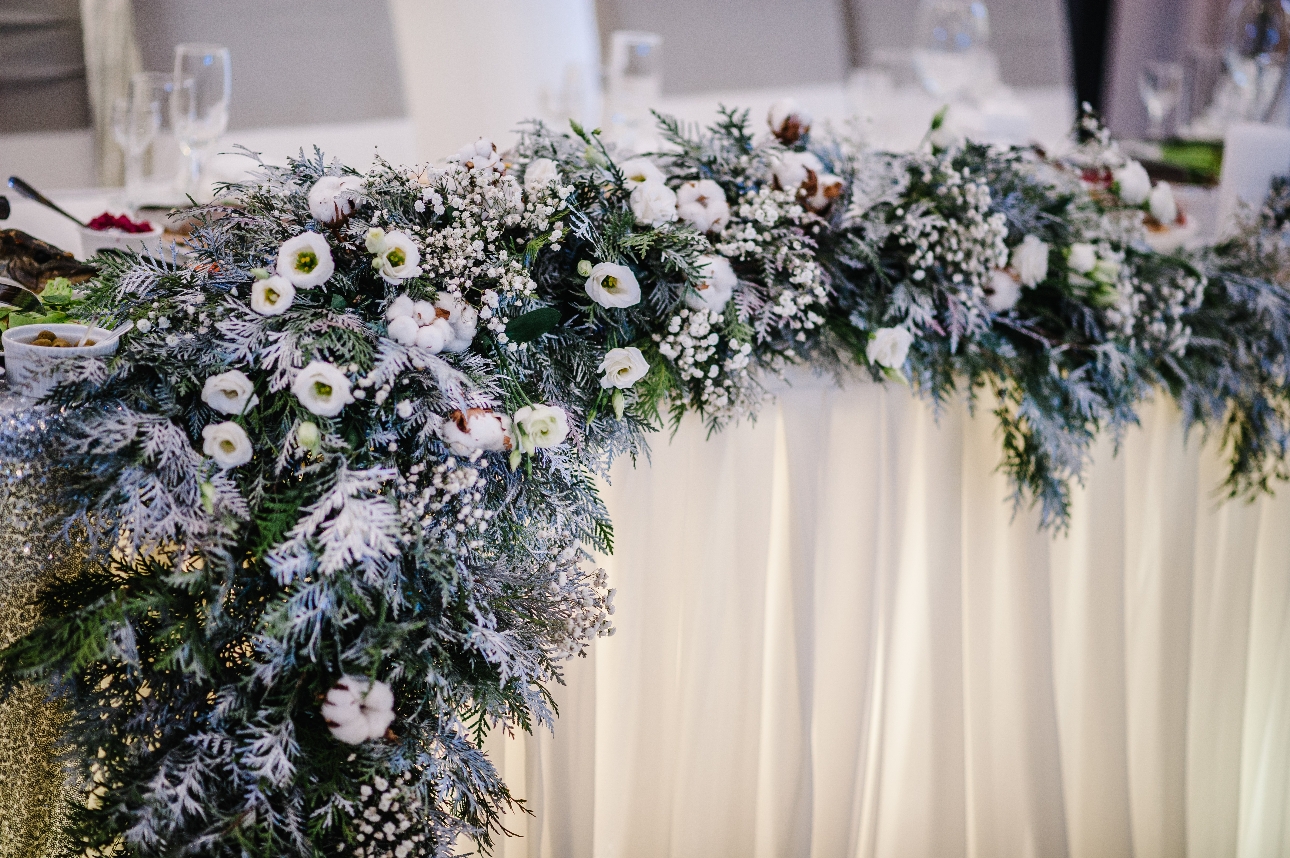 Embrace winter floristry
There are a few different options when you're creating flower arrangements during the colder season. You can go for greenhouse-grown, non-seasonal foliage and flowers, stick to seasonal arrangements, or you can mix both together. While it's tempting to use floristry that's entirely out of season, embracing the winter plants will still offer you plenty of variation, and mixing in and out of season plants can achieve a unique effect. Winter floristry usually includes things like branches, pine, hypericum berries, and winter flowers like carnations, anemones and ranunculi. Mixing silvery branches with classic wedding flowers like summer roses can actually create a unique fairy tale effect, so it's well worth experimenting and embracing wintery foliage and flowers in your arrangements.

Match your tableware
Along with wintery flower arrangements, comes different tones and colour palettes, and these can be worked into your ceramics too. Using earthy or darker tones on your tableware will add a touch of drama to the table, and play nicely against the more subdued colours of winter flower arranging. You might also want to use deeper colours such as rich leaf greens and deep blues to offset white flowers and silver foliage. Whatever you choose, ideally your tableware should coordinate with the flower arrangements so that it comes together as a coherent display. This could also be done through using tableware with similar patterns to your flower arrangements, such as rose or carnation patterns. Add some variation too with some crystal decanters for wine, and matching napkins for the finishing touch. To really expand on your aesthetic, you can coordinate your tableware with the furniture — darker, richer wood tones will add a dramatic atmosphere, while lighter woods will brighten the overall affect.
Add in-season extras
When you've planned out most of your tablescape, review whether you have space for some extra seasonally appropriate touches. This might include pinecones, fire branches, and cosy extras like candles. A neutral candle will go along with your set up and create an evening display that feels appropriate and atmospheric for a wintery afternoon or evening. But if you want to experiment with the atmosphere of the event, you might want to go for a few scented candles, with aromas of wood smoke, cinnamon, or other wintery smells.

You could even add a touch of silver and gold to the last features of foliage or the pine cones, which can be sprayed with metallic paint for some sparkle. The last little touches can really make your tablescape feel finished.

When designing your wedding tablescapes, you want them to be as beautiful and photo-ready as possible. Use these tips to get started, and arrange the perfect winter tablescape to make your wedding dinner as memorable as possible.