Hedingham Castle launches The Royal Chamber
Hedingham Castle, one of the oldest and best-preserved Norman keeps in Britain, is excited to announce the opening of its new attraction, The Royal Chamber. Visitors can now step back in time and experience the luxurious lifestyle of the medieval English royalty at the castle, with all the conveniences of 21st century living.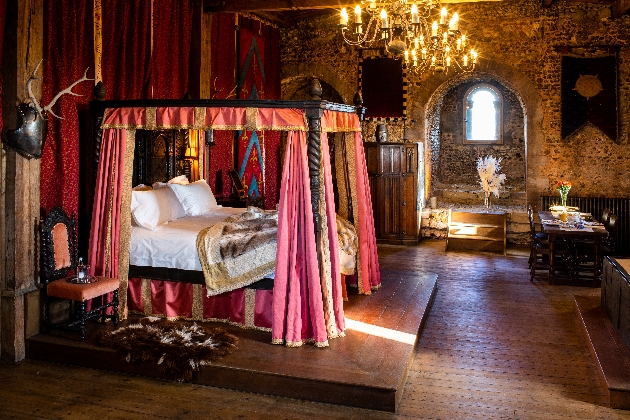 Credit: Andy GriffinLocated on the top floor of the 900-year-old Norman Keep, which would have originally been the dormitory floor, The Royal Chamber features a grand four-poster bed, exquisite tapestries, exceptional views and elegant furnishings in the style that would have been used by the lords and ladies of the castle. Modern additions have also been included for the comfort of guests, such as a large bath big enough for two and a cleverly hidden widescreen TV that can be watched from the comfort of the bed.

The bed itself is inspired by the Great Bed of Ware, one of the V&A's greatest treasures and famously over three metres wide – the only known example of a bed of this size. Hedingham Castle have collaborated with luxury bedding brand, And So To Bed, to deliver an exceptionally comfortable sleeping experience for guests. Featuring a super king Vispring Pure Luxe Hybrid mattress and 400-thread count Palazzo bedding, a peaceful night's sleep is virtually guaranteed.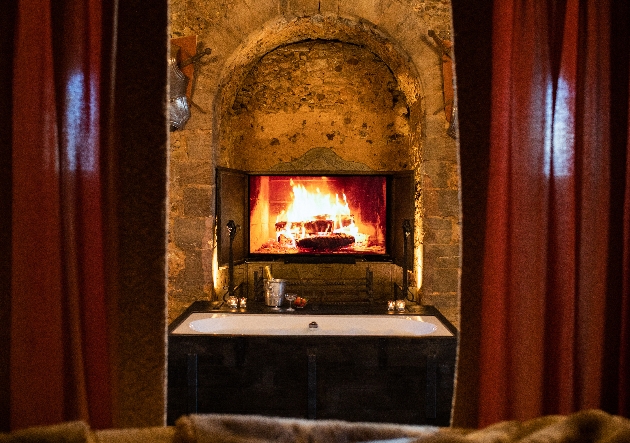 Credit: Andy Griffin"We are so thrilled to be able to offer our visitors the chance to experience the grandeur of The Royal Chamber," said Demetra Lindsay, the castle's owner. "Hedingham Castle has a rich history spanning almost a millennia, and we are always looking for ways to bring it to life for our guests. This is a once-in-a-lifetime opportunity to sleep like royalty in the only modern bedroom inside a Norman keep in the country. We can't wait to welcome guests to The Royal Chamber and provide them with an unforgettable experience. The Royal Chamber started as a lockdown project and it has been a complete labour of love to get finished. It brings a significant addition to our offerings and provides an amazing opportunity to explore the castle's history as well as making it relevant for the modern day."

And So To Bed, luxury mattress and bed retailer, said: We are delighted to be part of a collaboration which combines luxurious heritage and state-of-the-art mattress support. Our Pure Luxe Hybrid Mattress with foam layers, supportive pocket springs and antimicrobial technology will provide a sumptuous sleep experience for Hedingham Castle's guests.

The Royal Chamber is ideal for couples seeking a romantic and unique getaway or for history buffs looking to immerse themselves in the castle's rich heritage. The room can be booked as a honeymoon retreat for the venue's wedding couples, as well as being available to book by the public on a Bed & Breakfast or Dinner, Bed & Breakfast basis. Champagne, chocolates and a continental breakfast for two are provided as standard with every booking, and, if also dining, your meal is enjoyed in the form of a five-course tasting menu, served in the breathtaking Banqueting Hall, quite a setting for an intimate dinner for two!

Hedingham Castle is now open for the 2023 season where visitors can explore all the castle's other attractions, including the 12th-century Norman Keep, the Tudor bridge and beautiful gardens. Their extensive events calendar provides a wide variety of options to suit everyone, from medieval jousts and Excalibur events, to outdoor theatre and cinema, folk music nights and murder mystery evenings.

For more information about the Royal Chamber and Hedingham Castle, please visit the Castle's website: Unique Wedding Venue Essex | Castle and Country House Weddings (hedinghamcastle.co.uk)