Nina Kane's Horoscope & Tarot Jewellery
This summer, we all need waterproof, sweat proof jewellery. Nina Kane, offers 18K gold affordable jewellery, that's swim ready! All Nina Kane products are uniquely designed to be worn everyday, in the pool or at the gym, without tarnishing or going green. The brands popular range of tarot and horoscope pieces are ideal for those who like to rep their star sign and each piece is perfect for starting astrology- centred convo's or simply hinting that you're birthday is on the horizon.

Evangeline Tarot Card Pendants, £34.99
These gorgeous pendants boast hand-painted enamel backgrounds and striking zircon stones, creating a 3D effect. Select from a range of iconic cards including The Empress, The Lovers, and The Magician. And don't worry about wear and tear - these pendants are sweatproof, waterproof, and tarnish-free.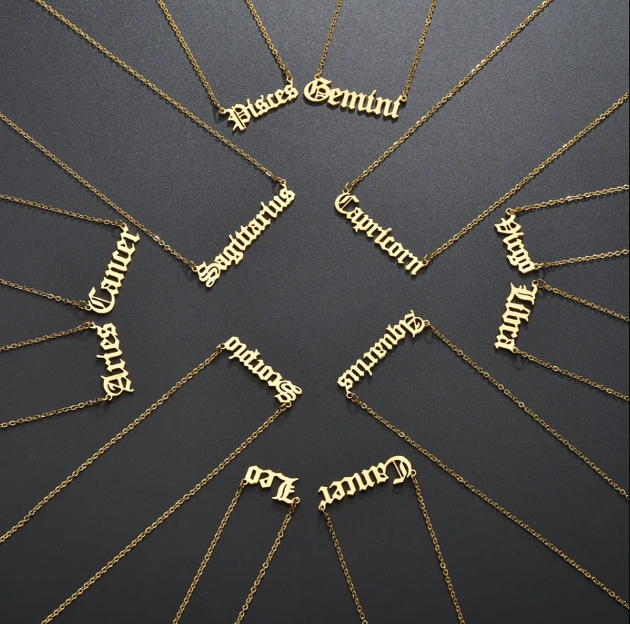 Star Sign and Birth Stone Rings, £26.99
Crafted from durable stainless steel and coated with 18k gold, these adjustable rings are the ultimate expression of your cosmic connection. Engraved with your zodiac sign and adorned with your birthstone, each ring is a unique and beautiful piece, adding a touch of celestial magic to your everyday life.

Calista Gold Cursive Script Zodiac Pendants, £26.99
These gorgeous, handcrafted pieces are meticulously cut from 18k gold plated stainless steel, boasting a unique cursive script that showcases your zodiac sign.
Their adjustable length makes it easy to wear with any outfit, while the non-tarnish and waterproof properties ensure your pendant stays beautiful for years to come. Embrace your astrological side in style.