Wellness in the Wild packages
Wellness travel is one of the industry's fastest growing sectors* and award-winning luxury Essex property, Down Hall Hotel, Spa & Estate has taken a step into the wild for its latest retreat. Going beyond essential oils and massages and making the very best of the stunning 110-acres surrounding the hotel, the new Wellness In The Wild Package: Gong Bath & Sunrise Yoga Experience offers guests a tranquil haven to relax, reset and revive, and a unique way to escape life's daily grind.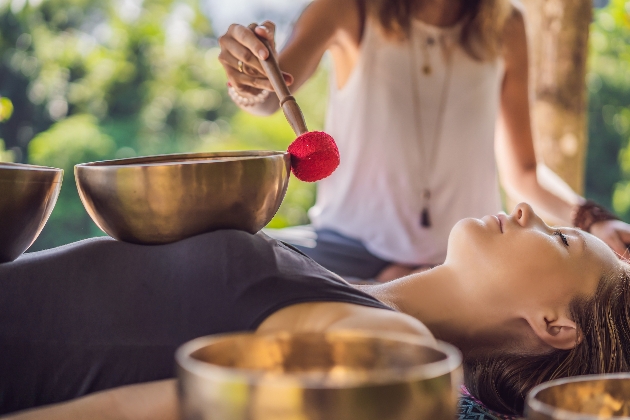 With gong baths and sound therapy at the forefront of the wellness trend, the new overnight stay package combines sensory sound bathing with sunrise yoga and a relaxing spa treatment for the ultimate self-care experience in the heart of the serene countryside.

Available on the 1st September (with further dates due to be released later this year), and to coincide with the full moon, guests will begin the experience with a relaxing 35 minute spa treatment of their choice in the hotel's stunning Eden Spa, followed by open air yoga session to connect with nature and awaken senses, led by the hotel's Wellness and Holistic consultant Camilla Sheeley.

A decadent evening meal curated by Executive Chef Robert Pearce in the hotel's 2 AA Rosette restaurant will be served at 6.30pm, followed by an 8pm outdoor Gong Bath session. With over 10 years' experience practising yoga and a YMCA accreditation, Camilla will guide guests as they enter a state of deep relaxation and absorb the powerfully soothing sounds of the gong whilst the sun starts to set. The therapeutic vibrations will help calm and relax the mind and body, relieve tension and anxiety and create a tranquil and magical experience. What could be more perfect than being immersed through a healing journey, whilst lying peacefully against the idyllic picturesque setting of the hotel and surrounding woodlands.

Down Hall's Wellness and Holistic consultant Camilla Sheeley, comments: "A Gong Bath is a beautiful experience for all. The gong vibrations & Quartz Singing Bowls 'tune' your mind & body, heal, restore harmony, balance & energise. Both the Gong Bath & Sunrise Yoga are suitable for all abilities & no experience is needed.".

After a restful night's sleep in one of the hotel's spacious and luxurious rooms, guests will join the 9am outdoor sunrise yoga set on the hotel's striking lawn, before departing feeling refreshed and rejuvenated for the week ahead.

The Wellness In The Wild package is available exclusively on the 1st September, and is £195 per person, based on sharing a double or twin room.

Other wellness experiences taking place at Down Hall include:
Open-Air Sunrise & Sunset Yoga
Camilla hosts regular early morning sunrise yoga sessions every Saturday at 9.00am, and evening sunset yoga sessions every Wednesday at 7.00pm on the hotel's lawn, priced at £13 per person.

Autumn Wellness Retreat - Sunday 24th September
The ultimate pampering day experience which includes a beautiful yoga and meditation session, a guided woodland walk around the hotel's stunning grounds, a light lunch followed by a crystal & manifestation workshop, spa treatment and relaxation time in the spa. And what better way to round up the most blissful day, than enjoying afternoon tea and Champagne tasting. Priced at £165 per person.

Wellness Package
For friends and couples wanting to experience the ultimate wellness break, guests can enjoy an overnight stay, along with a private one-to-one yoga and meditation session, available throughout the summer. Priced from £115 per person.