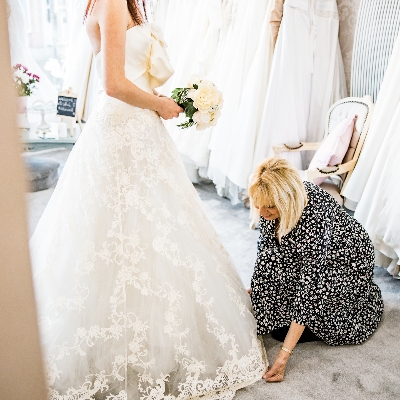 How to find the one
Q. What are your top tips for finding my dream dress?
A. Sharon Warner says: While a lot of us are spending time at home, brides have the perfect opportunity to get researching their dream gown. We actively encourage this by guiding brides to our website, where you can browse all of our dresses.

We are currently offering virtual appointments, which have proved to be great fun! We can put your favourite dresses on a mannequin to view via a video link. We also get to know you and can pull out other styles for you to look at and send further videos and photos. When it's safe to come into store, we can have your favourites ready and waiting for you.

At your appointment, we recommend wearing a strapless bra for trying on – although you normally don't need to wear one when your dress is fitted. You can also wear tights; if you become warm when trying on, this makes it easier to slip the dresses on and off. When looking for your dress, keep an open mind and try on lots of different styles – even if you think you won't like them. Most brides leave with a completely different look to what they originally had in mind. Most importantly, relax and have fun with it!
Sharon Warner, Bridal Reloved Maldon
www.bridalreloved.co.uk