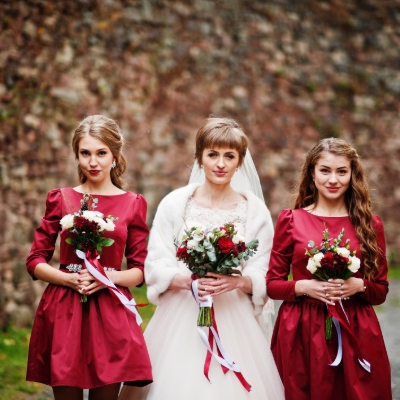 All I want for Christmas
Q. We're having a Christmas wedding. What colours would suit my bridesmaids to fit with the season?
A. Claire Bannister says: Once you've chosen your outfit, it's time to start thinking about the ladies who are going to be by your side. Remember that not all colours suit all skin tones, so you may want to choose different shades of the same colour for your best girls. Blues are a good example of this; warmer skin tones suit teal and cornflower, while cooler-toned skin will look radiant in Air Force blue.

The only hue that suits everyone is primary red, so consider choosing accents of this to brighten a neutral-coloured gown. Be careful with a full red dress as this may overpower the bride, but it would look wonderful for a Christmas theme.

Shawls or pashminas are a lovely way to keep warm and cosy and can add another dimension of colour and texture.
Claire Bannister
www.houseofcolour.co.uk