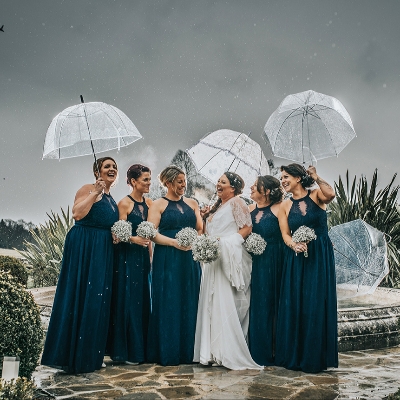 Rain on my parade
Q. We want an outside wedding, but are worried about the unpredictable weather. How can we ensure our guests enjoy the day without getting soaked?
A. Georgina Bennett says: No matter where you get married, the weather is the one thing you can't control. Instead of thinking about the 'what ifs', it's best to go into your day with the intention of enjoying every moment. It's such a special day for you and those closest to you that you should never let anything 'cloud your day'.

At Parklands we work closely with our couples in the planning process, and this covers contingencies, too. Often, we wait until the last moment to help you decide if you want to 'chance it' or move to Plan B. Our beautiful Pavilion has glass doors that open onto our gardens, bringing the outdoors in, and our Tabor Room offers spectacular views out to the Deer Park. Plus, if a little drizzle doesn't scare you, we've had some of the most beautiful couple shoots in the rain, with any good photographer prepared for a summer shower.
Georgina Bennett, Parklands at Quendon Hall
www.quendonhall.co.uk