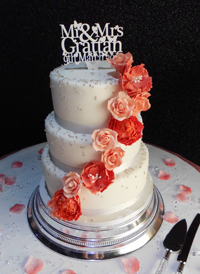 A slice as nice
Q. I want a showstopping cake for my nuptials but want to ensure there's a traditional element to satisfy the grandparents but also something a bit modern to refl ect my husband-to-be and I. What would you suggest?
A. Lucy Norwood says: Everyone's biggest dilemma when wedding planning is pleasing everyone. There are so many things you can do with the cake to keep everyone happy. Firstly, fl avours – it's a complete lie that fruit cake has to go on the base tier of a stacked cake due to its weight, when in actual fact a well-supported cake can have it any tier. How about opting for fruit, or your grandparent's favourite, as the top tier, and the other layers a fl avour you enjoy!

As far as design, the list is endless. Traditional wedding cake designs such as hand-piped details, swags and sugar fl owers are actually very on-trend at the moment, giving a classic, elegant look which wou ld easily please the older generation. If you prefer a modern buttercream or naked cake look, maybe consider sugar fl owers or a more traditional cake topper, such as a bride and groom fi gure, to add a bit of tradition.

No matter what you decide, remember this is your day, nobody else's, and as long as you're happy, everyone will be happy for you too!