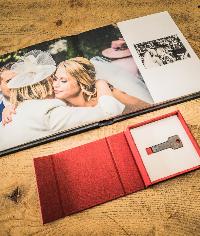 Worth a thousand words
Q. My wife-to-be and I are super-excited about getting our photos back after the big day. How long does the editing process take and will it take longer if we decide to purchase an album too?
A. Adam Prescott says: This is a good question as there are a few variables the photographer needs to take into account. When I complete a wedding, the first thing I do is backup all the raw files, these are what a professional camera produces and cannot be viewed without specialist software. Once this is done I select the best images from your wedding, which can take up to a day to complete, before the final editing process can begin. This is where the quality is checked and any colour corrections or effects are added, this can take from a minute to an hour per image. So you see, once the photographer has left for the day their work is far from complete. I try to turn around digital images within two to three weeks after your nuptials.

In my packages couples can have their photos on either a presentation USB key, in an album, or both. The pictures are also placed on a password protected online gallery and I always keep a copy of the edited images along with the raw files, just in case something were to happen.

With my albums, couples have the opportunity to either leave the design down to myself or choose their own layout – either way a digital proof is provided before the production starts. My albums are handmade and finished in Yorkshire and typically take six weeks from production to despatch.