Ask the experts
Here is a selection of Q&As from An Essex Wedding magazine. If you would like your question answered by our experts, please email it to editor@anessex.wedding.
To view more Q&A's on a different topic, please select one from the list below.
Hot topic: Summer style
Local pros ensure your summer celebration's a stylish affair
---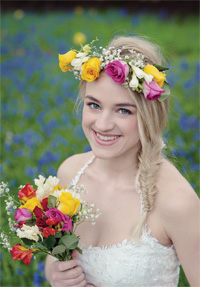 Summer's hottest looks
Q. We're tying the knot next July when fingers crossed it will be gorgeously hot and sunny – how can I ensure my make-up stays in place in the heat? I'd love to know what hair and beauty looks you recommend for summer brides that want to keep cool while looking glamorous.
A. Kelly Walker says: I'd recommend having your hair styled so it's off your face; a fishtail plait looks lovely with a few wispy bits to soften the look.

There are a few things to think about when wearing make-up in the heat to help you look and stay fresh throughout the day. Start off by applying your usual moisturiser in the morning; tinted moisturiser is great if you don't want full coverage, alternatively use an oil-free foundation.

Investing in a good primer with oil control is a must. This will help your make-up stay in place all day and will prevent it melting away.

Try a cream blusher rather than a powder as this will feel lighter in the heat and give you a natural glow.

Set your make-up with a light powder remembering to base your lids so your eyeshadow sits and blends nicely, which will help it last a lot longer.

Don't forget to use a waterproof mascara and liner, not just to help withstand the heat but avoid smudges from those happy tears too.

My top tip to avoid shine is to ask your maid-of-honour to carry some blotting paper for you. This will take the shine away leaving you refreshed without removing any of your make-up.
---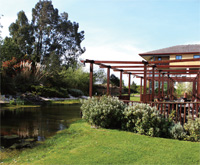 Best of both
Q. Our dream is to marry outside and host an al fresco drinks reception, but should we have a plan B in case the weather's not on our side? If so, what precautions do you advise brides and grooms put in place?
A. Francesca Counter says: Most venues will offer a plan B for outdoor weddings, but if you're worried about the unpredictable Great British weather, why leave it to chance? You need to be confident that your special day will be a success so choose a venue with a light and airy suite in which you can tie the knot. A reception room with both indoor and outdoor spaces that your guests can seamlessly move between is a great way to have an al fresco element without the risk.

Post-wedding, join guests on a terrace before taking your seat indoors for an elegant wedding breakfast, followed by an evening of celebrations to remember.
---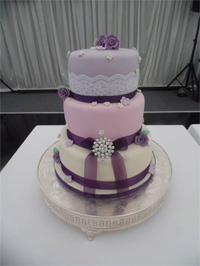 Cake or break
Q. We're having a marquee reception in the middle of summer – what cake design, style of icing and details would you recommend for a big-day bake that won't wilt in the heat?
A. Lucy Norwood says: There are so many things that can be done to make sure it survives until your evening guests arrive. I'd advise you stick with a traditionally fondant iced cake. Buttercream and naked designs are very popular, but if you're worried about icing melting then stick with something like fondant.

Avoid fresh flowers, as they're more likely to wilt in warm weather than sugar flowers that are dried over several days. Avoid fresh fruit as it may go a bit mushy, and steer clear of any soft fillings – we never put cream cheese fillings in our cakes as they have to be kept refrigerated, plus have a thinner consistency to buttercream!

Other than that, you're safe to have any design you wish, whether it be sugar flowers, piping or something plain and simple. Whatever design you choose, your cake maker will advise you in the best way they can, and give you the perfect cake to withstand the heat.
---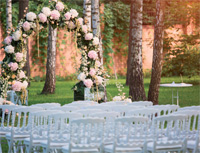 Summer loving
Q. We want our day to be a bright and beautiful summer celebration – how can we incorporate such a fun time of year into our big day?
A. Rosie Orgles says: There are so many ways you can make the most of such a gorgeous time of year. Start by listing your favourite things to do in the sunshine – are you a picnic-loving couple? Do you invite everyone round for a barbecue as soon as the sun's out? Or do you head straight to the coast? Whatever you love most, you can make it a part of your day – or for a real summertime fiesta incorporate them all!

Guests can sit back in deck chairs to enjoy a Pimm's drinks reception with picnic-style canapés, partake in a garden game or two while you pose for photos with a gorgeous parasol as a prop, before your barbecue wedding breakfast begins. As the sun sets you can dance the night away al fresco or under canvas to your favourite summer tunes. Your day really will be filled with warmth, love and happiness. For more ideas, flick to page 58 where experts share their advice for couples saying 'I do' in summer.
---
Contact our experts...

Francesca Counter
Weddings and special events coordinator

Kelly Walker
Hair and make-up artist

Lucy Norwood
Cake maker

Rosie Orgles
Editor
---