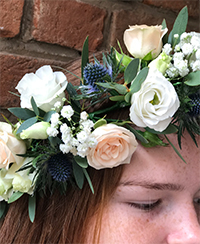 Crowning glory
Q. I want to incorporate some flowers into my hairdo for my spring nuptials. What sort of blooms would be appropriate?
A. Felicity Wiggins says: Fresh flowers are a wonderful addition to your wedding attire and can easily be added to your tresses in different ways. Hair crowns have become very popular especially for a whimsical-styled wedding. For this I would suggest a mixture of blooms such as eucalyptus foliage, spray roses, muscari, gypsophelia, hyacinth pips, hellebores and small spray chrysanthemums.

For a more classic look opt for a few simple flowers such as spray roses, lily of the valley, small orchids and gypsophelia can be pinned into a loosely curled hair style or attached to a hair comb for a classic half-up do.

A fascinator created on a hair comb is gorgeous and can be very individual using, decorative wire, beads and selective flowers such as muscari, hyacinth pips, small foliages, ceropegia woodii and small succulents are very flamboyant, individual and fun. Spring flowers are quite delicate and careful consideration should be given to the ones you select. I like to mix them in with more hardy blooms to provide support to the designs and to ensure that they last. I work closely with my brides and their chosen hairdressers to ensure that the blooms chosen will suit the style and texture of my bride's hair and look for their day.